Thunderkick Review
Verdict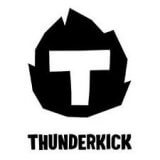 Sweden and Malta
Denmark, Estonia, Gibraltar, Isle of Man, Italy, Latvia, Lithuania, Malta, Portugal, Spain, UK
2012
41
111
Thunderkick is a very young Software provider that entered the Online Gaming Market in 2012, but immediately displayed some innovativity and originality, two main aspects definitely not claimable by all too many Providers! Save to say many slots-lovers – myself included – were impressed when taking notice. On average players have been very positive about almost all of their current releases – 22 so far – and i personally feel they have all it takes to rake in Awards at some of the more prestigious platforms.
Just looking at the forums here, one can find a lot of positive feedback as well, and i wouldn't be surprised if their slots score well in future CM Awards!
They are a small company, that whilst still growing, have made abundantly clear they wish to remain 'intimate' as they believe the main force of their company is mainly derived from a dedicated team, where every individual has a say, and has as much input as the rest of the team-members.
Thunderkick is Licensed in Malta and the UK, and is certified in many other Countries as well. They have offices in Malta and Stockholm (Sweden) where the team was originally founded.  They boast a team consisting of various industry veterans, which kind of shows in their released products so far, and say they have a real passion for Games, which again, seems obvious when looking at their products (yes – this particular author is a big fan).
Their full Portfolio is accessible at a lot of Multi-Platform Casinos (100+), a good deal of which are Accredited here at CM, and all of their Games are produced in HTML5 (the first few weren't, but have been converted since) meaning they are playable on every mobile platform, as well as Desktops, naturally.
Thunderkick Games
Their most popular titles – at least according to our forum members – seem to be a few of their latest releases such as Flame Busters, Spectra and Pink Elephants, but some of their first titles are also very popular. Titles like Birds on a Wire, Barbershop (rebranded to Barbershop -Uncut after being updated to HTML5) Arcader and Flux seem to have a steady player-base as well.
Most of their Games are 'High Volatility', meaning they can be pretty harsh to a bankroll, but mostly offer several possibilities of a 1000x bet win, or more (most of them actually have way more than a 1000x bet per single spin in the pay-table) which does seem to appeal to a lot of players, especially here on the forums. Luckily their graphics, animations and sounds are awesome as well, making even losing more fun, on average.
Most of their Games have a cartoonish style, and Flame Busters and Arcader even have a very cool 80's Retro-look, but of course this does not appeal to all players, and i presume for those players they have also provided some more 'serious' classic fruity style slots, such as Flux, Zoom and Fruit Warp. Another one of their more 'serious' slots is The Rift. 
Additional Info
Notable is that all of their Games are hosted on their own Remote Gaming Server, and each and every Game is an in-house production, fully licensed per jurisdiction and/or certified upon release to the public, which should provide the player with a feeling of trustworthiness.
Popular Thunderkick Slots
Pink Elephants
Flame Busters (Marty McFry and the -)
Birds On A Wire
Arcader
Flux
The Rift
Not Enough Kittens
Fruit Warp
Babushkas
Spectra
thunderkick casinos
Pros
Small but Innovative: all of their products display some form of originality, and most of them are really fresh in all aspects, and have excellent graphics, animations and sounds

All of their Games have a worthwhile pay-table with several 1000x or more wins available, the exception perhaps being Frog Grog (but then again that is pretty much their only 'low-volatility Game)
'

Accessible in most major Jurisdictions, and playable in over 100 Casinos
Cons
Only 22 Games to choose from

Mostly Cartoonish Graphics, which is not something for all

So far no Progressive Jackpots in the line-up