bwin Casino Review - Rogue
"Unethical terms for progressive jackpot payouts"
Unethical payout terms for progressive jackpots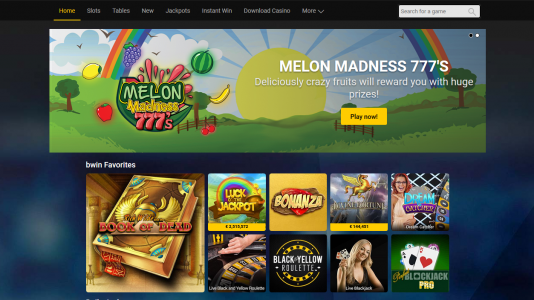 Overview
First Impression
Bwin was listed in the accredited section back when they were small time – Triple-A-Casino and Betandwin. This was back in 2000/2001 – but once their heads got too big to fit through the door, they stopped participating in the forum, they started enforcing retroactive terms on their affiliates, and consequently they were dropped from the site.
They also claim to implement withdrawal limits to progressive payouts. They removed this rogue term in September 2016 when they switched from a Playtech powered casino to one owned by GVC. Recently it came to my attention that this rogue term has been reinstated:
10.3
You agree that the maximum amount that You may withdraw is twenty thousand US Dollars ($20,000) (or the equivalent amount in EUR or GBP currency) every 30 business days. All amounts larger than twenty thousand US Dollars ($20,000) will be paid every 30 business days until the full withdrawal amount is reached. This condition also applies to winnings of progressive jackpots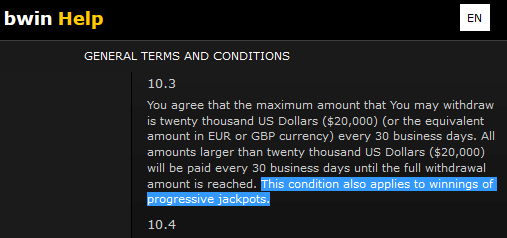 What a load of horse hockey. At press time (5 March 2018), "Hall of Gods" is at €5 Million. If you were to win this jackpot at bwin, according to their terms and conditions, they have the right to pay you 20k per month and no more. Do the math: that means they will pay you the total amount in 250 months = 20 years = rogue BS.
The progressive jackpots are pooled funds. They do not belong to the casino and are paid directly to the player's account via the software provider. For any casino property to have stipulations or limits of these withdrawals is predatory. They have placed the player into a situation where this player will start playing his funds back into the casino.
Do you think this has never happened? It has, and was documented here where the owners of the Playtech run Joyland casino took nearly half of a player's $4.1 million jackpot win.
And no one did nothing about it because she agreed to those terms – which were worse than bwin's: they wanted to pay her $9k a month. When she stated that this was not fair, they paid her half and kept the rest. It is all documented here: Playtech Progressive Jackpot Scandal.
Don't be a sucker – spend your money somewhere else.
General Information
Website
bwin.com
Software
Casino Reps
Live Games
Yes
Loyalty program
No
Founded
2001
Certified
No
Jackpots
Yeah - right!
Accredited
Nope - rogued
Publicly traded
Yes
Mobile
Yes
Other products
Supported languages:
Authorized Countries
Iran
Cons
Implemented predatory retroactive terms on affiliates
Reinstated withdrawal limits on progressive wins
Verdict
Casinomeister Rating
Casinomeister's Verdict
Unethical payout terms for progressive jackpots
Avoid this casino at all costs. If you happen to win a progressive jackpot here, you're going to wish you won it somewhere else that does not have these rogue terms. Don't walk away – run.
Forum threads
Replies: 19
Views: 1386
Last post by
brianmon
7 months ago
Replies: 0
Views: 712
Last post by
Casinomeister
9 months ago