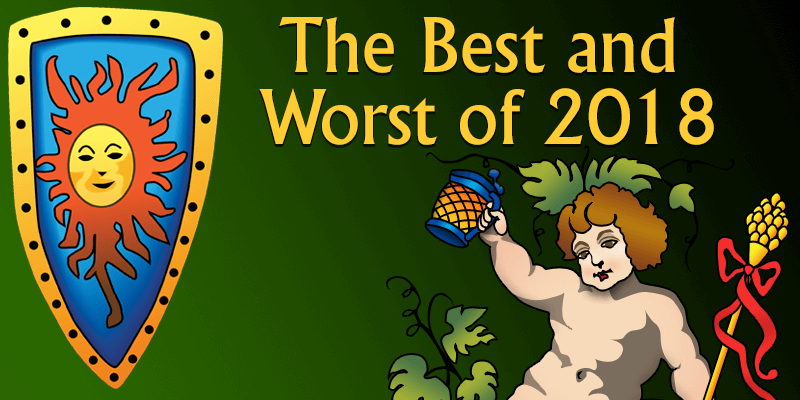 Best and Worst in Online Gambling for 2018
Tempus Fugit – and it is that time of year again to take a look back and see what the heck happened these past twelve months. In 2018, we were witness to a number of events – the manufactured crisis of General Data Protection Act and all of the dog and pony shows that this produced – sort of like Y2K, eh? We saw how the UKGC tried to own the Internet with its well-meaning but shortsighted self exclusion policies. We saw more redundant stupidity from the US – except for the fact that they have legalized sports betting, but maybe not, but maybe so, but maybe not – whatever. And loads and loads of player dilemmas, problems, love-fests, and other wanton behavior in our forums.
And Casinomeister celebrated 20 years online – whaaaa???
But that is only scratching the surface – it is time for the awards for the Best and Worst of Online Gambling 2018. So don your Kevlars, button your chinstraps and jump into the trenches with me.
Here are the awards:
Drum roll please…
And the winners are…
The Best
Best Casino of 2018
Best Casino Group of 2018
Best New Casino of 2018
Best Customer Service Award 2018
Best Casino Manager of 2018
Best Player Experience Award 2018
Best Gaming Experience Award 2018
Best Casino Software Experience Award 2018
Most Awesome Screenshot of 2018
Best Affiliate Program of 2018
Ted Loh Humanitarian Award
Phoenix Award 2018
The Worst
Worst Casino of 2018
Worst Casino Group of 2018
Worst Customer Service Award of 2018
Worst Casino Manager of 2018
Worst Player Experience of 2018
Worst Affiliate Experience of 2018
Most Annoying Affiliate Program of 2018
Faceplant of the Year 2018
Head in the Sand Award 2018
Fall from Grace Award 2018
Stupidest Named Casino Award of 2018
Tangled Web Award 2018
Sitting on One's Hands Award 2018
Fourth Point of Contact Award 2018
Biggest Disappointment Award of 2018
Evil Player Award of 2018
Bag of Hammers Award 2018
Bag of Dicks Award 2018
Our Forum
Forum Highlights of 2018
Casino Representative of the Year 2018
Forum Member Achievement Award of the Year 2018
Most Annoying Forum Member of 2018
Fan Mail of 2018
In Memoriam 2018