Freaky Vegas
Closed Casino
"They cheat their advertisers"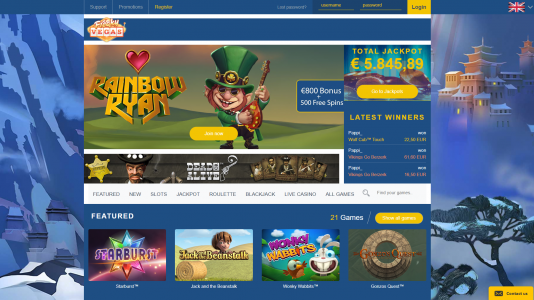 Meister Awards
Overview
First Impression
Freaky Vegas was a relatively new casino which had been in operation for a little over a year when they became an Accredited here at Casinomeister passing their Baptism by Fire with a fair share of kudos from our members.
They were listed here for nine months until we discovered that their advertising links were not tracking properly for UK traffic.
A UK player was complaining in our forum about how he was getting substandard treatment from Freaky Vegas and that they were not abiding by the standards that an Accredited Casino with 8.9 points should be. The staff at the UK site sated that they had no dealings with Casinomeister. It turned out that if you visit the .com site from a UK IP address, you are redirected to FreakyVegas.co.uk
I was alerted by some of our members, and I immediately notified the Freaky Vegas casino rep about this. The casino rep, who I trusted, claimed to be looking into this malfunction of their tracking program. This was in September 2018. Lucas came back to me 29 September stating that this was being looked into. Made and offer in case the tracking couldn't be resolved. On 1 October I told him that this was unacceptable, and that loads of affiliates are being affected the same way, and that they should be informed.
To this day (press time 10 December 2018) no affiliates have been notified that their program is not tracking properly. So in essence, Freaky Vegas is stealing the traffic from those who advertise for them.
Furthermore, this degenerates the value of our Accredited Casinos. 35% of our members are from the UK – they read our reviews, see that the casino is listed as an Accredited Casino, and then visit the casino through us – they automatically assume that they are joining an Accredited Casino which adhere to our Standards. Many of our members DO NOT TRUST casino operations unless they have been vetted by us. So here they are hoodwinked into thinking that they are expecting that sort of service and trustworthiness. This is rogue behavior on the casino's part, and totally unscrupulous.
The bottom line is that if a casino operation is willing to steal traffic from their "partners", how do you think they will treat their players? And the unprofessional behavior of their rep will not be forgotten – and will mark any further casino operations that employ this individual.
I gave them ample opportunities to address this anomaly. The ball was in Freaky Vegas's court on how to properly handle this problem. They made a clear decision to ignore the problem – thinking perhaps it will all go away.
With my twenty years of experience in this business, I feel that it fair to say that this company is heading towards financial dire straits and players should withdraw and close their accounts immediately. Players need to get their funds out of Freaky Vegas as soon as they can before they close shop.
FreakyVegas.com is operated by Glimmer Ltd, a company incorporated under the laws of Malta at Level 1, 115B, Suite 3, Old Mint Street, VALLETTA VLT1515.
FreakyVegas.co.uk is provided by FSB Technology (UK) Ltd which is fully licensed and regulated by the Gambling Commision (000-022201-R-305119-015)
Games & Software
They have the standard NetEnt games, Yggdrasil and EGT games and are licensed in Malta and the UK.
General Information
Website
https://freakyvegas.com
Software
See All Softwares
Live Games
Yes
Loyalty program
Yes
Founded
2016
Certified
No
Jackpots
Yes
Accredited
Feb 2018 - Nov. 2018
Publicly traded
No
Mobile
Yes
Review Published
Oct 27, 2017
Other products
Phone contact
support@freakyvegas.com
support@freakyvegas.co.uk – for the UK players
Contact info
support@freakyvegas.com
Cons
In silence mode concerning problems
Verdict
Casinomeister Rating
Casinomeister's Verdict
Affiliates should avoid this casino at all costs. Players need to get their funds out of Freaky Vegas as soon as they can before they close shop.