Meister Awards 2008
Best and Worst in Gambling for 2008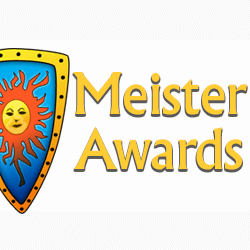 What a long strange trip it's been – ten years of Casinomeister and eight years of Casinomeister Awards. This year proved once again that this is one of the most bizarre and entertaining businesses to be in. I love it. Never a month goes by that we aren't entertained by a stupid casino trick, a customer support snafu, an evil player trying to convince us that he's not so bad, or a casino operator who does something admirable…
So, are you ready for the only "Awards that Matter"? Don your kevlars, fasten your chin straps, and put on your flack vests. You're about to jump into the muddy trenches of online gaming.
Drum roll please…
For seven years, Casinomeister has presented the "Best Online Casino" award for a single business entity. This year, the award has been split into two categories: US friendly and Global. The reasoning behind this is that the US market – which is estimated to be about 60% of all players – is still a viable presence and deserve to be presented with a casino that meets the criteria of a "Best Online Casino".
The Best Casino of 2008 – US Friendly
Club USA has been awarded Best New Casino 2006, and Best Casino Customer Support 2007, well this year just got better: Best Casino of 2008.
Club USA has met tumultuous times with steadfast customer support and service, responsive management and operations. They go to the full extreme to ensure their players are taken care of – and when there are issues, the casino's management is fair and understanding, and settles these issues in the most satisfying way.
It's refreshing to know that US players still have reputable casinos to choose from. Kudos all around for the staff of Club World Casinos.
The Best Casino of 2008 – Global
No doubt about it, made it to the top again. Like the Energizer Bunny®, they keep going and going and going and … well, you get my drift. They have marked the standard most casinos wish to replicate since their launching in 2003.
This is their sixth award, and it's well deserved. They have maintained a strong and steady course providing players and their affiliates with safe and secure gaming environment, fairness and transparency.
Once again, kudos to 32Red – let them continue to lead by example.
Worst Casino of 2008
We had many contenders this year – competition was tough. There were a number of truly rogue casinos that were intent on being the recipient of this coveted award. But one elbowed its way to the top by its total rogueness.
Goldbetting can proudly state that they are by far the worst casino for the year 2008.
There are a multitude of problems with this casino: For one thing, its "play mode" is set to provide a bigger payout than in "real – play for money" mode. Even though this is stated in their "help" files, it's deceptive and unnecessary. How many unsuspecting players were aware of this when they signed up? Probably very few. Unless the casino mandates that players need to check a box when signing up informing them of this nuance, players need to be warned of this.
Besides this, they have had about 50 complaints either posted in our forum or submitted as a PAB in the past two years. Most of these have concerned either no-pay or slow pay. Their support staff is nearly non-existent, and our PAB section no longer accepts complaints about this casino since it is pretty much a waste of time.
This casino has had more than its share of stuff-ups, and I have dealt with them in the past trying to resolve a number of issues – some with success.
But they have slithered back into the rogue pit – the spots on this leopard really haven't changed.
Worst Casino of 2008 – Runner Up
It was a tough decision, but Golden Casino cut the mustard and won this coveted award.
There were numerous complaints in our forum – some were met with sporadic responses. Some concerned non-payment of winnings, retroactive bonus terms and conditions, delayed payments, no customer support. It all boiled down to one big ball of rogueness.
Best Casino Group 2008
The Jackpot Factory has proven that it has what it takes to be an outstanding casino group for the second year in a row. This year they have faced a number of difficult situations with the failure of the US market, but they have rolled with the punches and consistently presented a truly positive gaming experience for their customers.
They are responsive and receptive to player ideas, issues and complaints. Always on the ball, and dedicated to providing everyone with great service.
Worst Casino Group 2008
Though they weren't as bad as they were last year, The Virtual Casino Group has still beat out the competition for worst casino group of the year. What an amazing feat!
Powered by Real Time Gaming software, the Virtual Group has continued to jerk players around and stall payment for legitimate winnings. It's a shame that players flock to these casinos' bonus offerings like lambs to the slaughter. But a fool and his money are soon parted – there are plenty of fools to go around to keep these casinos in business.
Best New Casino of 2008
Red Flush Casino hit the ground running when they first launched in July this year. Backed by clued up staff and motivated customer support, they set the standard on how to successfully launch and run a new casino.
Congrats Red Flush for a job well done.
Worst Player Experience of 2008
Even though there were many bad experiences for players this year, the choice was rather easy.
For the second consecutive year this award goes to Tokwiro Enterprises, the parent group of the Absolute Poker and UltimateBet online poker rooms that have been at the center of some the largest, multi-million dollar cheating scandals in the history of online poker.
Through much of 2007 Absolute Poker was embroiled in an initially denied hole card cheating scandal which was uncovered by astute player-detectives on a leading online poker forum. The grand denouement came late in the year after an investigation by licensing jurisdiction Kahnawake Gaming Commission, with the reimbursement of millions to prejudiced players and a hefty $500,000 fine.
Hardly had the dust settled when similar incidents were picked up early 2008 at Absolute Poker's sister site UltimateBet. Who can forget the seriously unlikely successes and extraordinary playing style of player Nio Nio and others in high stakes no limit games, and the consequent skilled investigation of the 2+2 detectives?
Subsequent company and KGC investigations concluded that certain player accounts did in fact have an unfair advantage, and that these accounts targeted the highest limit games on the site. The individuals responsible were found to have worked for the previous ownership of UltimateBet prior to the sale of the business by Blast Off Limited in Malta to Tokwiro in October 2006.
However, it was subsequently found that the cheating had begun much earlier, in mid-2004 before the Tokwiro ownership era. The company claimed the cheating was perpetrated by employees of the former owners, Excapsa Software, and the fraudulent activity was traced to unauthorized software code that transferred hole-card information of other players to the perpetrators during play.
On September 29, 2008, the Kahnawake Gaming Commission stated it had found clear and convincing evidence to support a conclusion that between the approximate dates of May 2004 to January 2008, Russ Hamilton was the main person responsible for, and benefitted from, multiple cheating incidents at UltimateBet. Others involved were apparently not pursued because they had assisted in the investigation. UltimateBet was fined $1.5 million and subjected to stringent monitoring requirements that included its multi million dollar payments to affected players.
Towards the end of 2008, Blast Off Limited, which retained an interest in the poker room, succeeded in a claim against the Excapsa software provider, then in administration, for $15 million which was used to compensate players. Tokwiro also claimed to have carried out extensive restructuring of both management and operational systems of both sites to prevent any reoccurrence. Subsequently the two sites started operating on Tokwiro's proprietary Cereus Network.
The fact that Tokwiro has apparently restructured and improved its systems in the wake of the UltimateBet affair does not mitigate the horrific player experience that these events imposed on UltimateBet customers, making the site deserving of the title "Worst Player Experience Award of 2008."
Worst Affiliate Experience of 2008
Grand Privé can hang their head in shame for turning their backs on their affiliates and reneging on their contracted agreement.
They announced in November 2008 that they were departing the US market and closing their affiliate program. That's okay, but what is not okay is that they decided to stop affiliate payments to their affiliates generated from the players that still remain active.
Their affiliates were screwed over. When the affiliate webmaster sent a customer to the client, the agreement was for the lifetime of the player. Trust has been shattered. The casino group will continue to profit while tossing hundreds if not thousands of webmasters into the cold. If they are willing to do this with their business partners, how do you think they plan on treating their players?
Evil Marketing Award of 2008
The employees of GoldVIPCasino can be proud of achieving this highly sought after award – there are many evil marketers out there, but only one who is best at what they do.
In 2007, GoldVIPCasino had openly recruited Black Hat SEO wieners to promote their casino. When they were busted out at CAP forums (CasinoAffiliatePrograms), they at first denied it. But when some affiliates produced screenshots of their postings at some Black Hat SEO message boards, they back-pedaled stating:
OK, the affiliates I know care about one thing only – and that's getting paid. The rest is not as important to them. Still, I value your opinion and if you would like a specific response to a specific incident you have documented I will gladly respond.
Also, you would need to prove that the casino is the spammer and not some affiliate. Something which would be very hard to do since we don't spam…
Yeah, they just pay people (affiliates) to spam for them.
The spam complaints were piling up – especially in our forum – and here is the response that one of their managers sent to a player after he complained about the spam attack to his in-box:
Hello ******,
Your pathetic little threats don really phase me. Lol
Just so that we are both on the same page, all your child porn photos that you freely swap online have been forwarded to the proper South African authorities.
Your name has been put on the international pedophile watch list. Im sure you will receive contact from all the numerous watch dogs that
Moniter the net for sick discusting people like yourself.
Anyway enjoy the controlld caos that I so kindly created for you.
Best Regards.
Jason Armist
Manager
Gold VIP Club Casino
What a baby.
Wait – it gets worse. This past fall, players were being swamped with Gold VIP Club spam, and the sender's email address was [email protected] What class. Sure it was probably an affiliate who was missing a few too many braincells, but these went on for weeks. They probably got a bunch of players thinking the emails were coming from me. Good one!
And congrats on a job well done – GoldVIPCasino has beat out every other craphole that has yearned for this award.
Worst Blundering Screwup 2008
To the operators of Casino Action Group wherever they are. Most of us were gobsmacked watching this Microgaming casino group do a tap dance to the tune of "we ain't got no money." As they shuffled away with sad faces and a shrug, there were a kagillion players and affiliates left in the cold.
We can thank our lucky stars that the Casino Rewards Group absorbed these casino properties into their collection of failed properties. The players' and affiliates' balances were transferred and eventually honored.
But even though this story has a happy ending, it just goes to show that mismanagement can occur in what we consider trustworthy and reputable casino groups. A scary situation for players as well as webmaster and affiliates.
Best Customer Service Award 2008
Congrats to for giving their players top priority when it comes to service and support. The customer service it prompt, professional, and personable. Players can contact them via toll free numbers, live chat, or of course email. The casino manger is often at hand and can answer a myriad of questions ranging from payment processing, bonus computations, and on the functionality of the software.
Good going 3Dice, keep up the good work!
Worst Customer Service Award 2008
Plum Gaming ignored player complaints until they were submitted through us. They were stalling payments, claiming "investigations" and the like with no accountability or follow-up. Issues seem to languish without progress until they were pushed to do something, which they sometimes responded to and often ignored.
We are flattered that they cared more about responding to our emails than their players, and that's justification for this prestigious award. Congrats!
Best Software Award 2008
Cryptologic came through this year with their steady yet conservative launching of new products. Highlights this year were King Kong, Street Fighter II, Hulk-Ultimate Revenge, and of course Casinomeister, just to name a few.
Cryptologic casinos are also some of the most solidly run casinos in the business. Complaints are few and far between, and most of their customers have nothing but praise for their casino experience. Payments are fast and secure, and their games are outstanding. Fantastic job this year, Crypto.
Sitting on One's Hands Award 2008
Malta Lottery and Gaming Authority for doing relatively nothing with the Interwetten player grievances.
Casinos boast of being licensed in the EU – presumably a progressive and safe environment for online gaming. But when these jurisdictions "sit on their hands" causing them to either fail to respond to these players or do apparently nothing, all we can say is "what the hell? – and congrats!"
Fourth Point of Contact Award 2008
The "fourth point of contact" is US paratrooper lingo for the fourth point of your body as it hits the ground during a parachute landing fall. In other words, it's yer ass. This award is given to a person whose head is so far up their "fourth point of contact" that the bulge in his neck is his nose…
Well it's the Kentucky State Governor Steve Beshear and his administration who won this award hands down. They had attempted to seize 141 domain names that were connected to online gambling. The reason? He stated: "Unlike casinos that operate on land or on riverboats in the United States, these operations pay no tax revenues, provide no jobs and yield no tourism benefits. They are leeches on our communities."
Yeah, right.
Well the actual reason was that he didn't want his citizens to play poker or casino games online because they weren't patronizing his race tracks (presumably). And his logic was whacked out. Even though online casinos are not located in the States, they provide thousands of jobs worldwide. Online casinos dedicate billions of dollars annually to marketing and advertising. And don't try to convince me that these corporations or their employees don't pay taxes. I know I do.
Speaking of tax payer's money, I'm wondering how much the governor has wasted tying up his courts with frivolous and just plain "block-headed" arguments defending this action. If you don't like what is on the Internet, you turn it off or block access. It's called the World Wide Web for a reason. So get your head out of your fourth point of contact, and join the global community; it's the 21st century.
Head in the Sand Award 2008
This year's award goes out to all the Hypocritical US Politicians who feel that they are protecting their constituency by prohibiting online gaming. It seems that everyone, but the pin-headed politicians, want regulation. Why is this? Because these dimwits have their head so far into the sand (or somewhere else) that they are unable to see the big picture = reality.
Online gaming needs to be taxed, regulated, and licensed by responsible and accountable jurisdictions. Ensure this is done – that's how you protect your constituency. They deserve no less.
Roll With the Punches Award 2008
US Players can stand a bit more taller being the recipient of this prestigious award. For the past couple of years, misguided right-wingers have been pushing their personal agendas and protecting not the US players, but their monopolistic paymasters.
It is not only the i-Gaming industry that has suffered, it's the US players. Players are going to play online no matter what, and it is the players who have been getting jerked around by the true clip-shot-joints run out of the back alleys of Cowboytown.
Kudos to the players who haven't been done over by the rogues. Hopefully there are brighter days ahead.
Best Named Casino of 2008
One thing that is always challenging in naming casinos, is to come up with a name that doesn't have the words casino, gambling, vegas, golden, or club in it. It should also be short, easy to remember, and brandable. Our cyber hats go off to Cherry Red Casino which has simply – a damn good name.
Worst Named Casino of 2008
Who is the friggin' Einstein who decided that naming a casino after a diaper is a good idea? Pamper Casino gets the accolades this year for worst named casino. What were you thinking?
Stupidest Named Casino of 2008
Ministering Angel Casino bewilders the little angel on my shoulder who is always ministering me. What?
Besides using a stolen credit card to pay for their logo, they have a stupid name.
See Stupid Casino Tricks for the scoop on that one.
The Best Affiliate Program of 2008
Brightshare does it again – the best affiliate program of 2008.
Energetic and personable, Lloyd Apter, Brightshare's program manager, has proven again that he is extremely dedicated to his work. He leads a top-notch group of affiliate managers who are responsive, knowledgeable, and perform as true partners. The affiliate program's backend offers webmasters a myriad of statistics that can be analyzed until the cows come home.
Affiliates and their players are the top priority for the team behind Brightshare. Hard work pays off. Kudos for all.
Most Annoying Affiliate Program of 2008
Mighty Slots can pat themselves on the back for this one. Besides not paying their players, their affiliate manager spammed just about anyone with an email address trying to convince them to join.
Attention:
We would like to promote Mightyslots.com on your site.
We can pay you an unbeatable commission rate up to 40% or 250$ CPA. I am sure our CPA offer will be attractive as all Microgaming brands stopped CPA program completely by now.
Our affiliate program is unique and leaves any competitors behind, because we:
– pay the highest commission – up to 40%, lifetime!
blah blah blah – spam content removed
If you are interested to know more please let me know how I can reach you and when, to discuss our proposal.
Thanks,
Mark Ostrov
www.Mightyslots.com Affiliate Manager
Even though I received a bucket-load of these spam-mails, one was sent to a friend of mine (who doesn't even have a website). My friend responded asking the affiliate manager if he had read the report at Casinomeister concerning non-payment of one particular player. The affiliate manager responded:
"This is a ridiculous post, mate… pretty bunch of outdated info there."
That was it.
And it wasn't outdated, and when you represent a company that is a no-pay casino…well that's ridiculous.
Best Affiliate Tool of 2008
Andrew Parsons and Ian Sims AffCAFF system – it's a tool for webmasters to update webpages with up-to-date bonus and promotional offers. Casino operators can enter their most current bonus offerings and *presto* it's live on your website.
This is an excellent tool to use since many webmasters (like myself) just don't have the time to constantly monitor promotions and their changes. This does the work for you.
You can plug in feeds of promos, bonuses and news from a number of casinos, poker rooms, bingo sites and sportsbooks automatically which saves the hassle of constantly updating your sites. Affiliates can also import or export this as an RSS feed.
The best thing – it's FREE for affiliates to use!!
Thanks to Mr. Parsons and Mr. Sims for making the playing field a little bit easier to deal with.
Best Casino Manager of 2008
Pat Harrison is the man. 32Red's Operations Director leads by example; his peers should take some notes on how he operates. He is readily available, approachable, and is capable of making smart command decisions. He is the "face" of 32red – a casino that consistently exceeds our expectations. Well done Pat, give yourself another pat on the back <grin>.
Worst Casino Manager of 2008
The manager/operator of Jonwood Poker is the happy clappy recipient of this coveted award. A player came to us after their deposit plus a small bonus disappeared from their account. Customer Support reported that Jon Wood himself had removed the deposit though no explanation was available or forthcoming. The player turned the case over to us but all attempts to raise the issue with Jon Wood and/or Customer Service were ignored.
Biggest Disappointment of 2008
The Malta Lottery and Gaming Authority takes this disappointing award this year, and I'm clearly disappointed. When Malta joined the EU, most everyone in the industry was thrilled. The LGA was the first licensing agency based in a bona fide country in the EU that was primarily geared towards online gaming (as opposed to commonwealths and territories: Alderney, Isle of Man, Gibraltar). The LGA had representatives at most industry focused conferences – they seemed to be clued up on what players expected. They even were subscribing to our newsletter. Everything seemed honky dory in happy clappy online casino-land.
But then, one of their licensees had a major cock-up. Interwetten began locking accounts and confiscating player winnings.
From an aggrieved player:
"Interwetten ran a promotion at the beginning of February for "Sunday Cashback Madness". The terms clearly stated that £6 would be credited to your account for every £60 lost.
I played at Interwetten on Sunday 10th February and wagered a substantial amount. True to the terms and conditions, my account was indeed credited £6 for every £60 loss. By the end of the day I had amassed winnings of £3984.75, £2864 of which was bonus money, and £1122.75 profit from gameplay.
On the following day my account was locked with no explanation. Eventually Interwetten sent a message saying that due to a "technical error" the bonus was credited at the wrong time. 5 days later they finally reopened my account, however they had removed ALL my gameplay for the entire day, including the cashed in comp points and reverted my balance to what it was the previous night. The claim from Interwetten is that:
"The bonus was wrongly issued after each Casino transaction and then credited to your bonus balance, not on the following day as it is specified in the terms and conditions"
Whilst this might be true, the time at which the bonus is credited does not affect the amount. It does not matter if they credit it on the day, 2 days later or a week later – the terms still stated £6 for every £60 lost, and this is exactly how the software was programmed.
Interwetten used the following term to "cancel the promotion" AFTER the event, once I had already played according to their terms and won a reasonable amount:
"Interwetten may cancel, terminate, modify or suspend the promotion or these terms and conditions at any point and for any reason, including for technical reasons such as and not limited to computer viruses, bugs, tampering or technical failures"
I do not believe this is a fair term under EU contract law, as it clearly gives the casino far greater power than the consumer. Interwetten used this clause to try and renege on their own mistake."
I spoke with the casino representative, and they were sticking to their terms and conditions. They were adamant that they had done nothing wrong and that it was a group of advantage players who had taken advantage of their bonus.
So I referred the players to the LGA. I figured they would be able to hear the players out and make a swift and fair resolution. After all, it was only a handful of players, and I had direct contact with the CEO (who resigned in October 2008).
Each player submitted his or her complaint directly to the LGA and received an automated email response – and then it was sound of crickets. As the weeks dragged into months, I sent a number of follow-up emails checking on the status, and disappointingly enough most of these emails went unanswered. It's been nearly a year since this incident first took place (February 2008), and ten months since these complaints were submitted to the LGA.
So what does this indicate? Well hopefully not that the LGA is just another rubber stamp licensing agency primarily set up to shelter the casino operators from massive taxes. In order to have a driver's license, you have to know how to drive. And if you screw up bad enough the license is taken away. The reason why we have licenses is to protect the pedestrians and other drivers from getting smashed into or run over. This should be no different in the gaming industry – the license is to ensure player safety.
Biggest Disappointment of 2008 II
he White Label Casino Operators who don't have a clue on how to run a casino. One thing that I have always found uplifting, is that at most conferences I attend, there are numerous newbie operators who want to pick my brain on how to run a successful business. My head is full of advice, and I try to be as helpful as possible – and my guidance is always for free. This indicates that there are operators who care, and they want to do a good job (not to mention staying out of the Rogue Pit).
What is terribly disappointing is the number of casino operators who have jumped with both feet into this industry without due diligence. How to protect oneself from advantage players. How to detect player fraud. How to satisfy and meet player demands. How to market casinos effectively. How to build an online presence. These are topics that most newbie casino operators should be well versed – yet there were numerous complaints in our forum and "Pitch a Bitch" section that indicated that many newbie operators hadn't done their basic homework. What a shame – and how disappointing.
If you are a newbie operator, and your foot fits into this shoe – please subscribe to our industry focused newsletter here: The Meister Blatt. It's free and painless advice.
Biggest Disappointment of 2008 III
This past November, we heard a collective gasp and then a groan as Microgaming pulled out of the US market. MGS provides players with some of the best games and casinos ever – and to leave the US market caused a number of players to want to give up gambling period.
Most players have always felt safe dealing with Microgaming casinos. This void will be a hard one to fill – perhaps when the US land based casinos enter the US market this will change – but until then…how disappointing.
---
Casinomeister's Forum is one of the most popular forums in the online gaming industry mainly because of its diverse and dedicated members. I am indebted to everyone who makes it such a satisfying and interesting place to hang out. Special kudos go to the members who go that extra stretch to make it a quality and informative place – you know who you are. It's members like you that make Casinomeister's forum a very powerful and constructive voice. Thank you everyone.
Most Annoying Forum Member of 2008
It's a group award this year. It's the "Ass Clowns" who can wave this proud flag. An "ass clown" is moderator lingo for persons who are banned from a forum only to keep signing up under different user names – again and again – thinking they won't get caught.
TWO EXAMPLES: eduun (aka Fcat, sosad, djackson). When eduun had told me she was quitting gambling and had opted out of the forum, I honored her wishes. The next day she sent me an email: "F**K YOU" was all it stated. Since then she has continued to sign up.
Another noteworthy a.c. is Murder1 (aka Mishun, Atlanta, Itoldyouso, Jtmoney, Lordhavemercy, Upset)
The last time he was banned I received this:
"How about you sue me? You're just a ass kickers Mr Meister. You like the little power to ban someone. Get a real life. Yea ill be back again and again. Sue me! I have done alot of work for your forum. Get over yourself. Look at the economy. You will soon be poor trash in ur country. Damn Idiot!"
And he tells me to get a life.
I should be flattered that they keep coming back. I am in a way, but boy, are they annoying.
Forum Highlight of the Year
The moderators and I keep a close watch on the activities on our forum. We're always on the lookout for scammers, spammers, fraudsters and trolls. When Cynthial and Swede logged on from the same ISP one day, our eyebrows were raised. Hmmm, we thought: Swede is in Sweden, and Cynthial is in the States. We discarded any notion that bad intentions were being made, and went back to our business thinking perhaps they had been using proxy servers or something. Lots of players do that.
But then this – from InfoPowa news:
REAL ONLINE GAMBLING ROMANCE
Online gamblers play it for keeps
Using an Internet online gambling message board, trans-continental phone calls, email and IP messaging, two people living thousands of miles apart but with a common pastime and interests played for keeps this week when their marriage was announced.
Both were active members on the Casinomeister.com Internet gambling information portal and forum when they first came into contact with one another in June last year, and romance blossomed as they shared knowledge, opinions but above all a great sense of humour on both their pastime of choice and life in general.
Message board exchanges grew into private messages, emails and phone calls between Sweden and the United States on a daily basis, with Christmas and New Year 2008 jointly celebrated via the Internet.
"Swede" revealed this week that he and his new bride "Cynthial," who runs a construction products company in the States, finally met face-to-face on neutral ground in London, spending a week together visiting shows and restaurants and generally getting to know one another. "By far the best week of my life up until then," 'Swede' commented.
When the couple parted at London's Heathrow airport to return to their respective countries, "Swede" had already made up his mind to join "Cynthial" on a more permanent basis, and in short order closed his antiques auctioneering business and started planning for the big move to the United States. He landed in the States in April, the couple married and have not looked back since.
Now the couple have a joint venture in mind, planning to open a restaurant on the historic Route 66 in Albuquerque, New Mexico later this year.
"Swede's" new life partner said this week: "You never know what this world has in store for you. I was instantly attracted to the humour which was apparent in his (Swede's) posts and letters and we have not stopped laughing yet. We are just suited to one another. Truly marvelous."
This was probably the best thing that has happened in our forum not only this year, but in the past ten years of its existance. We can thank the cyber-cupid for bringing these members together.
I wonder who is next. Could it be you?
Stupidest Casino Trick of 2008
Ministering Angel Casino can shout in glee for not only having the Stupidest Name Award this year, but also the Stupidest Casino Trick Award. Double stupid! Yipee!
An inquiry appeared in our forum – this was a new casino, the landing page was a nightmare, the software played like crap, and they had lifted the terms and conditions from one of the Bellerock casinos.
We thought this was just another run of the mill rogues, but were we in for a surprise.
It turned out that they used stolen credit cards to "pay" for their logos, they sported an unauthorized TST Certificate, and they sent a shill to our forum to state how great their games were.
Best Warning Robot of 2008
How could this be any easier? Vortran007 is the ONLY warning robot out there in cyberland. This year he has warned players about the risks of playing at crap casinos, Top Speed Poker's non responsive customer service, Golden Casino's rogue-like behavior, Mighty slots no pay casino, and many more situations that deem his intrusion. Where would we be without Vortran?
He's my buddy; he's my sidekick. He's an integral part of Casinomeister's Webcast – and he's here to stay. Kudos to Vortran – job well done!
Check out Vortran007 on our YouTube presentations!
The Evil Player Award for 2008
I have to hand it to BigRounder72 this time; he can wear this badge proudly.
Last April I was contacted by the operator of Eurolinx who had a dilemma on his hand – he had a player (BigRounder72) who had made a posting at the 2+2 Forums. The player claimed the following:
On March 24th, I requested a wire withdrawal of my balance of $145,000. I was told the wire would take 2-7 business days, and received an email confirmation from the VIP manager, that my wire would hit my bank on April 3rd. Nothing arrived on April 3rd, and the Owner and CEO of Eurolinx, promised to "put a trace" on it (which he did not). He then emailed me early Friday morning and advise me that "there is a slight delay or 1-2 days", which would mean the wire shoud arrive no later then today (Monday, April 7th).
On Friday even, the operator, offers to "advance" me and credit my poker account $245,000. Hmm, strange, has anyone else ever received an "advance" from any MicroGaming site, especially in the amount of 1/4 of a million? I accepted, and in a matter of 12 hours lost the entire amount.
I expected to receive the promised wire of $145,000 today, and I would have then wired them the $245,000.
On Monday morning, I received an email from the operator telling me that "fortunately we were able to cancel the wire for $145,000….the amount you need to wire is only $100,000"
WTF…How are you able to cancel the wire for $145,000 on Monday, April 7th, when it was first to have been received April 3rd, then April 7th, but in fact, as of April 7th (10 business days after being requested) it had not even processed.
I'll like the opinion of 2+2ers on whether I should send them the $100,000 or if I am in the right that Eurolinx first needs pay me the $145,000 which was promised to me.
The operator was adamant that the wire had been sent and that this player owed him $100,000. He even offered to fly me out to Malta to check out his records and visit his bank.
The player on the other hand, was convinced a wire was never sent. Generating 129 pages of chat sessions and numerous threads at 2+2 and Casinomeister, he wanted proof that the 145k wire was sent.
Both the operator and the player wanted to bring me on as an arbitrator and said that whatever I decided, they would honor that decision. Well, after investing an incredible amount of time – reading the chat sessions, following the forum threads, and coming up with ideas on how to solve this matter, the player never ceased to continue generating more issues with his constant forum postings.
He also posted private messages that I had sent, badgered the casino with lies (stating that I was prepared to rule in his favor), and manipulated the truth to his own means.
But to cut to the chase, the wire was never sent. BigRounder72 is an evil genius. During the arbitration process, he had created a Yahoo email account using the operator's name within the email address. He then contacted the casino's bank, impersonating the operator, and asked if the wire had been sent yet. The bank replied "what wire?" and that was the end of that.
The player may be a creep, but he proved (in a dastardly way) that the casino never initiated the wire, and the operator had lied to me and to the player. Thus the casino was removed from our Accredited Casino section.
BigRounder72 also said that he'd bribe me if I ruled in his favor. So I threw my hands up in the air and walked away from this one.
Should Have Known Better Award
To the operator of Eurolinx who brought me into the Bigrounder72 mess. You should have known better than to have lied to both me and to the player community. You don't bullshit the Meister and think I won't find out.