Meister Awards 2002
Best and Worst in Online Gambling for 2002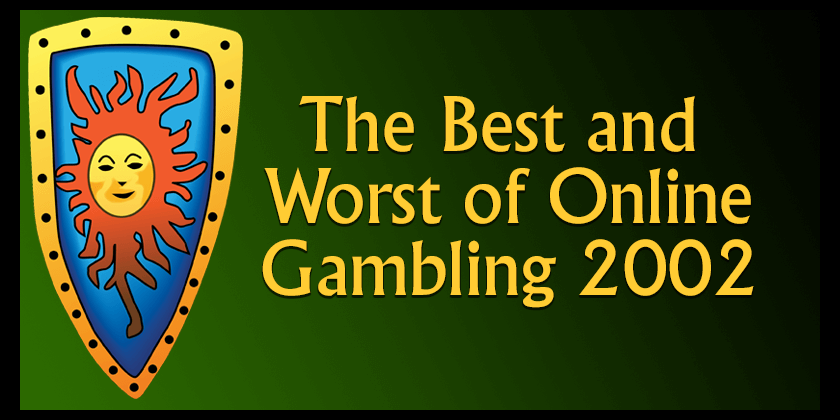 2002 has come to an end. And with this ending, a reflection of the past 12 months is warranted and this is our special moment of handing out Casinomeister's "best" and "worst" awards for the online gaming community. 2002 proved to be the most challenging year so far with player payment processing becoming more difficult and complex. Many casinos struggled to stay afloat under the scrutiny of a more savvy and well-read player. And the aftermath of 9/11 finally began to reverberate throughout the industry rocking many to their knees. Fear of terrorist fundings paved the way for a more stringent policy on the way banks handle cash. Watch out for those Taliban money launderers! Perhaps they own Casino-on-air! All kidding aside, this year brought out the best and worst from many individuals associated with the online casino arena.
So here it is, the best and worst of 2002. We've listed everything from the traditional coveted "Best Casino" to the "Best Forum Posting" and to the "Stupidest Casino Trick". This conglomeration is derived from your letters (or should I say emails), your experiences, your responses in the forum, and my experiences as well.
And the winners are…
The Best
Best Casino of 2002
Best New Casino of 2002
Best Casino Group
The Best Named Casino
The Best Online Casino Experience
The Worst
Worst Casino Group
The Worst Named Casino
The Most Entertaining Spammer
The Worst Online Casino Experience
The Stupidest Player Scam
The Stupidest Casino Trick
The Stupidest Casino Trick (runner up)
The Stupidest Casino Trick (third place)
Our Forum
The Best Forum Posting
The Worst Forum Posting

The Best Casino of 2002
Competition was fierce this year, and this really began to separate the men from the boys so to speak; well established casinos became even more established while some of the weaker ones began to drop like flies. Intercasino kicked butt this year and has been awarded Casinomeister's Best Casino of the Year Award. Their promotions are top notch with every week bringing a variety of reasons to revisit their casino. The software provided by Cryptologic has a myriad of possibilities; playing with other casino members at the tables, or just hanging out by yourself at the slots or other table games. And who can help but try to spot Ryan, the casino manager who makes his brief appearances handing out cash prizes to lucky players.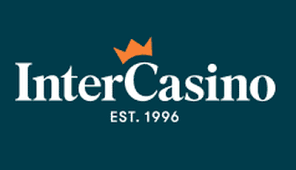 Intercasino is a well established casino and has been around for a number of years. Their reputation is outstanding and player satisfaction is just as high. Complaints concerning this casino are rare, but when they do emerge are handled promptly and professionally by a dedicated staff. Their award is well deserving.
Runners up:
Captain Cooks Casino
The Sands of the Caribbean
The Best New Casino of 2002
New casinos were coming out of the woodwork this year, many falling flat on their faces from the anti-gambling forces at work in the States. Or they ended up shooting themselves in the foot with poorly planned promotions. Nevertheless, quite a number of casinos that entered the market this year established themselves as forces to be reckoned with.
Spin Palace is awarded Best New Casino of the Year. This is a casino that has raised itself above its peers by establishing itself with a very cool theme (Excaliber-like motif) and a wide selection of games. Powered by Microgaming, this casino has a very responsive support team and dedicated management. They are fair and well versed as to what is to be expected of an online customer based business. Complaints, if any, are handled in a swift and appropriate manner.
They have a number of exciting promotions that change weekly. This is definitely a casino that knows the business.
Runners up:
Sun Vegas Casino
Best Casino Group
The Trident Entertainment Group outshines the rest this past year. King Neptunes Casino, Trident Lounge, and the newly re-managed VegasUSA Casino.
Micki, previously of Sunny Group (which was awarded Best Casino Group of 2001) built a formidable reputation for ace customer service, integrity and fast payouts and became one of the most respected casino managers in the business. She has brought these skills and commitment to the Trident Group. Experienced players know they are in good hands.
In 2002, the Trident group brought the defunct VegasUSA under their wing. With the highly experienced Trident management team there is little doubt that VegasUSA, which had a series of managerial problems last year will be sorted out, probably be given a games overhaul and brought into the same efficient line as its new sisters.
Micki is a regular attendee of most Casino Conferences and Exhibitions, giving her a well respected high profile that is essential for success in this business. Hat's off to the Trident Group.
The Best Named Casino
32Red Casino wins the top award in this category. The name draws one's attention and there are several factors behind the reasoning of this name:
Roulette is the most famous/synonomous game associated with casinos.
32Red is one of the most popular numbers in a bricks and mortar casino (if 32Red has come up several times during the evening, the manager knows they will have less money to count than usual!).
It's short and memorable.
The characters are all extremely close to each other on the keyboard of your PC
There is no gimmicky theme implied. Good thinking, 32Red!
The Best Online Casino Experience
This one was easy. $1.6 Million won on "Major Millions" at Captain Cooks Casino by Tony P. He only made a small deposit and was playing the progressives, playing "Major Millions" for a little bit then switched to "Lotsa Loot". He was getting ready to call it a night when he went back to "Major Millions", then wham! A grey screen dropped down stating "Congratulations! You have just won the progressive jackpot!" That was it. "Oh my God," he said, gazing at it in total disbelief. He stared at it a little bit longer before it sunk in. "Oh my God!" he yelled as he ran upstairs to drag his wife out of the shower. They both scrambled down and entered the room standing a safe distance away from the computer, afraid to get too close, perhaps touching something that would cause the image to vanish.
"Is it real?" she asked. "I don't know, but it sure looks real," replied Tony. They waited a bit more before touching anything. He then clicked on the screen and it went back to the winning screen which indicated $1.6 million dollars in his account. They both started laughing as she started counting the digits.
And it sure turned out to be real. Thanks to Microgaming, Jackpot Madness, and Captain Cooks Casino, Tony P. his wife, and several other guests (including your's truly) were treated to a weekend of extravaganza in Monte Carlo. What a fantastic experience!
Worst Casino Group
The Virtual Casino Group receives this award for their painstaking endeavor to become a glorified pain in the butt. If they were attempting to become merely incompetent this past year, they far exceeded their goals. Hats off to a series of bungling episodes that were so bad, they were laughable except of course when player finances were involved.
Year highlights:
Moronic spam-a-thons by U1casino
Credit Card information revealed by exclamatorycasinoplan.com
Customer support center slanders me
The Worst Named Casino
Have ever seen the film "Goodfellas" with Robert De Niro and Joe Pesci? Well, it's about mafia crooks. And within the first three minutes of the film, a guy is brutally stabbed with a butcher knife in the trunk of a car. I wonder if this is the impression that the owners of Goodfellowscasino wanted to convey. Unfortunately, this casino died about as quickly as the unlucky guy in the trunk. Their theme: Mafia Gangsta's (Goodfellas). Their screwup: offering a too good to be true bonus that sucked in every bonus hunter imaginable. They shut down, paying back deposits stating "Lucky Luigi and Good Fellows Casino sincerely apologize for any inconvenience as these measures were taken to preserve the integrity of Da' Family and its loyal players."
The Most Entertaining Spammer
Who can forget the antics of "Brother Kilgore" and "Brother Frank." Kilgore, an ex-circus performer (monkey wrestler) who was mute and locked in an elderly French Millionairess' basement, is a poet, longing for love and human compassion. Frank, a Nigerian scam artist, makes the mistake of spamming Kilgore asking for his money. Read their exciting email exchange that covered two months of promises, intimacy, bad poems, and the promise of wealth.
The Stupidest Player Scam
If you were to ask most people on the street to voice their opinions about online gambling, many would come back with a knee-jerk response stating how crooked they think the industry is. Sure they may be right in a lot of cases, but what I find is that there are just as many crooked and thieving players as there are rogue casinos. Most of these scam players think they're pretty sharp; make a deposit, play it out, and try to reverse charges. This is the usual scenerio.
But the two scenerios highlighted this year are exceptional. Both players involved went to extremes trying to scam the casinos, and I applaud them for their creativity and connivery.
Crudebar AKA Casino Stinky at Winner Online, wanted me to assist him in getting Homebets.com to pay his "grandfather" his winnings. Apparently his grandfather had won about $5,000 at Homebets, but couldn't prove his identity. Crudebar sent me a photograph of himself and his grandfather at what appeared to be a highschool graduation ceremony stating that this was "proof" that the grandfather existed. When I contacted the casino, they sent me a copy of Crudebar's drivers' license, and a copy of the one submitted by the "grandfather". It was astonishing. The photos were remarkably the same; the hair was a bit grayer, and the face was a bit funky on the "old man". But it was the same pose, same tilt of the head. The addresses were different and so was the birthdate. But this nit wit forgot to change the signature. It was some mighty strong glue he was sniffing.
The saddest part is that this "grandfather" was probably deceased, and this scammer was trying to cash checks in his grand father's name. Shameful.
But the winner for the "Stupidest Player Scam" goes to Evil Rhonda X. This woman submitted an obviously doctored screenshot of a $3000 jackpot to 32Red Casino. The hilarity of it all was that she claimed to be a cop for twenty years, and also a newly hired agent of the U.S.'s Homeland Security. Yea, right.
But there is more, when confronted with her obvious scam, she suddenly claimed it was her teenage son who had played the casino, doctored the screen shot, and wrote all of the threatening emails. What a nut case! And it gets worse! After approaching me and getting blown out of the water, she contacts Julie Sidwell at Gambling.com's gambling grumbles with another screenshot! Hats off to a marvelous effort of creative thievery. To read the full story (to include the screenshots) check it out here.
The Stupidest Casino Trick
What I hate are people who use deception to give themselves credence. Fake watchdog organizations are out there, and they are relatively easy to spot. In most cases, they are run by the same people who are running the "approved" casinos. It doesn't take an Einstein to figure this out.
Last August, it was brought to my attention by the operator of the Internet Gaming Commission (http://www.internetgamingcommission.net)that an Inet Software casino group had pirated the entire website of the Internet Gaming Commission and registered internet-gaming-commission.net (notice the hyphens) and gave "accreditation" to their casinos which had purchased this domain.
This URL now redirects to the http://www.internetgamingcouncil.com/ which is just a copycat watchdog site. The operators of these casino expected that this ruse would go uncontested or unobserved. I wrote to them, explaining my concern over this act of stupidity; they are confusing players with these games and it should be made known that these stupid tricks shame the industry as a whole
I received the following letter:
From: IGCFJSmith@netscape.net
Date: Mon, 19 Aug 2002 14:26:02 -0400
To: info@casinomeister.com
Cc: info@internetcommission.net
Subject: Internet Gaming Council
X-Mailer: Atlas Mailer 2.0
Dear Casino Meister
The Internet Gaming Council is a new independent council that monitors internet gambling sites. The managing members have been involved in on-line gaming sine 1997. Currently there are more than 50 INDEPENDANT gambling portals, agency's, forums, councils and commissions like yours providing online gamblers information to help them select a reputable and reliable book to play with. The problem is that most portals have no clue on how to rate a casino. I visited countless independent watch dog sites like yours and saw a staggering number of large casino operations that have been in business for years being bashed all over the internet on bad lists and rumor mills, what a joke! If an online casino has been in business for years they must be doing something right, active players are hard to keep. Get a clue! That ridicules and unnecessary bad press is killing this industry!
If I was a potentially new online player surfing the net for information on online gaming and read some of the s**t out there I would NEVER consider betting online, I would stick to the office parlay cards and double up on office pool squares because I guess that's as good as it gets.
The real problem is most gaming portals fail or refuse to recognize that cyber crime is on the rise, casino scammers get caught daily, and they immediately run to every gaming portal they can find and scream bloody murder in an effort to extort money. Most portals will immediately post the information without contacting the casino and make it a news flash before hearing both sides of the story. If and when the casino is given the opportunity to clear their name it's usually too late, the damage has already been done, not only have you tarnished the reputation of a casino you tarnish the online gaming industry as a whole by putting more unnecessary negative press out there, that's too big a price to pay for a few extra hits to your site.
The IGC's plan is to put back a positive spin on the industry, potentially new online players should know how fun, fast, easy, and convenient online gaming is, how user friendly software is, and what casino's have to offer. We will also handle player disputes in a fast and fair manner, both sides will given ample time to state their case before any press is printed about a casino, negative or positive. We know casino audits and queries are a necessary and take time. Casino operations will NOT be guilty till proven innocent on this site! This industry needs a breath of fresh air.
Sincerely,
Frank J Smith
Internet Gaming Council
P.S. To the two competitors which I won't mention that have been bad mouthing us out there, lose the sour grapes, don't be mad because we are joining the same race for traffic.. More site improvements and additions to come in the next few day's.
http://www.internetgamingcouncil.com/index2.htm
Oh a netscape email address. I was so impressed NOT! Anyway, after wiping the tears from my eyes (from laughing so much, not crying), I replied with this:
You've got to be kidding me! I'm not sure if your email was directed towards me or to portals in general, but I think some of your comments are way out of line. For one thing, I don't need to "get a clue". Just because a number of casinos have been online for a number of years does NOT mean that their business is on the up and up. For instance, it's a matter of public record that some of the individuals who hold key positions at Golden Palace have been convicted of telemarketing fraud, and now they are operating an online casino. Criminality and online casinos go hand in hand at times, (I'm sure you can relate to that). I don't go bashing casinos all over the Internet; I support the casinos who conduct themselves in a professional manner.
I have "a clue" on how to rate a casino; I've been doing it for a number of years. I meet with most of the casino operators who have casinos listed at Casinomeister. I travel to most conferences and conventions to meet with software providers, ad agencies, and other people who are well established in the online gaming industry. I am also a committee member of the Online Players Association which has been actively involved arbitrating a large number of disputes over the past two years. At Casinomeister. I don't recklessly label any casino a rogue or not recommendable, it takes research and a fair bit of legwork before such an accusation is made. I definitely have a clue on how this is done.
A bit of advice: choose another business "name" since your acronym is easily confused with the real IGC (Interactive Gaming Council). It would seem to many that you are riding the coat-tails of an agency that is well established in this community. It shows a lack of imagination. But I guess this is your intention since most business names are well thought up.
An additional and final note: your website pirated the images, text, and logos of the Internet Gaming Commission and the Interactive Gaming Council. This is a criminal offense which is governed by international copyright laws, so please don't act as if you are doing anyone a favor trying to "clean up" the online casino world. You're just another bogus website set up by another desperate casino group trying to give itself some sort of credence. It's deceptive, dishonest, and will definitely backfire on those who came up with this scheme.
Sincerely,
Bryan Bailey
In short, you have to be careful out there. When a casino lists "Approved by" logos and "memberships" check these places out. There are quite a number of operators out there who consider the players foolish like lambs to the slaughter. Don't be fooled by their attempts to coddle your trust. If they are willing to lie and cheat to obtain their customers, what do you think they will do to you?
The Stupidest Casino Trick (Runner Up)
Bringmeluck.com, or what is now Bmlsports.com, were damn close to winning first place, but alas they are merely second. But regardless, they outshine most when it comes to incompetence and bumbling their way to make a buck. And this is what is important to them by far; your money. They will jump through any hoops no matter how big or small just to dig into your wallet. They use deceptive tactics and will try to talk themselves out of a serious situation with b.s. when confronted with a problem.
The problem? Last February, Bringmeluck's servers were presumably hacked when players were emailed by the "casino manger" inviting them to inspect a link where details of some 500 Bring Me Luck players' credit cards, personal addresses and gambling histories were displayed. The page went down, but it was estimated to have been up for about 72 hours. Players could only speculate what had gone wrong. The site came back up and issued a fifty percent "re-up" bonus and apologized for "many unlucky happenings". Was it a hacker? Or a disgruntled employee? Mike Craig from the Online Players Association gave them a call to see what was going on. Click here to listen to their support center reassure Mike that "everything is under control". Yeah, right.
The Stupidest Casino Trick (Third Place)
1-online-internet-casino-gambling.com was caught with it's cyber pants down. In March of 2002, it was brought to my attention by some sharp observers that this casino was claiming to be a Playtech Casino which they were not. They are an iGlobalmedia site. What was odd, was that they had screen shots of Swiss Casino's games on the site. The slot machines included Swiss Casino's logo, the table games included Swiss Casino's cards. And what was even more odd, the image of a Royal Flush on their index page was reversed into a mirror image. A telltale sign of devil worshiping. After these things were brought to their attention, they were corrected. They claimed to be a victim of a rogue webmaster who built the site.
The Best Forum Posting
This year has been one of the most active years in our forum and at press time (7 January 2002) we have about 1700 registered users, which is up from 1134 registered users this time last year. In January 2000, there were only 344 active users. Casinomeister's forum is a hotbed of online gambling information with many seasoned players making regular quality posts as well as the bumbling posts made from shills and spammers. One of the most enlightening and pleasurable posts made was last December when one of our forum members won a Jackpot playing Jacks or Better at Casino Fortune. He had deposited only $20 and turned it into $20,000, here is his story
The Worst Forum Posting
I read nearly every message posted in our forum. It's virtually impossible to respond to every topic, but I try to give it my undivided attention when a person is seeking advice or assistance. When shills or spammers post, I may leave the posting up for a couple of days, letting the regulars have their dig at someone violating their space, before I quietly delete the offense. On rare occasion though, there is a posting that could be considered offensive. The following was perhaps the first posting that really offended a lot of people in a long time.