Meister Awards 2001
Best and Worst in Online Gambling for 2001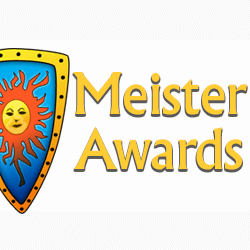 As 2001 came to a close, we reflected back over the last twelve months and honored the best and worst in the realm of the online gaming industry. 2001 was the most dynamic year so far, and the lessons learned from casino operators and players alike are staggering. We saw how terrorism affected not only our personal lives, but the entertainment industry economies as well. We've been amazed by the winnings of players, and frustrated by the actions of others. We've been baffled by some casinos' cryptic terms and conditions, and relatively p.o.ed by the behavior of a choice few casinos which are determined to give the industry a bad name.
So here it is, the best and worst of 2001. We've listed everything from the traditional coveted "Best New Casino" to the "Best Forum Posting" and to the "Stupidest Casino Trick". This conglomeration is derived from your letters (or should I say emails), your experiences, your responses in the forum, and my experiences as well.
Drum roll please…
Best Casino of 2001
The Best Non-Downloadable Casino of 2001
The Most Original Promotions
Worst Casino Group
Best Casino Group
Tackiest Press Release
The Best Forum Posting
The Worst Forum Posting
The Scariest Screenshot of the Year
The Stupidest Casino Trick
The Stupidest Casino Trick (runner up)
The Most Frustrating Casino Moment
The Worst Online Casino Experience
The Worst Named Casino
The Best Casino of 2001
This was a toughie since there are many good casinos out there. What was taken into consideration was not only the service and support that the casino provides, but also the variety and originality of the promotions that the casino offers to its players. Kiwi Casino has celebrated its first year and has given players many opportunities to enjoy a variety of substantial promotions. They have gone from the standard sign-up bonuses to vacations in New Zealand and other refreshing promos. The software is stunning and is a pure joy to play. Customer service is very prompt and the management is friendly and quite accessible. Congratulations Kiwi!

The Best Non-Downloadable Casino of 2001
For players who are WebTVers, downloadable software is a problem. And since most of the upstanding casinos are only available via a several megabyte download, players with WebTV are virtually gameless. $lotland is javabased and has been up and running for about three and a half years. They provide great games, (especially if you're a slot fan!) and have a wide variety of some really nice promos. Slotland's customer service is very prompt and they have a several ways to handle cash transactions. Good goin' $lotland!
$lotland
www.SlotlandEntertainment.com

The Most Original Promotions
For online gamers, the Got2bet world can be pretty boring and bleak with the redundant "sign up and get $35 FREE" bonus. It's lackluster and unimaginative. What's nice to see is a casino that consistently comes up with something new. The people behind Captain Cooks Casino have done their homework, and they understand what their players want: fun, refreshing promotions. One example is the halloween promotion where players must find and click little Halloween icons throughout the site to win cash prizes. With each holiday, they conjure up something to bring their players back. Good job Cap'n!
Worst Casino Group
The Las Vegas Strip Casinos receive this award for the thoughtless way in which they froze all Danish Player's accounts. Last May, players from Denmark found their accounts blocked and the casinos nonresponsive to inquiring emails. Apparently, the casino group had identified Danish players as "risk" players and locked their accounts. At first, the casino group claimed "server problems" in Europe to be the culprit to the non-accessible accounts. When third parties such as Casinomeister and the OPA intervened, the casino group finally admitted with a token form letter, that they were warned by the "Internet Gaming Council" (there is no such entity) of an abundance of fraudulent activity from players in the the country of Denmark. They also assured "any and all pending credit card withdrawal requests will be processed in a timely manner." Timely was quite subjective on their part.
Months went by without Danish players receiving not even a courtesy email as to what the status was on their accounts. Most of the players had not even received the form letter that was sent to inquiring third parties. It wasn't until August 2001 that these Danish players (most of whom were regular customers, not trying to defraud anyone) began to see their deposits returned to their credit cards. But only those players who had winnings were given their deposits back. Those who had lost their deposits were just SOL.
Everyone understands protecting one's business from the unscrupulous fraudsters is neccessary, but the treatment these players received was uncalled for and should have been handled with a little tact and consideration. Bad, bad casino group.

Best Casino Group
The Sunny Group Casinos, Mapau Casino, Casino Fortune, and Miami Beach Casino, offered financial support to Caribbean children living with Aids.
"It is an honor for Microgaming to be able to contribute to a worthy cause like Children Living with Aids," said Roger Raatgever from Microgaming Software Systems. "2001 brings us to 20 years with the AIDS epidemic and every day children are still dying by the thousands. Our contribution is a drop in the ocean; however; we feel that if we save one child, other responsible businesses will take our lead and do the same. "
Sunny Casinos' online casinos MaPau and Casino Fortune have already agreed to cover all administrative costs for the charity. That apart, the group also acts as sponsor for two children from the Cyril Ross Home by meeting all their medical costs.
They also launched an innovative online Goat Race fundraiser to bring Christmas gifts and good cheer to children stricken with Aids, and the response from players was overwhelming. Good going, Sunny Group.

Tackiest Press Release
Omni Casino, which is one of the better Cryptologic casinos, found themselves with their foot in their mouth with what many players felt was taking advantage of a catastrophic event. Perhaps they should have hired a different press agent:
Wednesday September 26, 9:04 am Eastern Time
Press Release
SOURCE: Omni Casino
Omni Casino Shows Its True Colors
ANTIGUA, St. John's–(BUSINESS WIRE)–Sept. 26, 2001–In a tremendous display of solidarity and patriotism, OmniCasino.com, a long time foe of the US Government, Attorney General Ashcroft, and even Janet Reno before him, has made a pledge to donate a portion of the proceeds generated from its online casino business to assist in the relief efforts, and for the families of the victims affected by the tragedies of the terrorists attacks on the WTC, Pentagon, and Pennsylvania.
"OmniCasino.com has players from 126 different countries around the world, but none are more loyal and consistent than those from the US…" explains Alex Roberts, Omni Casino's Public Relations Officer. "…and even though the US Government is trying to put forth legislation to abolish our industry, we still feel compelled to offer help in this time of crisis to the American people, the families of the victims, and the heroes who died trying to save them."
Roberts continues, "That means putting our political differences aside, and allowing the proceeds from an activity such as online casino gambling, help generate sizable and ongoing monetary donations to the American Red Cross, and the New York Firefighter's Fund."
This would not be the first time the US received assistance directly from the proceeds of various forms of gambling…The American Revolution was funded in part by a lottery, and Omni Casino is urging not only New York State's Lottery, but all the Lotteries from all the other States in the US to donate a portion of its proceeds to worthy charities.
In addition to the percentage of the profits that OmniCasino.com will donate, Omni Casino's individual players can help make a difference as well. As members play casino games using the software, they earn `Omni Points' which are normally redeemed on the omnicasino.com website for cash. Now the redemption center on the website has been equipped with an option that allows players to donate money directly to the relief fund of their choice. "It's a lot of little things like this, that will help make a difference," adds Roberts.
Together the American people can make the World a better place for all. God Bless America.
As a longtime foe…like Iran or Libya? Come on, be real. They overly dramatize their significance. I don't think these people (the US government, Janet Reno, Ashcroft) have ever heard of Omni Casino. Omni casino just happens to be one of the +1800 casinos, and the feds have been trying to squelch the whole lot. But I hope whatever Omni Casino did, it did some good..

The Best Forum Posting
This year has been the most active year in our forum and at press time (1 January 2002) we have 1134 registered users. This is up from 344 registered users from last January. Casinomeister's forum is a hotbed of Online Gambling information with many seasoned players making regular quality posts as well as the bumbling posts made from shills and spammers. One of the most informative postings was made last June by Spearmaster, the webmaster of Got2bet.com in which he gives advice to the online gamblers, novice and expert alike:
Read the fine print before you gamble online
When you gamble in a land-based casino, in most cities rules are generally the same – except Vegas, which usually has slightly different blackjack rules for the Strip and downtown. For the most part, you can be pretty confident that you will not have to meet various terms and conditions other than age and perhaps dress code.
However, when gambling online, every casino seems to have different rules – whether it is the terms of play when receiving a bonus, cash-out rules, proof of identity, etc. In order to protect your investment, it is extremely important to read the terms and conditions posted on their website before you gamble.
The most important thing to check is the conditions for cashing out winnings. Casinos vary greatly in paying winnings – some may only offer the option of paying you by check, while others offer anything from Western Union and wire transfer to checks, express mail drafts and even online debit cards and methods such as Infinia or NETeller. Some casinos charge for certain types of payments, others are free. Some tell you checks take 4-6 weeks for payment, others will Fedex payments to you so you have winnings within 3-5 days.
Confusing, isn't it?
Take extra care when studying these conditions – this will save you a lot of time and trouble later. The most frequent complaint by an online gambler inevitably involves slowness or non-receipt of payments, so make sure that the casino you choose to gamble at is using some recognized institution or transactions processor to handle their payments – Firecash (although they recently encountered some hiccups) is generally considered to be safe and used by a number of the larger casinos.
Avoid any casino which uses the Bank of Nevis for check payments, as this bank has been blacklisted by the Organization for Economic Cooperation and Development (OECD) – most banks generally follow the recommendations of the OECD, and as such checks issued by the Bank of Nevis will probably not be honored.
The second important thing to look out for is the terms and conditions under which a bonus is granted. At the better casinos, you will usually only be required to wager the amount of the deposit plus the amount of the bonus once through before you may cash out the proceeds. Some require that you play through the money twice – and some as many as SIX times before you can cash out. Try to avoid those – you will generally end up giving back the bonus and a sizeable amount of your deposit unless you should get lucky and hit a slots jackpot, for example.
Also, as discussed in an earlier installment, do NOT open multiple accounts at casinos – this is nothing short of fraud and you can and may br prosecuted for this type of activity. Although this warning is not often posted on websites, it is generally accepted that multiple accounts, especially when using multiple identities, is considered abuse.
The author of a web gambling book, Bill Haywood, recently supported the opening of multiple accounts using different identities in a message forum, calling casino owners nothing better than used car salesmen and implying that they are deserving of such manipulation. It just goes to prove that you should not always trust those who are hypocritical of the very industry from which they make their money.
Once you've sorted though that information, the last important thing you should check before proceeding to gamble is the rules of the game you intend to play – typically this is more important at table-type games such as blackjack, Caribbean Stud and baccarat than it is at slot machines and video poker. These rules are often not the same as you are used to getting in Vegas, although many of them claim to comply with Vegas rules.
A final note – though payout schedules and strategies are not "fine print" per se, it is important as a gambler to find the best rules in order to maximize your potential winnings. Especially important is to see how video poker pays out – information sites like The Wizard of Odds and GameMasterlist provide useful strategy and profit potential information which can help guide you in your gambling exploits.

The Worst Forum Posting
The forum is a real mix of people. Registered users reside in North America, the UK, Europe, South Africa, Russia, Australia and Asia. Most visitors lurk and examine what others have to say. Others fly by night, quickly register and then post a message that is nothing more than cloaked spam (pretending to be others, or feigning a conversation). Most of the time these postings are quietly deleted and the posters are warned to "please read the forum's guidelines". Others are met with a barrage of responses from members who dissect the offender's website, providing real quality entertainment!
Last September, the following post was made by Gamemeister in the topic section "Casino Industry Discussion"
What are your impressions about Winner.com. It's a new site that offers comprehensive real and online gaming information… detailed info, pics.. and free games… plus other features.. curious to know…
This was more or less ignored until a week later when "Semantic" posted this response:
It's funny that you just posted this message. I posted a message today at a different site full of praise for winner.com. Personally, I was impressed too. It's nice to navigate a site that looks good, works will and for me the most important things is that the site offers pictures of casinos. I like knowing where I'm going, if you know what I mean
Well, curious me checked out the IP addresses and it turned out that they were identical; these two posters were using the same computer. Being the good forum administrator that I am, I pointed this out to the "two" culprits. But they denied this, and stated that the posting was made from an "Internet Cafe". The only way this would have been possible is if the computer had been left on for the entire week with the browser pointing at the forum. Highly unlikely. Winner.com is also a portal for Casinobar and Casino on Air and they are all on the same server. To read the entire thread, click here!!

The Scariest Screenshot of the Year
Experienced players of online casinos are savvy enough to know that problems do occur when it comes to claiming large wins, or sometimes any winning for that matter. Players of this sort protect themselves with "screenshot" software that allows them to take screen shots of any winning hand to prove to a casino that they won if the casino tries to dispute their winnings.
This screenshot was sent to me last March: imagine what your reaction would have been if you viewed this Royal Flush on your screen. That's right, it's not a winning hand. Fortunately for all, the casino was able to track down what the problem was and the player (who was a regular player at the time) was compensated satisfactorily.

The Stupidest Casino Trick
Bringmeluck.com wins this hands down. In September 2001, Bringmeluck.com posted awards on their awards page claiming they were members of the Online Players Association, Safebet.org, the Internet Gaming Commission, and the IGC, (they are now members of the Internet Gaming Commission). When I notified these organizations, bringmeluck.com scrambled and removed the logos, and denied that they ever were there. But I had made a screen shot which caught them red-handed. When their manager got wind of what I did, he literally told me to go "screw somebody else". The following day I was bombarded by porno spam which was sent via my "subscribed" email address. Unfortunately for bringmeluck.com, the email address was subscribed from a computer linked to bringmeluck.com's webserver. This is all documented in our Rogue Casino section.

The Stupidest Casino Trick (Runner Up)
What's great about the Internet, is the wealth of information that is at your finger tips. And for a hard pressed webmaster to get some content for a casino site, it may be a bit tempting to "borrow" the content of other sites. That's exactly what happened to Casinoxclub. Their webmaster used the "winner's stories" from some Pharaohs Casino to juice up theirs. Unfortunately, the webmaster forgot to change the some of the names of the games since the casino didn't have same games as Boss Media sites. When this was revealed to the online gaming community, the casino modified the page. But I made a screenshot: Casinoxclub.com Winner's Screenshot
Pharaohs Casino's Winners. You can see the similarities.
But what makes this casino different to Bringmeluck.com is that they actually apologized. This is what they wrote:
Greetings, Bryan
We are very sorry for the winner stories. Our designer take them from Phraos Casino, he is fired already. We are changing them now.
As for your resource, I think you are selling traffic. Can you send me the price. We are very interested.
Regards,
Marketing Director
Needless to say, I didn't sell them any ad space. They get their space here for free.

The Most Frustrating Casino Moment
For winners at online casinos, especially big winners, it's frustrating when casinos lock up players accounts and take the time to audit the account ad nauseum. What was frustrating for Christine, a player at Aloha Casino is that she hit the Progressive Jackpot for $60,312.00, and a month and many emails later nothing happened. But during this time, the casino exploited her winnings on their splash page, bragging of the win. What they didn't state was that due to utter confusion on the casino's part, payment would take nearly two months to make. Too many times she was told "the check is in the mail."
It wasn't until the intervention of the Online Players Association and other interested third parties was she able to gain some communication from the casino, and eventually she received her winnings.

The Worst Online Casino Experience
In July 2001, a player hit the $100,000 jackpot at Arcadacasino, but curiously enough the casino never contacted him. As each day went by, the player and numerous others (including myself) began emailing the casino, asking them for an explanation. Arcadacasino remained silent until three weeks later they emailed everyone involved with a letter that accused the player of cheating and insulted the third parties by questioning their motives and bad faith.
The Online Players Association try to negotiate by bringing in a third party to audit the software and the player's account, but the casino clammed up and decided to ignore the fact. This seems to be another "all too frequent" example of selective payouts. At least the player only was out of his $50 deposit (which I believed he never got back). More on this here Return to Top

The Worst Named Casino
It's a tie between the Theonlinecasino.com and Thecasinoonline.com I am constantly getting these two casinos confused, and these names merely imply that these casinos are online. Duh.

The Best Named Casino
Kiwi Casino. Why? Because the name implies that it's different than the usual Vegas Golden Win Money Casino. It also suggests something a bit more exotic; Kiwi = kiwi bird, green fruit, exotic New Zealand, etc. And the name rolls off the tongue nicely. A big plus; it's a pleasure to articulate. It is difficult to confuse this named casino with any other casino, allowing it to retain its uniqueness. Good thinking, Kiwi!
A Final Note
All in all, it's been a fascinating year, and the most entertaining and turbulent by far. I want to thank everyone of my visitors for giving me the opportunity to provide you with information that hopefully you find beneficial. And I want to thank all of the casinos, rogue and upstanding alike, for making this arena so dynamic and just like a roller coaster ride.