Meister Awards 2005
Best and Worst in Gambling for 2005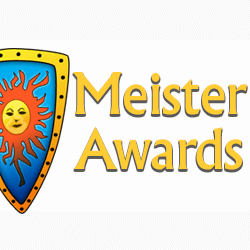 2005…where did it go? Fleeting – like trying to grasp dust motes floating in front of an open window. It's gone. It's over. But unlike a dust mote, 2005 was a phenomenal year for this industry. We saw casinos pool their resources and provide relief to the Tsunami tragedy. We saw this industry show signs of maturity with a number of companies going public. We saw a lot of good, but unfortunately, a lot of bad as well. Even though many companies are tooting their horn trying to convince us how great they are, there is still a cowboy mentality prevalent and there are still software providers that have no control over how their operators conduct themselves.
Highlights this year: Intercasino donates $111,000 via Casinomeister and Got2Bet for Tsunami relief, CasinoCity.com tries to take on the US Department of Justice, a malware scandal hits Gambling Federation, more mergers and acquisitions than you can shake a stick at – but what about the real meat and potatoes, eh?
So, slip on your protective garments – Kevlars and body armor are in effect – welcome to "the Awards that Matter": the coveted Casinomeister Awards of 2005. Sit back, relax, and read on…
Drum roll please…
The Best Casino of 2005
Good things come in threes, and for three years in a row has cut the mustard as Casinomeister's Casino of the Year. To put it simply, this casino has class.
So what makes this casino so special that they have snatched this award three years in a row? In this business, trust and reputation is everything – without this, you have nothing. The CEO Ed Ware has a high profile, and is very personable with his players. His honesty and modesty is noteworthy when it comes to answering players' questions and handling whatever issues they may have. 32Red casino is a prime example of a casino that gives this industry credence, and their formula is simple: treat your players better than you would expect yourself to be treated.
Congratulations 32Red
Worst Casino of 2005
Joyland is the top dog in this category. Like last year, competition was fierce for this top award, but Joyland proved beyond a doubt that they are worthy.
Back in August, Joyland Casino screwed up something royal. They had set their comp points incorrectly. Well no one seemed to have noticed this until a group of bonus hunters shared this information and nailed this casino badly. Now, I do not endorse bonus hunting; I feel that bonus hunters cause the majority of all casino problems. But this is somewhat of a self-inflicted wound. It was the casinos who created this bonus monster – not the players.
I feel for the casino – or any casino for that matter that gets nailed by a wave of skilled players. But with this situation someone in the casino made a mistake and they got clobbered badly. And then the problem was exasperated by a series of bungling errors.
Error number one: they became non-communicative. They brushed this group of players off because they didn't like them – or so it seems. They saw these players as evil – bad for business, and didn't want to deal with them. Since I didn't have a direct line to the casino, I contacted their affiliate manager and sent him the complaints that were submitted to me at Casinomeister. Unfortunately, this manager never forwarded my emails. I had to contact their software provider Playtech about this mess.
Error number two: they lied in public about the reason for the problem. The casino representative made a statement in Casinomeister's forum stating that the problem was a bug in the software. Well, by making this statement, they dissed Playtech and every one of their fellow licensees. This was a damaging statement that never received a retraction.
Error number three: Joyland decided to pay some of the players but they required them to make happy clappy player statements on the main message boards to include stating that they are happy to continue playing at Joyland. To expect that players lie in public just so they get paid reeks of contempt towards the playing community, and this is unwarranted.
Casinos make mistakes but this is something that casinos need to contend with. It was the casinos that created the Frankenstein monster – "the bonus" – and other promotional incentives; it was not created by the player. Obviously, it is up to the casino to protect themselves from what they consider "abusive play". What is not so obvious to many operators is that this protection needs to be set up "before the fact" of being hit – not afterwards. No one in this industry can go around with the attitude "we don't have to pay players we don't like" and not expect to be criticized.
Best Casino Group 2005
Trident Group takes this award hands down. This casino group has the best-run casinos in cyberland. The customer service shines above their peers, and up and beyond this – this group has one of the most experienced operators in the business – Micki – who will personally ensure that every one of her customer's needs is met. This woman is amazing.
The Trident Group has been operating for several years under Micki's command, and it shows. Each one of these casinos are solid examples of how a casino should be run. And her staff is equally committed. They bust their asses to provide players with an enjoyable playing experience. They are creative and innovative with their loyalty programs – and one of the first casino groups that have come up with the "loyalty bonus coupon". Nonetheless, players are in excellent hands when they are playing at Trident Group casinos. Good going Trident!
King Neptunes Casino
Trident Lounge
Vegas USA
Trident Poker
Worst Casino Group of 2005
Windows Casino Group is probably one of the last "cowboy mentality" casinos out there. They've existed for years, but nothing has changed.
This casino group feels that players are impressed with hyperbole and fancy awards. For years, they have embellished themselves with awards and patted themselves on the back with "approval" from fake watchdog sites like the self-created egamingcommission and RTG's Safebet. These were tactics from a by-gone era: attempt to instill player trust with deceit. This was widespread business as usual back in the early days of this industry.
But to this day, this casino group still practices this. I've brought it to their attention a number of times, and even have a special section in the rogue section to assist players in detecting this sort of treachery.
Best New Casino 2005
Vegas Splendido is a splendid example of a solid Microgaming operation. Even though its initial launch was marred by a brief spat by the operators of Vegas Red (they claimed the casino had copied their motif and some text), this was quickly resolved and the casino rose above its peers with a well managed and professionally run presence.
Since its launch, this casino has generated respect and praise amongst most players and webmasters alike. If there were any issues brought up, they met promptly with well-informed customer service reps. Good going Vegas Splendido; you've set an example on how to effectively run an online casino.
Casinomeister Humanitarian Award for 2005
These are awards given to casinos that go one step beyond the norm to assist those in need. Some casinos have incredible resources, and it's reassuring to know that there are some really good people behind these casinos who care.
Intercasino deserves a hearty round of applause for stepping up to the plate and donating $111,000 to Unicef's Children's relief fund for the tsunami tragedy.
Last January brought on one of the most devastating human tragedies that we have witnessed – and Ted Loh from Got2bet and I wondered if there was something that we could do. We know a lot of people in casino-land – a lot of good people, and we thought that there must be something we could do to get these people motivated to donate some cash towards the victims of this horrible mess. We decided to auction off a banner spot on each of our main index pages, and the top bidder would receive that spot for a full year. 100% of the bidded amount would go to Tsunami relief.
I purchased and installed some auction software, and away it went – bidding was fierce and with about two seconds to spare – Intercasino nabbed the top bid – $111,000 which in it's entirety went to Tsunami relief. At last year's ICE, Peter Marcus – Intercasino's spokesman, presented both Ted Loh and I the check for $111,000 which went into the mail that day to Tsunami relief. You can check this out here.
Not to overlook the other bidders who stepped up to the plate as well. Here are the runner ups:
iGlobalmedia
Stanley Acropolis
The Virtual Casino Group
VipCasino
KingSolomons
32Red
Crystal Palace
Winward Casino
Poker.com
And besides these casinos, many others stepped up to the plate on their own, the Sunny Group, Winward Casino, the Vegas Partner Group, Trident Lounge, and a slew of others. Some of their donation campaigns are archive in our December 2004 and January 2005 News archives.
Best Player Experience of 2005
One thing that is for certain, there were many many good player experiences this year, and I'm happy to say that these have been documented in Casinomeister's Forum in "The Best Winner Screenshots" for your perusal.
So this is a group award, and thanks to Casinomeister member JohnSteed who has painstakingly sorted through these screenshots and categorized a number of them, all of us have a good indication on the best experiences that these players have had. This thread is a must-read if you want to share in the joy. Thanks JohnSteed!
Worst Player Experience of 2005
Royal Dutch Casino was a joke to begin with. One of the stupidest things a casino can do is to send shills to Casinomeister's forum to post spam and happy-clappy comments about their happy-clappy casino. Well after they were caught red-handed (and apologized) things just got worse.
They had owed a player a $2700 payment. He had cashed in his winnings in July 2004, and was given the "check is in the mail" excuse for months. The problem was that the casino had changed software providers, and it claimed it was under new management. New management? And this new management denied that they owed this player any money – that he had already been paid. Well with a little bit of sleuthing, it turned out things weren't so rosy in Dutch land.
The "new" management had left a trail of IP addresses and other techno items that linked them to the old management, and they were hypersensitive that this player dared to ask to be paid. At fist they gave him amateurish legal threats of "Washington Lawyers" that never panned out, and they even had a guy call his house impersonating a Federal officer – all to intimidate this poor guy into backing off.
Well this player was persistent and patient, and we finally got a negotiation going with the "former" owner and the "new" owner. One claimed to be some French speaking dude in Canada – the other an Italian in Costa Rico. Funny thing was that they had the same IP address. It was like watch some guy have a conversation with himself.
Finally at last he did get paid a partial payment – about half of what he was owed. And nearly a year after this whole fiasco started. Definitely a horrible experience for this player – and an example of the half wits that are still in this industry.
Best Software Provider of 2005
Microgaming by far is in the lead here – the best software provider for not only supplying the best overall games but by getting involved when the going gets tough with some of their operators.
Nearly every month, Microgaming releases new games that are unique, entertaining, and definitely state of the art. They employ some of the best graphic artists in the business – it's been commented before that the graphics for "Thunderstruck" should be submitted to the NY Museum of Modern Art. But having an edge on games is not enough, the founders and top administration are continually monitoring the player community and industry to make sure their licensees are doing the right thing. If a casino gets out of line, they get involved. There is no hands-off policy here. Thank you Microgaming for making this industry a better place.
Worst Software Supplier of 2005
If you're an evil affiliate shopping around for a software provider that will guarantee you profits, Start-your-casino.com is what you're looking for.
Start-your-casino.com provides affiliates with crappy software that can be manipulated to produce a profitable outcome. Their blackjack dealer even hits himself on a hard 17 to produce 21! Unscrupulous affiliates can't go wrong here! You can even find these crappy casinos being sold on eBay with glorious reviews! What an ingenious scheme to fleece the unwary player. Congrats start-your-casino.com! You're one of the reasons the US is trying to ban online gaming.
Head in the Sand Award 2005
High fives all around to iGlobalMedia which has gone nearly a full year without addressing serious software issues.
Last December in Casinomeister's forum, eric5148 posted a few screenshots of some really funky results in from "Casino Country's" Video Poker.
Yesterday I was playing Deuces Wild (download version) at Casino County, which uses IGlobalMedia software.
In a span of 76 hands I was dealt the exact same hand twice in a row three different times. The first time it happened, I didn't really notice, I thought the hands were just similar, but not identical. The second time I was sure they were identical, but I just assumed it was a fluke. The third time, I was in disbelief that this could happen twice in such short period of time, so I went back to the game logs just to make sure my eyes weren't fooling me, and that's when I noticed the first time was actually identical as well.
I'm not shouting "rigged" here, I'm just saying this couldn't be random, and therefore, not would I consider a fair and honest game. If this is a software glitch, it obviously needs to be fixed
I'm not great at math, so if anyone can figure out the probability of this happening, that would be much appreciated.
I sent an email to Casino County yesterday at about 9 pm CT. They haven't responded yet.
Here are some screenshots of the game logs:
iGlobalMedia Video Poker Software Glitch
The entire thread can be viewed here.
It turns out nearly the same thing happened to another player here where he reported the same hand being dealt twice.
So what was iGlobalmedia's response? A very very slow one. Oddly enough, they were members of the forum, but they just didn't feel compelled to get to the bottom of this. I sent a few emails to their affiliate director – Satyaswaroop Mahapatra, and he told me he was having someone look into this problem. Then in January 2005, I met with him and two other iGlobal personnel for over an hour and presented this issue, along with the problem that their Video Poker was in fact a slot game and not video poker. They said they would look into it. Finally in June, he emailed me stating that the video poker slot machine problem had been taken care of in February – but he didn't mention anything at all about the screen shots.
For reference, here are the iGlobalMedia screen shots.
So when do you think they will pull their head out of the sand?
Head in the Sand Award 2005 Runner-up
Chartwell Technologies may provide software to some of Europe's leading casino groups, but they are completely in the dark when it comes to protecting players against unforeseen casino problems.
Chartwell has a "hands off" policy towards their licensees. They have told this to me face-to-face and in emails. They will not involve themselves with player issues. Why? Because they feel that they do their due diligence when they take on a client. Sure they have some solid organizations which use their software: Victor Chandler, BetandWin, the Spin Room, Eurobet, etc., but they have had licensees that have *poof* vanished (Caribsunshine-casino.com).
What's Chartwell's reaction to this? This is their response:
Unlike many other software suppliers Chartwell Technology is strictly a software development company and only license the use our products for a variety of online applications. We do not participate in any aspect of the daily operations of our customers business, which includes hosting, customer support, database and money management.
Unfortunately this "we're only the software provider" is an outdated and irresponsible attitude for a casino software supplier to take. Players have virtually no protection against inept casino management, and other unintentional misfortunes. The software supplier is the main entity that puts these companies into business, and they have the power to mandate certain checks in balances within their group of casinos. I hope by the year's end, Chartwell will see the light, and offer the players of their licensees some sort of safety net. The players deserve no less.
Fall From Grace Award 2005
Two years ago, the Fortune Lounge Group was awarded the coveted Casinomeister's Best Group Award for 2003. They had exemplary service and support and a very responsive and professional VP of operations who would take care of the occasional player problems when they appeared on the message boards or directly submitted through me. But now they are no longer listed at Casinomeister as one of the "accredited casinos." Why? I'll tell you why.
It's because of their attitudes toward spam. There seems to be a fallacy in this industry that the US Can-spam act is something to go by. In other words, if a spam mail has an unsubscribe link, it can't be regarded as spam. This is pure BS. Unsolicited bulk email (UBE) is spam regardless of any "unsubscribe" link. If it's something one has never subscribed to, then "unsubscribing" is a moot issue.
Unfortunately, the marketing team behind Fortune Lounge believes the US Can-SPam act is the way to go. They hired an infamously known online casino spammer and began firing away. Fortunately for the Fortune Lounge group, only a handful of complaints popped up – but spam is spam. Fortune Lounge wasn't about to tell this spammer to stop, they were making too much money off of this, and for this group, it's the greenbacks that make all the difference. So they had a choice to make, make a bucket load of money, or stay in the good graces of sites like this and do the right thing – don't use spam as a marketing tool. Well guess what – they took the cash and threw a four-year-old business relationship to the dogs. Good going Fortune Lounge!
Fall From Grace Award 2005 (runner up)
Captain Cooks casino was one of the first casinos I ever joined as a player. They were also one of the first casinos brought on at Casinomeister, and I had a very close relationship with the operators. We both admitted that our businesses had grown up together since we had been in the industry early on. They even received "Best Casino Promotions of 2001" in Casinomeister's first year of giving awards.
But in March 2005, something very bad happened. They were hit by a group of bonus players that knocked their (the casino's) socks off. I spoke with the operators over the phone on how to handle this, and I told them that the only way to deal with this was to roll with the punches. If the players met the terms and conditions, then pay them – then exclude them from future play. Unfortunately what the casino did was the opposite. They locked all pending bonus withdrawals across the board, and chaos ensued.
Suddenly, they were sold to the Casino Rewards group – something that happened over-night which made the mess even messier. At this point, Captain Cooks Casino, Casino Kingdom, and Casino Classic were all removed from Casinomeister's accredited list. This whole fiasco was a bit too much to bear. The thread in our forum explains pretty much everything. You can check it out here.
Best Named Casino of 2005
At first, I didn't know what to make of Vegas Splendido the first time I heard of it. But it grows on you.
Say it over a few times, Vegas Splendido, Vegas Splendido, Vegas Splendido. Even if you don't like the casino, you can call it Vegas not so splendido. It's simply a cool name – and actually a very good casino.
Worst Named Casino of 2005
Joyland. What more do I need to say? It's a stupid, stupid name and conjures up images of a "land of joy". Oh joy!
I don't know what inspired this naming of the casino, but it's like the namer wanted to give the impression that it had something to do with perhaps an amusement park. Maybe the author had spent too much time at the Circus Circus casino in Vegas. All this name does is make me want to punch a clown.
The Best Affiliate Program of 2005
One program that has taken off in 2005 is 32Red's Affiliate Program They have made massive improvements since they first launched, and this is due mostly to the vibrant relationship the staff has with its affiliates and with the gaming community in general.
The first thing 32Red Affiliates has going for them is that they are promoting one of the best casinos in existence — so affiliate marketing is easy – affiliates are endorsing a casino that puts its players in a number one position. The program has been recently relaunched and the traffic stats, creatives generator, and other marketing tools are state of the art. Their experienced affiliate manager, Lee Simmonds, is a responsive professional and is probably one of the best affiliate managers in the business. For webmasters, this is an affiliate program to definitely join; for casino operators, this is an affiliate program you should try to emulate.
The Most Annoying Affiliate Program of 2005
Hat's off to Casino Pays, the most annoying affiliate program on the net.
Like most busy webmasters, we're busy. We don't have time to dick around with spam mails or casino marketers who send out blanket emails to every casino related website out there. I'm not saying that Casino Pays does this, but one thing for sure, they don't do their homework.
I make it perfectly crystal clear that to be placed in the "Accredited" section of Casinomeister there are certain hoops the casino has to jump through before they get there. This is even covered in the "For Advertisers" section which is linked to every page of Casinomeister. Even so, I would receive emails from Casino Pays with a blunt – "Hi, I want to buy your traffic. Please get back to me ASAP."
Most of these I would ignore, but sometimes I would reply back with a "No, the traffic here is not for sale" and instruct the person to be informed about a site before approaching it. My emails must have been tossed into the trash, because as soon as that person would move on to another job, I would get them again from another individual.
They also proved to be useless when the Joyland episode exploded in our forum (they promote Joyland). My emails to Casino Pays were never forwarded to the operators. How annoying.
Best Casino Manager of 2005
Emily Hanson of iNetBet has earned this coveted award for 2005.
Even though she has taken on a number of difficult players this past year, she has maintained her cool, calm, and collectiveness. Emily is responsive, patient, and articulate, and her presence should serve as a role model for her peers. It's great to have casino managers like Emily – she gives players and webmasters alike assurance that skilled managers in the business. She simply makes this industry a better place. Thanks Emily.
Worst Casino Manager of 2005
Competition was fierce this year in this category. There were a number of horrendous blunders and sometimes some downright embarrassing moments for a slew of managers who couldn't figure their way out of a paper bag. Even so, one manager comes to mind when I think of baaad, and that's "Rick Scott" formerly of Crown Vegas Casino.
In July 2005, a thread appeared at Startcasino.com where a casino manager identified as Rick began making posts soliciting player databases. When one of the board members became critical and challenged Rick on his business ethics, Rick replied:
"I imagine that I make more in a day than you make in a year. So please keep your comments to yourself, loser…Why are you involved in this thread in the first place? This is an industry board, idiot. Nothing here concerns you, run along now."
Well this fiasco spilled over into Casinomeister's forum – suddenly the operator of Crown Vegas made an appearance and stated that "Rick" was a disgruntled ex-employee that was trying to tarnish the reputation of Crown Vegas. He stated that "Rick" was one of their graphic designers who had been fired, but he still had access to his email account.
The odd thing was that "Rick" had solicited an ad buy from both Casinomeister and Gonegambling.com after he had been fired. Well, that's weird, why would anyone do that if they weren't representing the casino?
The casino operator's explanation was that "Rick" was trying to promote his affiliate deal or something. This turned into a meltdown of sorts here.
Biggest Disappointment of 2005
Like last year, this is a group award, and it awards the same casinos for the same major malfunction: it goes to every casino operator who uses stupid excuses not to pay players because they "abused" a bonus. I'm so fed up with this situation, that it overshadows any other fleeting disappointing moment of 2005.
From last year's group award:
Here is a cold hard fact – in the long run, the house always wins. Casinos know this (that's why there are so many of them), players know this (if they don't, what a shame), I know this, and you know this. Bonuses are offered to players to give them more cash to play with = so they'll play more and possibly become a loyal player. The number one problem is that there have been so many players that will split hairs with casino Terms and Conditions that many casinos have taken a bite in the ass from these sharp players. Thus they (the casinos) have become so paranoid that they use some atrocious legalese to explain these bonuses and throw in some absurd wagering requirement. And if you play too sharply, they renege on the deal and yank the bonus.
The bottom line is, if a player is offered a bonus and meets the wagering requirements – pay her (or him). I am fed up with casino operators that feel they are being cheated when a player takes advantage of a bonus. If the bonus scheme doesn't work for you in order to attract players, get innovative and come up with something else. In the meantime, quit hiding behind catch-all phrases in your Terms and Conditions. If you don't like the way a player plays, pay the person – then give them the boot – not beforehand.
This casino industry has been going strong for a few years, and it's been growing massively over the past 12 months. Yet no one seems to be able to think out of this paper bag that's labeled "bonus offerings". Let's get our head out of our fourth point of contact (paratrooper term), and rejuvenate this industry with another way to market and promote casinos. Bonuses suck.
It's amazing that this still holds true a year later. There are still operators who haven't gotten with the program yet, and I'm beginning to sound like a broken record. Here's a quick lesson in winning the trust of players: if the player meets the terms and conditions of a casino – pay him/her. If you don't like the way they played – tough titty. Pay the player and then ban him/her. If the players are taking advantage of your bonuses, then rewrite them so that they won't.
Without trust, your reputation will falter. And in this business, reputation is everything.
Most Annoying Forum Member of 2005
So who was the spewer of most spewage? The achiever of this coveted award has to go to ex-member Bethug. Why? I'll tell you why.
The man was trying to start up an online casino "watchdog" website, which I considered being a serious undertaking. I would like nothing more than to see something like this take off – but in a serious way – not in the haphazard amateurish way this guy was doing it. The problem with Bethug, he had a history of coming across as an idiot in most of the message boards in cyberland. Don't get me wrong, I'm sure the guy is fairly intelligent, and that he can walk and chew gum at the same time. But in this industry, if you come across as a joke – you are a joke. I was critical with his posting style, his inability to put a coherent sentence together, and he didn't like this sort of criticism. Instead of taking my constructive assessment to heart, he flipped out – and he was suspended from our forum.
It doesn't end there. I would have invited him back in after he had cooled down, and just accepted him for what he is, but he decided to take things a notch further. During the time of his suspension, I was conducting the Casinomeister/Got2bet auction for Tsunami relief. This was open to casino operators and their reps only. Bethug tried to sabotage the auction on two separate occasions by making fake bids which affected the bid amount. What a dick. I then decided to permanently ban his account, and he subsequently tried to sign up several times – sometimes sneaking in under the radar. He even started a Casinomeistersucks website which was just plain juvenile. I began to wonder if I was dealing with a thirtyish adult professional or some half-witted clown with a baseball cap turned sideways going "Yo, wassup bro."
What a loser. Definitely the most annoying forum member I've ever dealt with – ever.
Stupidest Casino Trick of 2005
Gambling Federation nailed this one good. The trick was so stupid that they were booted from the Interactive Gaming Council and from the iBBGA. What did they do that was so stupid? They had placed malware in their casino download program and thought they wouldn't get caught. That's really stupid.
This malware was actually a program that modified a file on the user's computer that would block certain websites from the user's Internet Explorer. Which websites did Gambling Federation want blocked from their player's computers? It was Royal Dutch Harbor casino (see Worst Player Experience of 2005)which apparently had hired an ex-employee who had stolen Gambling Federation's user database. It seems as though GF was doing everyone a favor – blocking this rogue site, but you don't modify users' files without explicit permission from them.
Gambling Federation remains apologetic, but regardless – it was a stupid, stupid thing to do.
Stupidest Casino Trick of 2005 (runner-up)
Whoopdeefriggin'-doo. Golden Palace does it once again with their name-a-baby Goldenpalacedotcom marketing ploy.
Using babies to promote online casinos is not cool — and it's not funny either. There have been a number of "Golden Palace" funny ha ha's, but this one is totally screwed up. In June 2005, Golden Palace claimed that a New Jersey couple auctioned off the rights to their baby's name on eBay. Golden Palace paid $15,000 requiring the parents to name their boy "Goldenpalacedotcom Silverman". Oh joy!
Maybe in 2006, they'll hire a gigantic blimp, shape it like a big giant penis (with Golden Palace.com emblazoned on the side, of course) and fly it over Disneyland. Now that would be really funny too! In fact, I'd rather see a giant floating penis instead of hearing about parents doing stupid things with their children. Good going Golden Palace – you've given the US politicians more ammo to ban online gaming.
Best Warning Robot of 2005
Actually, this one is pretty easy since Vortran007 is the ONLY warning robot out there in cyberland.
Vortran has been half asleep this year because of a faulty battery pack, and he complained way too often about not getting paid enough – but besides all this, he is a cool little robot that deserves all the praise a robot can get.
He's my little buddy. He sits around the office and tells knock-knock jokes, and he joins me regularly on Casinomeister's webcast where he dishes out "Casino Warnings" for many of the roguish operations that are still with us. Congrats Vortran! Job well done!
The Evil Player Award for 2005
This category was tricky this year. There was a lot of player fraud in 2005, much of it coming from Israel — so it almost became a group award. But I had almost forgotten about this scammy scammer who tried to rip off CasinoWebCam last July. NY05 is the winner of the Evil Player Award for 2005.
NY05 was a member of our forum for about one day. He posted his complaint – even admitting that he was in the wrong – but he had hoped that a player community would side with him and coerce the casino to pay up. What a dweeb.
Suddenly he realized he effed up, and he deleted his posting and vanished. Well here is what happened: This is from the late Adam Anhang, CasinoWebCam's CEO
Player A (the guy who posted) wins a bunch of money. Requests withdrawal of $10K.
We send an ID request. Player complies with the request. I notice that a) I know the area of NY he's from, b) I know the community he lives in (it's an Orthodox Jewish community), and c) his info checks out with his bank, so I am fairly confident that I can find and chase the guy if he charges back. We process and pay the $10K by check.
Guy wins another $20K, leaves $10K in his account, and requests another withdrawal for $10K.
While this win is being created over a period of several days, 2 new accounts (call them Players B and C) are then created from the same IP address and computer. Furthermore, one of the 2 accounts is clearly the guy's brother (same last name). Player B makes a $1000 deposit and Player C makes a $300 deposit. Both receive the bonus (1 bonus per household T&C violation). Both accounts lose 100% of the bonus and deposit.
Player B sends an email claiming he didn't make the $1,000 charge / threatens chargeback.
Player A, after losing $10K back to us of profits over and above the original withdrawal, emails that someone accessed his account fraudulently, and lost the $10K left in his account. Also, whoever accessed the account made several unauthorized credit card deposits (Note: this all happens – both playing and emailing — from the same machine/IP address).
I call Player A. When confronted, the guy admits that one guy is his brother, but says that he doesn't know the other guy.
In subsequent phone calls, the story changes, and the guy admits that the other guy is his brother's friend, and he does know him.
We ask the guy to send us faxback forms for everyone (all 3 accounts), and we'll still pay the $10K pending.
The forms come in for Player C, along with copies of the credit card, and the 2 signatures (form and CC) don't even come close to matching.
I call Player A and he admits that he forged the signature, but did so with the consent of Player C who didn't have the time to sign the FBF (but apparently did have time to send the copies of his card.
Now of course, he's willing to get the real signature from Player C / put him on a conference call with me
I get pissed off by the continued deception and halt the withdrawal of the $10,000, block the accounts, and block the account that the guy registers at LondonsCasino (one of our licensees for whom we handle cash management using our merchant accounts).
In short, this guy really abused every courtesy I gave him. From a financial point of view, he did much better than he should have (normally, we block all associated accounts immediately, refund the deposits, and pay no withdrawals whatsoever). He's made $4K-$5K profit, and now, he's upset that I've blocked his additional winnings or the ability to play with us or our licensees. From my perspective, he's lied to me multiple times, tried to stiff me, and still wants me to bend backwards for him. As the saying goes, "not on my watch."
I suspect that the genesis of the post is that in my last phone call, I told him that if he went to CasinoMeister, and either you or the player community felt that he had been wronged, I would pay him the $10K in winnings. However, I also told him that in my 5 years in the industry, I have rarely seen this kind of 'chutzpa' (unmitigated gall) and that if he did want to post, I would push to make sure he landed up in the Evil Player section
Well, he not only ended up in the "Evil Player's" Section. He ended up Evil Player of the year. Good going NY05 – you're evil.