Meister Awards 2003
Best and Worst in Gambling for 2003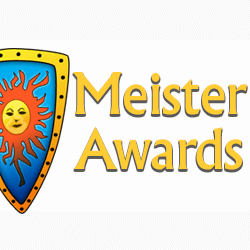 2003…finally, it's over. And with its demise, we are given this opportunity to look back over the past twelve months and ponder over this turbulent and often strange industry.
There were a few highlights this year: record million dollar plus wins for at least two Major Millions players, major land-based casinos yanked their online counterparts off the web because of befuddled US legislators, and it's also been the year when the credit card giants lowered the boom on Internet gambling.
But let's get to the nitty gritty. Casinomeister is in the trenches; locked and loaded, bayonets fixed. It's time to divvy out "the awards that matter": the coveted "Best Casino" to the "Worst Casino Group", the "Biggest Disappointment" (two of them) to the "The Stupidest Player Scam". So sit back, relax, grab yourself a hot cup o' java, and read on…
Drum roll please…
The Best Casino of 2003
Hands down, it's 32Red Last year they won the prestigious "Best Named Casino" award from Casinomeister, and apparently this was an inkling that this casino was on the right track. This casino has the right stuff to be awarded this year's best casino.
Well what's in a name? Dilligence and attention to nuances that matter, that's what. It's a virtual handshake that introduces the entity to the player. The name 32red is unique, it draws one's attention, and there were several factors behind the reasoning of this name:
Roulette is one of the most famous/synonomous games associated with casinos.
32Red is one of the most popular numbers in a bricks and mortar casino (if 32Red has come up several times during the evening, the manager knows they will have less money to count than usual!).
It's short and memorable.
The characters are all extremely close to each other on the keyboard of your PC
There is no gimmicky theme implied. Names will set you apart from your peers, and this casino accomplished that.
Creativity is another valuable attribute that many operators overlook. 32red gave us a glimpse of their creative powers and their will for good clean fun with the addictive "Strip or Die", a Russian roulette/strip poker game where I'm sure many "productive work hours" have been spent trying to get the girl to strip without anyone getting their brains blown out.
But one of the nicest touches that elevates this casino above its peers is the hiring of the lovely actress Patsy Kensit as the hostess of 32red. It's her voice that welcomes you, and it's hers at the Blackjack table, the Craps table, and it's her sultry articulations calling the numbers in Roulette.
But finally and most importantly, this casino is a solid as they come, powered by Microgaming's Viper software, licensed in Gibralter, and run by the personable and dedicated CEO Ed Ware. The CEO attends most industry events and is eager to meet webmasters, or anyone else who shows interest in what he is doing at 32red. 32red is clearly run by real people
For the past year, there has been nary a dissatisfied player since customer care, and providing an entertaining product is what drives the people behind this casino. Their past year performance is an example all casino operators should envy. Congratulations 32red.
Worst Casino of 2003
Hats off to Black Widow Casino, for their frank statements that indicate that they condone false advertising and adhere to unwritten rules of screwing their customers.
Lest we forget, they were once a "Casinomeister Casino" about a year and a half ago. About the time they switched from an RTG powered platform to Playtech, they botched a promo. The problem was that there were a number of players who were promised certain things by the casino staff. The casino reneged on their word and became unresponsive to any third parties trying to understand the problem or assist players. To make a long story short, they were rogued after an excrutiating lack of communication on their part.
But then, I ran into Brian Woods (one of the Black Widow operators) at the GIGSE last June. In a very surreal surrounding he thanked me for "roguing" his casino stating that the notoriety has brought him some decent traffic. When I questioned him on the statment posted on the casino website boasting of the quickest payouts, he laughed stating that this was only ad copy, that it didn't apply to players that returned to the casino using bonuses. They routinely delayed these payments to discourage these players to come back. You can read the full report here. He also wanted me to give his casino some more bad press, since in his words there's no such thing as bad publicity.
Well here it is, the coveted "Worst Casino of 2003". Congrats Black Widow casino!
Best Casino Group
The Fortune Lounge Group has been one of the most responsive casino groups when it has come to player disputes. Every operator knows that disputes are part of business; they're going to happen regardless of how tight a ship you run. There will be players who don't understand terms and conditions, or they'll be making errors when withdrawing funds; you name it, it happens.
But when casinos make mistakes, some are tempted to cover up the error by adhering to an old paratrooper rule of engagement: when accused – deny everything and make counter-accusations. We see this way too often. Fortunately (pun intended), the Fortune Lounge group is headed by the Vice President of Operations, who is adamant on taking care of player concerns in a clear, concise, and fair manner. If the casino is in error (which has happened – gasp!), they are the first to admit it, and they remain flexible and player friendly because of this. Many casino operators forget that this is a "player" centered industry – without the player, there is no industry. The Fortune Lounge Group's philosophy has never forgotten this and it shows. This is a good thing.
But this is what's going on behind the scene, for Joe Blow the player who has no idea nor care for industry matters, the Fortune Lounge Group offers some of the best player tournaments, contests, and bonus rewards through their Player's Club Loyalty system.
Besides being involved with their casinos and players, The Fortune Lounge group is donating proceeds to the Nebraska AIDS Project, "which acts to eliminate the spread of HIV and provides comprehensive services to all people affected by HIV and AIDS, from eastern Wyoming, across the entire state of Nebraska and into southwest Iowa."
Kudos to the Fortune Lounge Group. Your efforts and services are highly appreciated.
7Sultans
Giggle Bingo Platinum Play Casino
Royal Vegas Online Casino
Vegas Palms Online Casino
Poker Time
Worst Casino Group of 2003
Wager21 Casinos win this infamous award "hands down", or should it be "place your hands where we can see them." Busted! This group of casinos give lawmakers in the States more ammunition to shoot down online gaming for their constituents.
Lead by the flagship Goldbetting Casino, and the omnipresent manager "Robert Hamilton", these casinos were rogued last summer after they ignored a number of my emails explaining several players were owed $$ from Goldbetting, Ladydream, and Lucky Dog Sports. Ignoring emails from players is one thing, but to ignore emails from interested third parties leaves room for suspicion that something dodgy is going on. The "manager" Robert Hamilton finally got back to me and denied that mine were being ignored. He suggested that the emails sent to me were getting lost somewhere on my computer. A less than convincing argument.
Anyway, the lines of communication seemed to have been opened, and I sent a number of complaints his way. Giving credit where credit is due, he took care of most of these complaints. Some of these players were owed four figure amounts, but something wasn't quite right.
You see, I didn't like the fact that the software provider (Wager21) was using images and game names from International Game Technology (IGT.com). I questioned him about this, questioning if it bothered him or if his software provider had any contract with IGT. He stated that there was some agreement (he was unsure exactly what this was) between IGT and Wager21. Again, not a convincing answer. Trademark theft is a very serious offence, and casinos that practice these unorthodox manner of creating their games jeopordize their business (read – players' deposits) by doing so.
But besides this, I was concerned that there was something more devious about this whole scenario. The email IP addresses that were used by two different managers, the cashier, their ecash provider, and Wager21, were traced back to the same IP address, the same computer. Sometimes emails from these entities could be traced back to a laptop in Florida.
Anyway, when I was in Vegas during the G2E in September 2003, I briefly spoke with the VP of marketing of IGT. He was aware of Wager21 using their game names and logos unlawfully, and stated that paperwork was in the making. Since then, many of these games have had face lifts and name changes. I wonder why.
Some people may figure, "Well, these guys are good now since they aren't ripping off IGT anymore." Lest we forget, business ethics don't change with smoke and mirrors. They only corrected their wrong-doings because they got caught. If players had not know about Casinomeister, they would have never been paid. I wonder how many more are out there…
Congrats Wager21, now you have something to be really proud of.
Best Themed Casino of 2003
Congratulations to the creative team behind King Neptunes Besides being one of the best run casinos in cyber-space, this one dazzles the eyes.
Not an award to be taken lightly, a casino's theme can separate it from the regular "run of the mill". In these days of Vegas clones, uniqueness is what we are looking for. Cool blues and mellow greens bring you into the oceanic world of King Neptune; Reminiscent of the Atlantis Hotel aquarium on Paradise Island in the Bahamas. Magnificent aquatic designs bring this smart package of games together in a presentation that is soothing and a broad leap from the typical Vegas themed casinos.
Powered by Microgaming's Viper, and run by the veteran casino operator Micki, King Neptune sets itself apart with this catchy motif. And besides its theme, this casino has a formidable reputation for ace customer service, integrity and fast payouts and Micki is one of the most respected casino managers in the business. Hat's off to Micki, King Neptune's and the Trident Group.
The Worst Themed Casino of 2003
Just take a look at largocasino.com and this is what you may be in store for; confrontation with crooks with guns in some God forsaken bombed out hell hole.
Powered by the ethically challenged Wager21 group, its operator has also been awarded the coveted "Most Obnoxious Casino Manager" award as well. It's something they can be proud of.
Best Named Casino of 2003
Unfortunately, there is no "Best Named Casino of 2003" award to be given out this year. I have scanned my records thoroughly and the new casinos that have been launched in 2003 lack the creativity that has shone through in previous years. Too many Golden-Vegas-Mega-Winner-Cyber-Bet-Club-Casino casinos were thrown in our faces. Operators need to put on their thinking caps and get away from the standard "ooh, this will get us good search engine placement" branding and create names that stand out from the crowd and actually mean something.
Worst Named Casino of 2003
This year, it's a tie between Connecttocasino and Fortypluscasino.com
Connecttocasino? What is that? Does it mean "connect to a casino" or is it Cro-magnon man-speak "Connect to casino" ugh. It rolls off the tongue like a rusty nail, and leaves an image of vague nothingness. Brilliant.
And when I think of Fortypluscasino.com, I am totally turned off by an image of some casino bouncer checking peoples' ID making sure they're over Forty. Somebody was doing serious bong hits in Costa Rica when they came up with this one. Even I can't figure it out. Too bad they went "poof" data base and all.
The Best Affiliate Program of 2003
The are a number of affiliate programs that good, but one of the best that has really developed over this past year is Wagershare
Managed by the personable Tim Whyles, who is no stranger to any Webmaster who attends online casino conferences and exhibitions, this affiliate program was launched in August 2002 and over the past year it has grown tremendously. Tim's untiring effort and the dedication of his staff truly shows. This is an affiliate program that really works. From its initial bare bones launch to its present state, this program proves to be a highly respected and "webmaster" friendly. Wagershare ensures that there is enough information and creatives available so webmasters can get the job done. Besides creatives, webmasters need a good flow of information and their weekly newsletter is just the ticket; it's not only entertaining but highly informative as well. Kudos for Tim and his gang. Their efforts are well appreciated.
Best Tournaments of 2003
This is no lie, but one of the best kept secret on the web are the tournaments at Intercasino These tournaments shine, let me tell you why.
Most tournaments on the web require players to play with their own cash, which in most cases doesn't do anyone any favors but the casino. But at Intercasino, sign up fees are anywhere from $5-$20 and players are given up to $1000 play money to use in the tournament. This is an excellent way for newbies to play some games, risk free (the only thing they risk is their sign-up fee, which is already gone) and have the chance to win real cash. Partnerlogic , Intercasino's affiliate program, has made these available for webmasters to promote to their members, which gives webmasters the chance to set up some in-house competition. Kudos for Intercasino and for the staff at Partnerlogic who have made these tournaments possible.
Biggest Disappointment of 2003
Are the casinos rigged? This is a question that we thought Truegambler's research might try to answer, but the whole presentation which seemed to come at us piece-meal and without much explanation left most readers apparently confused and unable to reach fair conclusions.
Courtesy of InfoPowa News:
"The furore started when after much anticipation Chris Hughes of Truegambler released the results of his Online Casino Analyser research but drew no conclusions for fear of litigation, leaving others to interpret the issue in diverse ways and resulting in confusing posts in gambling message boards and the need for a number of iterations and clarifying addendums.
The concept of Truegambler's Online Casino Analyser software was widely applauded and welcomed as an industry safeguard with enormous potential when it was announced some time ago, and it is fair to say that it still has positive prospects in the future.
The software facilitates the recording of play of registered players on a dedicated server, where a number of mathematical tests are used to analyse the likelihood of the recorded results occurring by comparing them to 'expected' outcomes. In this manner very large numbers of hands of play can be tested, the intention being to give a more accurate picture over time.
The current tests are the result of several millions of hands of play by some 200 registered players at a wide range of casinos using gambling suites from the providers being tested, which on this occasion was blackjack from Odds On, Random Logic, Microgaming and Real Time Gaming.
Unfortunately, the manner in which the results were presented was inconclusive and, as it now appears, incomplete. Considering the gravity of the issue and the significant potential for harm to both trust and businesses, this is surprising as we would have expected this research to be able to withstand the scrutiny of a court of law if necessary.
My comments from 5 September's Newsletter:
The long awaited OCA Black Jack report from truegambler.com is finally here. This is a report that concerns the play action of Blackjack via the software providers Microgaming, Oddson, Random Logic and RTG. The report is a painstaking collection of data which represents over 3 million recorded hands from 200 players of online casinos. The Blackjack play was analyzed by the Online Casino Analyzer (OCA), a program that compares the actual play to the expected outcome of what the "dealer" deals out. Most of us had been anticipating the release of this report for some time now, actually since May. Unfortunately, this report is having damaging consequences.
But damaging to whom? Unfortunately, it's damaging everyone involved. The crux of the matter is that TrueGambler reported that the likelihood of a Microgaming dealer receiving the number of 17-21/BJ hands is very low, actually rounding this out to zero. Also the number of "pushed" hands was higher than expected, and the dealer lost less hands than would be expected. In other words, according to these results and in layman's terms Microgaming is using cheating software.
When the news hit the message boards and gambling related forums, there was an outcry from players. I'm not going to attempt to rehash what has been said in the forums concerning this because it is getting picked to death. Players are screaming "rip-off!" "We've been screwed!", "I knew it all along." etc. And a lot of the portal webmasters are arguing on how the data was analyzed and collected. Everyone seems to be a bit confused. Why? Because of the way the information has been presented. When it comes to presenting information that has the potentiality to bring a multi-million dollar industry to it's knees, you don't show up in an 84 VW Golf wearing jeans and a T-shirt handcarrying a manila folder with data and no explanation.
Truegambler chose to offer their information as more or less raw data; they intentionally did this so that players could come to their own conclusions. This is understandable since unhappy software providers could bring in a truckload of lawyers from hell. And who wants to get sued? But the data in this form is unfathomable to most players. Unless you are a math-head, your eyes will glaze over if anyone attempts to explain these findings.
But once they are explained, there are more questions at hand. Where is the methodology? What do we know about how this information was collected? This is not explained. Why is the software still in its Beta version? This gives the impression that the developers aren't yet convinced that the program is running at a full fledged 100%. Why does the Truegambler website still have Microgaming banners flapping in the breeze? If Truegambler believes that the results of this report indicate that Microgaming's software is cheating players, why haven't they taken five minutes to replace these banners?
What about casinos like Ladbrokes? As most of you are aware, this is a brick and mortar casino owned by the Hilton group that has an extremely high profile, especially in the UK. I would only assume that this casino watches their play outcome very carefully. To do otherwise would be unimaginable.
These aren't only my questions, these are the questions that are being tossed around by nearly everyone who has read this report.
In my opinion, for whatever this is worth, it seems that this was intended as a "forum offering"; something for everyone to fight over and pick apart in the forums. I know that Truegambler was under pressure to release the findings, and perhaps they thought they were doing the players a favor by warning them of possible dirty deeds by Microgaming, but in doing so, I think they left themselves too much out in the open for scrutiny.
And don't get me wrong. I'm not pooh-poohing the report or the data that they collected. But to be presented in this manner causes me to question the seriousness of it. Casinomeister is THE online casino watchdog. I'm here to protect the players by giving them information. I'm also here to assist casino operators, portal operators, and anyone else who has a stake in this industry. Am I expected to blacklist a software provider for what this report indicates? Tell me, what am I supposed to do?
And what gets me, is that this causes a player vs. portal owner thing to resurface. Players should be aware that most portal owners want nothing more than honest casinos that offer fair games. To insinuate that all portal operators think otherwise is a knee-jerk response in itself.
I honestly hope that if any more reports are to come out of Truegambler, they will reflect "lessons learned". This was truly the biggest disappointment of 2003.
Biggest Disappointment of 2003 (Runner Up)
Communication is the key to success in this industry, or any industry for that matter. Even if you don't have much to say, be the first to say it especially if it concerns something that has a snowball effect. When the nearly brand-spanking new Oddson.com powered Fortypluscasino began to spiral into the black abyss of failed casinoland, players were left in the bleachers watching it crash and burn. Well, what do players do next? In most circumstances, the software provider who was responsible for setting up the casino, would at least step in, make an announcement, and give the players some course of action to take. Unfortunately, Oddson did nothing.
Well, at first they did nothing which was a big BIG disappointment. Software providers MUST realize that they are obliged to protect players against fraudulent or mismanaged activities on the casino's part. Before this casino went down the tubes, Oddson was considered one of the top five software providers since their casinos had very good reputations. But apparently Oddson were resting on their laurels while Fortyplus launched themselves in a half-assed manner.
Last summer, the casino manager was very "public" with his postings on numerous message boards, doing his best to market his casino. This seemed a bit odd to me, and I am very cautious when I see this. Most people in the industry know that only about 7-10% of online gamblers spend any time in message boards, and when I see a manager investing this much effort recruiting players in this manner, I think that either a) he is familiar with the boards as a player, or b) lacks focus on marketing thus hard times may be ahead. It wouldn't have taken much time on Oddson's part to hire an intern to spend an hour a day monitoring the boards. They would have seen this waving red flag right away.
Oddson should have never allowed this casino to be "licensed" in Costa Rica. There are no "gambling" licenses offered from this jurisdiction. There is no safety net for players. Casinos that aren't willing to spend the cash on a license from a jurisdiction that offers gambling licenses are accidents just waiting to happen.
And in essence, Fortyplus casino was an accident waiting to happen, and of all entities it should have been the software provider to detect this first, not me or some webmaster, or Joe Blow the player. Alas, this would be reality in a perfect world, and a perfect world we have not. But we can act when called to act upon misfortune. It's called "taking the bull by the horns."
And misfortune should be in every software provider's contingency plan. What to do if a casino screws up.I'm sure the staff and CEO of Oddson can tell you what not to do, since they have learned a lesson form the school of "hard knocks". I hope this never happens again.
Biggest Casino Scam of 2003
Slots Alley is the winner of this esteemed award. Fact is stranger than fiction when applied to this scam operation. I couldn't make this stuff up.
So what is the scam? Well in October 2003, a player made a posting in our forum here wondering whether or not anyone had heard of this casino; it seems that not many had heard of them…and there were a few peculiarities that were noticed.
1. They had an exuberant amount of cash available for their "progressives" topping some of the progressives offered by Intercasino, one of the largest online casinos on the web.
2. Their software was some "mystery software".
3. They had unlimited 300% bonuses.
4. They were certified by the enigmatic "Fair Gaming Labs"
5. The "certifications" on the website mimicked those from Pricewaterhouse Coopers in font and wording.
6. Reports from players concerning glitchy software.
My questions were immediately responded to by "Natalie" who at first made comments how she liked my picture at Casinomeister, and that she enjoyed my presentation at last years Casino Affiliate Convention to which she attended. She answered the questions stating that a) the casino was related to a land based casino which she couldn't divulge, thus they were able to offer progressives like they did. b) the software was developed in-house c) the 300% bonus was no problem since they had a long list of bonus abusers and they were locked out already. d) the fair Gaming Labs was being dropped from their site since they didn't seem to offer them anything. e) she claimed no software is perfect, and those players that had problems have been compensated.
I accepted these answers, posted them, but I was keeping the casino under close scrutiny. A couple of weeks later, I went to Barcelona, Spain for the European Internet Gaming conference. And I was having lunch with a good friend of mine, we'll call him Jimmy for now. Out of the blue he asked me if I knew anything about this casino Slots Alley. So I told him my story and about what I knew about this casino that "seemed" to be okay, but something wasn't quite right.
He then explained things to me: The casino in question is run by two guys. One guy is a former employee of a major Internet company that most of us have heard of, and apparently much of the scripting that is used at the casino site was ripped off by this "former employee". We'll call him Nati. It turns out Nati and his brother-in-law went into business together and started up this online casino. As this was explained to me, everything clicked together and finally made sense. In fact, remember that my main point of contact at the casino was "Natalie" and here we were talking about some dude named "Nati".
I wanted to confirm this with the CEO of the company that was ripped off. He confirmed my suspicions via email, and I went to press. I was then contacted by the operator of Slots Alley who said that I had insulted "Natalie" with my webcast of 9 December 2003 since I accused "her" of being a "he", and that she would no longer entertain my questions. He then went on to state that "Natalie" was not her name, and that in fact it was a guy, but not necessarily "Nati". So in essence this operator decided that it was a game of words, and he never seriously answered any of my questions; he never identified the land based casino, nor responded to the allegations of this major Internet firm.
In a nutshell, it's a scam…and the biggest scam of 2003..
Most Obnoxious Casino Manager of 2003
In September this year, Largo Casino reared its funkified head and claimed its newly launched casino was one of the "best on the web". Whoopee! Coincidently, I had just posted a warning at Casinomeister stating that the future of its software provider was uncertain (Wager 21). I had just met with IGT's VP of marketing inVegas, and he mentioned that legal papers were in the works to be delivered to Wager21. I posted this warning primarily to suggest that players should close their accounts and move elsewhere. Who wants to be a victim of a casino that gets shut down?
Well, this didn't go over well with the manager at Largo Casino (code name Chris Anderson ) who stated at Oysterboard's forum (this is the original text, spelling errors and all) the following:
now let me get to this new rumor by his honor CasinoMiester. before I start this I would like to say Sir Bryan Bailey should learn the meaning of slanderous and liable before he opens his mouth about me or my casino. now as far a Largo & the rest of the wager 21 casinos are concerned. Wager 21 is a software vender and the casinos listed in his post are casinos who use Wager 21 software. like I stated in several other posts a while ago. Largo is not in any way part of the other casinos that use wager 21 software…
Funny, their server is the same as goldbetting.com's, Wager21's flagship casino. From networksolution's whois:
Domain Name: LARGOCASINO.COM
Domain servers in listed order:
NS.GOLDBETTING.COM 63.245.40.227
NS2.GOLDBETTING.COM 64.38.211.29
He went on…
Bryan Bailey spoke about Copy Write laws in Las Vegas this past week and Wager 21 was his prime example. This is just more of Casinomiester's (Bryan Bailey) crusade against anyone who doesn't pay to advertise on his site , I believe that is called "Extortion". Even after Brian brought problems to the other Wager 21 casinos. they resolved them and he felt the need to keep them on the rouge list. In my personal opinion I think he is full of SHI* and brian and his site is nothing but a Joke…. Buying software last time I checked didn't make a casino "Rouge". now I'm really getting tired of all the BS runors.
Anyway, a few of the Oysterboard members challenged the guy, and he finally came back with the poetic response "SO F*** YOU AND YOUR FORUM." (my *** edit) Such professionalism and class! Some of his rantings are still viewable, even though he had gone back and edited most of his own posts. I guess he had second thoughts on how he was representing his casino. What a jerk. You can check out this thread at the Oyster Board .
Most Obnoxious Casino Manager of 2003 (runner up)
Oliver Curran, the manager of Crystal Palace and High Rollers Lounge, is about as tactful and diplomatic as a inebriated semi-retarded chimpanzee at the Queen's Golden Jubilee Ball.
Under pressure he cracks: he has been known to post confidential player information on message boards. All in defense of the salary he receives from the boss-man at Crystal Palace. But wait, many players suspect that Oliver Curran is none other but the boss-man in disguise. I suspected the same since no one I know has seen these two people in the same room. I took the boss-man to task asking him to provide me a copy of his passport and "Oliver's" (to be kept strictly confidential of course – cross my heart hope to die – stick a needle in my eye sort of promise). If he would have done so, I would have made an official announcement – that these persons are two separate people.
This made this dude uncomfortable and he declined the offer. I suspect that they may be two separate persons and that "Oliver Curran" is a made up name for whomever…which ever guy this rogue operator takes up under his wing and schools in "dark magic casino management".
Stupidest Casino Trick of 2003
I don't like 1cnp.com (one click and play casino – another crappy name), and they know it. They used to spam just about every message board in existence with shills who touted one of the worst gaming software packages in existence. It will make your eyeballs bleed. I also caught them with their pants down when they decided to publish the email addresses of their "big winners" on their website. I took the initiative and emailed these individuals most of whom were incensed that the casino had the gall to publish these "testimonials" which were untrue. A couple of the players stating that they were in fact "ripped off".
During this time, the operator David Moor (not his real name, but I know what it really is) made some slanderous remarks stating to some players that I was demanding $$$$ from him, and that was the reason he was rogued. I demanded an apology and a correction, but was met with silence.
This was a couple of years ago, and I honestly thought that this casino group had withered up and died, but it was only in November this year that I got an email out of the blue from one of the 1cnp reps stating that a well known webmaster was a client of theirs, and because of this I should remove them from the "rogue" section. This representative even sent me this webmaster's stats and how much money he supposedly made. This alarmed me. It wasn't that this webmaster may have joined these guys, but it was the fact that 1cnp was divulging confidential information that I never asked for.
I immediately contacted the webmaster (the Professor at casinoaffiliateprograms.com and told him that this ethically challenged casino group was "spilling the beans" so to speak. It turns out that the Professor gave this casino group a trial run and dropped them after realizing that their primitive software would be a marketing embarrassment to anyone in this industry. At this point 1cnp started copying me on to their emails and were trying to coerce the Professor to pay them. I went to press with this on 6 November 20033 and guess what happened the next day? Spam attack!
About a kagillion email messages were sent out to every email address imaginable with the following message:
Date: Fri, 07 Nov 2003 22:06:23 +0000
From: Casino Meister >,editor@casinoaffiliateprograms.com<,
Subject: visit www.casinomeister.com
To: spam victim
References: >,43l64eg0bf1kihdd@sk.onet.pl<,
In-Reply-To: >,43l64eg0bf1kihdd@sk.onet.pl<,
Message-ID: >,a2a2j0dlgjhg4aa8@casinoaffiliateprograms.com<,
Reply-To: Editor >,editor@casinoaffiliateprograms.com<,
MIME-Version: 1.0
Content-Type: text/plain
Content-Transfer-Encoding: 8bit
X-OrigFrom: editor@casinoaffiliateprograms.com
Status: O
Dear Gambler
Visit our new website http://www.casinomeister.com
We recently added 6 new casinos to our website
Try our newest site dessert dollar go to http://www.casinomeister.com and find out more
about our sweet promotions
Visit our site today http://www.casinomeister.com
Your luck bringer – Bryan Bailey
Since it was an obvious "Joe Job" and that they even included Spamcop as a recipient, this attack proved amateurish and it's obvious that 1cnp was behind it. There are a number of individuals and agencies who are monitoring them very closely just waiting for a repeat effort like this one. There are several other people who have been targets of these sort of malicious tactics as well. And my sources tell me that the owner, who resides in Vancouver, is on the verge of getting slapped by a lawsuit that will nail him to a side of a barn. IP addresses don't lie.
Best Warning Robot of 2003
Actually, this one is pretty easy since Vortran007 is the ONLY warning robot out there in cyberland.
From the line of Xtran Model Series 5200, he tirelessly monitors cyberland for trouble. Not only does he focus on potential casino scams, but watches for new computer viruses and other critical issues. He joins me regularly on my/our webcast, and if you subscribe to Casinomeister's Newsletter, you'll be placed on the "warning" list. Congrats Vortran! Job well done!
Stupidest Player Scam of 2003
One thing I find common amongst most evil players is that they underestimate the intelligence of some of the casinos they try to scam, and they don't realize I'll go after them just as hard as I would chase down an evil casino. This player, code name; Cassteal (as in casinos steal, I guess) posted in our forum thinking that the forum members were stupid sheep, ready to believe every word he had to say about Casino-on-net.
It was his first posting, and what he had to say was shocking:
Posted by Cassteal Tuesday, October 07, 2003 – 12:53 am:
Casino on net stole $720,128.98 from me! They told me there software screwed up and it paid me $49,000 for every win and it was only supposed to pay me $1500.00 for each win! ok I told Mr. Ori D. at casino on net I told him To let me see my game history which they refuse to this day to give me I contacted Ronald Maginley Directorate of offshore Gaming he told me they are opening this case on casino on net for possible fraud charges.
I try to reach casino on net but all i get is email's saying they can not discuss this matter and that they have turn this over to there lawyers so I ask them for there lawyers email or phone # so I can discuss this with them they tell me to contact support and around I go same thing everytime with no closure I also contacted Ernest Gomez in Gibraltar where casino on net now resides he Won't do anything I think he's paid off too (casino on net) address is suite 601-701 Europort Gibraltar if anyone wants to know. I will keep all who wants know posted about what Happens to Casino On net all I know Is these people are Thiefs and should Go to jail!!all I got from casino on net was $1500.00 and it took 2 months for that if anyone wants proof of anything mention above drop me a line. thanks for listening, Brian
Listen we did, and I gave him the benefit of the doubt that there may be a problem, but in the back of my mind I was a little skeptical. I contacted Vahe Baloulian, Casino-on-net's casino manager to see if he could enlighten me on this player's problem. This is what he had to say:
Here is the story with the player. He opened an account with Casino-on-Net on February, 2003.
On the 15th of March, 2003 during a regular security check we detected discrepancies in his account. Investigation proved that due to a malfunction, which we have a reason to believe was deliberately caused by the player, his bankroll showed a bigger amount than it should have. The player was informed of this discrepancy. We also informed him that his account will be closed while this matter is being investigated. Five days later he contacted us threatening with a lawsuit and demanding the amount that he saw in his bankroll to be paid. The player was then contacted by our Fraud Department manager and an agreement was reached. The Player agreed to receive a settlement; he signed a disclaimer and provided us with a copy of his ID. We sent the funds to a bank account specified by him and considered the matter settled and resolved.
Later, on the 28th of May, we received a new complaint from the player through the Directorate of Offshore Gaming where he made the same claim. We complied with the Directorate's request and provided them with all the information about this case. After review, the Directorate found that there was no merit to the claim. In August, the player contacted our new regulators in Gibraltar. Again, Gibraltar's decision was the same as Antigua's. At this time, the player denied that he ever reached an agreement, accepted the settlement, and signed documents agreeing that the sum we paid "shall be in full and final settlement of all and any claims and causes of action of whatever kind against Cassava…" This matter has now been passed to our lawyers since the player repeatedly threatened to take a legal action against us.
To address the points raised in his posting:
1. We typically have no problem sharing the game history with the player, as it is a standard feature of our software. However, in some cases when the account is closed because of suspected fraud, we, like any land-based casino, may decide to release the game history only to our regulators, if they request it. It is up to the regulators to share this information with the player.
2. When we are threatened with a legal action, the case goes to our legal advisors. If the legal action is taken, which has never been a case although we served over 8 million players during the last 7 years, the ex-member's lawyers contact us and we put them in touch with our lawyers.
The player is well aware that he has no case. I realise that he is also aware that he has nothing to lose by complaining – may be we'll pay some more. We will not. I think that we were overly kind in the first place. I just want to assure him that this is an absolute waste of his and our time.
If you have any questions, please let me know.
Best regards,
Vahe
He also went on with an analogy:
Basically, if we compare this to a soccer game, if the score board shows 3-1, but there were no goals during the game, the score board results don't really matter, specially if they malfunctioned "thanks" to the "winning" team.
So I posted this, and noticed that the email address that "Cassteal" used for his forum account was support@slotcityUSA.com. I thought, "That's odd. Using a support email account. Perhaps this dude is a casino operator." So I checked out his site SlotcityUSA.com (screenshot) and lo and behold, there was a site that looked vaguely familiar with Blackjack Ballroom text. The casino software that could be downloaded from this site was from Gambling Federation. So apparently, this "Cassteal" who was so adamant on a casino ripping him off was the "ripper-offer".
He was busted. Gambling Federation took down his sites (there were two of them) within hours, which made this guy quite angry. He decided to vent his anger by posting this. And he changed his Whois information to reflect his frustration. What a baby. Too bad he forgot to change the whois information on Casinocashland.com
For a final touch, he began to send babbling emails threatening me with lawsuits. His "lawyer" by the way, had one of the FREE email addresses given to college students.
For a crook, he's not so bright. The entire hilarious episode can be read here in our forum.
The Evil Player Award for 2003
A guy by the codename "Rainfall" who posts regularly at Winneronline and at some other boards as HOW SAFE ARE YOU, and HSAY, is a shallow ungrateful coward. He has no honor.
It was last February when there was a public dispute concerning Crown Vegas casino; there was a discrepancy about whether or not a coupon that was published in Gambling Online Magazine was for first time players. It clearly was, but Rainfall, in a sophmoric quest to be "controversial" accused me of deleting posts, and then went on rambling how I was owned by the casinos, how I was on the take, and if a casino was sponsored on the site I would not allow complaints to be posted about them (Crown Vegas was not at that time a client by the way). He was as subtle as a leaf blower in an intensive care unit, ranting half-baked semi-thoughts that seemed to be the result of "huffing" too much airplane glue.
I put up with his nonsense, but my patience grew thin with his accusations and malicious statements. When it became obvious that Rainfall was intent on scamming this casino, and trying to manipulate me and waste my time with his bogus claims, I placed him in our Evil Player section.