Meister Awards 2004
Best and Worst in Gambling for 2004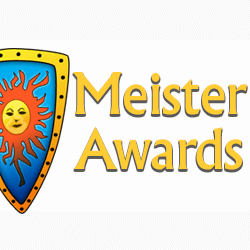 2004…where did it go? Man, that was fast! This past year flew by – and in a blur it spun a number of enthralling and sometimes very emotional events at us. Wars, politics, and horrific natural disasters affected most all of us. And this industry serves to allow many of us to take a few brief moments and get away from these doses of reality. Speaking simply, to enjoy ourselves. So let's take some moments and reflect on what this year has given us.
Highlights this year: a casino operator tricks a player out of a $1.3 million win, an online casino portal takes on the US Department of Justice, online poker explodes into the mainstream, organized Deliberate Denial of Service attacks casinos and sportsbooks, the World Trade Organization tells the US to lay off Antigua, and the European legislatures begin to recognize the need for online casino regulation. Yes, it has been an eventful year (but what year hasn't been in this industry).
So, slip on your Kevlar, don your flack jacket, grab a beer (or a hot cup 'o java), it's time to divvy up the brass tacks, the nitty gritty, the "meat and potatoes" of the online casino business – welcome to "the awards that matter": the coveted "Best Casino" to the "Worst Casino Group", the "Biggest Disappointment" to the "The Evil Player Award". So sit back, relax, and read on…
Drum roll please…
The Best Casino of 2004
I would have to be a fool to not choose 32Red as the Casinomeister Casino of the Year 2004. They have managed once again to not only impress players with exceptional customer service, but to serve as a template for their peers and competitors as the epitome of a well run casino.
There is no doubt that the operators and staff of 32Red Casino take their jobs seriously and that they place the care of their players as a top priority. CEO Ed Ware makes himself available to answer players' questions at most of the popular message boards. Issues that are brought up are treated fairly and professionally.
For most of 2004, 32Red was unavailable to US players. They had decided not to accept players from the states because of the uncertainty of the US legal position; 32Red wanted to ensure that they were presenting and promoting themselves legitimately. But with the failure of the pending prohibition of US gaming transactions, and other progressive legal moves by the UK and licensing jurisdictions, 32Red changed their policies and began allowing US players to open accounts last November. Finally after nearly a full year, most everyone can enjoy playing at an online casino that really matters.
Congratulations 32Red
Worst Casino of 2004
Let's give casino1x2.com a warm round of applause for achieving the coveted "Worst Casino of 2004". They had a lot of competition this year because there were/are some real sorry ass casinos out there. But what separates this casino from the competition? What makes this casino so special? I'll tell you why.
Besides having a history of jerking their customers around when they want to be paid, this casino has an issue with telling the truth. Casino1x2.com has been boasting (since their conception I believe) about their "Payout Percentage reviewed by B.I.A.A." Which according to them stands for the "Bauhaus Internet Audit Assurance (B.I.A.A.)".
Stuff like this begs me to dig deeper, so I checked them out. There is no website for b-iaa.com, merely a generic "coming soon" page from their server. I conducted some simple searches at Google for "Bauhaus Internet Audit Assurance" — nothing. They state that they are "one of the leading global accounting firms, (which) provides a monthly review of Casino1x2.com payout percentage." Funny how they don't seem to appear anywhere on the Internet except at Casino1x2.com and Internet1x2.com.
So who are these guys? I checked Whois and b-iaa.com is registered by a guy who goes by the name of "Peter Singh". So I did a Google search on "Peter Singh". A number of sites came up, and number one on the results page was: The Rocking Sikh Peter Singh. Is this the same dude who is behind the B.I.A.A.? Probably not. Peter Singh is probably a faked name for the registrant. But it's an amusing thought to think that a Sikh Elvis Impersonator is watching over the gameplay of Casino1x2.com and its brethren. After all, it's only a game, right?
Best Casino Group 2004
Vegas Partner Lounge earns the coveted Casinomeister's Best Casino Group of 2004. This is probably one of the larger Microgaming casino groups, and the least problematic.
It's an exceptionally well run organization that upholds everything expected out of a tight knit group of people. Player issues or complaints are seldom heard stemming from the Vegas Partner Lounge casinos, and when they do appear, they are taken care of swiftly, fairly, and professionally.
They are active on the message boards, answering player issues and pre-empting possible problems by seeking opinions from players and webmasters. The Vegas Partner also makes generous donations to the Nebraska AIDS Project as well.
Kudos to the Vegas Partner Lounge Group. Thank you for bringing credence and respectability to this industry.
777 Dragon Casino
Arthurian Casino
Casino UK
CasinoUS Cinema Casino
Crazy Vegas Casino
Crazy Vegas Poker
Maple Casino
Sun Vegas Casino
Vegas Partner Affiliate Program
Worst Casino Group of 2004
Popular Casino Group is popular with me in this regard. They really tried to be good, but I'm afraid they are proving to be bad.
From their website: "'Popular Casino Group' (Gibraltar) Ltd. operates under the Laws of Gibraltar, and works under the provisions of the Gambling Ordinance for the purposes of operating Internet Casinos (online casinos)." Is it me that is reading too much into things, or does this imply that they are licensed in Gibraltar? Well whatever the case, anyone with a few functioning brain cells can click this link here and see for themselves which casinos are licensed on the "Big Rock". Popular Casino Group is not listed there.
And it's a shame too, since they had so much promise. Lest we forget, they were the recipient of 2003's Biggest Casino Scam which I thought would motivate the operators to try and do some good, like clean up their act. And in May of 2003, I met the operator who explained away the scam. I gave him the benefit of the doubt and removed his casinos from the Rogue Section…and our pleasant lives went on.
Until early November when one of their "affiliates" began an spam campaign using the reputable King Neptune's Casino as the senders email. And then it happened again in December, and again in January. Was this the work of a renegade affiliate, or the work of misguided casino operators? I have no idea, but it was the same affiliate link being used for each mailing even though the operator confirmed that the affiliate's account was shut down.
Is the Worst Casino Group too great an award for such a small infraction? I don't believe so. There is definitely something wrong here. And like I have mentioned before, if it looks like a duck, walks like a duck, and quacks like a duck – it is a duck.
Best New Casino 2004
Maple Casino stands out from its peers as the Best New Casino of 2004.
Realizing the need for the millions of Canadians that wanted desperately to play in their homespun currency, the Vegas Lounge folks met this demand with this smartly run outfit. Launched in September 2004, it received praise from not only Canadian players, but international players as well. Maple casino set the precedence for more casinos accepting bets in Canadian dollars.
And like its sister sites, Maple Casino seldom generates player issues – what is generated from them is player praise and loyalty. Good going Maple Casino. Good going Vegas Partner Lounge.
Worst New Casino 2004
Just take a look at largocasino.com and this is what you may be in store for; confrontation with crooks with guns in some God forsaken bombed out hell hole.
Powered by the ethically challenged Wager21 group, its operator has also been awarded the coveted "Most Obnoxious Casino Manager" award as well. It's something they can be proud of.
Best Player Experience 2004
This was a bit hard to pinpoint since there were a few good wins this past year, many progressive jackpots, many big hits, but one experience that stands out is UKCroupier's string of good luck at 32Red Casino here in our forum where he recants his holiday session that bagged him £70,000.
And what made this win so wonderful is that there was no question whether he would be paid or not. Says UKCroupier: "I won a nice sum on DDB VP at 32red on Friday/Sat. I went to the bank on Monday afternoon (today) and I was ?70k richer. I've been a player at 32red for 1 1/2 years and have always had top class service and fast withdrawals but this one beats everything – I think they must have been waiting for the bank to open on Monday morning so they could rush the funds to me."
Good going UKCroupier – good going 32Red.
Worst Player Experience 2004
Who can forget the scandalous "Hamptons Casino vs the Pirate"? What a story! A player wins $1.3 million, boasts publicly about his wins, and then the casino operator tricks the player into confessing over the phone that he used a "robot" which clearly broke the casino's terms and conditions. The phone call was taped (by both sides by the way), and the operator produces this taped call to all the inquiring minds who wanted to know. But wait, it doesn't stop here.
Then the player recants his story demanding to be paid – "There was no robot – pay me my $1.3 million!!" The operator comes back stating he has proof of the "robot", and spews some gobbly-gook that they were able to track the mouse movement of his game play. Enter RTG (the software provider), who (more or less) stated that the operator was full of crap – RTG software does not track mouse movements. Besides this unfolding publicly in Casinomeister's Forum, which incidently is one of the longest threads with over fifty pages and 36,000 viewings, it hit the mainstream press with MSNBC news.
The result? The clip-joint operator (who never had the money to pay this player in full), was relieved of his command, and the player was paid an undisclosed sum (which wasn't anywhere near the $1.3 million). The casino was absorbed by the "Hampton Portofino Group", and RTG was moved to create their Montana Disputes System.
This was clearly the worst online casino experience of the year, perhaps of all time. I think all of us who were involved in this brief interlude, walked away from this as a better informed and careful person. And it was absolutely the most entertaining online casino spectacle yet. If you want to read some of the nitty gritty, check out Casinomeister's March 4th's Newsletter
Worst Player Experience of 2004 (runner up)
Let's blow a posthumous kiss to Kiss Casino, which is the runner up for generating the "Worst Player Experience if 2004." That kiss is merely dust on the lips; Kiss Casino is no more, but a posthumous award is as valid and appropriate as any other. But what ailed this casino before it dried up and blew away? This is what:
Beginning in August of 2004, a thread popped up in our forum that detailed problems of being paid by this casino. The affiliate manager jumped in and tried to give some bona fide explanations, but one glaring problem was never answered. One of the players was told by the casino that they were waiting for a wire transfer to come in, and this was needed in order to pay him. I asked about this "wire" and was never given an answer. These sort of money issues bother me because it's a sure sign of a cash flow problem.
Not too much later another thread appeared in our forum which covered the dilemma of a 19-year-old player who was considered not of the "age of majority". Supposedly he wasn't old enough to play. And this was brought by the casino only after the player had won money. It didn't make a difference to the casino when he made his few first purchases and lost them. This selective application of the rules landed them in Casinomeister's Rogue Section.
The operator contacted me stating his concern that he had been "rogued" at Casinomeister. He had met me before, and felt that I was a reasonable person and he was hoping to better understand my motivation. He went on to explain their position on not paying this 19-year-old from Indiana. They thought that what they were doing was fair, and that it was the right thing.
But it wasn't, as far as I could tell, there was no clear cut law that governs what the "age of majority" is for online gaming in Indiana. When this player initially signed up, he was under the assertion that he was of age. The casino accepted his deposit, and when the player lost his deposit – this was a non-issue for the casino. When he returned to the casino and made a deposit and won, it became clear that it was now an issue. This "selectivity" on the application of casino rules is a no no. If a casino is going to apply these standards to one player, then they need to be applied to all players across the board. If these rules are not applied even-handedly, then it can be perceived as an unfair and potentially abusive policy.
We also need to remind ourselves that this policy was the casino's, and not a policy dictated by Costa Rica, RTG, or whomever/whatever. The casino could have made any call on this. They could have sent the player on his merry way with his winnings and then ban him from future play, letting him know that he would be welcome back on his 21st birthday. Since there was no clear-cut law broken, the confiscation of this player's winnings was severe. No one would have gone after them if they paid a 19 year old player. There are many casinos catering to the above 18 player – I have yet to hear of any operation being in jeopardy by a 19-year-old player collecting his winnings.
And what about all of the 18-20 year olds that come from this state – what about their deposits that went into this casino?
I explained how I felt to the operator, but never heard back. And then three weeks later – they notified players that they were closing. answer to this one. I don't know how this closing affected their sister casinos "Giant Vegas" and "Giant Slots", but most of us can agree that we're happy to have no more sloppy kisses from this casino.
Worst Software Supplier of 2004
If claims of cheating software, connections to Russian spam gangs, unanswered complaints, are the ingredients for a bad, bad software provider. Well Oyster Gaming is the rancid result.
Have you ever wondered why you get some much spam that concerns fake Rolexs, pirated software, pharmaceuticals, and other irritating crap, you can thank the dweebs behind Oyster Gaming for this. Their casino domains are tied in with a group of Russian spam gangs, most of it is documented here. At press time they are reportedly under investigation by the FTC, FBI, RCMP, Business Software Alliance, Russian law enforcement, Macromedia, Rolex, and several other companies and agencies. Good going Oyster! You have brought this industry down a few notches because of your marketing techniques.
Player Improvement Award
Player Improvement Award is recognition for making up for past shortcomings, blunders, and wrongdoings. I hope to see this list expanded two-fold by next year.
High fives all around to Real Time Gaming for launching a dispute handling site that actually works.
Montana Overseas Player Disputes site is the licensing arm of most of the Real Time Gaming casinos. They may be a little slow at times, but they have been able to resolve a number of player issues. What RTG has done should serve as an example for the remaining software providers that do not have provisions for aggrieved players. The excuse "We're only the software provider," does not cut it in this industry any more. Thank you RTG for answering the call for player safety and online casino accountability.
Player Improvement Award II
Giving credit where credit is due, the Virtual Casino Group seems to have gotten their act together. After a few years of questionable (and sometimes laughable) business practices. They finally saw the light.
Instead of plunging their heads into the sand whiling away the negativity that encircled them, they hired a manager (who goes by the code name Virtual Ted) and sent him into the fora. It wasn't easy since many players had many concerns past and present that dealt with their operations. And over the past several months, it looks like this "get out and face the player" approach has really worked. Virtual Ted is a member of the more popular gambling message boards, and has been able to take care of number of player complaints before they spun out of control. And he has been able to answer many inquiries about their operations. Good going!
Player Improvement Award III
Again I'm giving credit where credit is due, the operator of the Crystal Palace Group of casinos has also been keeping his nose clean.
In the past, he and his managers were notorious for abruptly shutting out "bonus abusers" with colorful expletives and a "you screw me – I screw you" customer care approach. But over the past year, I have to admit that this group has not generated the complaints that they had previously. This goes to show that these people are listening to the player, (and to me) and they are trying to do the right thing. If the player wins, pay 'em.
Best Named Casino of 2004
Even though the operators of Virgin Games didn't have much of a choice on what to choose for a casino name, it's a damn good name anyway.
So what's in a name? For those of you who are familiar with Virgin Records or Virgin Airlines, this name brings a sense of recognizable trust and transparency. You know there is a place you can go if you have problems. For those of you not familiar with Virgin, it's simply a cool name.
Worst Named Casino of 2004
Even though the operators of Virgin Games didn't have much of a choice on what to choose for a casino name, it's a damn good name anyway.
So what's in a name? For those of you who are familiar with Virgin Records or Virgin Airlines, this name brings a sense of recognizable trust and transparency. You know there is a place you can go if you have problems. For those of you not familiar with Virgin, it's simply a cool name.
The Best Affiliate Program of 2004
This was a real tough one this year, but Wagershare proved itself once again to be awarded Affiliate Program of the year.
One of the reasons that they received this award last year was by the vast improvements they made from a bare-bones affiliate program, to one that was top o' the line. Since last January, each month there seems to have been either another improvement of their website, new webmaster tools, or an innovative marketing idea. They are tireless. And their affiliate manager Tim Whyles is the "man with the plan" so to speak. If you are a webmaster and haven't met Tim, then get off your duff and get to an online gaming or casino affiliate conference. Tim makes himself available to answer questions and brainstorm ideas. Kudos to another job well done.
Best Tournaments of 2004
Wow! Deja-vu! Intercasino locks itself into this award again since no one has made an attempt to do what they are doing.
These tournaments are unique, and are probably one of the best ways that a webmaster can introduce "online play" to prospective players, and it's an excellent way for a player to get into the games with virtually no risk involved – and still have the chance to win a large sum! Most tournaments on the web require players to play with their own cash, which in most cases doesn't do anyone any favors but the casino. But at Intercasino, sign up fees are anywhere from $5-$20 and players are given up to $1000 play money to use in the tournament. This is an excellent way for newbies to play some games, risk free (the only thing they risk is their sign-up fee, which is already gone) and have the chance to win real cash. Partnerlogic, Intercasino's affiliate program, has made these available for webmasters to promote to their members, which gives webmasters the chance to set up some in-house competition. Once again, kudos for Intercasino and for the staff at Partnerlogic who have made these tournaments possible.
Best Webmaster Tool of 2004
One of the most frustrating tasks of webmastering an online casino portal is making sure the your casino promos are up to date. Well thanks to Ian Sims of Casinofeed this frustration is no more.
Casinofeed offers a free script to any webmaster that they can simply copy and paste into their HTML. This script will display the current promotional offers of a wide range of casinos. Webmasters can add whatever affiliate links they may have to the script, and they are all set. What a brilliant idea – and it's free! Kudos to Ian for making so many webmasters (and webmistresses) lives easier.
Most Innovative Webmaster Concept of 2004
"PokerAddict" the much respected online poker expert, launched a new idea in December of 2004 that will undoubtedly prove popular for both players and affiliates, dealing as it does with profitable rake information.
From InfoPowa news service: "Rake Rebate Review.com is dedicated to getting the online poker player the best rake back deal possible. By allowing affiliates to post their paybacks all in one place allows the online player to see all available offers without having to hunt all over the net.
There's a forum, a PM system, but most important unbiased information and feedback that can save players money.
This is how it works. Marketing affiliates get a certain percentage of a player's rake back every month from the poker room. Many affiliates keep 100% of this. This percent is usually in the 20-30 percent range of the money each poker room took out of pots players were dealt in.
On the new site, affiliates give the player a cut of this money they make in return for going through them. Players who go to http://www.rakerebatereview.com will see comprehensive tables that they can turn to their advantage at a number of poker rooms."
John Mehaffey aka Pokeraddict, is a regular contributor to Casinomeister-poker.com, and special kudos go him for this unique approach to bringing players and affiliates together.
Biggest Disappointment of 2004
This is a group award, and it goes to every casino operator who uses stupid excuses not to pay players because they "abused" a bonus. I'm so fed up with this situation, that it overshadows any other fleeting disappointing moment of 2004.
Here is a cold hard fact – in the long run, the house always wins. Casinos know this (that's why there are so many of them), players know this (if they don't, what a shame), I know this, and you know this. Bonuses are offered to players to give them more cash to play with = so they'll play more and possibly become a loyal player. The number one problem is that there have been so many players that will split hairs with casino Terms and Conditions that many casinos have taken a bite in the ass from these sharp players. Thus they (the casinos) have become so paranoid that they use some atrocious legalese to explain these bonuses and throw in some absurd wagering requirement. And if you play too sharply, they renege on the deal and yank the bonus.
The bottom line is, if a player is offered a bonus and meets the wagering requirements – pay her (or him). I am fed up with casino operators that feel they are being cheated when a player takes advantage of a bonus. If the bonus scheme doesn't work for you in order to attract players, get innovative and come up with something else. In the meantime, quit hiding behind catch-all phrases in your Terms and Conditions. If you don't like the way a player plays, pay the person – then give them the boot – not beforehand.
This casino industry has been going strong for a few years, and it's been growing massively over the past 12 months. Yet no one seems to be able to think out of this paper bag that's labeled "bonus offerings". Let's get our head out of our fourth point of contact (paratrooper term), and rejuvenate this industry with another way to market and promote casinos. Bonuses suck.
Biggest Casino Scam of 2004
See Worst Player Experience 2004. Easily this was the biggest scam.
Most Annoying Forum Member of 2004
There were a number of really annoying forum members, competition was fierce! And it's with a heavy heart that this award goes to a member that was recently banned. He was too annoying, I couldn't take it anymore. Come to think of it, most of the members that qualify for this category have been banned as well. Funny how that works.
But you can still check out hahacasino's profile (even his username is annoying), and read all of his posts. Maybe then you will agree that he was the most annoying member of our forum for the year 2004.
Stupidest Casino Trick of 2004
Brandy Casino pulled a stunt last year that was yes, the stupidest casino trick of 2004.
They had recruited a kagillion players to eagerly profess their happiness to the world on the more popular message boards by posting their glee in multitudes. Most of the webmasters like me who manage active boards were a bit miffed at the stupidity that these players were displaying. Many of these dweebs didn't even bother to read the boards' posting policies: No spam postings. After complaining to the casino about these idiotic posts, we were told that we'd be put on an "off limits' list. Fine and dandy, but that didn't work out so well since they would still trickle in.
What gets me is the core idea of the marketing scheme, "let's use the forums as a tool to promote our casino". But what they didn't foresee was that they would piss off enough webmasters that could have been potential affiliates. Way to go Brandy!
Best Warning Robot of 2004
Actually, this one is pretty easy since Vortran007 is the ONLY warning robot out there in cyberland.
Vortran has had a tough year this year. His girlfriend was kidnapped, drugged, enslaved, and held for ransom by an editor of an major gaming magazine. She's back, but she hasn't been the same since.
But Vortran is a tough little robot. He comes from the line of Xtran Model Series 5200, and he tirelessly monitors cyberland for trouble. Not only does he focus on potential casino scams, but watches for new computer viruses and other critical issues.
He joins me regularly on my/our webcast, and if you subscribe to Casinomeister's Newsletter, you'll be placed on the "warning" list. Congrats Vortran! Job well done!
The Evil Player Award for 2004
Opportunists don't bother me too much; people who take advantage of a situation to further their own cause. But this situation merits condemnation of the most serious kind. This player took advantage of the death of my friend and player advocate Julie Sidwell to reopen a case of player fraud – his fraud
This player, we'll call him Stefan, was apparently dealt a Royal Flush, but for some reason his hand was "folded" and he was not awarded the progressive win of $45,229! He made a screenshot of this "win" and contacted the casino. The casino responded that there was no record of the win – that according to their records it never happened.
Well, the player contacted Julie Sidwell at Gambling Grumbles and she investigated this case. She told Stefan that the casino was looking into his allegations and evidently the case was dropped. Stefan claimed that he was never told why.
Julie Sidwell passed away the week before Christmas 2003, and it was only a week after her death that I received an email from Stefan hoping I would look into this case. He provided the same screenshot, which on the surface looked legitimate to me. I forwarded this to RTG, and their graphic artists took a good look as well. RTG then recreated a Royal Flush win, made a screenshot of that, and they compared the two. I was a forgery.
They carefully scrutinized the player's playing records, and they were actually able to pinpoint the hands that this player had in order for him to do some creative cut and paste jobs. What a scumbag.
So, in a nutshell – this was a player with no scruples. He tried to rip off a casino with lies and a forged document, and it initially fails. When he realizes that the person who was arbitrating his case had died, he jumps right up to do it again!
Definitely a low-life who is justified in being the Evil Player of the Year 2004. Check out the full story to include the screenshots here.