Meister Awards 2009
Best and Worst in Gambling for 2009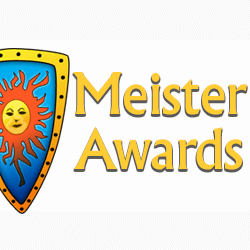 What a year! – Casinomeister trudged forward into its second decade of jungle warfare online casino style. Whacking the overgrowth of spammers, crappy software, freaky players, affiliate meltdowns, and roguish operations with my cyber machete… and then resting under the lush canopy of good casino operations, solid games, and a wild mesh of entertaining and fun players, I am finally able to review the events 2009. This year proved once again that this is one of the most bizarre and engaging businesses to be in. Never a month goes by that we aren't baffled by an idiot spam dweeb, challenged by a player complaint, amused by a newbie operator, or amazed at a really good win…
So, are you ready for the only "Awards that Matter"? Don your kevlars, fasten your chin straps, and put on your flack vests. You're about to jump into the muddy trenches of online gaming.
Drum roll please…
Casino of the Decade
As we transition into 2010 – we can look back at the noughties and truly say – 32Red Casino is the Casino of the Decade. From their launch in August 2002 up until now, they have never wavered from the path of excellence.
From the archives in Casinomeister news…
23 August 2002
Good news from the Isle of Man …
… Microgaming-powered sites lead the pack this week.
32red.com is owned by the British group Trafalgar Betting and Gaming and hold a Gibraltar licence and IGC membership. The professionally presented and colourful site (check out the floating download button) carries a big MGS suite of 43 download and Flash games of above average quality and play and the whole thing is backed by 24 hour and fully contactable Support and a range of financial options through Proc Cyber Services. One of the several things that impressed us about the site was the experience of the directors and managers. The CEO is ex-Ladbrokes veteran Ed Ware, the finance boss is Paul Webb who was at Victor Chandlers and another Ladbrokes man, Graham Campbell heads Operations. That bodes well for an efficient and well managed casino.
They have maintained their focus since their launch: personable customer service, responsive and effective management, professional solid operations. Publicly traded, fully transparent, and they are bound by an ideology that is based on player satisfaction. These guys have a lot to be proud of…again.
Worst Casino of 2009
There was a flurry of entries for this coveted award this year, and it was a tough decision to make – which casino would be honored by this infamous award. Alas there is only one winner, and this honor is bestowed upon Golden Lounge Casino.
Powered by MGS software, GLC sets the standard for a badly managed casino. There were no less that eleven "Pitch a Bitches" submitted this year and a multitude of accusations in our forum of confiscated winnings and locked accounts. GLC sorted through a number of these complaints with the assistance of Max Drayman our PAB manager, but in his frustration he stated: "the service from Golden Lounge is despicable: when I take an issue to them I may get an answer in a week or a month or not at all!" Some of these issues dealt with claims of "bot" use, stalled winnings, locked accounts, mis-use of "autoplay", violations of their terms and conditions – which can be pretty sweeping.
Players are at the mercy of the goodwill of this casino – which is not how a casino should be run. So high fives all around for the staff of Golden Lounge Casino.
Worst Casino of 2009 – Runner Up
I'll have to give honorable mention to Strykke Poker and Casino. There were more than enough complaints that made their way via cyber space to Casinomeister, and our requests to solve these player issues would go mostly unanswered. When the casino would respond, it was minimalistic. Now don't get me wrong, casinos are not obligated to answer our emails, but when they have representatives who claim to offer their services, it's rather misleading when these services are nothing but a *poof* menagerie of words.
Apparently there was internal strife going on with the employees of Strykke – but this is not an excuse to jerk players around and perform in bizarre ways.
Strykke can strike one up for the record – runner-up worst casino of 2009.
Best Casino Group 2009
Club World Casinos nab this for the first time ever. Besides the Club World properties (Club USA, Club Euro and Club UK) they operate Aladdin's Gold and Lucky Red Casino which are by far some of the most responsive casinos online. Managed by a clued in crew – their customer service and operations are on top of their game in this overly competitive industry. They are committed in providing players with a level playing field.
Kudos for the entire staff of Club World – a job well done.
Worst Casino Group 2009
Lord o' Mighty! The folks at Mighty Slots can clap their hands in glee celebrating our announcement as the worst casino group for 2009. It's an award well deserved.
From their website: "Q: Is Mighty Slots Casino licensed? A: Yes, we use license from Real Time Gaming software and operate with complete compliance of all laws pertaining to online gambling."
Well obviously, someone is doing some serious bong hits in the admin offices at Mighty Slots. The fora is plagued with stories of "no pay" and other roguish activities. They had a license from Kahnawake, but alas no more. One needs not to wonder why.
Mighty Slots even had the audacity to deny that the .biz domain had anything to do with the .com entity, as if they wanted to distance themselves with themselves. It was nothing but a load of transparent BS. Mighty slots has many flavors. Take your pick:
Mightyslots.com
Plentyjackpots.com
Mightyslots.biz
Realvegasonline.biz
Top-40-casinos.com
Vegasfrontier.biz
Realvegasonline.com
Realvegasonline.biz
99slotmachines.com
99slotmachines.biz
Plentyjackpots.com
Plentyjackpots.biz
Slotnuts.com
Slotnuts.biz
Best New Casino of 2009
Allstgarslots is the Best New Casino of 2009. They entered the scene in the beginning of this year in a fetal stage, and birthed itself into a full fledged Accredited Casino at Casinomeister. The operators are responsive to player needs and suggestions, and they have truly built a casino that is tuned into what players expect. Professionalism, responsiveness, and fast hassle-free payouts.
Good going Allstarslots – high fives all around.
Worst Player Experience of 2009
Even though the actual event happened in 2008 – this qualifies as the worst player experience for 2009 since this is when the misery truly came to light.
Sylvia P. won $4,188,719.98 playing the Beach Life Jackpot at Joyland ? a Playtech powered casino which is now part of the William Hill group. This ?win? was publicized as one of the biggest jackpots ever paid out. Joyland still has the audacity to boast of this win here
The sad thing is she only received about half of the winnings.
When she signed up at Joyland, they had a policy of a max payout of 9k per month. Do the math ? $4.2 million will take around 39 years to pay out. That?s one hell of a long time – who knows if there will even be an Internet in 39 years, much less Joyland casino? Personally I think 39 years is absurd and indefensible. I don't think any player would consider this acceptable.
Here is the kicker: progressive winnings are from a pooled source. In other words, each Playtech casino that participates in the progressive jackpots contributes to this fund. Thus the progressive winnings do not affect the specific casino since this is not 100% of their money to begin with.
Joyland was in control of these funds and chose to pay the player 9K per month.
According to the player, she was told that the only way to collect her winnings was at 9k a month. If she wanted to collect a larger amount, she would have to play that amount first. She also claims that the VIP manager who was making these deals only contacted her with a Hotmail email address or by phone. This is not only unprofessional – Playtech nor the casino have these email records.
She received nothing in writing from the casino detailing her payment plan, and she decided to take them up on their offer to collect only $2,300,000.00 plus bonus which was $61,000.00 – a total of $2,361,000.
WIlliam Hill then purchased the casino, and a deal remained a deal. She had made this agreement with the previous management, but how this "deal" was handled remains to this day unclear.
This leaves one's mind pondering – what happened to the rest of the money? I assume the previous owner of Joyland has this. Who else would have it? Another question: was this a fair way to treat a player? The answer is a solid and resounding "NO"! Situations like this shame the industry – I'm still flabbergasted that this issue floated away into a memory, and no one did a thing.
*Note: One good thing that did come out of this was that the Accredited Casinos at Casinomeister are now required to pay out progressives in full (excluding Wager Works casinos). No funkified whacky crap in Casinomeisterland.
Worst Player Experience of 2009 runner up
Players from the US experienced the worst this year when they were shut out from Microgaming casinos. US players make up the majority of online players worldwide; Microgaming casinos outnumber their competitors and the US market was their bread and butter pre-UIGEA. But over the past year, thousands of US players have been shut off to some of the best casino games on the net. US players have become the red-headed step-child as MGS makes one move after another – without warning – to cut off these folks from MGS powered casinos.
One of the biggest gripes is that there is no public announcements, no press releases, no word on what is going on. Even though catering to US players may be problematic, abandoning them in this manner is truly a bad player experience. For a decade, MGS had an "always look after the players" philosophy – but it seems as this is changing to a more reclusive one – "we're just the software provider."
Evil Marketing Award of 2009
Once again, the employees of Gold VIP Club Casino can strut their stuff – receiving this award for the second year in a row.
Last year they had a spam campaign with the sender's email address as Casinomeister@hotmail.com. This year they targeted one of their RTG competitors as the sender of the spam. A phishing spam mail at that:
"Play online-casino with ClubWorldCasinos? partner!
Sorry for troubling you, but it?s very important information for ClubWorldCasinos? clients. In this situation we are forced to move to another site. We respect all our players, so we offer you to continue enjoying casino with us at http://spammylink.org/worldclub.php ! Our new project King Dice Casino – the guarantor of your success!
Copyright 2009 ClubWorldCasinos. All Rights Reserved."
King Dice Casino was an offspring of GoldVIP Club Casino. Whether this was the work of an evil affiliate, or the casino itself – it still receives the "Evil Marketing Award" of 2009.
Tangled Web Award 2009
Oh what a tangled web we weave, when first we practice to deceive…" The "Tangled Web Award" is bestowed upon those persons or entities that have gone to great lengths to either deceive, trick, or fool the public into believing something that is not true – and then they get caught out in a major way.
This year's award goes to CasinoAffiliatePrograms.com. CAP's meltdown of 2009 was the mother of all trainwrecks – one could only feel embarrassed for the owners of CAP as their deception was hung out to dry on the local community's clothes line.
During the last months of 2008, there were accusations from Cardspike Poker affiliates that they were not being paid, or that their payments were way past due. What was alarming was that Cardspike was a Certified CAP member which meant that they (like their competitors) paid to be listed at CAP, and that there would be a certain degree of accreditation to be listed there.
Rumors began to pour forth that CAP, a company that serves the affiliate marketing community, was behind Cardspike. In January 2009, APCW Perspectives produced a video that revealed that a company, Effective Media Group, was owned by the owners of CAP. EMG was the company that ran the affiliate program of Cardspike.
CAP denied any connection to Cardspike here, and here, but after enough people raised too many uncomfortable questions, they finally admitted that they in fact were behind the scenes after all. It's all confessed here.
The conflict of interest was staggering; CAP's ethics and good judgement were tossed to the wind. Those who spoke up in their fora were silenced by bannings and other bullying tactics. Even yours truly, when asking too many questions in the CAP forum, was banned. I was told later that it was a technical error. Yeah, right.
How tangled could a mess get? It still haunts the affiliate realm of things to this day. Good one, CAP.
Worst Blundering Screwup 2009
Topgame makes it to the top of the list this year. How in the heck can a software provider upload a progressive slot that requires five wilds to win the progressive, and two of the wilds are missing? And it didn't last for a few hours, or a day or two, but went on for weeks. It wasn't until players began to freak out in the fora that the software provider took notice. Quality control was not a priority for TopGame.
What happened to monitoring ones software? Where is the quality control? Where is the accountability to the players and to this industry?
After being prodded by the online gaming community, Topgame corrected the malfunction and issued an apology. But one can only be astonished for the length of time it took for them to address the issue in a coherent fashion. If not for the message boards, how long would have this gone on? The glitch was discovered at the end of May, the software provider was aware of it at the beginning of June, and it was on the 19th of June that their apologetic announcement was made public.
And it was never explained what possible technology glitch was responsible for the still mysterious disappearance of these Wilds.
Best Customer Service Award 2009
For the second year in a row, shines above its peers giving players exactly the service they'd expect, but even more. Instant withdrawals, reduced reverse times upon request, simple easy to understand terms and conditions, and each player is treated like an individual, and not just like another Joe.
Good going 3Dice, keep up the good work!
Worst Customer Service Award 2009
"Im so likkkkkkkkkkkkkeeeeeeeee u !!"… …yes that's from TopGame's shift supervisor in a chat session with one of Rome Casino's customers. Top Game provides customer support to most of its clients – and if you want your eyeballs to start bleeding, try reading the following chat transcript (warning long) located here.
This is a conversation between a potential whale, and the customer support rep – and then his supervisor (which looks like the same guy). It's the creepiest, most unprofessional chat session I have ever read.
And here is another sample from Top Game central support:
"support: I'll send u some pics of mine
player: ok great
support: you'll see if im good :))
player: lol
player: how old r u?
player: ill b 52 next week
support:? 27
support: 🙂
player: wow
player: ur a baby
player: 🙂
player: but im 34 at heart
support: yea :))
player: always will b
player: u gto any tattoos?
player: i got 2 gettin third one soon
support: wooow
support: so like it
support: its so sexy
support: sweetie,
player: i promise i wont call u"
So how about a collective round of applause for the most bizzare chat sessions, and worst customer service – ever.
Best Software Supplier Award
Wager Works sets the stage for the best software this year. They've brought on board a solid stream of IGT's new games this year: Dungeons and Dragons, Rainbow Riches, and Transformers – all familiar to the land based players. The software is backed by publicly traded and US based International Gaming Technology. They list the payout percentages for each slot.
Wager works powered casinos are by far the safest place to wager a bet – in most cases their licensing is controled by Alderney – one of the strictest gaming jurisdictions. Fantastic job this year, Wager Works.
Sitting on One's Hands Award 2009
For the second year in a row, the Malta Lottery and Gaming Authority has proven itself to be a rubber stamp licensing agency when it comes to for doing relatively nothing with aggrieved players.
When players mention "it's a Malta licensed casino" in the fora, there is a collective sniggering amongst everyone since it's common knowledge that Malta is best known for sitting on their hands. Their player complaints department is slow. They either respond at a snails pace or not at all. I can't remember seeing a player issue dealt with swiftly and effectively by Malta's LGA. It seems all they are concerned about is supplying casino operators with servers and a tax haven. It's a real shame to see something that had real promise (EU licensing) fail to meet our expectations.
Fourth Point of Contact Award 2009
The "fourth point of contact" is US paratrooper lingo for the fourth point of your body as it hits the ground during a parachute landing fall. In other words, it's yer ass. This award is given to a person whose head is so far up their "fourth point of contact" that the bulge in his neck is his nose…
This year's leading contortionist is Congressman Spencer Bachus, Alabama State Republican and ranking member of the House Financial Services Committee. Here's why:
Opponents of online gaming have their opinions, and I accept these when they are balanced, logical and based on solid facts. But when moralistic statements are spewed forth without any rationale or solid reasoning from US representatives, they make every American look foolish – no matter who you are. Bachus is grossly misinformed and plays the "fear" card whenever possible.
Bachus: Online players can gamble 24 hours a day, seven days a week from home; children may play without sufficient age verification; and betting with a credit card can undercut a player's perception of the value of cash, leading to addiction, bankruptcy, and crime. Young people are particularly at risk because a computer in the bedroom or dorm room of a young person is a temptation that many may fall prey to.
It almost sounds like he was writing some of the "Dating do's and don'ts" films of the 1950's. I'm feeling that he's preaching down to me from a self-appointed pulpit. Where is he getting this information? Is this pure speculation? What is this based on? Where are all these kids online?
For the past eleven years, I have been involved in thousands of player issues, and I have not dealt with or heard of a single "child" gambler. I remember a few times when a player would claim that their teenage son or daughter accessed their computer and played away their funds. It turned out that their "teenagers" played the exact same games in the exact same way. This is not an indication of an underage gambler, but of a not-so-truthful parent hoping to justify a charge back.
If Bachus knew of the safeguards that most casinos have for underage players, and for problem gamblers, he would probably change his tune. Underage gambling online just doesn't happen as often as he's leading people to believe. I'm not convinced that he's ever conducted any meaningful research on the subject.
Bachus:…Supporters of legalization argue that prohibition has sent Internet gambling underground and left the vulnerable unprotected. But it was the 2006 law that finally safeguarded families from predatory intrusion into their homes. The alternatives?age verification and geographic location software?are simply ineffective and easy to elude…
Predatory intrusion into their homes? If you don't like what you see on TV – change the channel or turn it off. If you don't want "predatory intrusions" to invade your computer monitor – go to another website, or just shut off the machine for Pete's sake. And yes, it's true that prohibition has sent the industry underground for US players. And yes, they are vulnerable and unprotected – thanks to these misguided "representatives". But the European Union licenses casinos, and it's legal in most EU countries to wager online, and there is a pretty good infrastructure that protects its citizens (for the most part) from "predatory intrusions" in their home.
Congressman Bachus uses sensational anecdotes and daunting rhetoric to ignite fear and doubt in the American voters and fellow politicians. Unfortunately, it's too dark for him to see the light of day. More here
Head in the Sand Award 2009
This year's award goes out to all the Affiliates and Affiliate Managers who still support CAP (see Tangled Web Award 2009 and Biggest Disappointment of 2008 II) and who have forgotten the deception and lies that the CAP administration fed the entire industry during the CAP meltdown. These persons do themselves a disservice by allowing CAP to use them to legitimatize its presence. There are other webmaster support groups to get involved with. The owners of CAP betrayed our trust – get your head out of the sand and inhale some oxygen. It'll do you some good.
Best Named Casino of 2009
Branding is crucial when delving into a competitive market like the online casino industry. A name can make a casino sink into the abyss of its "Golden" "Lounge" "VIP" "Player" "Vegas" brethren, or soar above the rest with a truly brandable name.
What could be better than Buzzluck? Names are like handshakes – when they are weak and flaccid, they make us feel…yuck (see worst named casino). But when they are firm – it sounds good. It's a great introduction to a casino. Buzzluck is original and brandable – and the casino comes across in the same manner. It meets our expectations. Good going Buzzluck!
Worst Named Casino of 2009
I've heard of a lot of badly named casinos, but Goldstream Casino has got to be the worst. Conjuring images of a flowing rush of smelly urine cascading across a sticky casino floor. Ewwwww.
Stupidest Named Casino of 2009
When one mentions "Mayflower", most of us think of the puritans who settled in Massachusetts in the 1600's, pilgrim hats, women in head scarves, and of turkeys. But a casino? C'mon! What were you thinking? The only things the Pilgrims gambled on was whether or not they'd make it through the winter. "Mayflower Casino" ranks right up there at the top of "stupid".
The Best Affiliate Program of 2009
Referback is the Best Affiliate Program of 2009. Headed by the man-with-the-plan Cobus Ebersohn, who personally ensures that Referback's affiliates are well taken care of, this program hosts not only a state-of-the-art management system, but it promotes a top notch group of casinos.
Referback's affiliate management system is probably one of the best available to webmasters. Its reports, campaigns, and media library are comprehensive and navigation is a cinch. One can easily maneuver through the reports – everything you really need to know is right there. It's also one of the few affiliate programs that notifies webmasters when payments are sent – which is a big plus for organizing one's finances. Affiliates are in excellent hands with Referback.
And what makes this program a top choice for webmasters – its casinos are solid as a rock. The Bellerock group has been around since the 1990's, and it hosts some of the leading Microgaming powered casinos that have a solid history of player satisfaction.
Cool Hand Poker
Gaming Club Casino
Jackpot City
King Neptunes Casino
Lucky Nugget
Riverbelle Casino
Kudos all around for Referback – a job well done!
Most Annoying Affiliate Program of 2009
Actually, this is a group award again to all of the pushy, unprofessional, media buyers and affiliate program lackeys that insist on making spammy, aggressive cold calls to affiliates and webmasters. Here is an example:
"Hello There,
I would like to pay CPA for prime banner positions on your website.
I represent several of the top Gaming brands and have a very interesting offer for you.
Please be in touch ASAP so that we can close the deal.
Thanks
Evan Castle
Casino Business Development Manager,
The Gaming Traffic
www.thegamingtraffic.com"
For one thing "Hello there" is a suck-ass salutation. It's spammy, and it sounds just plain stupid. This is an improper way to make any introduction for business purposes.
The content is aggressive and pushy. Don't tell me to do anything ASAP. That is military jargon for "drop whatever you are doing and DO THIS NOW!!" Why should I consider doing business with anyone who doesn't bother to bone up on what Casinomeister is…and what it is not. Especially when this section is linked to every page on the main site.
Obviously Evan missed that.
Another example:
"Hello
My name is Gabriel from William Hill Betting.
We want to be present on your site. Contact me by email.
Gabriel Salomon
Account Manager
William Hill Online
www.affutd.com"
Obviously, someone slept through Casino Management 101 – "Making Cold Contacts". Would you ever contact a possible employer with a letter like this? Hell, no! Fast track to the delete button.
Making contacts via the Internet is no different than real life – because it is real life. Wake-up marketing people! Quit being so damn lazy.
Best Casino Manager of 2009
Enzo is the man. Besides 3Dice's original and most entertaining slots, 3Dice has one main thing going for them – its manager. Enzo is totally clued up on everything a manager needs to know – and then some. He is extremely boned up on the technical aspects of his casino – on the functionality of the gaming software and on the mathematics of games of chance. His interaction with players and responsiveness is hard to come by, and is much appreciated by all of us in the industry. Good going Enzo – you deserve a raise!
Worst Casino Manager of 2009
This would have to be a group award for the guys behind Heroes Casino: recipient of this year's Stupid Casino Tricks, it was the managers who conjured up the bogus reasons not to pay a player $34k of his winnings that he won fair and square. At first, these guys stalled the player with "we're checking on your ID docs" promising him that he was good to go. Then they claimed they he used a strategy – and then they claimed he was using a bot.
The proof of a bot? There was none. The real reason not to pay this player was that they were strapped for cash. Consequently, their software provider shut them down, and they drifted off to never-neverland. Good going – heroes (another stupidly named casino).
Biggest Disappointment of 2009
Microgaming has had its ups and down. Last year we were disappointed with its pullout of the US market, this year seems to indicate they are taking a further stance away from the players. Once touted as a company that puts players first, it now appears to be taking the ol' "we're only the software provider" approach.
There were MGS powered casino failures this year (Eurolinx, Nedplay) which were compounded by the casino failures from the year before. Microgaming powered Grand Privé has been underfire for jerking its affiliates around and for spam and sloppy marketing campaigns. Another MGS powered casino, Go Wild, was launched with such poorly written Terms and Conditions, it made one wonder whatever happened to due diligence.
These predicaments have a snowball effect; players and affiliates now exercise caution when dealing with MGS powered casinos, which is unprecedented. What a shame – for years MGS casinos were always considered a safe bet. Now it's turning out to be a game of chance.
Biggest Disappointment of 2009 II
Even though CAP was collapsing upon itself, they still pushed and marketed their CAP Spring Break 2009 in Cancun. The Cancun event was abysmal – around 16 people showed up, only 4 of them were affiliates. Several weeks before the event, Lou Fabiano made a CAP video where he warned those who were contemplating to attend to reserve a spot fast because the hotel was going to be booked out – he "guaranteed" it.
The event should have been cancelled or postponed. Letting the conference ride itself out was a collective slap in affiliates' faces. And the one and only sponsor that showed (Club World) ended up footing the bill for entertaining the disappointed few. Way to go CAP.
Biggest Disappointment of 2009 III
Rushmore Casino Group was extremely disappointing this year. Their operator went into the silent mode as complaints were piling up concerning slow payments to players and affiliates. It wasn't until they were removed from the "Accredited Casino" section that it became an important matter. Louise, the casino manager, was always on top of things and was a contender for Best Casino Manager this year, but she was failed by her bossman.
They were brought back on with the condition that complaints would cease and payments would be back on schedule. It's always a shame to see what was considered a good group do a cyber face-plant over communication issues.
Most Annoying Forum Member of 2009
Last year is was a group award to all of the "ass-clowns" who do just that – act like an ass – behave like a clown. This year's award goes to an individual: JHV who truly earned this recognition of being annoying.
JHV first appeared as the aggrieved player who was wronged by Rome Casino and its staff (see this year's Worst Customer Service 2009). He was the victim of a whacked out chat supervisor – and we felt some sympathy for the guy…but he had the habit of getting verbally aggressive when things didn't seem to be going his way. When the Rome operator stated that this player had made several chargebacks (which later proved to be false) he got a bit uptight. He also had the habit of becoming confrontational. And after several warnings, he just kept at it.
He received a seven day suspension, came back and didn't change his style much at all. Whatever thread he participated in, if someone disagreed with him, he would over-react and become pugnacious – speaking down to members, excusing his rants as a defensive mechanism, blaming others for making him behave this way. Here is an example of some of his snubby posts:
JHV The Movie! … It's not so much that I *think* I'm superior to you than the simple fact that we're not comparable. We're playing in different leagues. I don't see myself superior to you in the way an NFL professional linebacker doesn't see himself superior to a handicapped kid throwing a football around in the park having a bit of fun. Now here's the key point: Your ignorance and lack of intelligence does NOT give me reason to attack you – it does NOT make you a person worthy of scorn or ridicule (much like the handicapped kid playing footy in the park)…
…Look at the incoherent nonsense you just posted. You are unable to even express yourself in a coherent fashion, and I interact with people who can't speak, read or write English every day in a more intelligent and functional manner than the one in which I would be able to communicate with you…
I've had this debate with people far smarter than you, and it's a debate almost too retarded to have. You see, if you're so stupid you believe in a Book without reading it – you're a little bit mindlessly retarded, correct? And if you've read the Bible (hell, just read the Book of Job, you lazy Philistine) and you still believe in the concept of a "loving God" – you're a bit mindlessly retarded, correct?…
And then after he was warned to chill…
I will not respect the opinions of those who are not intelligent enough to even express their opinions (I'm still laughing at jas2587 – that post should go to Hall of Fame or something). And I should not be forced to or censured when taking umbrage with the ignorant masses holding such backward and hateful views and those who would pitch us back into the Dark Ages if they could.
I should be banned now for I intend on "offending" anyone else who decided not to use the brain God gave them or those who watched the Mel Gibson movie because "the book was just too long".
So his account was suspended for a month. When he promised to keep things cool he was back in. The problem was that in-between these rants, he was a good intelligent poster. He had far too many personality clashes with our members. He was suspended a couple of more times before we threw our hands in the air in exasperations and said the hell with it: permanent ban.
The moderators and I do not have the time to babysit the forum – we should never have to. It's a shame that some people feel that this behaviour is normal, and they find nothing wrong with personal attacks. I really feel sorry for these people – and for the most part, I find them exceedingly annoying.
Forum Highlight of the Year
Besides the numerous CAP meltdown threads, bickering affiliates, and a multitude of fraudsters posting bogus complaints in our forum, there was one glowing highlight that shone through all of that negativity. This year's award goes to Chris Colby, the President of Galewind Software Corp., who saw what was happening with one of his licensees (Heroes Casino). The casino operators failed to pay a player (Westland Bowl), stating at first he was using a "bot", and then claimed that the software was faulty. Mr. Colby stepped in – shut them down, and then paid the aggrieved player his legitimate winnings of 34k.
"…On this point I wish to be perfectly clear: Galewind Software Corp did not make any "back room deals" regarding an acknowledgement of defective software. To borrow from a previous post, our software is not now, nor has it ever been, "snarfed". We chose to pay Westland Bowl because Heroes Casino had not. Our analysis, and the analysis of several others, concluded that WB won ?fair and square?. Someone needed to pay him, and we felt that we had an ultimate responsibility that transcended the filters of any legal obligations…"
The rest can be read here.
It's not everyday that a software company and licensee steps in to ensure that their players are treated fairly. I can't give him enough praise – it was truly a highlight this year and a encouraging moment. His involvement should serve as a benchmark for others to follow. Kudos to Galewind Software Corp – your leadership has class.
Most Original Promotions
Marketing is not a priority at Casinomeister – we're just too lazy and preoccupied with other more pressing issues – we can't be bothered with it. So we have a section in the forum where our accredited casinos are permitted to post whatever they have to offer our members. Amazingly, Buzzluck put together a series of promotions that were not only imaginative, they engaged the membership unlike any before. The promos were quirky, challenging, and really a lot of fun. These promos pushed members to access their creativity and intellect. There were weekly promos such as Create a Photo Caption, Buzzluck Video Scavenger Hunt, Name that Tune, Album Art Giveaway, Guess the Celebrity, and who can forget the Buzzluck T-Shirt Contest?
These are by far some of the best promotions ever. Kudos Buzzluck for a job well done!
Stupidest Casino Trick of 2009
Does a mechanical pencil count as a bot? Last Fall, one of our members was accused by Heroes Casino of using an automated "system" to win over $34,700. The "system", as it turned out, consisted of a pencil and paper in order for the player to keep track of bets.
After the player had requested his payment, submitted all required ID docs, Heroes Casino decided to take several weeks to audit his betting strategy with their "consultants".
Heroes also led the player and several of their affiliates to believe that there would be no problem with the withdrawal telling him that ?it will be a nice weekend for you? (referring to the upcoming decision in his favor via a phone call).
The phone call that finally came was way different that what the player had expected, the managers wanted to barter asking him how much he wanted to be paid – he was shocked and was chisled down to 50%. The managers said they'd get back to him after speaking with the owner.
Another week passed and no word from the casino. After being jerked around some more, they told the player they would pay him $5k a month instead of the normal 5k a week. He then made an attempt to contact Cyberluck, the licensing authority over Heroes Casino to complain. He never received a reply.
Heroes Casino finally admitted that they were accusing the player of using a "bot": an automated system that played perfect strategy. Automated systems were disallowed in their terms and conditions.
The player submitted a complaint though our PAB system at Casinomeister. The casino stated that they had evidence of this "automated system" and sent us the player's hand history. After reviewing this file, we could not find any incidents of "automated" play. The player did however send in a picture of his playing strategy software – a pencil and a pad of paper recording his play action.
It was at this time that the casino dropped their software provider accusing it of having faulty software; it turned out it was the software provider that terminated the agreement – not Heroes.
At least we have a happy ending (for the player), the software provider stepped up to the plate and paid the player in full.
Best Warning Robot of 2009
How could this be any easier? Vortran007 is the ONLY warning robot out there in cyberland. This year he has warned players about the risks of playing at crap casinos, Prism casino, Cool cat casino, and Cirrus Casino cheating a player out of $1.5 million dollars, Party Gaming's whacky non-bonus play through requirements, the non-responsiveness of 32Deck just to name a few. Where would we be without Vortran?
He's my buddy; he's my sidekick. He's an integral part of Casinomeister's Webcast – and he's here to stay. Kudos to Vortran – job well done!
Check out Vortran007 on our YouTube presentations!
The Evil Player Award for 2009
Sometimes I wonder where people think greed will get them. In a place where they can spend more money? Or does it get regurgitated back into the casinos? Who knows? One thing is for certain, greed is something we face daily – especially in this industry. When people are sucked into this, they lose their good sense of decency and humility. This year we saw a lot of stupid behaviour – in every flavour. We had the CAP meltdown, the Virtual Casino Group renege on a player's $1.5 million winnings (sounds like I'm repeating myself), affiliate spam, and unethical casino behaviour – all instigated and motivated by greed.
And then we have players – players who can't get enough "free money", or who shamelessly call themselves bonus "whores" like it's some adolescent joke. Some of these people lose their moral compass and really do some stupid shit.
Take ex-forum member Kildare who had a no-deposit bonus issue with Mayflower casino. He deposited, there was a snag regarding the cancellation of a no-deposit bonus in his deposit, and he was told not to play until support had a chance to clear things up. 15 minutes later he ignored everything he had been told, and played his balance anyway. He knew full well that there would be consequences re: the withdrawal limits of the no-deposit bonus.
At this point he emailed the casino accepting the fact that his post-deposit winnings had been canceled – he knew he had screwed up. He was hoping something could be worked out. They offered him a reasonable settlement – $300 – and he referred to this as "an insult" and responded to by making threats.
He purchased the .org,.net, and info versions of Mayflower Casino in the hopes of extorting money out of them. He also claimed to have a UK lawyer at his side, waiting to take $$ action. Here is an excerpt from a chat session:
Kildare: the UK lawyer was very hungry to be involved I held her off becuse I
Kildare: thought I should give you a chance to be resonaable
Kildare: I didnt think they would have any power because you are scattered
Kildare:all over Europe but she said no that they still can get the job done
Kildare: so if time runs out then fixing this will be quite costly
Kildare: where as dealing with me now will just be fair
Casino: I see that you were offered a courtesy offer of 300 to settle the
Casino:misunderstanding of the policy… seems like thats where things stand..
Casino:im sure that offer will also not last long
Kildare: price is now $2259.51
Kildare:$300 is an insult
Kildare:at 12 o'clock price will go up to almost $8000
Kildare:plus what ever the courts give
Kildare:sorry incorrect
Kildare:in 1 hour price goes to $5259.51
Kildare:not as bad but still pricey
Kildare:not to mention the lose of business when people read about your
Kildare:dealings
Kildare:*loss
Kildare:so whats it going to be ?
Kildare:let the clock run out?
Kildare:test me to see if Im bluffing?
Kildare:or just pay me what you owe me?
Kildare:ok well I'm logging out again you can call me if you guys get smart
Kildare:26 minutes to go
Kildare:I have page open to put the sites live at the touch of a button
Kildare:20 left to make a deal
Kildare:funny Im kind of hoping you dont take the deal now
Kildare:sick of dealing with you crooks
Kildare:and If I manage to put you out of business then the world will be a
Kildare:slightly better place
Kildare:one less crooked casino n,on line good for the whole industry
Kildare:would be happy to have Alistar tell me he does not want the deal is
Kildare:he there?
Kildare:15 minutes
Casino: Hi Kildare
Kildare:hi taking my offer or can I post the websites now?
Casino:I'm afraid my offer still stands
Kildare. I can not go more
Kildare:ok well see you on the search result pages for mayflowercasino then
Greed drives people to make asses of themselves. He tried to claim that the high price for such domains was justified considering hosting costs. What planet is this guy living on? One can buy domains from $15 – $20 and have them hosted at Godaddy for $4.95 a month. Redirecting is free.
So he was booted from the forum for his extortion and aggressiveness. It's funny how these players never really get it. Here's an email referring to me and Max from the guy just after he was banned:
"Well cry me a river Detective twit and Inspector Twat have sided with the wrong side.. bravo fools
I never lied to you I did what you asked me to do and offered to help…
guess you ass-holes just like being paid off in beer by Casinos rather than
helping people
You guys are either the stupidest fuckers on the planet or crooked too…
I can be happy that I have tried to right this wrong but you ass wipes have
wasted my time and miss use the trust of your readers shame on you both…"
And all for what? Some money?
Kildare is only a poster child for the greedy evil player. There are many more out there trying to weasel something out of somebody for nothing. And for these people, there are no limits for their appetite for money. They are insatiable.
You can read the entire episode here.
Should Have Known Better Award
To Microgaming: I gave them a heads up that the operator of Eurolinx outright lied during 2008's Eurolinx Poker/Evil Player fiasco. If MGS had followed up on the matter of the operator lying to me and to the online gaming community, it may have saved them some grief this year. Always remember to listen to the Meister.