Meister Awards 2022
Best and Worst in Online Gambling
Well — what? Seriously, I mean – what? As we barely made it through the Covid bat-soup pandemic of 2019/20/21, we staggered right into an apocalyptic ground war in Europe, ice caps are melting and we can't burn enough oil. The media goes bonkers in the UK over heating bills, and gas prices, or whatever flavor of the month it is (too hot? too cold? have you ever been refused ambulance service? Call in and tell us about it!) Daily mass shootings in the US, abortion bans in the US, zero-tolerance Covid laws in China, and Will Smith bitch-slapped Chris Rock on live TV! All this in 2022!
But it wasn't all bad. We got a puppy, and the ending to "Better Call Saul" on Netflix was sublime. There is a thing call the James Webb Telescope, the Orion spacecraft has brought us closer to the moon, and Patagonia's billionaire owner gave away his company to fight the climate crisis. And then there is this thing called the Internet with online gaming and YES!! it is that time of year again to delve into the trenches of the online casino world. Like the band, The Clash — the only band that matters — here are the only awards that matter: Casinomeister's Best and the Worst of the online gaming industry. So what are you waiting for? Don your Kevlars and flak vests, button your chin straps and jump into the trenches of the amazing world of online gaming.
And the winners are…
Best Casino Awards 2022
How the Best Casino is determined: At the end of the year, we generate a shortlist of the best casinos (this is created from suggestions made by hundreds of our active members). From there, we have a secret vote by the moderators, our most senior members (Experienced Members, Meister Menbers, Senior members, Ueber Meister, Paleo Meister members) Casinomeister Advisory Group members, and the Meister Minions – a total of about 500 people. These member groups are comprised of the most experienced players anywhere in the online gaming community. This is why the Best Casino award is truly for the best casino in the online casino industry. Full stop. Period.
Best UK Casino 2022: Lottomart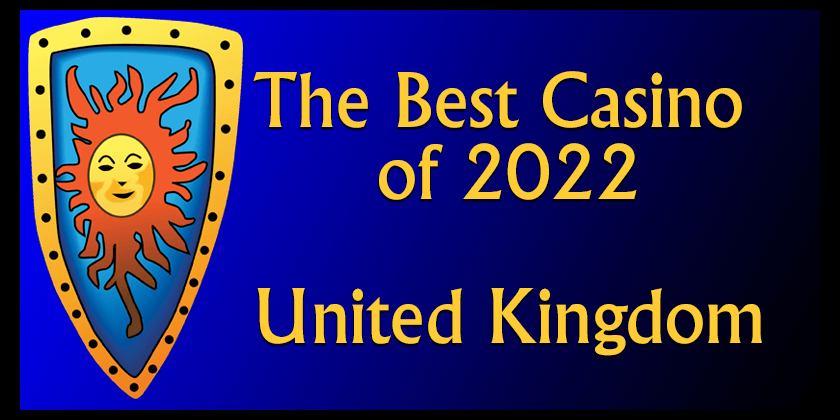 Yes! Lottomart Casino is the top choice. This is a relatively new casino, and this year they did a bang-up job of treating players with the level of professionalism and fairness that one would expect from an exceptionally run business. And this is exactly what Lottomart is: professional, fair, engaging, and enjoyable. Throughout the year, the forum was full of kudos, gratitudes, and positive acknowledgement from loads of our members, and if any problems arose – Mark_lottomart was/is there to assist. Mark is the flag-bearer for Lottomart, and he certainly knows the ropes. He was one of 32Red's chief representatives from near the beginning of their esteemed reputation as the Casino of the Decade in the aught years. He has brought some of the old-timey 32Red finesse along with him. Congratulations team Lottomart! Job well done!
Best Global Casino 2022: 3Dice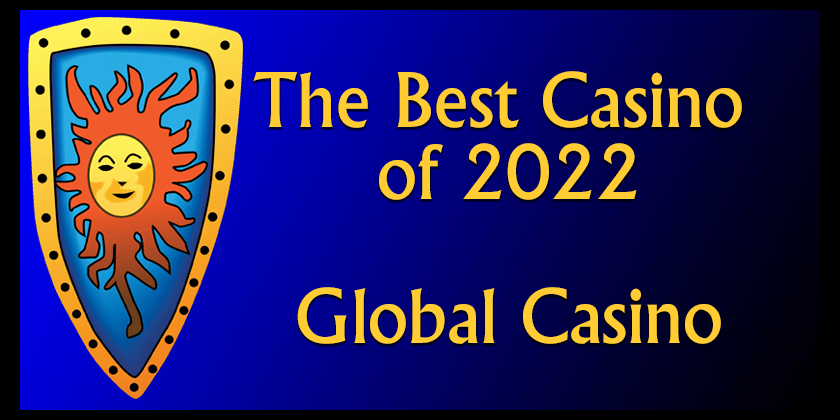 3Dice Casino has a track record that their competitors should envy. 3Dice is like the Eveready bunny – it keeps going, and going, and going… Winner of a number of awards in the past including: Casinomeister's Best Casino of the Year, Best Customer Service, Best Casino Experience and on and on. Their proprietary games are brilliant, and they have won awards for those as well.

This year it was a hands down win for them, and who can blame the players' vote for this casino. 3Dice strengths are: their support — quick, smart and concise; their management — fair, highly experienced, and competent; their games — brilliant; and the casino service and features are second to none. In the past ten years, we have had zero PABs submitted against this casino. That itself speaks for itself.

Here are comments by some of our most experienced members:

incrediblestuff: 3Dice always has been, and still is a very unique place to hang and play, where I'm tied in socially of course – since I've been there for so long, that the staff and most members are basically like family! And their slots-library contains mainly Highly Volatile creations, which are about 99% unique, and have served me well on many occassions 🙂

Their pay-out speed is among the fastest, afaik limited to two batches a day. So not always instant but always within 24 hrs. Their loyalty program is definitely one of the most rewarding ones I have seen in the past 20 years, only ever topped by one guy, called Pat Harrison, back in the ole 32Red days :p

Then there's the fact that most of their catalogue is low-roller friendly, and also — for those of us with tinier pockets — they give you the opportunity to play free tournaments for real cash, 24 hrs a day, at an ad minimum rate of once per hour, usually more…

So at this moment for me: they stand above the rest by a mile.
2022 shortlist:
Bitstarz
3Dice
Bet365
Lottomart
Winz
Historical Best Casino Awards:
Best Casino 2021 – Bitstarz
Best Casino 2020 – All British Casino
Best Casino 2019 – All British Casino
Best Casino 2018 –  Trada / Videoslots
Best Casino 2017 – Videoslots
Best Casino 2016 – Videoslots
Best Casino 2015 – Videoslots
Best Casino 2014 – Club World/Guts
Best Casino 2013 – 3Dice/32Red
Best Casino 2012 – 3Dice/32Red
Best Casino 2011 – 3Dice/32Red
Best Casino 2010 – 3Dice/32Red
Best Casino 2009 – Club USA/32Red
Best Casino 2008 – Club USA/32Red
Best Casino 2007 – 32Red
Best Casino 2006 – 32Red
Best Casino 2005 – 32Red
Best Casino 2004 – 32Red
Best Casino 2003 – 32Red
Best Casino 2002 – Intercasino
Best Casino 2001 – Kiwi Casino
Best Casino Group 2022: Legend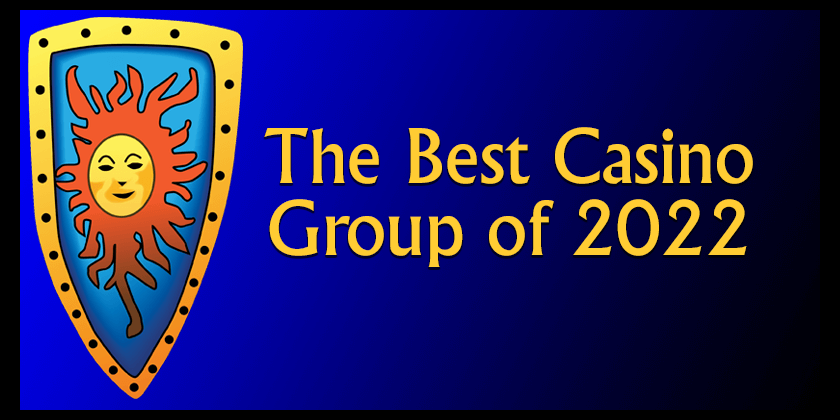 "Amazing folks – amazing casinos!"
The Legend Group of Casinos does it again: The Best Casino Group 2022. They were awarded this same award last year, why? Because they are the Best Casino Group available to players –- hands down.
For a first-class player experience, stand up and take a bow Legend Group of Casinos.

With Karolina, one of the most responsive and helpful casino managers in the business, this group of online casinos continues to go from strength to strength, producing hardly any complaints and receiving well-deserved praise from players in the process.

Now featuring six standalone online casino brands, the Legend Group of Casinos continue to be an excellent example for the industry of how an online casino should and can operate.
Historical Best Group Awards:
I have been giving the Best Online Casino Group award since the very beginning – The Sunny Group was the first awardee in 2001. But then came Micki Oster's Trident Group casinos, and then the Fortune Lounge group – oh, how times have changed…
Best Group 2021 – Legends
Best Group 2020 – Betsson
Best Group 2019 – L&L Europe
Best Group 2018 – L&L Europe
Best Group 2017 – Gaming Innovation Group
Best Group 2016 – Gaming Innovation Group
Best Group 2015 – 32Red Plc
Best Group 2014 – 32Red Plc
Best Group 2013 – 32Red Plc/Club World Group
Best Group 2012 – Rank Interactive/Club World Group
Best Group 2011 – 32Red Plc/Club World Group
Best Group 2010 – 32Red Plc
Best Group 2009 – Club World Group
Best Group 2008 – Jackpot Factory
Best Group 2007 – Jackpot Factory
Best Group 2006 – Trident Entertainment Group
Best Group 2005 – Trident Entertainment Group
Best Group 2004 – Vegas Partner Group
Best Group 2003 – Fortune Lounge Group
Best Group 2002 – Trident Entertainment Group
Best Group 2001 – Sunny Group
Best Casino Manager 2022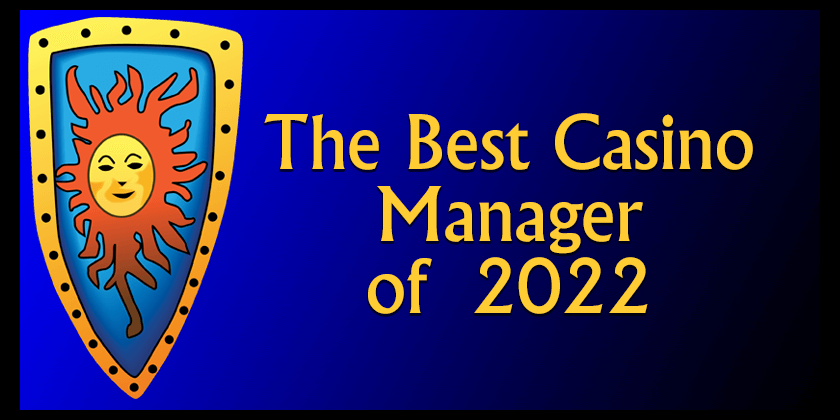 Give these people a raise!
"Casino Manager" is one of the most gruelling jobs in the gaming industry. The majority of players are pretty level headed, but there is that small percentage that exist only for the purpose of stressing one out. They can really drain the life out of you: they are heartless, confrontational, rude and abusive. The casino manager knows that whatever he or she says via email or in a chat session, it can be posted on the Internet for all to see. Casino Managers are always walking on eggshells barefoot: make one mistake and their bosses will read about it on the Internets. Everyone will know about it.
One sad truth about the online casino industry is that most casinos that are popping out of the woodwork do not hire skilled casino managers – they try to save time and money by putting their marketing people in the front lines of player arbitration, most of whom lack the experience and know-how to deal with players and their complaints effectively… and so it goes…
Karolina at CasinoMax manages all of the Legends brands of casinos. If anything appears in the fora, she is on it within hours, and even faster with any PABs we submit to her. She is totally professional and a credit to the industry. We know she's had the award before, but there is a reason for this: her efforts and her accomplishments haven't abated one iota. Top marks for this year and several years past.
Max Drayman's honorable mention pick: Ken Luyckx at Unibet

We need to also give a shout out to Ken Luyckx at Unibet. He's a low profile guy, we've never seen him on the fora, but he's always there for player issues we submit via our PAB service — and he gets things done quickly, often same day. Also, we very much appreciate that he discusses stuff with us like a professional instead of pulling the "everything is a corporate secret" BS. Top guy as far as we're concerned: he's 100% reliable.
Best Casino Manager Historical Awards
Best Manager of 2020 – Ben – iNetBet
Best Manager of 2019 – Rachel Morgan – Trada Casino
Best Manager of 2018 – Rachel Morgan – Trada Casino
Best Manager of 2017 – Daniel – Videoslots
Best Manager of 2016 – Daniel – Videoslots
Best Manager of 2015 – Karolina – Club World Casinos
Best Manager of 2014 – Karolina – Club World Casinos
Best Manager of 2013 – Ben Clems – Guts Casino
Best Manager of 2012 – Redbet Andy – RedBet
Best Manager of 2011 – Pat Harrison – 32Red
Best Manager of 2010 – Pat Harrison – 32Red
Best Manager of 2009 – Enzo – 3Dice
Best Manager of 2008 – Pat Harrison – 32Red
Best Manager of 2007 – Pat Harrison – 32Red
Best Manager of 2006 – Emily Hanson – iNetBet
Best Manager of 2005 – Emily Hanson – iNetBet
Best Customer Service 2022: Bitstarz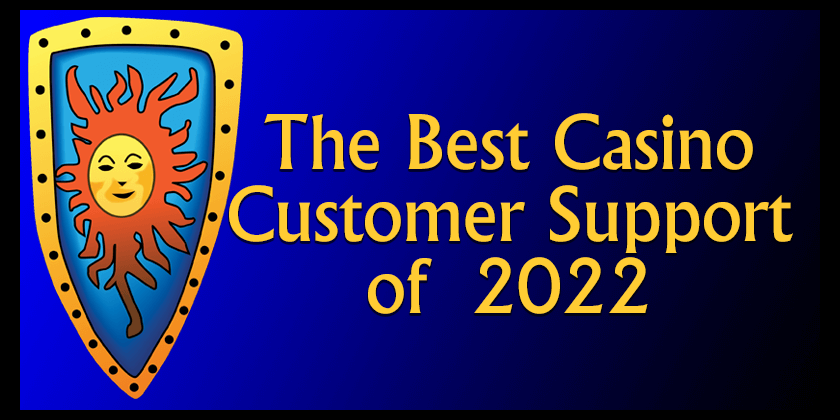 Customer Service is of utmost importance when choosing an online casino to play at and the 2022 Best Customer Service award goes to last year's Best Casino, Bitstarz — they were also awarded Best Customer Service in 2020.
Having been listed and accredited here on Casinomeister for years they are, as we state in our review of Bitstarz, an excellent operation and arguably the best one to choose if you are looking for a Bitcoin casino.
They also managed to get shortlisted for the Best Casino award this year and this is in part down to the fact that their customer service is exemplary, with many a glowing review from players concerning them in our forum here on Casinomeister.
Mina888: I love BITSTARZ. I'm mad for wasting my money at 32red for +15 years. Why am I loving Bitstarz and I've only played here 1 1/5 years? The support I get from 24/7 chat, the support I get from Olle, fastest payout, and most importantly somehow it seems to me I win so much more than I ever did at 32red. So far, I'm very happy I ventured out and found Bitstarz through here!!!! So thank you CASINOMEISTER and BITSTARZ!!!!
and
Deepsky2: Bitstarz to me is like what Videoslots used be 5 years back but Bitstarz treats you like an individual, not just a number and $$ signs like many other casinos do. I can see why they're in the running for the best casino.  

Bitstarz Casino recognizes all their players with respect doesn't matter if you are a low roller or high roller they recognize you as an individual.
and
 

X-Raided: Bitstarz is a simply incredible experience from start to finish. I would also add that they run the best RTP tables on their slots and
have an extremely personable rep here that's willing to help with anything you could throw at him. 
and
 

muziq: Only good words for bitstarz really a wonderful casino made a withdrawal Sunday and processed it in no time
With a Casinomeister rating of 9.1, which is eclipsed by a player rating of 9.3, Bitstarz continues to be a shining light in the online casino world. Congratulations to them for receiving the 2022 Best Customer Service award.
Best Customer Service Historical Awards
Best Customer Service Award 2021 – 3Dice
Best Customer Service Award 2020 – Bitstarz
Best Customer Service Award 2019 – LVBet
Best Customer Service Award 2018 – Trada
Best Customer Service Award 2017 – Trada
Best Customer Service Award 2016 – Trada
Best Customer Service Award 2015 – Betat
Best Customer Service Award 2014 – 32Red
Best Customer Service Award 2013 – 32Red
Best Customer Service Award 2012 – 32Red
Best Customer Service Award 2011 – 3Dice
Best Customer Service Award 2010 – 3Dice
Best Customer Service Award 2009 – 3Dice
Best Customer Service Award 2008 – 3Dice
Best Customer Service Award 2007 – Club World
Best Player Experience 2022
A conglomeration of good times
This year writing about the "best" player experience was a bit tough. Normally this article writes itself since the forum is chock full of great wins and experiences. This year it wasn't so forthcoming – so we polled our members here:
This €2 spin on Punk Toilet here.
Best thing to happen to player(s)? – Genesis leaving the UK Market. Lower RTP's and ridiculous providers like No Limit City are maybe the best thing to happen to players in the long term as we'll all give it up and do something else.
Best thing that ever happened to a player this year : successfully cashout at any N1 casino.
For me, it was the day of winning +€20,000 total from two huge mental wins in two days back to back
I wish I could say Ontario licensing was the best thing, But I have had more problems since April with Ontario casinos than 20+years playing online.
Best thing that happened to me this year was winning the Megapays Bonanza JP at Paddy Power, £2,500 thank you very much.
Sigh. I am sure there are great experiences in the Screenshot threads, but those are fleeting as well.
Best Player Experience Historical Awards
Best Player Experience 2021 – €19,430,723 progressive win
Best Player Experience 2020 – Netent's Dead or Alive II
Best Player Experience 2019 – UK Players
Best Player Experience 2018 – Rizk Casino Experience
Best Player Experience 2017 – Ask Me Anything About Slots
Best Player Experience 2016 – Rizk Casino Experience
Best Player Experience 2014 – Pat Royal Flush with $100 bet
Best Player Experience 2013 – Legalized online gambling in the US
Best Player Experience 2012 – 32Red
The Worst Casino Awards 2022
How the Worst Awards are determined: By the end of the year, we have piles of complaints, forum posts, and online casino industry news to sort through. The "worst" categories have some of the most competitive contenders – it's astonishing how many casinos strive for these awards. We are never disappointed – some of these awards write themselves. Unfortunately, we don't have the resources to cover them all – way too many deserving entities.
Worst Casino 2022: WinBigSlots.com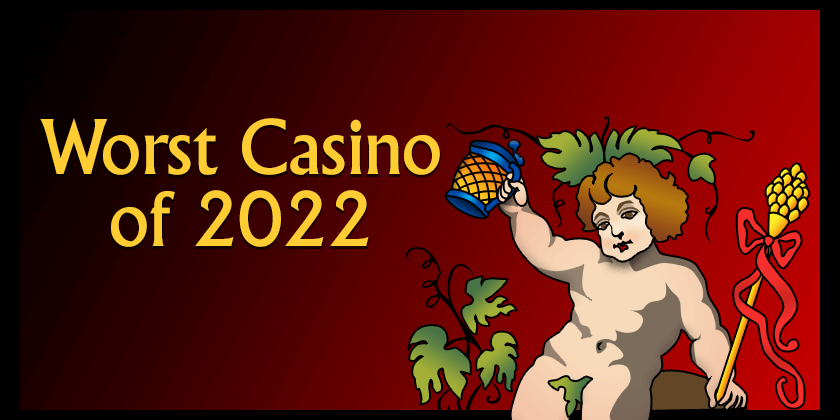 WinBigSlots? – Better do shots!!
From the desk of Max Drayman, Casinomeister complaints manager:

We were first alerted to this casino early in 2022. Player said they'd won at WinBigSlots (WBS) and wanted to redeem a small portion of their winnings. Apparently they were offered three possibilities: 1) take "points" to continue playing at WBS, 2) go to a retail jewellery site (cleosheartjewelry.com) and use their "winnings" to buy stuff there, or 3) withdraw through a WBS custom "cash app". Player tried #3 but got no response. Player then tried #2 and found themselves in an endless run-around that produced nothing, no jewellery sent. Having already used and tired of option #1 they came to us. It appeared WBS was unlicensed but we decided to press on.
I forwarded the player's details to WBS and received a lengthy, waffling response which included the following:
We are not a casino. I am one person with two customer service agents operating a website to provide entertainment to my fans. Players may receive free points to play our games by submitting a Free Entry Request form, by playing a daily free guessing game, by achieving certain activity on our platform, as a free bonus when donating, or by purchasing jewelry from Cleo's Heart Jewelry. No consideration is required to participate.
The main guy at WBS went on to say that this player was a "disreputable and abusive person" and that he wanted nothing further to do with him. I asked for details and was sent part of a Facebook (?!?) conversation where the player did admittedly get a little testy but certainly wasn't "abusive" (he used the f-word in describing his situation), he was just trying to get the WBS guy to actually DO something about his withdrawal and stop giving him a bunch of BS and the perpetual run-around. I confronted the WBS guy with that and said that he was welcome to have nothing to do with the player AFTER he paid him: the conversation abruptly ended. Despite repeated attempts no further response was forthcoming. I mentioned this to the player and was told "oh yes, you can only reach him on Facebook or ask for help at Cleosheartjewelry.com".
In the following months another complaint came in against WBS that was very similar in nature: winnings not paid, Cleosheartjewelry.com was unresponsive and the player was eventually locked out. No response from WBS. We issued a Casinomeister Warning against WBS for being "unlicensed, unscrupulous and untrustworthy"… and also — not a casino.
Historical Worst Casino Awards
I have been divvying out these "worst of" awards starting in 2003 after realizing that crappy behavior should be rewarded with a crappy award. Lo and behold, some casinos were actually chuffed to get it — there is no such thing as bad publicity. In fact, the first recipient of this award, Black Widow Casino, wanted to pay me $5,000 a week to keep him in the Rogue pit – he was getting loads of traffic because of it. LOL – we kept him there but changed his link to MenWhoLookLikeKennyRogers.com – which was a real site back then, and which had eventually blocked our traffic. Man, I really miss the old days.
Worst Casino 2020 – 22Bet
Worst Casino 2019 – BonanzaGame
Worst Casino 2018 – Osiris Casino
Worst Casino 2017 – Burnbet/Winner.com
Worst Casino 2016 – Euromoon/Pamper Casino
Worst Casino 2015 – Casino4live
Worst Casino 2014 – SlotoBank
Worst Casino 2013 – rey8.com/Planet Kings
Worst Casino 2012 – Casino770
Worst Casino 2011 – Grand Duke Casino/Class1Casino
Worst Casino 2010 – BeTheDealer
Worst Casino 2009 – Golden Lounge (pre-32Red)/Strykke Casino
Worst Casino 2008 – Gold Betting/Golden Casino
Worst Casino 2007 – Cirrus Casino
Worst Casino 2006 – African Palace/Indio Casino
Worst Casino 2005 – Joyland Casino
Worst Casino 2004 – 1x2casino
Worst Casino 2003 – Black Widow
Worst Casino Group 2022
Looking for the Worst Casinos? You've come to the right place!!
Normally, the worst casino group award is given to the roguest of rogues, but this year we are bestowing this honor to a group that's a bit closer to home: Aspire Global International
"Closer to home" meaning we have seen some stellar casinos become assimilated into this faceless, dank pit of online casino misery. It's like a really bad Star Trek Borg film – just minus the science fiction allure and excitement. It's just a Borg pit.
Some early history: There was a time when most online casinos were run and managed by a very small staff, sometimes even by the owners themselves. This hands-on policy produced some of the best-managed and amicably-run casinos. And here at Casinomeister, we recognised the value of this business philosophy. Enter outsourced customer service (and anything else outsourced for that matter) and the nightmare began.
Nightmares can be subjective – for some, it's something you really want to avoid. For others, it's a way of doing business. So let me introduce you to the player nightmare: Aspire Global. This trailer park group of casinos popped up a number of years ago, and complaints built up either in the forum or were submitted to us via our complaint service the PAB.
From the desk of Max Drayman, Casinomeister complaints manager: Aspire casinos have never been candidates for the Most Responsive And Congenial Casino award. For years getting a response from any of their casinos has been a very iffy affair: most of the time you get nothing, once in a while they'll actually respond and even then it was only to say: "this is what we've decided, case closed". Whatever, the field of crap casinos has never been wanting for new membership.

Late in 2021 I brought this up with a highly respected colleague and he said: "Oh really, I always have good luck with them. Try contacting so-and-so from Aspire on Skype". I did and was pleasantly surprised. The guy seemed friendly and said he'd be happy to help, that player complaints were a "top priority" and he even thanked me for coming to him. I handed him a few of the recent cases I'd had against Aspire properties and he said: "I'll get back to you". No problem, so I left it in his hands. A week passes, no reply. Three weeks pass, still nothing.

I finally pinged the guy again on Skype and he came back the next day and said: "All your players are cheats!". I explained they weren't "our players", just people who'd signed on at Casinomeister and were making use of our ADR services. No reply. I waited a few days and tried again. He came back and said "I don't have time for this, I'll pass it on to one of my colleagues". Suspecting this might be a brush-off I asked "Who will I be hearing from?" and he gave me the person's Skype info. "Fair enough," I said and I waited.

A couple weeks pass and nothing was happening. I Skyped the new guy and my contact request was ignored. I tried twice more over the course of the next couple weeks, same results. I tried "so-and-so" again and got nothing back. In frustration, I resubmitted a few of the cases to Aspire: total silence. Finally I went back to my trusted colleague and told him what had gone down. He immediately got in touch with "so-and-so" and came back to tell me the guy said he'd contact me "within 24 hours". Nothing came of it, no contact received.

Finally, I accepted the obvious: "so-and-so" was happy to talk the talk but that was about it. Aspire were being the same "talk to the hand" people they'd always been and there was no sign that was going to change any time soon.
And that is just Max's experience. Our forum is chock full of negative comments — not many glowing ones – in fact none that I could find:

Aspire Global Hidden Deposit Fees
Source of Wealth scam – Aspire Global Casinos
AG Withdrawals – who are they?
You can also check out the names of these casinos here and here, and do your own research. It's not very pretty. But then, nightmares can be subjective. One person's nightmare equals another person's cash cow.
Historical Worst Casino Group Awards:
I have been awarding Worst Casino Group for 20 years now, and it is one of the toughest awards to dish out since there are so many contenders clawing at each other fighting to grab hold of this award. The first award given in 2001 was for a major cock-up that put the Las Vegas Strip Casinos on the map. Like they say, there is no such thing as bad publicity. I bet loads of these casino operators cherish these awards and secretly thank me in their dreams.
Worst Group 2020 – Alpha interactive Group/GameTech/Tall Mountain
Worst Group 2019 – Alpha interactive Group/GameTech/Tall Mountain
Worst Group 2018 – Alpha interactive Group
Worst Group 2017 – Virtual Casino Group
Worst Group 2016 – Affpower
Worst Group 2015 – Curgam Group
Worst Group 2014 – Revenue Jet
Worst Group 2013 – Affactive Group
Worst Group 2012 – Rushmore Group
Worst Group 2011– Affactive Group
Worst Group 2010– Affactive Group
Worst Group 2009 – Mighty Slots Group
Worst Group 2008– The Virtual Casino Group
Worst Group 2007 – The Virtual Casino Group
Worst Group 2006 – Sunny Group
Worst Group 2005 – Windows Casino Group
Worst Group 2004 – Popular Casino Group
Worst Group 2003 – Wager21 Group
Worst Group 2002 – Virtual Casino Group
Worst Group 2001 – Vegas Strip Group
Faceplant of The Year 2022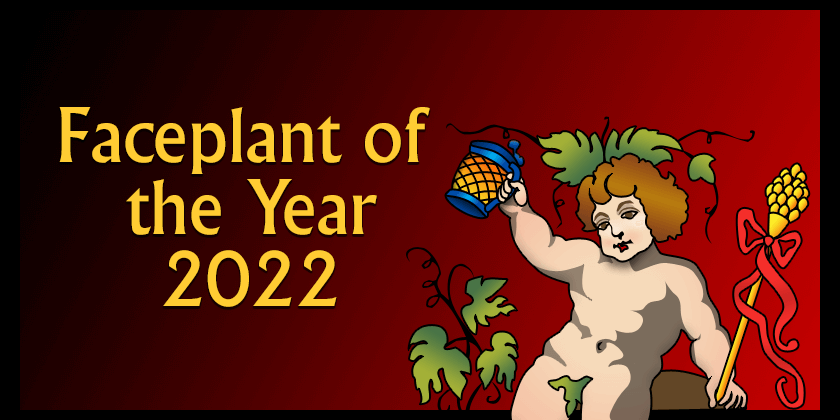 "Whoops – splat!"
The Faceplant heard 'round the world: Entain's £17 million fail.
You would have expected that an unequivocally experienced and solid casino operator like Entain, the gambling firm behind Ladbrokes and Coral, would have had its ducks in a row. But nope – not according to the UKGC which fined these faceplant earners £17 million for "social responsibility and anti-money laundering failures". The laundry list of violations were posted at the UKGC's site, and it leaves one scratching one's head wondering: How is this possible, in this over regulated UK environment — how was this even possible? The irony of it all is that this is not the first slap on the wrist (that's right) that they've received. Almost three years ago to the day, Ladbrokes/Coral were fined £5.9 million by the UKGC for nearly the same thing.
These Entain properties include the following bloated corporate betting shops and online casinos: Cheeky Bingo, Coral, Foxy Bingo, Foxy Games, Gala, Gala Bingo, Gala Casino, Gala Coral, Gala Spins, Game Bookers, Ladbrokes, Party Casino, Party Poker, Sporting Bet, and bwin. All of these properties have either been rogued in the past at Casinomeister, or removed from Casinomeister's Accredited casino section for failure to abide by our standards.
But (yawn), these multi million ££££ fines are but a smidgen of what this company is earning. In 2021, Entain's EBITA was around £925m – £975m, and this is not taking into consideration that their market capitalization is over £9 billion at press time. So given what £17 million means to this company, well – the faceplant was a pretty loud one for us, but it didn't hurt them too much.
Faceplant Historical Awards
This award has morphed from the Worst Blundering Screwup to Faceplant (the text takes up less space in the images, lol). The fist award was given to the now defunct English Harbour Group of casinos that uploaded the wrong files when updating their poker software – whoopsie!! They ended up doing the right thing and honored their debt to players. Anyway, I am thinking of branching out to a "Schadenfreude award" next year – who knows.
Faceplant of 2020 Betzest
Faceplant of 2019 Streamer Roshtein
Faceplant of 2018 Betat and Slotty Vegas
Faceplant of 2017 Casumo/BetfashionTV
Faceplant of 2016 Big Time Gaming
Faceplant of 2015 Revenue Jet and Winpalace
Faceplant of 2014 – Tropica Casino
Faceplant of 2013 – Topgame/BetonSoft
Worst Blundering Screw up 2012 – Betfred
Worst Blundering Screw up 2011 – Betfair (again)
Worst Blundering Screw up 2010 – Betfair
Worst Blundering Screw up 2009 – Topgame
Worst Blundering Screw up 2008 – Casino Action Group
Worst Blundering Screw up 2007 – Virtual Casino's 9/11 Promotion
Worst Blundering Screw up 2006 – English Harbour software glitch
Fall from Grace 2022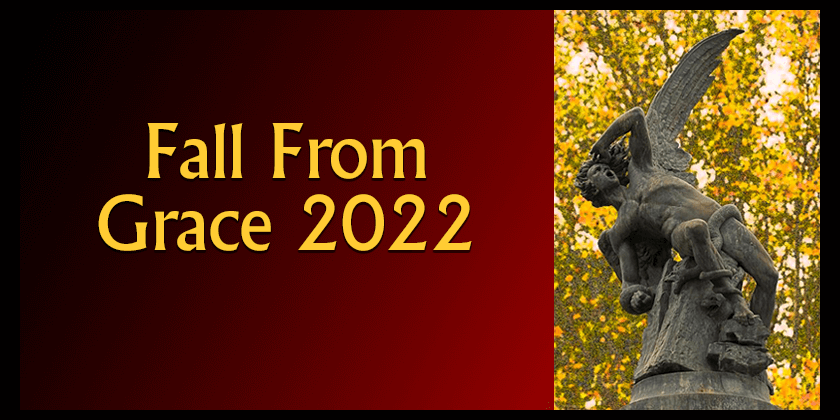 "Spiraling downward from the graces of Casinomeister's Accredited and Vetted Casinos"
These awards are bestowed unto casinos that were once an integral part of Casinomeister, but for one reason or another fell from grace and lost their Casinomeister accredited status.
This year's fall from grace is handed over to Mr Green Casino.
Mr. Green entered the iGaming scene in 2008, and it was soon after that they approached us to become a listed casino in our Accredited Casino section. It was obvious that this company was well run, seemed pretty solid, and had an amazing staff to deal with as well. In fact, we had a marvellous relationship – and they were very proactive with providing our community with great customer service as well as some awesome promotions and contests… well, times have certainly changed since then.
Mr. Green lost the plot when they were sold off to the abysmal, soul-sucking black hole — aka 888/William Hill. Gone were the days of mutual commitment to our community, and it was speak-to-the-hand action when it came to any player complaints. It was to be expected – the bigger-is-better corporate mentality is a common nail in the coffin for any professional relationships in this industry. Thank goodness there are still the smaller mom-and-pop online casinos that recognise the value of being a part of our community.
Fall From Grace Historical Awards
Here are our historical Fall From Grace awards which were started in 2005. There are some gap years – years where no one was bailing from the coveted Accredited and Vetted – Highly Recommended Casino listing. In the early days, it was mostly folks breaking our code of conduct for our accredited casinos who found their status here downgraded. As the years wore on, the reason for a "fall" was mostly episodes of lackadaisical attitudes and virtual "asleep behind the wheel" or "I don't give a flying rat's wahooie". This is what happens when casino brands are run by marketing teams who only want one thing: conversions. That's the opposite of what we want here at Casinomeister – we want casinos to care and to abide by our standards for a Casinomeister Accredited Casino.
Fall From Grace Award 2020 – Grosvenor
Fall From Grace Award 2019 – Redbet/Mr.Green
Fall From Grace Award 2018 – Fortune Lounge
Fall From Grace Award 2017 – Affiliate Edge/Vegas Partner Lounge/City Views/Bellerock/Buffalo Partners/Coral
Fall From Grace Award 2016 – Bet365(reinstated)/Betway/Betting Partners(reinstated)
Fall From Grace Award 2015 – Skybet and AffiliateHub – quitters
Fall From Grace Award 2014 – Wagershare casinos/Ladbrokes
Fall From Grace Award 2011 – GoWild Casino
Fall From Grace Award 2010 – Rushmore, Bwin, Betfair
Fall From Grace Award 2006 – Minivegas, Mansion, City Club Casino
Fall From Grace Award 2005 – Fortune Lounge (first award)
Fall From Grace Award 2005 Runner Up – Captain Cooks Casino
Stupidest Named Casino 2022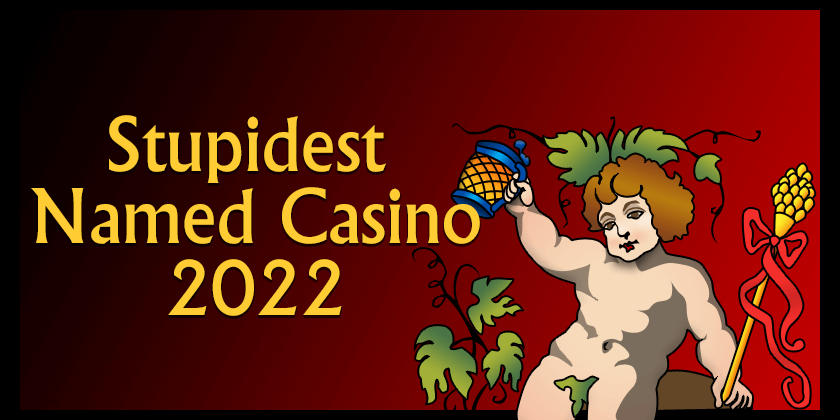 Boardroom setting somewhere on the Internet:
Big Casino Bossman: "So, Joe – word has it that you have a presentation that's going to blow my mind. What have you got for me?"
Creative Consultant Joe: "I've got the perfect name for the perfect casino, boss. Picture this: a casino that is covered in jam. Loads of jam. In fact, this jam not only covers the casino, but a man named Jack! It's called "JammyJack Casino – where you get your Jack or Jam on!" We haven't decided on a flavor yet, but random blind tests report that Raspberry is the way to go.
Big Casino Bossman: "That's absolutely brilliant, Joe! Jammy Jack – Jammy, but also Jack. You're a genius, Joe."
Creative Consultant Joe: "Thanks, bossman. That's why you pay me the big bucks. And there is more.
Silence. A dog yaps in the background.
Big Casino Bossman: "There's more?" (visibly gulps).
Creative Consultant Joe: "Yes, there is more. This is the story of a man, who is lucky, but lucky like a duck. And he owns a casino that he calls… wait for it… Ducky Luck Casino! Get it? You have ducky luck – like what a duck has. A duck that doesn't get eaten or shot, of course."
Big Casino Bossman: "Excellent!! Bravo!!
Bossman is standing and applauding.
Creative Consultant Joe: "Thank you, thank you, bossman! Thank you. But I have yet another."
Bossman collapses in his chair, back of hand on forehead, and he swoons upwards toward the ceiling.
Big Casino Bossman: "You slay me with your words of brilliance, Joe. Tell me more."
Joe fumbles for his lighter – lights up another spliff. Inhales…and continues.
Creative Consultant Joe: (holding his breath)"It's Swanky Bingo where swanky folks play bingo – with swank!! Get it? They're swanky and play Bingo!!"
Big Casino Bossman: "OH – MY – GOD – JOE! I can see it in my mind's eye!! I knew you were going to blow my mind away with your marketing brilliance," half coughing the words out as he passes the joint back to Joe. "You've earned yourself a raise, Joe!!"
Big Casino Bossman is chuffed. He smiles, stands and wraps his arm around Joe's shoulders.
Big Casino Bossman: "I can't wait to hear what you have in store for us in 2023!"
They retire to to the lounge with their weed and scotch. And that's how creative decisions are made in the world of online casinos.
Stupidest Name Casino Historical Awards
I have always been a proponent of creativity, and feel that naming one's business is a crucial decision making process. I also find great humor in the idiotic and downright stupid names that some folks have come up with when launching their business. I know, I know, this is entirely subjective to one's own taste, but these names are stupid and someone has to write about it. And that person is yours truly – me.
Stupidest Named Casinos of 2020 anonymous-casino/casinobetcave/royalbloodclub
Stupidest Named Casinos of 2019 Casino Casino/Syndicate Casino
Stupidest Named Casinos of 2018 Cozyno
Stupidest Named Casinos of 2017 Ramses Gold, Burnbet, Smashing Casino
Stupidest Named Casinos of 2016 Bumbet, Ares Casino, Play7777, MrRingo, Pornhub
Stupidest Named Casinos of 2015 A bunch of 'em
Stupidest Named Casinos of 2014 – ToBwin/Buck and Butler/Llama casino
Stupidest Named Casinos of 2013 – WinTrillionsCasino/TrendCasino/LuckyPantsBingo
Stupidest Named Casino of 2012 – Loco Panda/Loco Jungle
Stupidest Named Casino of 2011 – iButlerCasino
Stupidest Named Casino of 2010 – Majestic Comet Casino/Yes We Can Casino
Stupidest Named Casino of 2009 – Mayflower Casino
Stupidest Named Casino of 2008 – Ministering Angel Casino
Stupidest Named Casino of 2007 – Simon Says Casino
Stupidest Named Casino of 2006 – XXL Club Casino
Biggest Disappointment 2022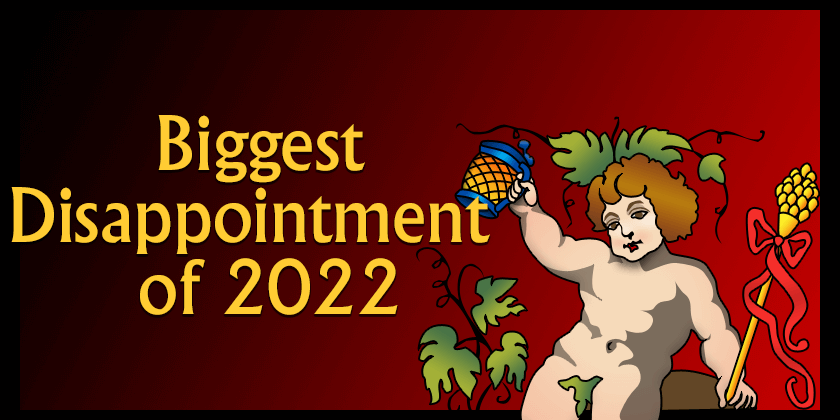 The Biggest Disappointment – The Internet
The biggest disappointment for the year 2022 is the fact that the Internet has gone to hell in a hell basket. Gone are the days of good deep informative web searches, now everything is there for a price.
Take a look at Google. As a webmaster, I know that the ranking of most of the search results that you get depend on how much a website is spending on ads at Google, how much you link to other websites that Google owns like YouTube, or other "social media" nonsense (like Facebook, Twitter, etc.). If a website has decades worth of content, like Casinomeister, you probably are not going to find a lot of it in the search engines. Google and Bing have made that decision for you.
In order to maintain good rankings in the search results, some of our competitors spend hundreds of thousands of Euros per month on paid links – even though Google "frowns on this", they don't care. Our marketing spend on Adwords and buying links at Casinomeister is €0. We rely on viral linking – in other words, links from other websites that are not paid or asked for, but are there because of the content we produce. Good luck finding any website elsewhere that has a zero spend like we do.
And then there are the constant cookie pop-ups that make you want to either defenestrate your iPhone or your laptop. Want to find a good recipe for mashed potatoes on the fly? Good luck getting through the garbage and nonsensical preambles about someone's favorite Aunt and how she made mashed patatoes early in the morning on Christmas day. Jeesus! Just give me the bloody recipe!
As a webmaster running my own website – which is a rarity these days – I am always on the alert for the scams, and the spams, and how companies like Trustpilot extort money from website owners. I remain on guard, but it's a near losing battle since it's all about the Benjamins now.
/old man rant.
Biggest Disappointment Historical Awards
I have been dishing out the "Biggest Disappointment Awards" for quite a long time now. Yes, there are loads of things, businesses, and people that I find not only annoying, but clearly disappointing. These awards were created to wake people the heck up and take some sort of action to counter the disappointment, but in most cases apathy wins over proactiveness. It is easier to be lazy and just let things go.
Biggest Disappointment Award of 2019 – The UKGC and draconian regs/Big Time gaming lack of ingenuity
Biggest Disappointment Award of 2018 – The Australian Government
Biggest Disappointment Award of 2017 – The Australian Government
Biggest Disappointment Award of 2016 – Curaçao License – White Label Runners
Biggest Disappointment Award of 2015 – Bad Attitudes and White Labels
Biggest Disappointment of 2014 – US Market
Biggest Disappointment of 2013 – US Corporate Arrogance and Naivety
Biggest Disappointment of 2012 – Betfair/888.com
Biggest Disappointment of 2011 – Betfair/GRA
Biggest Disappointment of 2010 – HR 2267, US Market, Rival Gaming, Top Gaming
Biggest Disappointment of 2009 – Microgaming, CAP Spring Break, Rushmore Group
Biggest Disappointment of 2008 – Malta's LGA, White Label Casino Operators, Microgaming
Biggest Disappointment of 2007 – Watching US players being thrown to the wolves
Biggest Disappointment of 2006 – Unlawful Internet Gambling Enforcement Act
Biggest Disappointment of 2005 – "Abused" Casino Operators (again)
Biggest Disappointment of 2004 – "Abused" Casino Operators
Biggest Disappointment of 2003 – Truegambler's Cheating Software report/Oddson Software
Pyrrhic Victory Award 2022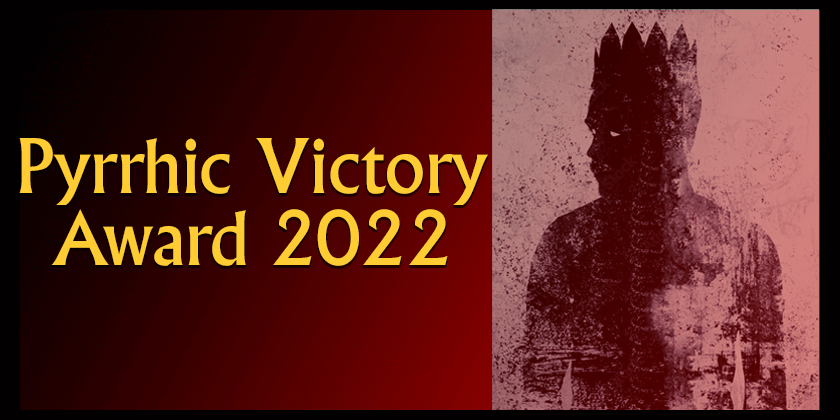 "For the Pyrrhic Victory of the year"
History 101: King Pyrrhus ruled over Epirus (northwest modern day Greece) in the 3rd century BCE. His armies fought the Romans to the point that when he became the victor, his losses were so astronomical that it was difficult to consider his outcome as victorious. Thus derived the term "Pyrrhic Victory", and thus I present to you the Casinomeister's Pyrrhic Award.
We bequeath this award unto the UKGC. They've certainly done some good things: enforcing group-wide self-exclusion, requiring that players are able to see their total losses and wins in slots games, forcing operators to register with Gamstop, banning withdrawal reversals. But they've also got a long list of numpty moves that have caused an exodus of players and operators from the UK market: backtracking on the aforementioned group-wide self-exclusion, banning auto-play, banning speed play, crippling fines that have left the small operators shit-scared and looking for the nearest exit.
Over the 20+ years we've been on the scene, that player exodus is pretty much unprecedented. As recently as two years ago a significant majority of player complaints (for instance) were against UK-licensed casinos, now most of those players are playing elsewhere. The end result is exactly the opposite of what the UKGC claimed to be trying to do: instead of creating a safe environment for UK players, they've driven those same players offshore to play at high risk and often totally unregulated operations. The UKGC has also provided massive disincentives for small operators to continue, or to even consider a UK license.
If you look at it from an industry point of view, it's hard to see their intentions as anything other than deliberately killing gaming in the UK, or at least killing it for anyone but the big-name, big-bucks operations which have some of the crappiest track records in the business (888, Lads, WillHill, etc.).
You want me to back this up with facts? Check out one of the more recent polls that we conducted with our membership: Source of Wealth poll: How do the SOW requirements affect you? 2022 40% of our UK players polled will not comply with SOW document requests. And 16% beyond that are playing at non-UK licensed casinos. So clearly more than half of the UK players are not on the UKGC's bandwagon.
Most UK players and many small operators originally jumped at the promise of UK licensing. Now most of these folks have have thrown in the towel and moved on. Not good for players and not good for the business as a whole.
Bag of Dicks 2022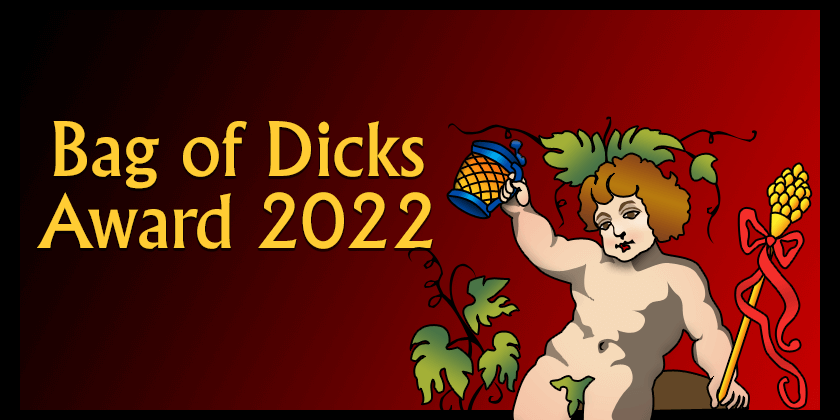 "For the Dickish move of the year…"
This award is given to those who go beyond the call of duty at being dickish, and since we're talking about a group of people, it's a bag of dicks.
This year our Bag of Dicks is once again handed over to the morally vacant affiliates who actively target problem gamblers, and the casinos who are giving them a cut of the profits for doing so.
These dicks actively target players who are searching for "casinos not on Gamstop". Go ahead and search for yourself and you will see page after page of shite websites that target problem gamblers with unlicensed casinos.
You see, in the UK there is a program that allows players to exclude themselves from gambling – it prohibits them from signing up at UK-based casinos – and it's called Gamstop. As a player, you can go to the Gamstop website, register, and presto – you are now blocked from all UKGC casinos for whatever time period you want to choose. In essence, Gamstop is a proactive tool for gamblers who have identified their own behavior as either addictive or self-destructive, or both. These a-hole affiliates are giving these players offers from mostly unlicensed clip-shot joints that are probably owned by the Russian mafia, or worse.
So here we have a website www.sure.bet with loads of carefully SEOd phrasework, sentence structure and wording:
If you've changed your mind after signing up for these services [ed. note: Gamstop], your only option is to play at an online casino that isn't within the structures of the not-for-profit company. This guide takes you through the best options when looking for the best casinos not on GamStop. 

…The top casinos not on GamStop provide many of the same online games that you love when making wagers. You can access these sites and your player profile on desktops, laptops, and mobile devices. 

…Although those efforts can help you play again, the casinos not registered with GamStop provide an equally good, if not better, playing experience to enjoy. Here is a closer look at the legit non GamStop casinos enrolling new players if you want to get back into gaming. 
The sites they list are not "legit", nor are they safe – especially to gamblers who have placed themselves on Gamstop. Listing these types of casinos is one thing, but to target problem or addictive gamblers is abhorant, and is certainly worthy of this dickish award. The thing is – this has been going on for the past two years, and there is nothing that can or will be done about it. All we can do here at Casinomeister is to make you aware of this, and hope that the dicks will go away.
Bag of Dicks Historical Awards
I know, I know, it's potty language, but I honestly tried to think of a better term, but the words were fleeting – and this was the best I could come up with. So I apologise for my crass description – but you have to admit – you did think it was sort of funny, right? Unless of course you are one of the dicks that I am describing here. If you fall into that category, sorry – just try not to be such a total dick. Change your ways and make amends and maybe we will have a dick redemption.
Bag of Dicks 2020 – Affiliates targeting problem gamblers
Bag of Dicks 2019 – Morally Challenged Marketing Affiliates
Bag of Dicks 2018 – Affiliate Edge shafts an upstanding webmaster's widow
Bag of Dicks 2017 – Affiliate Edge
Fan Mail 2022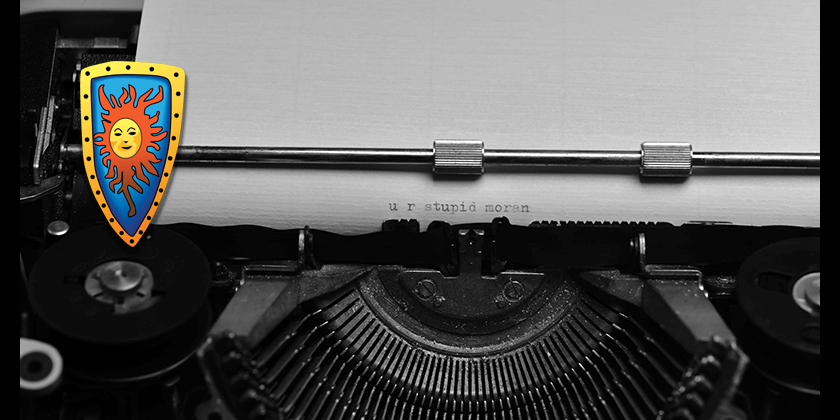 "your just a pussy ass bitch"
You know, I can be a really busy guy. And running this site with all it's colorful characters coming in and out of the woodwork can be quite a task. And every now and then there are people who don't deal with stress very well, or they just have a few screw loose. Forum moderation is not for everybody – that's for sure.
So for this year's fan mail: we mostly got it in the forum. Not too many potty mouthed emails were received by me. It wast mostly posted in public.
---
We had a guy start a thread about what he thought was cheating software. He submitted a formal complaint to us – but we told him that testing software is beyond the scope of what we could do. He decided to have a go at us at Trustpilot, and the fan mail began:
Max d your a lowlife coward hideout peice of shit u claim to help the gambler. Anyone who looks at those screenshots and does nothing is not there to help. Your there to destroy lives,write bogus reviews and sucks thebcock. Of people to bitch made to steal from someone's face they gotta hide behind a computer as well as line your pockets goof. Prices of shit like u wind up erased max. U know what that means ROFL. Wait for holes goofy mother fucker and ur mom's gonna be sucking my monster cock before I bleed her out ear to ear from bringing a useless cump dumpster like ur goof ass's into existence. Sound good max? .
Which prompted several comments and questions about what exactly is a "cump dumpster".
---
Oh – here is another happy camper who was given a warning in the forum to chill out, and he got so angry he started yelling at himself. And he's Canadian!!
Jumboshrimp quoting and yelling at himself: meltdown fan mail.
---
And another guy here submitted a complaint about Casitsu Casino (never heard of it) and was abusive to the casino staff. When we reported this to the player, he cordually cleared this up for us:
YET AGAIN these guys get away with murder…Wat arbitration is worthy at all these days.Yes max FUCKN OATH IM ANGRY WOULDNT YOU BE.MAYBE READ WHAT HAPPENED RATHER THAN TAKING MONEY AND TURNING A BLIND EYE TO PEOPLE BEEN WELL ABD TRULY FUCKED.UR FULL OF SHIT MAX…AND UR NOT FOR THE PUNTERS UR BEEN PAID AND ITS MORE OBVIOUS THAN GROBELLARS KEEPING…ONYA BREAK A LEG OUT THERE INNIT.GO ON ON MAXYD SHARPEN UR GUILLOTINE CHOP ANOTHER INNOCENT PUNTERS HEAD AND SCRAP THEM AS TO BENEFIT UR OWN DISHONEST PAYOUTS…PFFFT.CASHINOMEISTER.JOKE.

So much for trying to help the guy. And why he was having a go at Max, I don't know. And for our secret admirers, may we see your writing samples for Fan Mail 2023.

Fan Mail Historical Awards

Fan Mail of 2020 – unhappy forum members
Fan Mail of 2017 – jemicans
Fan Mail of 2016 – the trolls
Fan Mail of 2015 – cretins, morons, and twats
Fan Mail of 2014 – frank.j.faber
Fan Mail of 2013 – Shamrock7s
Fan Mail of 2012 – boby's reply
Meltdown of 2011 – All TopGames Casinos are Down! DDos Attacks!!

Forum Highlights of 2022

"Still the Best Forum on the Planet"

Well, each year I think about how lucky I am to have such an amazing community here hanging out in our forum. This year especially since I was a ghost for most of the time – for months I was in the California desert with limited or spotty wifi while working on some construction projects which kept me away from my wonderful (well, mostly wonderful) members.

The bottom line is that I missed out a lot. I wasn't here to give some of you the tender loving care that a few folks need, or chime in when you'd expect me to blab away, or put a stop to some of the squabbling we get when emotions might be getting the best of us. And yeah – emotions got the best of us with all the Covid restrictions and stress that comes with it. And then there is the 2020 the political BS that really was nerve wracking. Believe me, I have been affected by these restrictions in a big way, but that is a totally different matter in itself. What matters is you – the forum member – you are the one that keeps this place going, and you are the one who just might have a home-away-from-home here. And I hope that my absence has not hindered this.

So here's a cyber "cheers" to our community. Regular members and the moderators – the beers are on me.

This is a brief smattering of popular threads that appeared this year. There are many more, but these are the ones that stood out for me.

Casinomeister News

Often provoking interesting debate, the Casinomeister News forum carries links to all the iGaming industry news that features on the main site. Below are some of the news items that piqued interest in the forum during 2022.

Ladbrokes hold on to furlough cash – Leading British High Street bookmaker Ladbrokes come under pressure to return monies claimed from the UK's furlough scheme. With Dunover of the opinion the UK government should apply a reverse withdrawal!

---

Players moving to unregulated sites according to BGC – A report commissioned by the Betting and Gaming Council suggests that more UK players are deciding to play at unregulated gambling sites. Cue many a witty one-liner responses and faked shock and surprise from such a revelation!

---

Lifetime Achievement Award for Casinomeister Bryan Bailey – OK blowing our own trumpet here, but Casinomeister Director and first point of contact Bryan Bailey, was recognised for his services to the online casino industry, receiving a Lifetime Achievement Award at the iGB Affiliate Awards. Congrats Bryan, well deserved!

---

Casinomeister Charities

Please help getting a bus for Ukrainian refugees – iGaming industry veteran Adnan Maslo's cause to raise funds to be able to purchase a bus to be used to help transport refugees from war torn Ukraine to safety was highlighted on the forum.

Adnan's laudable cause raised over €10,000 and helped them purchase a vehicle.

---

Online Casinos

Source of Wealth poll: How do the SOW requirements affect you? 2022 – Source of Wealth requirements from UK licensed operators continue to get discussed on the forum, with many a player having to jump through countless hoops to be able to receive their withdrawals into their bank accounts. So, in September it was time for another poll concerning them. 168 forum members voted, with nearly 40% of respondents opting for moving on to another casino and not complying with any SOW requests that they receive.

---

Reduced Slot RTP's – How YOU Are Affected! – Even though this thread started in mid-2021, it is still very active and relevant to players, giving them a good understanding how the recent changes in RTP policies at casinos are going to bleed them dry.

---

Ontario Operators – The looming need for operators to apply for a license to operate in the Canadian province of Ontario provoked numerous replies in a thread that kicked off in January of 2022.

---

Videoslots presents Battle of Slots! – This thread started in October 2015 and is still going strong with 1593 pages and over 39,800 posts.

---

Slots Announcements and Discussion

Tin Foil Hat Truths about Slots – Conspiracy theories aplenty in this thread, from slots refusing to pay out when you raise your bet stake to your game play being recorded.

---

Big Bass Bonanza wins the Best Game award at the iGB Awards – But to be fair judging by the amount of games Pragmatic Play release each month, law of probability said they were a shoo-in on this award! Nevertheless, the news of Big Bass Bonanza's win courted divided opinions on the forum.

---

Casino Industry Discussion

Is Curacao licensing improving? – Rumour had it that the four Curacao Master License Holders having been giving operators who utilise their licenses push ups and putting them through their paces, if they treat players unfairly? But is this the case, or is playing at a Curacao 'licensed' online casino akin to swimming with sharks?

---

Casino Complaints – Bonus Issues

Goldwin ( west casino ) voided 9000 euro on "Bonus Seeker" Term – This thread highlights some of the very worst terms and conditions seen at an online casino. But then, the casino in question does operate under the 1668/JAZ master license – a passport to hell as many a player has found out!

---

nirankali vs King Billy Casino Here we have an entitled nut job who was just so freaking rude and annoying he ended up getting the boot. But his thread deserves a read if you want to understand why being a casino operator can be a living hell.

---

And unfortunately, many other complaints, mostly with dodgy crap casinos that should not even be allowed to have a license – but then, some of them don't.

---

Casino Complaints – Non-Bonus Issues

Casino Meister is a scam – New forum member Stakeisajoke got his panties in a wad over 'STEAK' – alleging in the process us good folk at Casinomeister were complicit in liking steak.

Cue lots of discussion on how well forum members like their steak cooked. Unfortunately, Stakeisajoke broke a brain vein and went for a ride on the crazy train!

---

Big Win of $90k CAD on SlotsMillion and Withdrawal is being stalled – oh my garsh, a casino representative had a difficult time answering some questions. This riled up the membership and thus we had the gif reaction of the year here, thanks to sufferinsilence: Har dee har har.

---

Source of Wealth Issues

Was I Refused Credit Based on Source of Wealth? – Are banks being made privy to source of wealth checks? It looks like they are.

Problem with Casumo SOW – yet again, here is just one example of many about the source of wealth requests, and how this is wrecking the online gaming experience.

---

Screenshots-O-Rama:

Oh, say no more! Say no more! This is the largest collection ANYWHERE of winner and loser screenshots. Here we have the largest collection of slots and video poker screenshots (yes, some folks still play video poker) on the planet. Show me the Money Screenshots (Min 1000xBet) going strong for over 12 years, Screen Shots that Suck! going strong for 17 years, Mega Wins – Min 3000x Bet , going strong after 7 years, 5 Scatter/5 Wilds Screenshots going strong for 16 years, and loads of others including the monthly screenshot threads we've been doing since 2004. This is by far one of the most popular destinations in the slot player's realm of online gambling. You can check out the threads here: Screenshots-O-Rama
One such thread by long time Casinomeister forum member KasinoKing, brings nostalgia to the forefront, where old and retired NetEnt slots are discussed, along with some great past wins.
---
Meister Social Groups
These Social Groups are pretty much controlled by our members – senior members can create them, new members can join them. Many of these are off-topic interest groups like Oh, Canada oh, I wonder what that's about? Strictly Movies, The Game Shack nerds!!, Fight Club, and one of the most popular: Social Tournaments by Pragmatic. This is one of the most popular threads drawing in loads of members signing up just to have a chance to win some nice cash prizes.
---
Webmaster's Corner
Alas not much activity in 2022 for this part of the forum, perhaps a sign that small-time affiliate webmasters are becoming a rare breed. Certainly, the iGaming affiliate landscape has changed over the past few years, to the extent many mergers and acquisitions have taken place, with large corporate entities now muscling in on this space. So you are losing the creative drive of talented entrepreneurs, and going make to a banner farm, pay-as-you-go Internet. (see biggest disappointment 2022)
---
The Meister's Attic
Ah yes, of course The Meister's Attic which was a magnet for flame wars, trollish behavior, spankings, and a number of admonishments. All thanks to lockdowns, political upheavals, crazy Russians, etc., we have the Ukraine Mess thread. And then there is Brexit – whats the difference….. 185 pages of people getting riled up, and of course those fabulous Tories UK Conservative Party Leadership Election  which gives you a good understanding why the Brits are getting their panties in a twist. And of course, the I'm currently listening to… thread that Lady Jelena started some time ago — it's as relevant then as it is now. Still going strong.
And the Rest
Yes, and the rest…there is no way in hell to be able to give you a full picture of how awesome and massive this forum is with its informative posts, not so informative posts, rants, jovial jocularities, heart aches, heartbreaks, wisdom, and bent postings. It is dynamic, it is strong, and it is the most entertaining and informative place on this planet – if you want it to be. Thanks to our members and volunteers and staff. You guys are the best – couldn't thank you enough.
---
And if you are not a member yet, why not? You are missing out on a lot of interaction with some very cool people – and a few lunatics as well. You can register here.
Forum Highlights Historical Awards
Actually, I only started publishing the forum highlights in the awards in 2008. Our forum dates back to 1998 – you can find these older posts in our archives – if you dare: Ye Olde Casinomeister Archives.
Forum Highlights of 2021
Forum Highlights of 2020
Forum Highlights of 2019
Forum Highlights of 2018
Forum Highlights of 2017
Forum Highlights of 2016
Forum Highlights of 2015 – Both a crazyman's and a gambler's dream part II
Forum Highlights of 2014 – Both a crazyman's and a gambler's dream
Forum Highlights of 2013 – It was a wild year
Forum Highlights of 2012 – A whole bunch of stuff
Forum Highlight of 2011 – De-roguing Grand Privé, Questions on RTP, Casinos and Responsive Gambling
Forum Highlight of 2010 – A Poll that Made a Difference
Forum Highlight of 2009 – Software Provider Intervenes with Rogue Casino
Forum Highlight of 2008 – Cynthial and Swede gettin' hitched
Casino Representative of 2022: Olle from Bitstarz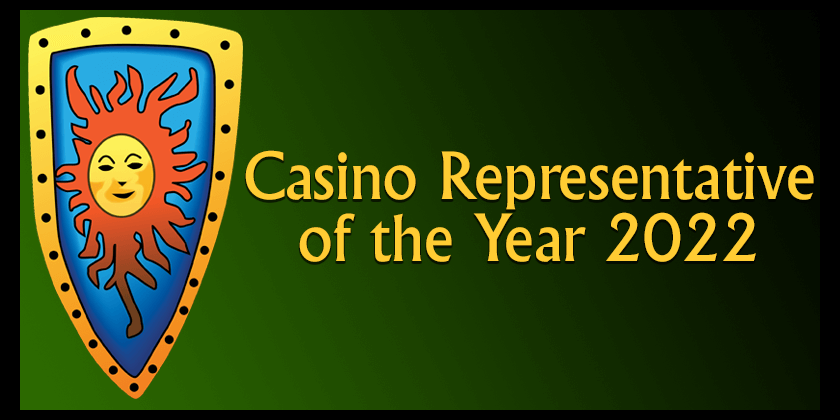 "Problem solvers and amicable ladies and gents"
Olle from Bitstarz  is the man with the plan this year. He is the epitome of what an excellent casino representative should strive for. One of the underscored attributes is to not only appear to care about your position, but to actually seem like you are enjoying it as well.
From Max Drayman, Casinomeister Complaints manager: After 15 years of dealing with casinos large and small regarding player complaints, I can safely say that there are two types of casino reps: those who hate their job and do as little as possible to actually help anyone, and those who actually give a damn and go out of their way to be responsive and do what they can to help players. The middle ground is an empty wasteland as far as I can tell.
Fortunately, Olle, the representative for Bitstarz, is one of good guys. Always responsive AND polite on the forums, ready pretty much any time to receive and deal with player issues, VERY responsive (usually within a few hours), forthright and never evasive, petty or grudging in his assistance to players.
Perhaps best of all, the man is honest and forthcoming. That, more than anything, is a rare quality these days and for the job I do — player complaints — it's pure gold because it means I not only get resolutions to issues but I know the "why" behind the casino's decisions. Invaluable to me, the players I help, and the casino insofar as I am able to give their players fair and swift problem resolutions and stand behind the decisions made.
Casino Representative Achievement Award: Rene from Casino Rewards deserves this recognition. Even though she doesn't post much, she has been the rock behind the Casino Rewards brands. She has been the casino rep for nearly two decades, and that tells you something about the company she works for. In this industry, most companies have a revolving door for the turnover of their staff. For a person to be working at the same job for more than ten years is not only exceptional, it's generally unheard of.
From Max Drayman – Casinomeister Complaints Manager She can't be present on the forums due to a company policy that forbids her to post, but she reads them constantly and is always in touch to get things resolved behind the scenes. No one, and I mean absolutely no one, does that. WAY above and beyond 98% of the other reps
Whenever there is an issue, Rene is on it and clears it up in no time. She seems to be working 24/7 — but she's not: I've seen her Facebook page, but regardless — she is always available to handle a player complaint big or small.
Casino Representative Historical Awards
Casino Representatives are an integral part of Casinomeister's forum. These reps are mainly present to either answer questions about their properties, or assist players when needed. For our highly recommended casinos, which are accredited and vetted by our members, we require the casino property to have a representative that can walk and chew gum at the same time. The representatives who are awarded are the most active and helpful during the entire year. Along with this accolade, these folks get an engraved Beer Mug that is physically handed to them during our annual Meister Meeting. The Meister Meeting for this year is a go!
Casino Representative of 2021 MarcoEnergy
Casino Representative of 2020 Jan from L&L Europe
Casino Representative of 2019 Jan from L&L Europe
Casino Representative of 2018 Conor from Trada
Casino Representative of 2017 Daniel from Videoslots
Casino Representative of 2016 Mark 32Red Plc
Casino Representative of 2015 Mark 32Red Plc
Forum Member Achievement Award 2022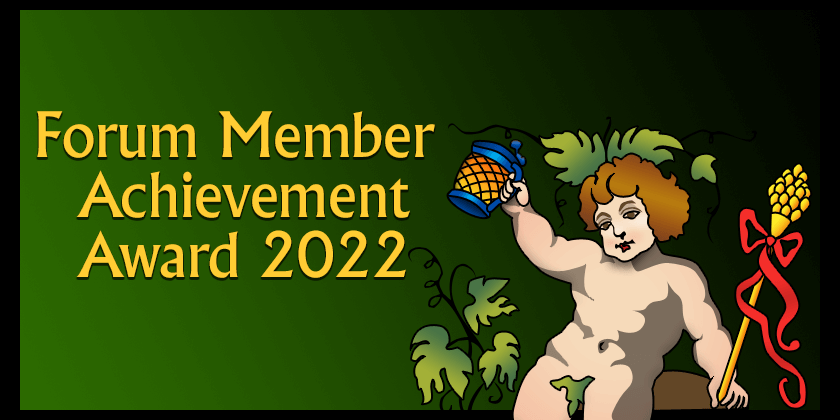 "Goatwack"
Alex, aka Goatwack, earns this award for his enduring dedication and contributions to Casinomeister's forum for the past 10 and a half years. He joined us on Aug 30, 2012 – and thus began his historic journey through the rough and tumble of Casinomeister's forum. Since then he has wacked up over 27,000 posts and has received over 50,000 reaction points (i.e. thanks, thumbsup, and emoticon reactions to posts.) So if he had a dime every time someone thanked his posts – or thought it was funny or sad, he'd have about $5000. Sorry – I can't give that to him, but I can praise him for being not only entertaining, but balanced, helpful, dignified, and very supportive to the Casinomeister mission. Goatwack is one of the few members who have achieved the level of Paleo-meister (only 34 members to include myself). This is a level acquired by folks who have been members for over a decade and have more than 2000 posts and reaction points. The prolific Goatwack far surpasses this level, and I should create a special level just for him. Congrats Alex! Much appreciated.
From Max Drayman, complaints manager: Every crowded room needs a resident joker and goatwack seems happy to volunteer for the job here on the Casinomeister forums. Want a good laugh? He's your man. Enjoy a pointed bit of sarcasm now and again? Him again. Willing to suffer the odd cringe-making comment every now and again? *cough* Don't get me wrong, the man isn't a fool, but he can be pretty damn funny sometimes. Given the way of the world these days — especially the casino scene as it nose-dives into corporatised sameness — that can be a very welcome relief. 

From Dunover – Forum Member Acheivement recipient 2021. Ah… Goaty! A man whose posts are always worth reading, will take the time to provide facts, reasoning and insight to complement his opinions. This makes them worth replying to, encourages the engagement of others which enriches threads adding weight to the quality of the forum. We of course know that when appropriate these will be laced with humour and quite often irony, highly valued in these times of strife and negativity.

We are all here to question, explain things and help each other without resorting to insults, facets which require patience and attention to detail. Alex has provided these to us all for many years and will contribute to most topics, something which he has spent a significant proportion of his time on over his membership here. For these reasons, we raise a toast (or tankard!) to him to say a big thank-you! 

From Dionysus – Forum Member Acheivement recipient 2020. Goatwack (or goatie, and Alex to his friends) has been a member here since 2012 which is over a decade of active posting and participation. Thank you for the dedication, Goatwack!

If you're looking for a heavy dose of dry or sardonic wit then Goatwack is definitely your man. But more than that he is also always willing to help a fellow member out or take a casino to task.

When he isn't bantering about in general threads you can often find him haunting 'currently listening to' and other assorted topics within The Attic.

Thank you, Goatwack. Your contributions to Casinomeister have not gone unnoticed. Cheers to you, our friend!
So it's not just me thanking Goatwack for being him, the entire community I'm sure is on the same page as I am.
His dedication to making this a home away from home for many has not gone unnoticed. Thank you Alex – you make Casinomeister's forum an enjoyable and sublime community that people want to join.
Member Achievement Award Historical
I began to give out this award after running this forum for about eighteen years. It was about time I started recognizing folks for their contributions. It's these folks who are an inspiration for others to engage in our amazing community.
Member Achievement 2021 – Dunover
Member Achievement 2020 – Dionysus
Member Achievement 2019 – Jasminebed
Member Achievement 2018 – Trancemonkey
Member Achievement 2017 – Kasino King
Member Achievement 2016 – Jetset
Most Awesome Screenshot 2022
The Casinomeister forum member me and ed was a stunning near $64,000 CAD richer at the end of December 2022 after hitting it big playing Hit More Gold at Winz.io, whilst taking part in an exclusive competition for Casinomeister members run by the accredited online casino. Commenting on the 5 figure win, me_and_ed stated: "Well Shite……..5082 x" in reference to the win against the bet staked. Read full article here.
---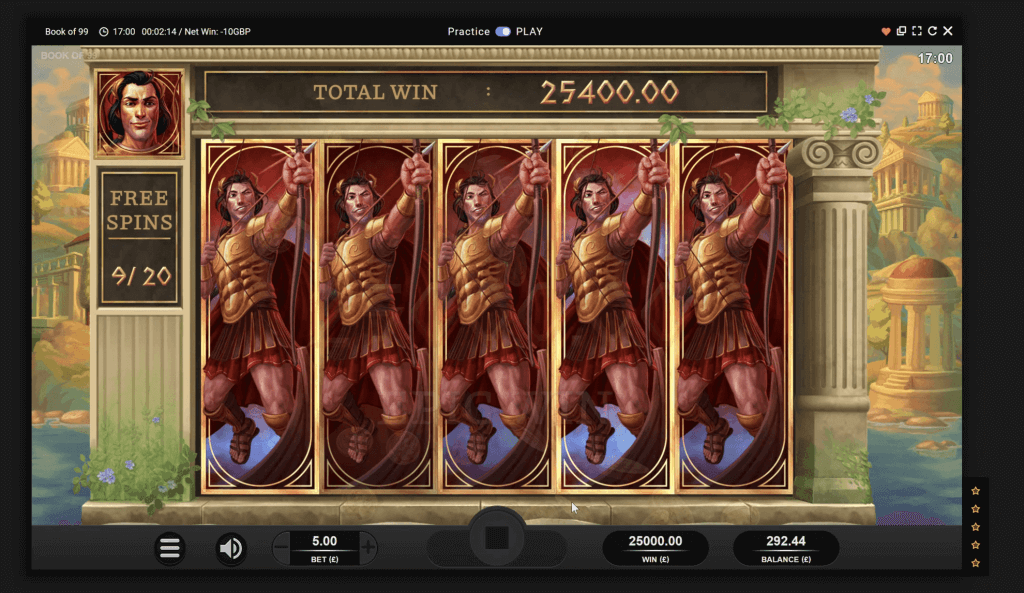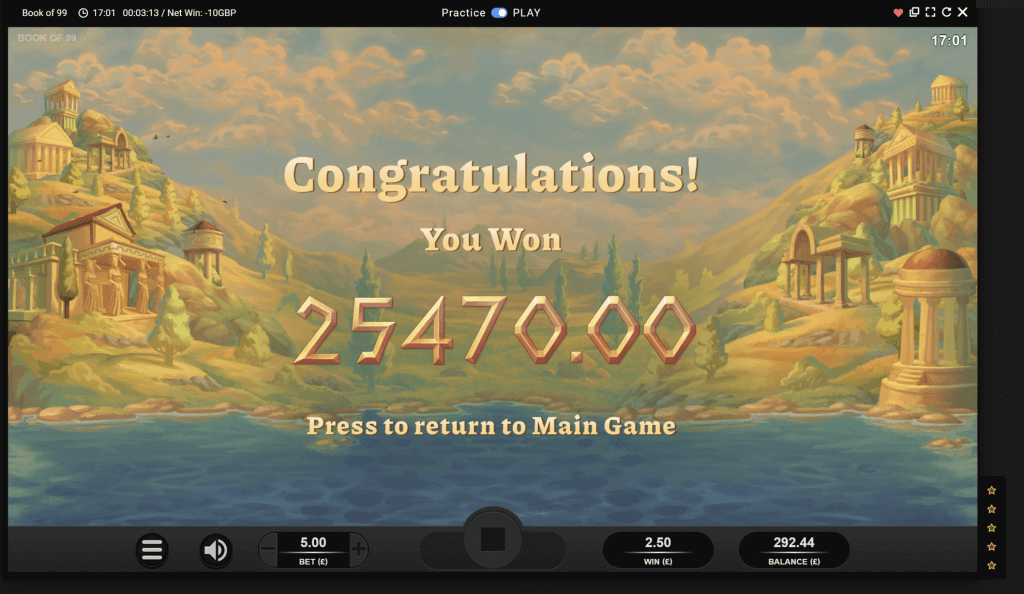 Forum member Sirbigwin lived up to his forum moniker at the end of March 2022, hitting his biggest ever win whilst playing Relax Gaming's Book of 99 at VBet. Betting at £5 a spin, during the free spins bonus round, 5 expanding archers dropped and Sirbigwin was over £25,000 the richer. A nice 5,000 x win which in the process drew 30 likes from the forum community.

Commenting on his lucky hit, Sirbigwin said: "My biggest slot win of ALL TIME… I couldn't believe this as I got it in 2 spins on a fiver today. Full screen of the premium symbol, 5000x…"
---
At the end of January last year, forum member Jerosensgambling struck big whilst playing NetEnt's popular Dead or Alive 2 slot, where a 90 cent bet saw him strike virtual gold, with a bank busting 26,000 x win, clearing €24,000 in the process.
As well as receiving many a plaudit from fellow Casinomeister forum members, Jerosensgambling who posted a video of his epic win, had little to say except: "Here's my 26000x win contribution. Not bad for a 90 cents bet."
---
While not to be outdone, Bowlingbob exceeded Jerosensgambling win that was hit in January as the summer sun was shining on him in July last year, when he scored an awesome hit of $3,817.95 from a $0.09 bet. A staggering 42,422 x win.
Beyond Casinomeister
This section of the Awards is saved for acknowledgement of those companies, entities, or individuals that deserve recognition for their efforts or influence on us at Casinomeister, the iGaming industry, or the player community as a whole.
"The Ted Loh Humanitarian Award" 2022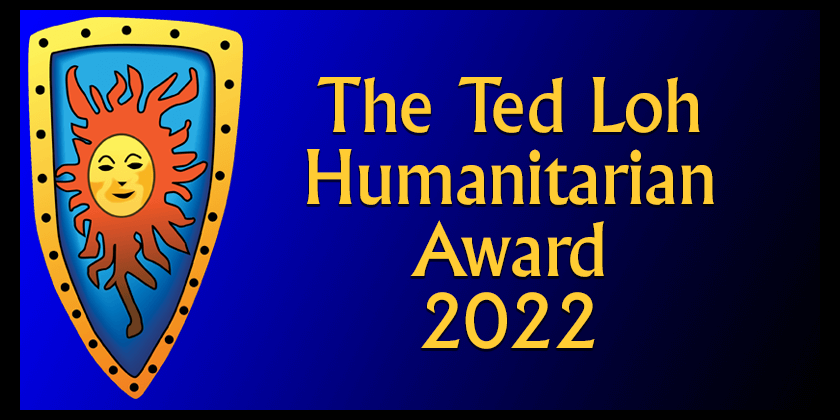 This year's Ted Loh Humanitarian Award goes to Rasmus Sojmark and his team who organised a fundraiser on behalf of CHOOSE LOVE, which has been actively seeking donations for Ukraine relief.
This group recognised the capability that the iGaming industry community has when it comes to charity drives for disaster relief. We've been here before: the Thailand Tsunami relief in 2005, and the Haitian earthquake years later, now we have a manmade disaster – and thanks to Rasmus and his team, Choose Love and its mission benefited from his charitable efforts.
Choose.Love is an organization that gives relief to Ukrainian refugees via a number of ways from offering medical and legal support, to serving hot meals, supplying nappies and firewood and providing shelter. For more information, you can check out their website here: Choose.Love
Rasmus set up a GoFundMe page, with a goal of £250,000. In a matter of weeks his goal was surpassed – and at press time, he had raised £261,056. This just goes to show that this industry continues to have many charitable-minded people. Folks like Rasmus know this and have the gumption to put it all together. Congrats Rasmus and his team. What an admirable and inspiring thing to do.
Adnan Maslo and Julie Kreuzer started a fundrasier Aid Transport Ukraine for Rescue Fleet. "Rescue Fleet is focussing on the delivery of humanitarian aid within Ukraine. Our drivers relentlessly bring medical supplies to hospitals. And food and other essentials to remote communities. We closely collaborate with local NGOs that need to send or collect humanitarian goods."
So far they have done well, but they are still below their goal of €50,000. Perhaps when reading this, you can click this link and make a donation.
All of these folks deserve recognition: Adnan, Rasmus, Julie, and all the like-minded people who do what they can to make this world a bit better for those struck down by catastrophic events. These inspirational acts don't go unnoticed here.
Ted Loh Humanitarian Historical Awards
In 2010, we lost a true friend. Ted Loh was not only my webmaster buddy, he was a pioneer in the online gaming industry. He was also a person who always made himself available to lend a hand –- to anyone. If you needed help, just ask Ted.
Ted was instrumental in assisting us to raise $111,000 via Casinomeister for the Casinomeister/Got2Bet 2005 Tsunami relief fund. He lived in Bangkok and was deeply involved assisting those affected – reuniting or identify the bodies of their loved ones via his Thailand themed websites. I think it's only befitting to venerate his memory and efforts by honoring those who are determined to do the same sort of thing.
Humanitarian Award 2020 – Manchester Uni Students
Humanitarian Award 2018 – Christine Marrah
Humanitarian Award 2017 Sue Schneider
Humanitarian Award 2013 – Dave Sawyer
Humanitarian Award 2012 – Chris Taylor
Humanitarian Award 2010 – Calvin Ayre Foundation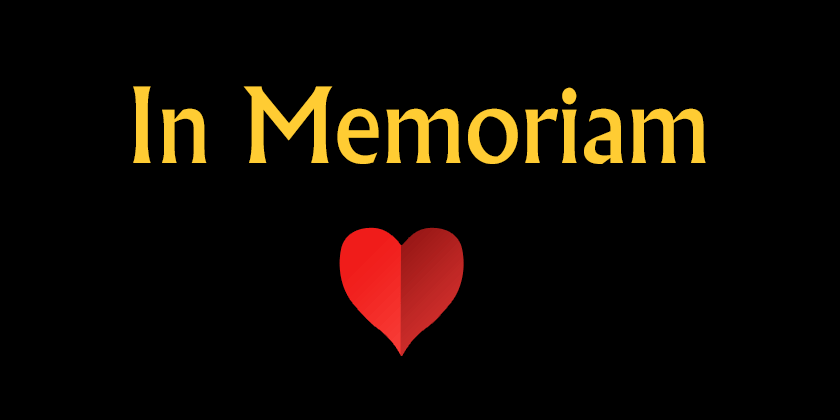 In Memoriam We lost several people last year who were a part of Casinomeister, either a member, a contributor, or an industry colleague. Our hearts go out to their families and friends, and we wish them true condolences and peace.
Colinsunderland
Colinsunderland – or Colin to his friends, was a prolific and well liked member of our forum. It was a definate shock to lose him this past year. He joined Casinomeister in 2012, and was an outspoken supporter and proponent of the ethical treatment of players, actually of anyone, and you can read his postings and everything he had to say about whatever subject here. Colin was also the owner operator of Talking Horses, a forum dedicated to the ins and outs of UK horseracing. I am managing this website now in his absence. If horse racing is your thing, you really ought to join this forum.
From Dunover – moderator at Casinoeister's forum. Casinomeister members will remember the huge contribution colinsunderland made to this forum before the intense sadness of his sudden passing. Integrity was his foremost quality and he ceaselessly queried and challenged behaviour he considered unethical regardless to whom it applied. This was done without favouritism or prejudice; he wanted members to be aware of issues regardless from whence they came and unfortunately within this industry there were, and still are, many.




In these posts he provided much vital information and input that numerous members found invaluable and responded to, often saving them potential stress or issues their decisions might otherwise have led them to. His knowledge as an affiliate was obvious as well as that concerning the regulatory affairs of the UK-facing sector – all of us learnt something at some stage from him, ourselves included. We at Casinomeister can see hundreds of members come and go over any given period and just occasionally, we are lucky enough to find someone like colinsunderland with much to say and add to the community.
Thank-you colinsunderland for being around us, you are sorely missed. May you rest in peace.
His tribute thread is here. RIP Colinsunderland
---
Lakandan
Lakandan was another member we lost early last year. Here is his first post from May 12, 2012 – nearly a decade ago:
Hi everybody. I'm very happy to join this very honorable forum. I have already read some of the topics being discussed and I find it very enlightening. I was contented just to be reader from the "outside", but I'm missing a lot , especially the screenshots. More power ! ! !
And from there on out, he was seemingly happy. Going through his postings which are mostly in the Screenshots, and Battle of the Slots – his presence was really felt. We tend to forget the joy we have just funnin' around with the games and bantering away with one another. That is the spirit of this forum, and when members like Lakandan go, well lose a piece of this place.
But that is merely the surface. This place was probably just a pasttime for him. We have not a clue on the pain and emptiness his close friends and especially his family members feel. I don't even want to guess the magnitude of hurt people are feeling at the moment in his part of the planet. I can only give my condolences and wish them well, and for them to conjure the strength to deal with losing this person. There is more in this thread here.
---
Maria Florides
Maria worked with the GPWA for years. She was the Program Manager at the GPWA, which we have been associated to since their conception. She worked mainly liaising with both affiliates and affiliate program managers.
She unexpectedly passed at the end of November 2022, having just spent the previous week in attendance at SiGMA in Malta.
Regarded by industry peers and colleagues as friendly, caring and enthusiastic, her passing has left a deep hole in the GPWA and iGaming webmaster community.
Prior to joining the GPWA in June 2018, Maria had worked within the iGaming industry since April 2004, where she was employed by WagerLogic as a Customer Service Representative.
Within a few years she would join Purple Lounge as an Affiliate Manager and in 2010 she was hired by Crazy Rewards to be their Affiliate Program Manager.
Further roles and positions within iGaming would be taken during the following years, before she joined the GPWA in the summer of 2018.
JTodd of the APCW sums Maria up perfectly when on hearing of her passing, said:
"Maria was one of the kindest people I ever knew, let alone worked with. She would do anything for you… personally or professionally. The conferences and the GPWA will not be the same without her."
Maria is dearly missed. Our heartfelt condolences to her friends and family.