Meister Awards 2020
Best and Worst in Online Gambling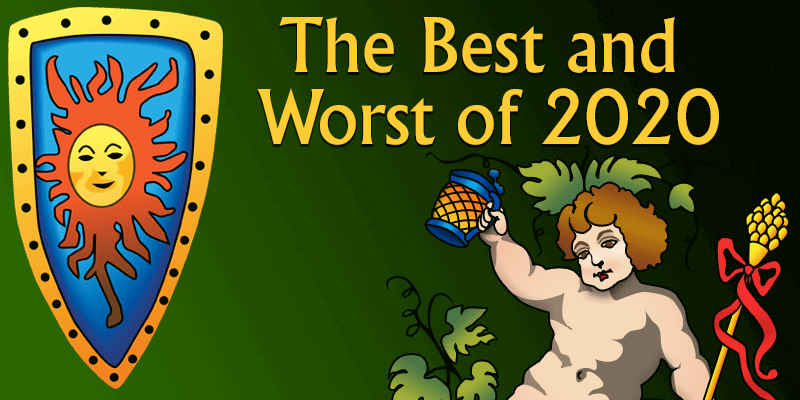 Well – let's hear it for 2020! Woo woo – an abysmal catastrophic year of crap, and more crap. The near collapse of modern society because some dude just had to have that Bat Soup. Well, I certainly hope it was a tasty bowl of finely chosen bat morsels, because that bowl of soup turned the world upside down and screwed it sideways. And then there was the online gaming industry which more or less reflected what was happening worldwide: companies that focused on iGaming events were hobbled, casino employees were stranded within their own confines, players had to deal with draconian rules and regs from jurisdictions that had nothing better to do but treat their citizens like children – and then there was yours truly who disappeared into the California desert for a bit. So basically – it was a shit year.
But I am back – here I am – dishing out the iGaming awards for The Best and Worst of the Online Gaming World. This marks the 20th anniversary of my awards – awarding those online casinos that have achieved greatness by answering the call of players' needs and wants, and also awarding those casinos that are the worst of the worst clip-shot-joints that will do whatever it takes to screw players over. There are some minor changes this year – there is no Best New Casino 2020, since there just weren't any. Also, no Best Casino manager since most of the people we know managing the casinos are affiliate managers who are involved in just marketing. But there are plenty of other worthy awards to read here – so here we go…don your Kelvars and flak vests, button your chin straps and jump into the trenches of the amazing world of online gaming.
And the winners are…
Best Casino 2020: All British Casino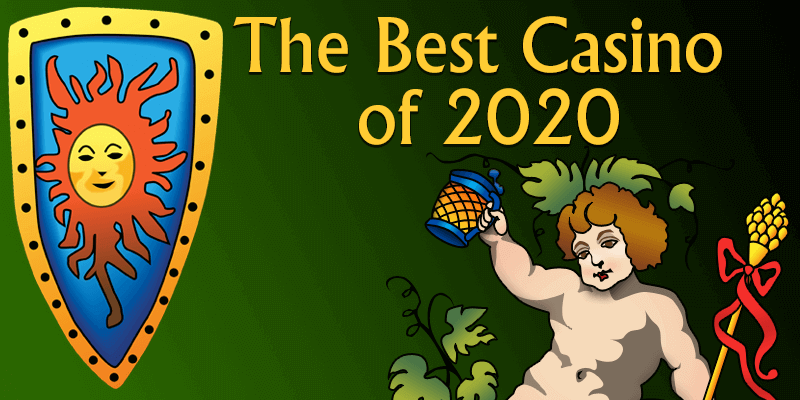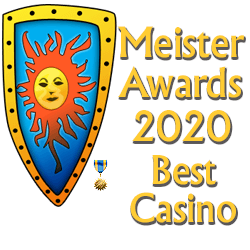 Yes! All British Casino does it again! They came out as the top casino of the year 2019, and then "rinse and repeat" for the year 2020. Voted #1 by our most senior members and our illustrious Meister Minions, it is evident that All British Casino did not rest on its laurels. This casino has continued its player focused management philosophy – and they have truly appeased their players with awesomeness.

An award winning casino is as only as strong as its staff, and it's the staff that counts here. Nary a complaint from players – in fact, this casino has zero complaints posted in our forum, or submitted to our arbitration service at Casinomeister. We receive hundreds of formal complaints yearly – and thousands are posted willy nilly in the public sections of our complaints forums – none apply to All British Casino. Why is that? It's because this is an outstanding casino that is professionally managed and they put their players first. Kudos all around for the staff of All British Casino – a job well done – high fives all around.
All British Casino is a member of the award winning L&L Europe group of casinos.
2020 shortlist:
How the Best Casino is determined: At the end of the year, we generate a shortlist of the best casinos (this is created by suggestions made by hundreds of our active members). From there, we have a secret vote by the moderators, our most senior members (Ueber Meister and Paleo Meister members) Casinomeister Advisory Group members, and the Meister Minions – a total of about 125 people. These member groups are embodied by the most experienced players anywhere in the online gaming community. This is why the Best Casino award is truly for the best casino in the online casino industry. Full stop. Period.
Historical Best Casino Awards:
Best Casino 2019 – All British
Best Casino 2018 –  Trada / Videoslots
Best Casino 2017 – Videoslots
Best Casino 2016 – Videoslots
Best Casino 2015 – Videoslots
Best Casino 2014 – Club World/Guts
Best Casino 2013 – 3Dice/32Red
Best Casino 2012 – 3Dice/32Red
Best Casino 2011 – 3Dice/32Red
Best Casino 2010 – 3Dice/32Red
Best Casino 2009- Club USA/32Red
Best Casino 2008 – Club USA/32Red
Best Casino 2007- 32Red
Best Casino 2006 – 32Red
Best Casino 2005 – 32Red
Best Casino 2004 – 32Red
Best Casino 2003 – 32Red
Best Casino 2002 – Intercasino
Best Casino 2001 – Kiwi Casino
Best Casino Group 2020:Betsson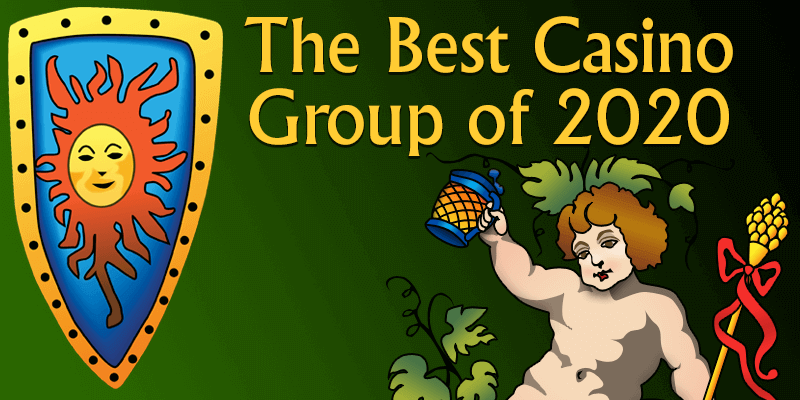 "Solid as a rock – and then some"
Betsson is the Best Group for 2020. This is a long overdue award to the Best Casino Group of the year – Betsson. Their portfolio of casino brands is a laundry list of some of the best managed online casinos – period. They consistently receive praise from our members and rarely if ever generate complaints. If and when they do, they are swiftly resolved by their casino management team.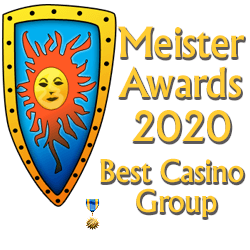 A little over 18 years ago, the CEO of NetEnt contacted me to see if he could get his casinos listed in our "Reputable Casino" section (the precursor to the Accredited Casino section – soon to be Vetted Casinos). That's how it was in those days – webmasters like myself would have either a face-to-face meeting, a phone call, or an email from the head of the organization. Man, I miss those days. But yes, we brought on their properties eighteen years ago – and I have never regretted this decision.

After a bit of time, Betsson emerged from this modest group and carried on in a big way – growing into what they are today: a European and UK facing casino operation that offers players just about any gaming platform that they are looking for: Casino games, Live Games, Sports, Poker, Jackpot Games of course – and just about anything under the sun that you can bet on.
Since they are primarily focused on the UK and European market, their casinos have been localized into most European languages and they especially cater to our cousins in the north – Sweden, Finland, Iceland. Punters and players from these regions will have an easy time dealing with properly written terms and conditions, native speakers, and the professionalism one would expect from a publicly traded company.
I would recommend any of their casinos to my best of friends. Congratulations to Betsson and its leadership and employees. You have brought a great service to the online casino community. Kudos all around.
Their awesome brands:
Betsafe
Betsson
CasinoEuro
Casino Winner
Guts Casino
Jalla Casino
Kaboo Casino
LiveRoulette
Loyal Casino
NordicBet
Norges Automaten
Rizk Casino
Star Casino
SuomiArvat
Historical Best Group Awards:
I have been awarding the best Online Casino Group award since the very beginning – The Sunny Group was the first awardee in 2001. Little did we know that the operator would go whacko and start doing some nefarious deeds in the mid 2000s. It was a shame since the guy was an alright guy – a bit eccentric, but you had to be a little bit "different" getting started in this business twenty years ago, right?
Best Group 2019 -L&L Europe
Best Group 2018 -L&L Europe
Best Group 2017 – Gaming Innovation Group
Best Group 2016 – Gaming Innovation Group
Best Group 2015 – 32Red Plc
Best Group 2014 – 32Red Plc
Best Group 2013 – 32Red Plc/Club World Group
Best Group 2012 – Rank Interactive/Club World Group
Best Group 2011 – 32Red Plc/Club World Group
Best Group 2010 – 32Red Plc
Best Group 2009 – Club World Group
Best Group 2008 – Jackpot Factory
Best Group 2007 – Jackpot Factory
Best Group 2006 – Trident Entertainment Group
Best Group 2005 – Trident Entertainment Group
Best Group 2004 – Vegas Partner Group
Best Group 2003 – Fortune Lounge Group
Best Group 2002 – Trident Entertainment Group
Best Group 2001 – Sunny Group
Best Customer Service 2020: Bitstarz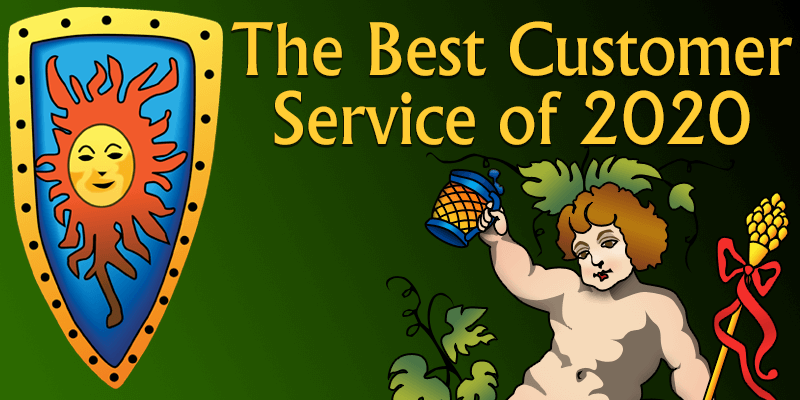 Bitstarz takes the award this year for outstanding customer service. Bitstarz is one of the finest run casinos that's Accredited at Casinomeister – their review averages at about 9.1 Meister points and 8.6 points from the Meister Minions, which is not too bad. In 2020, there were an exceptionally few formal complaints submitted at Casinomeister – most if not all were not valid which is impressive since they have a huge following and loads of customers.

Besides making this year's and last year year's shortlist for Best Casino of the year, Bitstarz's customer service is exemplary – our comments from our players throughout the forum stand as a testament to this honorable award.
Mina888: I have played at many accredited online casinos for the past 15 years and spent most of my time at 32red for +12 years until they declined in service so I ventured out. One of the casinos I tried was Bitstarz. Although I had some trouble in the beginning but let me tell you I have had nothing but positive experience. From the vip manager who drops large bonuses in my account on special occasions such as birthdays and Canadian holidays etc… to a $1000 Christmas gift and a personalized video wishing me happy holidays and thanking me for joining them. And not to mention that I have never experienced a faster withdrawal anywhere else.
and
Mina1929: I mainly play there but I am no VIP player and I do get free spins often and Friday loyalty bonus. I agree with the fast withdrawal. Live chat they are so quick and also so friendly
and
Deepsky2: Bitstarz to me is like what Videoslots used be 5 years back but Bitstarz treats you like an individual, not just a number and $$ signs like many other casinos do. I can see why they're in the running for the best casino. 

Bitstarz Casino recognizes all their players with respect doesn't matter if you are a low roller or high roller they recognize you as an individual.
and
X-Raided: Bitstarz is a simply incredible experience from start to finish. I would also add that they run the best RTP tables on their slots and
have an extremely personable rep here that's willing to help with anything you could throw at him. 

Just to clarify, the no deposit free spins (second chance) and (free spin Wednesday) have a $100 max withdraw cap, VIP or not.
The birthday and holiday money that you receive (I'm guessing that you're a whale) most likely don't have max cash outs. And personalized
video? Yes, you're a big spender :laugh: 

The Friday loyalty money that is dropped off in your account every Friday also has no max cash-out.
Also, the monthly promotion where you gain levels and unlock free spins has no max cash out VIP or not. 

I've been on their VIP program there for several months and am just going off what I know.. You could be
a different level of VIP though. Anyways, thanks for sharing!
and
muziq: Only good words for bitstarz really a wonderful casino made a withdrawal Sunday and processed it in no time
I could keep going – but you're free to do your own searching you'll see that Bitstarz is worthy of this awesome award. Kudos all around for the folks at the helm at Bitstarz.
Best Customer Service Historical Awards
Best Customer Service Award 2019 – LVBet
Best Customer Service Award 2018 – Trada
Best Customer Service Award 2017 – Trada
Best Customer Service Award 2016 – Trada
Best Customer Service Award 2015 – Betat
Best Customer Service Award 2014 – 32Red
Best Customer Service Award 2013 – 32Red
Best Customer Service Award 2012 – 32Red
Best Customer Service Award 2011 – 3Dice
Best Customer Service Award 2010 – 3Dice
Best Customer Service Award 2009 – 3Dice
Best Customer Service Award 2008 – 3Dice
Best Customer Service Award 2007 – Club World
Best Gaming Experience: Dead or Alive II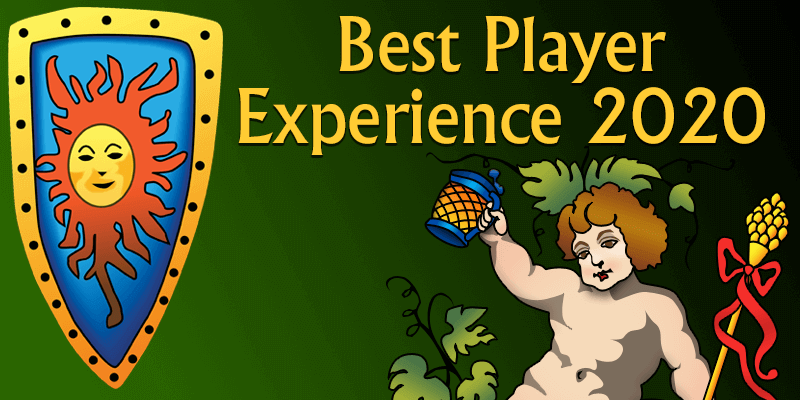 Netent's Dead or Alive II is one of the best slot games hands down, and some of the winnings that it generates are just stunning. I remember a few years ago when I was hanging out at the Parasol Up bar at the Wynn with my webmaster buddy Ian Sims, talking to the developers of the original game – Dead or Alive – I was pretty much unconvinced about how a game that was so clunky, that had such annoying soundbites, and to me was just a yawn-fest could match some of the games being produced by their competitors like Immortal Romance – or Thunderstruck II for that matter. They had a good laugh telling me that it was one of their best products, that players played the original DoA slots with wanton dedication. I was surprised to say the least – and then I started paying attention to our forum and started to realize that yes, loads of our members were really enjoying this slot mainly due to its high-volatility and massive winnings from relatively small stakes. That was DoA – the original game.
Then came Dead or Alive II – wow!
Gone were the jerky animations and clunky soundbites, now we had a slot game. I was a little skeptical on its popularity compared to the original, but I was pleasingly surprised. And so were our members – in fact this slot was considered the Best Slot of 2019 by our members. And here are some amazing screenshots from our members in 2020:
Here we have an impressive jackpot win of £3,418 from a bet of £ 0.18 – yes that's 18 pence.
---
Irish Ranger has the bragging rights to this amazing hit: £3,581 made from a £ 0.09 spin. Boggles the mind.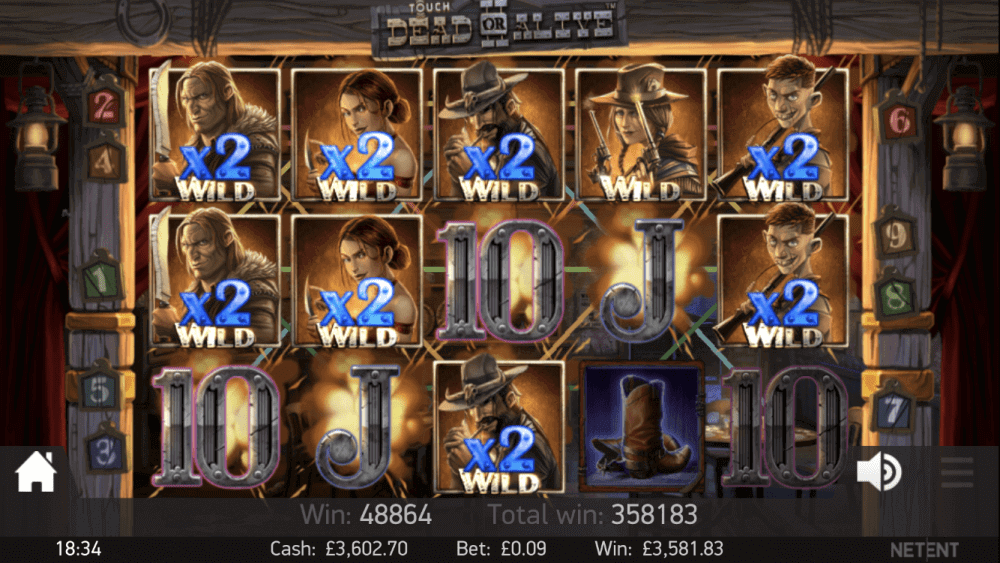 ---
Member bianchini was I'm sure blown away by this win: €34,485 from a .90 spin. Jeepers!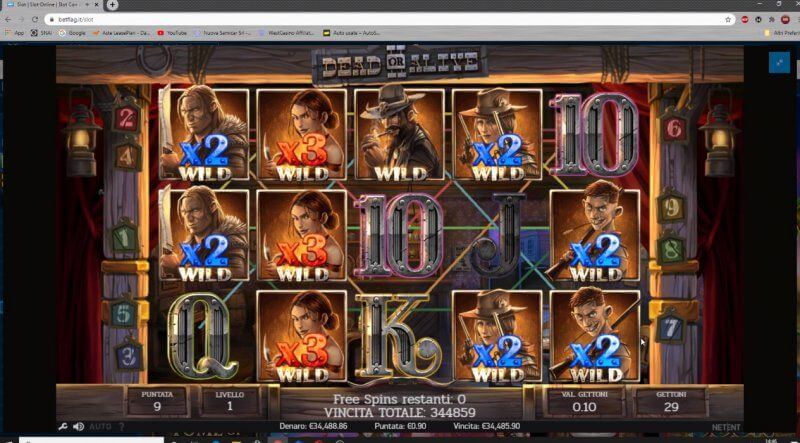 And here he is again with another mind boggling jackpot: €27868 off of a .45 cent spin.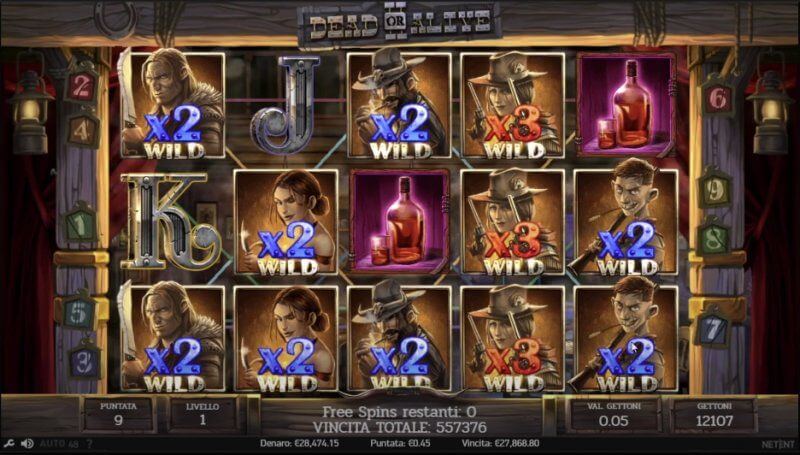 ---
Hats off to Aerzi – €42,669 jackpot from a .45 cent spin – wowzers!!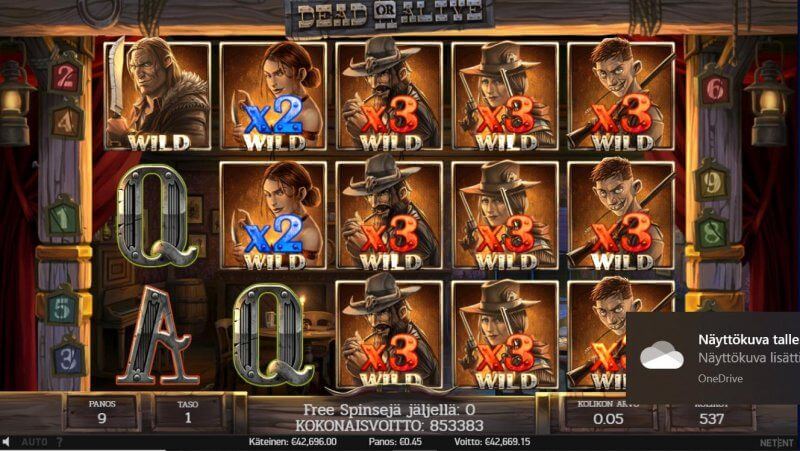 ---
And saving best for last – seriously the screenshot of the year 2020 – Samikk hit €136,911 off of a €1.80 spin. That is one hell of a win and one hell of a screenshot.
So in my opinion – and I am sure in the opinion of a majority of our members, DOA 2 is the best player experience of the year 2020. If you haven't had the chance to check it out, you can chick it out at any of our casinos that host Netent games.
Best Gaming Experience Historical Awards
I have been giving out the Best Gaming Experience award to a myriad of entities over the past eight years. Sometimes to a company that is really focused on the player experience – sometimes to an event. So many folks forget that the reason this industry exists is because of the player. It's not to milk him or her – it's not to fleece folks of their savings – it is to provide entertainment. And no players – no casinos. So being focused on what players want, need, and what they want to experience will perhaps land you here in the category of this coveted award.
Best Gaming Experience 2019 – UK Players' Experience
Best Gaming Experience 2018 – Rizk Casino Experience
Best Gaming Experience 2017 – Ask Me Anything About Slots
Best Gaming Experience 2016 – Rizk Casino Experience
Best Gaming Experience 2014 – Pat Royal Flush with $100 bet
Best Player Experience 2013 – Legalized online gambling in the US
Best Player Experience 2012 – 32Red
Best and Worst Slots 2020
From Dunover – Slotmeister:
A Review of Slots and Slotting 2020
Yes, nobody wants to remember too much about 2020, the year Covid locked us down and sent people home from work – twice. To rub salt in the wounds, in the UK the moment the lockdown in March started we had over two straight months of sunshine, a drought and May became the sunniest month on record here! Fine if you had a garden but torment otherwise. So how did this all affect slot releases? Not much at all, given they are developed on simulators and computers and this can be done remotely or in offices where the relevant precautions have been effected.
The good….
The meh!…
Wheel of Fortune Megaways BTG
Divine Fortune Megaways Netent
Starclusters BTG
Reactoonz 2 Play'n Go
The Bad…
Fruit Shop Megaways Netent
Shamrock Holmes Megaways All41/Microgaming
Disco Fever Blueprint
Reel King Megaways Inspired Gaming
There was a slight reduction in releases but most developers continued their output targets, such as Play'n Go who pledge to release at least two games a month and did so without hindrance. They made Energoonz 2, which didn't seem to impress players like the first version but with few exceptions the rest of 2020 were the standard 'win up to 5000x bet!' releases and yes, I still haven't see anyone get near that on any of them.
The niche developers such as Push Gaming and Nolimit City have continued to concentrate on few but very high-volatility releases, the strategy seeming to be publicity via YT channels and streamers when these huge hits are caught on video and then encourage more players to try them. This was indeed the case when one lucky player hit this incredible win on Razor Shark.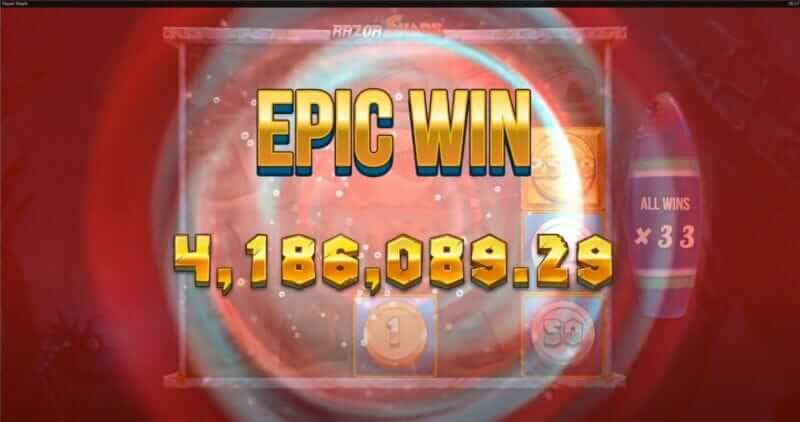 Not to be outdone, Nolimit City released San Quentin xWays with claimed potential of 150,000x bet and not without a tad of controversy. A 243-way game with an expanding reels mechanic in the bonus plus floating wilds which can reach 512x multiplier, it's a very gritty theme around the infamous prison and a riot in the free games. Even grittier is the bonus-buy stake which for the 4-scatter trigger is 400x bet and an eye-watering 2000x bet for the 5-scatter premium feature. This is a huge digression from the 'responsible gambling' ethos which has quite rightly gripped most decent gaming jurisdictions now; whether you think boasting a huge top prize which it would be near-impossible to reach without paying 2000x bet to play for is down to you…
If we move on to the traditional bigger developers such as IGT, Microgaming and Playtech, little has changed from last year. These developers from the outset had a different strategy from the smaller ones you find in multi-platform casinos. IGT mainly appeared at big bookmaker casinos with their own Wagerworks brands under Alderney licenses, although unlike the other two they have always had significant presence in land-based cabinet games so maybe don't devote too much effort to online productions. Microgaming had their Viper Client which you downloaded and was revolutionary back then, their whole catalogue of slots, smooth running and with tournaments and screenshots all stored (via a huge chunk of memory!) on your PC. Things have moved on now and these almost seem anachronistic now – metaphorically speaking, when you go into a bar you want to see a whole range of beers, wines and spirits not just one company's and us slot players are no different. This is a classic example, probably the biggest and best Viper Casino, 32Red, have integrated new developers:
Moving on to the latter of the above big three, Playtech's original strategy was to get their platform onto the big betting sites such as Betfred and Paddy Power. With high player volume, good revenue was guaranteed and licenses could be brought for themes such as the Marvel slots. These have now been rebranded as 'Age of the Gods' now due to licensing issues when Disney (anti-gambling) took over the trademark. Nevertheless, this was reflective of the status of Playtech at the time.
In the last couple of years their games have been pretty mundane and drab and have fallen well behind the younger developers. Now you will find the bookmaker sites still have their Playtech casino menu, but will also have a 'Vegas' or 'Games' tab with all the other developers on. Let me guess on which most customers click: when was the last time you played one of their slots? Their answer has obviously been to acquire more imaginative developers (Playtech acquires Quickspin)
I am surprised as to the extent of the complacency demonstrated by these companies. In order to re-establish their products they really need to get a grip on what players expect nowadays and sacrifice a little profit by making their slots available at the multi-platform sites. Alas, their strategy seems to be using smaller in-house studios to churn out sub-medicore on their platforms. Name me, for example, one memorable go-to Just For The Win slot, who seem to be providing a large proportion of content via Microgaming?
You could well be wondering why Netentertainment haven't been mentioned here yet. This brand was a few years ago arguably the most innovative and stylish of all slot developers. Numerous different mechanics for their games, themes and good quality player-friendly interfaces. They were (and still are) the mainstay of most multi-platform online casinos. For me, a clue something was seriously amiss appeared a couple of years back. Their homepage, where you should be able to see prominent coverage of new games and demo versions as with 95% of developer sites, became an affiliate site! Yes, I found it unbelievable too! So instead of being able to sample the product, you are redirected to join a casino to try the slot and hopefully earn Netent commission. For a company recently worth over 1.8bn Euros, this makes a very loud and negative statement. Now they are involved in a messy takeover by online table games and live casino provider Evolution Gaming. Funnily enough, at the start of December 2020 redundancies were announced at Netent in Malta and their live casino and table products were abruptly pulled -'nuff said.
It is inevitable Megaways will be mentioned here. The Big Time Gaming mechanic that began way back with Dragon Born and then Queen of Riches really hit the big time (yeah, I know) in December 2016 with the arrival of Bonanza which I am sure you have either played or at least read about many a time. When I brought this game to the attention of the Casinomeister membership back in the day little did I know it would become the most gargantuan thread on the forum, as of now about 850 pages and nearing 17,000 posts. I equate the slot in literary terms to Dan Brown's Da Vinci Code novel. To the literary purists it was considered drivel but to the public it became the highest-selling page turner of all time. Bonanza looks and sounds dreadful yet we all keep playing it, waiting for that elusive big win spin after spin, despite the knowledge that there's only been one recorded win on YT of over 10000x bet, one over 5000x and a photo exists somewhere in the screenshots thread here of a 4400x base game hit. It's the ultimate example of masochism for all of us who ponder the reasons as to why someone would return to an abusive partner.
There are now over 110 Megaways-branded slots and most of the developers using the license have their own version of Bonanza, albeit with mystery symbols added as with Diamond Mine, Blueprint Gaming's first Megaways slot. We saw Netent's Gonzo's Quest Megaways (albeit created for them by Red Tiger)
which has produced big wins and proven quite popular, just as well for this failing developer which seems to survive nowadays on Dead or Alive 1&2 and Starburst. The developer with most versions is indeed Blueprint Gaming who to be fair have made some good games such as Genie Jackpots Megaways.
The other companies using the mechanic include Relax Gaming, Skywind, iSoftBet, Iron Dog/1×2 and Fantasma with a few decent editions amongst the chaff. The former of those has been notable for producing the beast that is Money Train 2 and ironically not using Megaways – the game can and has produced its win cap of 50000x bet many times with possibly the most exciting bonus round of 2020's new games. Netent's Dead or Alive 2 may have a one-million coin win cap (111,111x bet) but for me the most impressive win was in excess of 100000x on BTG's Lil' Devil – watch the video here then weep!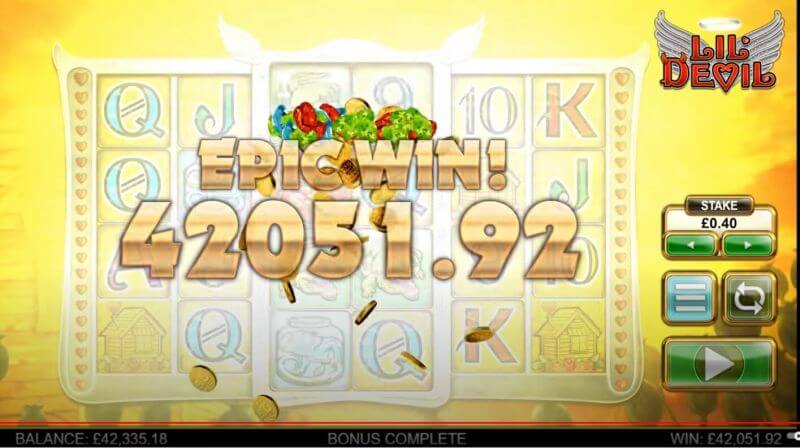 That brings us nicely on to BTG themselves. What do market innovators do when they've squeezed every ounce out of their golden egg, in this case Megaways? Yep, farm it out to others then try and create a new one to replace it. In this instance they have adopted the cluster-pays mechanic and titled it 'Megaclusters'. So we were introduced to the new Starclusters slot which after my initial enthusiasm I thought rather dull, predictable and boring. Then came the successor, the more visually pleasant and exciting Cyberslot Megaclusters.

This has a far higher average feature pay but like Bonanza, lets you have it rarely. Thus far, Relax Gaming are the first to get licensed with a Megaclusters game but not doubt others will follow. Whether it matches the obvious success of Megaways is another matter. We'll find out in 2021. Other than this, we've seen derivatives of Donuts such as Chocolates a branded theme, Survivor Megaways which is actually a better slot than the player take-up suggests.
Undoubtedly, the year that brought us Covid 19 has seen many changes to gambling. Quite rightly, affiliates were told in no uncertain terms not to market using Covid references for people staying at home and thus susceptible to gambling through boredom. That said, if anyone was intending to they shouldn't be permitted any affiliate accounts in the first place. Covid aside, the two main issues facing slot players are growing in importance and very serious in and of themselves.
For a while we have seen scam affiliates promoting to and targeting problem gamblers who have excluded from legitimate licensed gambling via GAMSTOP (UK) or the equivalent in other countries. Naturally, they search Google for casinos outside the laws in their jurisdiction. Surprise surprise, unscrupulous affiliates are only too happy to hoover up this profitable traffic and new scam casinos spring up weekly with their selection of pirated slots and stupid unfair terms to trap the desperate or gullible slot player. They even disguise transactions (as well as adding hidden fees and exchange tariffs) as 'legitimate' transactions to Chinese carpet traders and other random non-existent products so your bank won't query it in many cases. Here is just ONE thread demonstrating this issue out of hundreds we have at Casinomeister: Should I chargeback at Red Lion Casino
The UKGC as expected is in denial over the extent of this issue that they have largely created themselves by establishing GAMSTOP without the requirement for payment processors and card companies to ONLY accept transactions to online casinos with checked UK license numbers. (UKGC Downplays Risk of Players moving to Offshore Operators)
I can't see this changing in 2021 alas.
The player at properly-licensed sites faces a relatively new and unwelcome challenge too. The beer is being watered down, sometime without you knowledge viz-a-viz many casinos now offer lower slot RTP's than the developer's standard 96% or so. IGT always did this but only within a small range, Play'n Go were seen to offer RTP versions of slot games considerably lower than the 'factory' TRTP of just over 96%, sometimes as low as 88%. Many players were caught out as casinos never informed them that their product had changed, thus giving them a choice in using it or not. Videoslots Casino failed to inform players quickly until one of them noticed, most did the right thing and told players such as LVBet here: LVBet RTP Changes
While surprisingly one of the casinos who should've known better missold their games for quite a while. This is quite shocking and would be heavily punished in other areas of commerce but as slot players, it seems we just keep soaking up the punches without retaliation: GVC Coral and Gala casino showing the wrong RTP to players
Just to emphasise the importance of the matter above, a reduction from 96 to 94% is a 50% increase in house edge. A reduction from 96 to 92% would on average result in just over half the net amount of spins from a given bankroll and stake, over time, for the unsuspecting player. That's the reality now. Slot players really need to check game files at any casinos they join or existing ones they are members of.
It's regretful that so much of this summary has been negative and indeed full of foreboding but 2020 is what it was. A tough year with many online casino closures and many of those remaining watering down their slots products to remain profitable. As with 2019, high-win potential and volatile slots have grabbed the main headlines on social media so these games almost become a self-fulfilling prophecy as other rush to emulate the maths on their games. So more people play them. And rightly or wrongly, the big traditional developers ignore this at their peril.
Have a safe and prosperous 2021.
---
Best Slots Historical Awards
This category morphed from Best Software, to Best Games, to Best Software Supplier, to the Best Gaming Experience, to Best iGaming Experience, to the Best and Worst Slots – yeah – we need to be resilient with the changing and dynamic online gaming landscape.
Best and Worst Slot Games 2019 – Dead or Alive 2 (Best)
Best iGaming Software Experience 2018 – Blueprint
Best iGaming Software Experience 2017 – Big Time Gaming
Best iGaming Software Experience 2016 – Play N Go
Best iGaming Experience 2015 – NetEnt
Best Gaming Experience 2014 – WMS
Best Gaming Experience 2013 – WMS
Best Gaming Experience 2012 – NetEnt
Best Games Award 2011 – Leander Games
Best Software Supplier Award 2011 – NetEnt
Best Games Award 2010 – 3Dice
Best Software Award 2010 – Microgaming
Best Software Award 2009 – Wagerworks
Best Software Award 2008 – Cryptologic
Best Software Award 2007 – Wagerworks
Best Software Award 2006 – Microgaming
Best Software Award 2005 – Microgaming
Casino Representative of 2020: L&L-Jan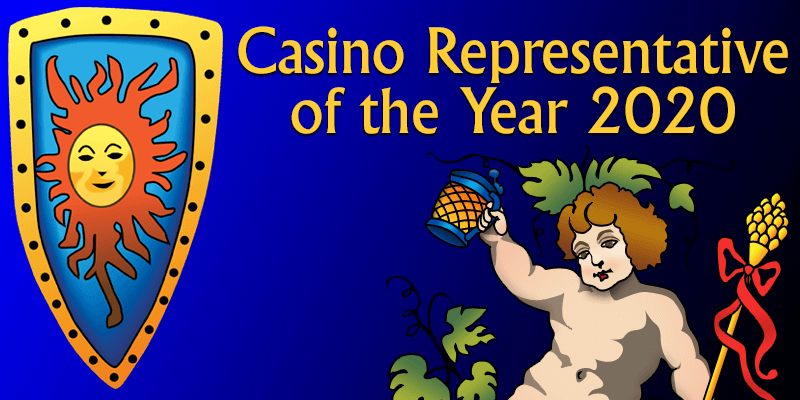 "Problem solvers and amicable ladies and gents"
Jan from L&L Europe has done it again. He is one of the few reps that is not only extremely helpful in solving any player issues, but he gives insightful viewpoints, advice, and solid background information from his side of the fence. Representatives like this make Casinomeister's forum into a true knowledge center, which is always appreciated. Not only does he ensure that the members are satisfied with the L&L Europe group of casinos, but he participates in daily banter about just everything under the sun. Jan has become a daily voice who is able to maintain a sense of decorum when dealing with any player issue that comes his way. He is perceptive, sociable, contributive, and a true professional who is truly appreciated.
Jan is clued up and abides by the the philosophy of a competitor friendly environment that this industry needs. Only the most professional and savvy representatives understand the value of this – so his competitors should take a leaf from his book of Tips for Casino Forum Representatives. Cheers to you!
Casino Representative Historical Awards
Casino Representatives are an integral part of Casinomeister's forum. These reps are mainly present to either answer questions about their properties, or assist players when needed. For our highly recommended casinos which are accredited and vetted by our members, we require the casino property to have a representative that can walk and chew gum at the same time. The representatives who who are awarded are the most active and helpful during the entire year. Along with this accolade, these folks get an engraved Beer Mug that is physically handed to them during our annual Meister Meeting. The Meister Meeting for this year has been cancelled due to Covid restrictions. Hopefully this will change by next year.
Casino Representative of 2019 Jan from L&L Europe
Casino Representative of 2018 Conor from Trada
Casino Representative of 2017 Daniel from Videoslots
Casino Representative of 2016 Mark 32Red Plc
Casino Representative of 2015 Mark 32Red Plc
Worst Casino 2020: 22bet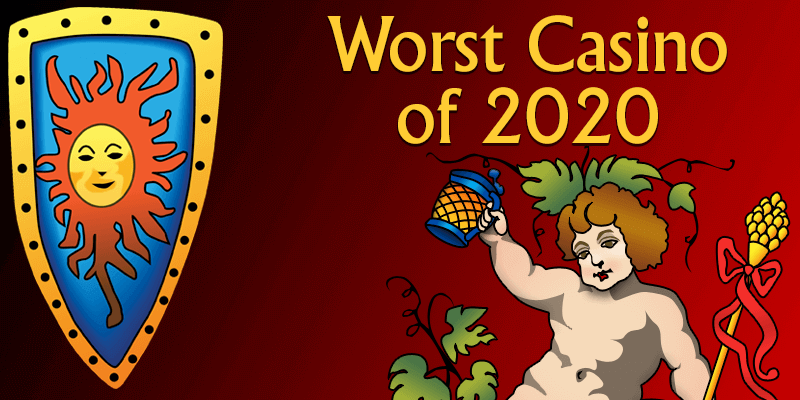 We regret – it's 22bet
Besides having one of the stupidest names ever conjured up in a opium smoke filled den of casino operators, it is the craphole of the year 2020.
In the past 12 months we have tossed loads of complaints into our "black hole" of no-can-do category of player arbitration. These guys are a sure thing – speak to the hand each and every time. But it's not just the non-communication that is befitting for this coveted award, it is the player experience that justifies it.
How do we loathe thee, 22Bet? Let us count the ways.
22 Reasons not to Play at 22bet
They have a very stupid name.
They won't answer player complaints – and they won't answer our emails either.
They are notorious for NOT paying winnings owed.
They operate without any supervision or oversight.
They are a scam.
You need to send in ID documents in order for them to close your account.
They implement delay tactics for withdrawals.
They are con artists.
They have a flaccid gaming license (Curaçao Master License 8048/JAZ)
They take bets from the UK without a valid UKGC license
They will not discuss player issues with properly certified alternative dispute resolution agencies like ourselves.
They have a crappy functioning website.
Their responsible gambling obligations are all smoke and mirrors
They are a "no pay – speak to the hand" online casino.
They were featured in Casinomeister's Three Tales of Online Casino Terror.
They are crap.
They denied winnings of £21,137 for no legitimate reason.
They can do whatever they want with your casino account, and there is not a damn thing you can do about it. So no soup for you.
They have no intention on establing a relationship with any reputable entity like ourselves.
They have a flippant attitude towards the player community.
They are run by rogues.
They are the worst online casino of the year 2020
So there ya have it – the worst online casino of 2020. High fives all around for these ethically challenged 22ers. What a load of garbage.
Historical Worst Casino Awards
I have been divvying out these "worst of" awards starting in 2003 after realizing that crappy behavior should be rewarded with a crappy award. Lo and behold, some casinos were actually chuffed to get it – there is no such thing as bad publicity. In fact, the first recipient of this award, Black Widow Casino, wanted to pay me $5,000 a week to keep him in the Rogue pit – he was getting loads of traffic because of it. LOL – we kept him there but changed his link to MenWhoLookLikeKennyRogers.com – which was a real site back then, and which had eventually blocked our traffic. LOL – man, I really miss the old days.
Worst Casino 2019 – BonanzaGame
Worst Casino 2018 – Osiris Casino
Worst Casino 2017 – Burnbet/Winner.com
Worst Casino 2016 – Euromoon/Pamper Casino
Worst Casino 2015 – Casino4live
Worst Casino 2014 – SlotoBank
Worst Casino 2013 – rey8.com/Planet Kings
Worst Casino 2012 – Casino770
Worst Casino 2011 – Grand Duke Casino/Class1Casino
Worst Casino 2010 – BeTheDealer
Worst Casino 2009 – Golden Lounge (pre-32Red)/Strykke Casino
Worst Casino 2008 – Gold Betting/Golden Casino
Worst Casino 2007 – Cirrus Casino
Worst Casino 2006 – African Palace/Indio Casino
Worst Casino 2005 – Joyland Casino
Worst Casino 2004 – 1x2casino
Worst Casino 2003 – Black Widow
Worst Casino Group 2020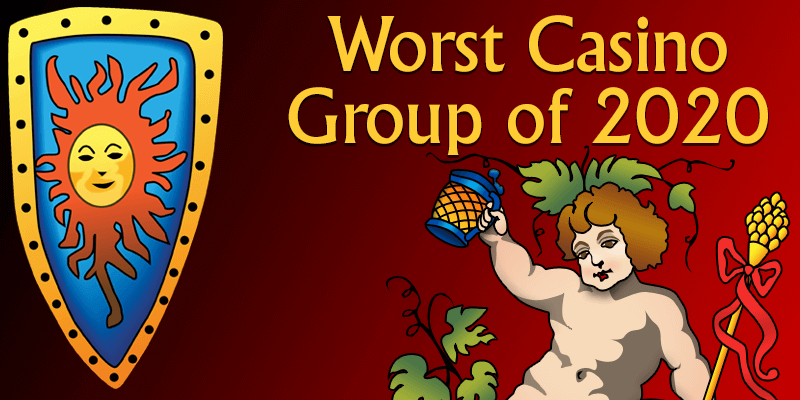 Looking for the Worst Casinos? You've come to the right place!!
Due to the masses of players who could not give a hoot with what casino they patronize, we are graced with a massive entourage of the crappiest, shadiest, dodgiest, craziest clip shot joint casinos that you could possibly imagine.
Yeah – it's more of the same from last year's awards, and the year before that. It's like the Energizer Bunny on crack – nothing will stop this annoying cacophonic smug-ass rodent – it keeps on going, and going, and going…thanks to the negligence and ineptitude of their Curacao "licensing" jurisdiction 1668/Jaz which could not give two flying frickety fracks that their casinos use pirated copies of popular slot games to target problem gamblers. What could be worst than that?
Well not much I am afraid, and there is nothing you can do about it, and no one else will do anything about it either. So players are basically on their own – and for those gamblers who are struggling with addiction, I feel for you. You have no protection here:
10Bet ltd (Not to be confused with the brand 10bet)
4Crownscasino N.V.
Alpha Interactive Solutions N.V.
Arescasino N.V.
Game Tech Group N.V.
Cerberlot N.V.
Infinity Media Group LTD
OceanBreezeTech (Lithuania)
Prism Marketing
Tall Mountain Limited
Topia Solutions N.V.
Vega World Solutions N.V.
Yeah – that's right – it's a multiple gift of this coveted award. All of those above mentioned casino companies are connected somehow (see Tangled Web Award 2020). And if they aren't, they ought to be and join hands and share this awesome award. Sharing is caring.
So here is a tip for players, there is a website called Google.com. It is what is called a "search engine". It can search the entire Internet and may find what you are looking for if you use it correctly. All you have to do is copy and paste any one of the above named craphole companies, add quotation marks around it like "Game Tech Group N.V." + Casinomeister, and click "search". You will get results that will possibly assist you in avoiding these Rogue Casino operations.
Historical Worst Casino Group Awards:
I have been awarding Worst Casino Group for 20 years now, and it is one of the toughest awards to dish out since there are so many contenders clawing at each other trying to grasp this award. The first award given in 2001 was for a major cock-up that put the Las Vegas Strip Casinos on the map. Like they say, there is no such thing as bad publicity. I bet loads of these casino operators cherish these awards and secretly thank me in their dreams.
Worst Group 2019 – Alpha interactive Group/GameTech/Tall Mountain
Worst Group 2018 – Alpha interactive Group
Worst Group 2017 – Virtual Casino Group
Worst Group 2016 – Affpower
Worst Group 2015 – Curgam Group
Worst Group 2014 – Revenue Jet
Worst Group 2013 – Affactive Group
Worst Group 2012 – Rushmore Group
Worst Group 2011– Affactive Group
Worst Group 2010– Affactive Group
Worst Group 2009 – Mighty Slots Group
Worst Group 2008– The Virtual Casino Group
Worst Group 2007 – The Virtual Casino Group
Worst Group 2006 – Sunny Group
Worst Group 2005 – Windows Casino Group
Worst Group 2004 – Popular Casino Group
Worst Group 2003 – Wager21 Group
Worst Group 2002 – Virtual Casino Group
Worst Group 2001 – Vegas Strip Group
Faceplant of The Year 2020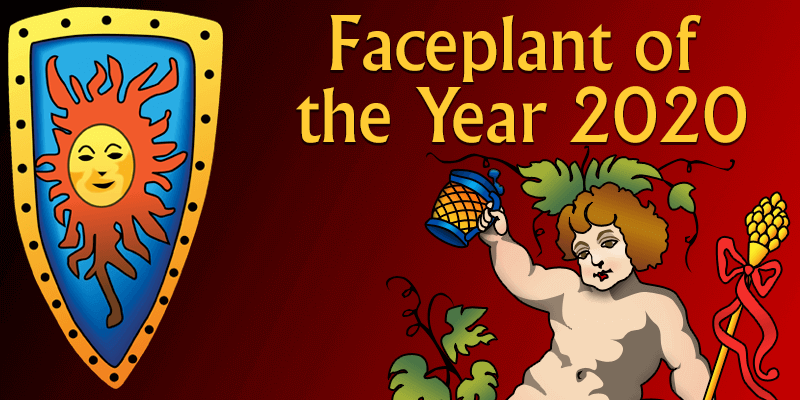 "Whoops – splat!"
When Betzest started a couple years ago we had high hopes for them. We knew the operator, well experienced and a great guy, and wished him the best in what was — it must be said — a difficult time to be starting a new casino. They seemed to be doing fairly well, there was talk of them being a candidate for Accreditation at Casinomeister, and then Splat!, a major faceplant on our very own forums.
A player,Crazy7, had been playing slots, mindful of the bet limits, won a few grand and tried to cash out. The casino confiscated the winnings saying the player had exceeded the bet limits allowed. He posted:
I have been a customer for a while and didn't have any problems with playing and cashing out at Betzest until this weekend they unjustified confiscated 3500 euro in my opinion. I am not sure if I am in the wrong.
Crazy7 checked his play records, no normal bets had exceeded the limits but when they had triggered a retry freespins feature large bets were logged. He had been playing a Microgaming slot, Lucky Leprechaun's Loot, where when winning a bonus round, you have the option to have another go at it – and he chose to do so. As shown here: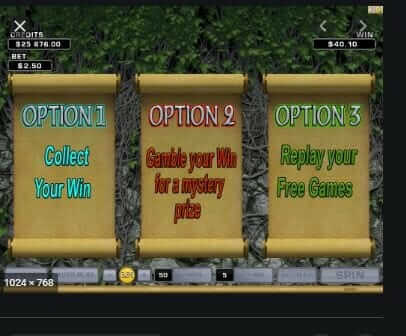 All this does is replay your free spins which is inherent in the game – unlike Option 2 – Gamble your Win – which is like doubling your win if you're lucky – replay your spins start from scratch – from zero – from the beginning. In fact, he won a lesser amount with the replay then he had won before. The bottom line was that
this function did not increase the win value since he had never upped his bet from €2.50 a spin.
Because of this "breach of the terms" Betzest negated €3500 from the player's winnings. The casino was unsympathetic:
"… you used a feature called re-try free spin. … the winning amount that you refused, since it was already added to your balance, was considered a legit bet by the Microgaming system … Furthermore, according to clause 3.13 of our Bonus T&C's this feature is considered irregular play and we quote: "Using the 'Double-Up' gamble feature or any other feature within a game to increase win values" and it is clear that you used this feature to increase the winnings …"
The Casinomeister readership was outraged but Trancemonkey – our resident expert on slot games said it best:
"From someone that works in the industry and has to work with the rules and regulations regularly, I find this answer extremely worrying, and factually incorrect. The fact their system shows the free spins round as a "re-buy" is not the customers fault – the game does NOT display this as "buying a feature" but displays it as simply being offered the chance to turn down the initial win and replay the free games. … if you can prove that the OP was purposely using this to beat the wagering, and this was not the only time they did something like this AND that they were aware of this, then you may have a point BUT the fact remains that the game does NOT show the replay as a wager, nor does it tell you you are wagering the total amount won from the free games, and this would simply not pass any legal test …."
Suffice it to say that no such proof was on offer. The casino people simply dug in their heels, repeated the "it's in the Terms" mantra and would hear nothing from anyone to the contrary. That and a few salty threats to terminate their relationship with Casinomeister if we ruled against them made it clear that faces had firmly been planted and there was no going back. I for one cannot understand, with the gaming technology at hand (this was in 2020 for freaking heck), how any casino running at this level of expertise can't simply disable features that don't count towards wagering. This actually seems like an old RTG clipshot joint tactic from the days of yore.
The casino was downgraded on Casinomeister accordingly. Christmas cards were neither sent nor received.
Full thread here: Betzest Voids 3500 Euro Balance
Faceplant Historical Awards
This award has morphed from the Worst Blundering Screwup to Faceplant (the text takes up less space in the images, lol). The fist award was given to the now defunct English Harbour Group of casino that uploaded the wrong files when updating their poker software – whoopsie!! They ended up doing the right thing and honored their debt to players. Anyway, I am thinking of branching out to a "Schadenfreude award" next year – who knows.
Faceplant of 2019 Streamer Roshtein
Faceplant of 2018 Betat and Slotty Vegas
Faceplant of 2017 Casumo/BetfashionTV
Faceplant of 2016 Big Time Gaming
Faceplant of 2015 Revenue Jet and Winpalace
Faceplant of 2014 – Tropica Casino
Faceplant of 2013 – Topgame/BetonSoft
Worst Blundering Screw up 2012 – Betfred
Worst Blundering Screw up 2011 – Betfair (again)
Worst Blundering Screw up 2010 – Betfair
Worst Blundering Screw up 2009 – Topgame
Worst Blundering Screw up 2008 – Casino Action Group
Worst Blundering Screw up 2007 – Virtual Casino's 9/11 Promotion
Worst Blundering Screw up 2006 – English Harbour software glitch
Head in the Sand 2020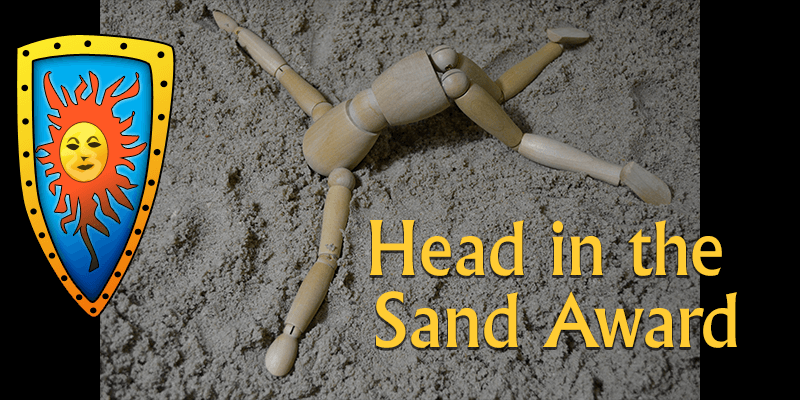 "Get yer head outta the sand, UKGC!"
The recipient of the Head in the Sand Award is awarded again to the UK Gambling Commission. With the regulator once again ratcheting up regulation to the extent that they could very well drive players to operators based offshore where no player protections are afforded.
This is not withstanding some good player friendly measures which have been actioned, such as the ban of the use of credit cards and making operators to sign up with GamStop being a prerequisite for licensing.
However, reports in the mainstream media that the UKGC are seriously considering introducing a monthly loss limit cap, when they commenced their consultation process concerning gambling harm, should be of serious concern to the future of the iGaming industry in the UK.
Alongside the already cumbersome and overbearing source of wealth checks and the denial that there is even an issue with over regulation causing players to look outside of the UK licensed operator. The UKGC are once again acting the Ostrich, in failing to recognise that overbearing regulation will drive players away from their shores.
It is not just players who are jumping ship either, as 2020 saw several operators decide to give up their UK Gambling Licence and stop servicing UK players.
Indeed the UKGC's failure to recognise the problem of unlicensed gambling in offshore territories has further been highlighted at the turn of this year, with the Chief Executive of the UKGC, playing down the risk of players taking their business to offshore operators. This is in direct contrast to what we are hearing and seeing in our own little corner of cyber space.
The UKGC's perceived lack of action against sites deliberately targeting problem gamblers specifically those that have signed up with the GamStop self-exclusion service, is another case of 'Head in the Sand'.
2021 is certainly going to be a make-or-break year for the UKGC and the players and operators that their regulation affects.
Hopefully they will wake up and smell the coffee, resisting in turn the mounting political and mainstream media pressure to introduce bet limits and loss limits. Moves that if come to fruition will likely see operators and players leave the UK akin to rats jumping off a sinking ship.
Head in the Sand Historical Awards
Head in the Sand award goes back to 2005 when I began awarding entities for their ignoring important issues like player protection, or being flippant towards player assurance. I've also awarded this amazing accolade for groups of people who are either oblivious, naive, apathetic, or just plain indifferent towards the responsibilities that they have towards either their own business interests, or the obligations they are endowed with by the simple fact of advertising online casinos. Needless to say, each year it is difficult to decide to whom to bestow this award upon since there are so many worthy candidates.
Head in the Sand Award 2019 – UKGC not understanding players
Head in the Sand Award 2018 – UKGC draconian regulatory methods
Head in the Sand Award 2017 – Affiliates not UKGC compliant
Head in the Sand Award 2016 – Betsoft
Head in the Sand Award 2015 – the "Bonus Beaters", the "Bonus Whores"
Head in the Sand Award 2014 – Oblivious Players
Head in the Sand Award 2013 – Naive Affiliates
Head in the Sand Award 2012 – Lazy Affiliates
Head in the Sand Award 2011 – Casino Operator Bonus Pimps
Head in the Sand Award 2010 – Lotteries and Gaming Authority
Head in the Sand Award 2009 – Affiliates and Affiliate Managers
Head in the Sand Award 2008 – Hypocritical US Politicians
Head in the Sand Award 2007 – Players who Patronize the Rogues
Head in the Sand Award 2006 – The Entire Online Casino Industry
Head in the Sand Award 2005 – iGlobalMedia
Head in the Sand Award 2005 Runner Up – Chartwell Technologies
Fall from Grace 2020
"Spiraling downward from the graces of Casinomeister's Accredited and Vetted Casinos"
These awards are bestowed unto casinos that were once an integral part of Casinomeister, but for one reason or another fell from grace and lost their accredited status.
This year's fall from grace is handed over to Grosvenor.
Grosvenor is just a massive Ronald McDonald firm of the online casino world which could not give two flying frickety flacks about our player community at Casinomeister. Years ago, they came on to Casinomeister as a properly vetted and Accredited casino and we were happy to have them on board, alas I was stupid enough to believe that they actually cared about being associated with the largest gambling community online, and with the brand Casinomeister®. Ours is one of the few websites that has standards tougher than most licensing jurisdictions when it comes to listing online casinos. And we were the first website that drew people's attention to player assurances, safety, trust, and responsible gambling. This going back to 1999 – 2000.
Anyway, I digress – the casino representatives from Grosvener came and went, and they were basically asleep at the wheel. And as time went by, it was apparent that we were just not on their radar of giving a flipping wazoo. So off from Accredited Casino section they went, and into the Grey Zone category of our casino listings. Sure they may be a safe place to play at, but they don't care about you – the player.
Fall From Grace Historical Awards
Here are our historical awards which were started in 2005. You can see that there are some gap years – years where no one was bailing from the coveted Accredited and Vetted – Highly Recommended Casino listing. In the early days, it was mostly folks breaking our code of conduct for accredited casinos to which they found their status here downgraded. As the years wore on, reason for their "fall" was mostly for episodes of lackadaisical attitudes and virtual "asleep behind the wheel" or "I don't give a flying rat's wahooie". This is what happens when casino brands are run by marketing teams who only want one thing: conversions. That's the opposite of what we want here at Casinomeister – we want casinos to care and to abide by our standards of a Casinomeister Accredited Casino.
Fall From Grace Award 2019 – Redbet/Mr.Green
Fall From Grace Award 2018 – Fortune Lounge
Fall From Grace Award 2017 – Affiliate Edge/Vegas Partner Lounge/City Views/Bellerock/Buffalo Partners/Coral
Fall From Grace Award 2016 – Bet365(reinstated)/Betway/Betting Partners(reinstated)
Fall From Grace Award 2015 – Skybet and AffiliateHub – quitters
Fall From Grace Award 2014 – Wagershare casinos/Ladbrokes
Fall From Grace Award 2011 – GoWild Casino
Fall From Grace Award 2010 – Rushmore, Bwin, Betfair
Fall From Grace Award 2006 – Minivegas, Mansion, City Club Casino
Fall From Grace Award 2005 – Fortune Lounge (first award)
Fall From Grace Award 2005 Runner Up – Captain Cooks Casino
Stupidest Named Casino 2020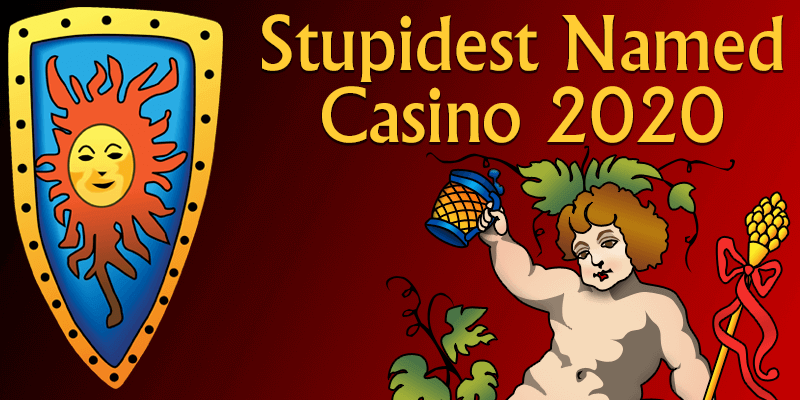 Boardroom setting somewhere on the Internet:
Big Casino Bossman: "So, Joe – what do you have for us as a new casino name – we really want to get this thing going! We need to make dem monies!!"
Creative Consultant Joe: "I've got the perfect name, boss. Picture this…a casino that is a mystery – in fact there is no name – it's a casino without a name because…"
Insert drum-roll here.
"…it's anonymous!! Anonymous Casino! Get it?! It is totally anonymous – and we can stay anonymous too! The players will never have a clue as to who we are and what we do. Same goes with the cops and the tax man. It's like being invisible – we're 'anonymous'!"
Big Casino Bossman: "That's brilliant, Joe!! Why didn't I think of this myself? Amazingly thought out, Joe! A casino – with no name – Anonymous Casino. Wow! Bust open the good Scotch!"
Creative Consultant Joe: "Sure thing, boss. But I have another one!"
Big Casino Bossman: "What? There's more?" (visibly gulps).
Creative Consultant Joe: "Yes, here is – I have one that will make your head spin. Are you ready?"
Big Casino Bossman: "Of course, Joe. Lay it on me!"
Creative Consultant Joe: "It's…..wait for it… it's 'Bet Cave'!"
Big Casino Bossman: "'Bet Cave'!? Like betting in a CAVE?"
Creative Consultant Joe: "Yes, boss – like betting in a sunless, drippy, dank and freezing cold cave!! With sticks and rocks, moldy animal pelts, and sightless rodents squeaking around in the dark!!"
Big Casino Bossman: "You're a genius, Joe! We're gonna be rich!!"
Creative Consultant Joe: "Well, actually, boss. I was saving best for last."
Big Casino Bossman: "Whaaa? You've got to be kidding me! There's another?"
Creative Consultant Joe: "I am not here to disappoint."
Joe pauses, scans the room to the left and right – takes another toke off of the spliff – hands it back to the bossman.
Creative Consultant Joe: (holding his breath the best he can) "It's a killer name, boss." *cough*
Bossman just stares back at him – takes a drag.
Creative Consultant Joe: Exhales – "It's 'Royal Blood Casino'."
Bossman – tries to hold it in – struggles – chokes – forcibly coughs out a massive waif of smoke – it fills the room.
Big Casino Bossman: Gasping – "You are freaking amazing," half coughing the words "Hopefully we will be launching in tandem with 'The Crown'."
Creative Consultant Joe: "That's the royal idea."
Big Casino Bossman is chuffed. He smiles, wraps his arm around Joe's shoulders, and they retire to the lounge with their weed and scotch. And that's how creative decisions are made in the world of online casinos.
anonymous-casino.com
casinobetcave.com
royalbloodclub.com
Stupidest Name Casino Historical Awards
I have always been a proponent of creativity, and feel that naming one's business is a crucial decision making process. I also find great humor in the idiotic and downright stupid names that some folks have come up with when launching their business, I know, I know, this is entirely subjective to one's own taste, but these names are stupid and someone has to write about it. And that person is yours truly – me.
Stupidest Named Casinos of 2019 Casino Casino/Syndicate Casino
Stupidest Named Casinos of 2018 Cozyno
Stupidest Named Casinos of 2017 Ramses Gold, Burnbet, Smashing Casino
Stupidest Named Casinos of 2016 Bumbet, Ares Casino, Play7777, MrRingo, Pornhub
Stupidest Named Casinos of 2015 A bunch of 'em
Stupidest Named Casinos of 2014 – ToBwin/Buck and Butler/Llama casino
Stupidest Named Casinos of 2013 – WinTrillionsCasino/TrendCasino/LuckyPantsBingo
Stupidest Named Casino of 2012 – Loco Panda/Loco Jungle
Stupidest Named Casino of 2011 – iButlerCasino
Stupidest Named Casino of 2010 – Majestic Comet Casino/Yes We Can Casino
Stupidest Named Casino of 2009 – Mayflower Casino
Stupidest Named Casino of 2008 – Ministering Angel Casino
Stupidest Named Casino of 2007 – Simon Says Casino
Stupidest Named Casino of 2006 – XXL Club Casino
Tangled Web Award 2020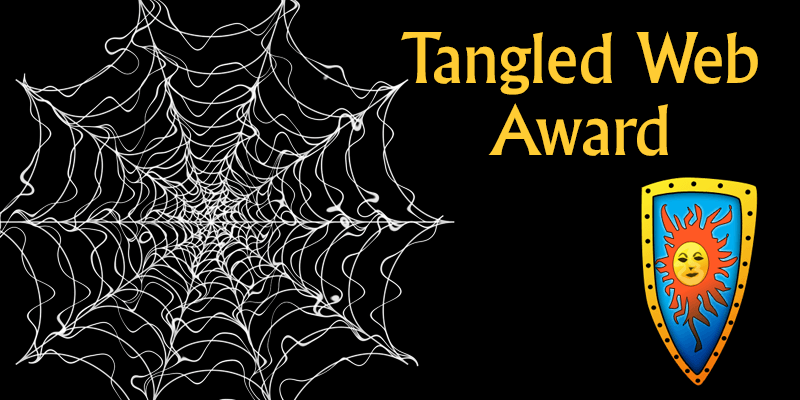 Noxious Web of Bogus Games and Perfidious Cheats
"Oh what a tangled web we weave, when first we practice to deceive…" The "Tangled Web Award" is bestowed upon those persons or entities that have gone to great lengths to either deceive, trick, or fool the gambling community into believing something is true – but it's not – it's a load of whahooey.
Here we have a massive web of companies that are either licensed by the sham license holder Curacao 1668/Jaz, or that have no license at all. I am not even going to try to attempt to connect all the dots here – that's a job for a caped crusader, not me. It would be like trying to make sense out of a plate of spaghetti while on LSD; the noodles are all swirly, mashed up, and connected in nefarious ways.
One thing that these companies all have in common: they run bogus pirated slot games on their servers, they are notorious for targeting problem gamblers (just Google "casinos not on Gamstop" and you will see what I mean). And they are infamous for being no-pay "speak to the hand" casinos when it comes to dealing with their players. Needless to say (then don't say it LOL), they rack up complaints like the proverbial fly in the soup. If you choose to play at one of these roguish outfits, then it's "no soup for you".
10Bet ltd (Not to be confused with the brand 10bet)
4Crownscasino N.V.
Alpha Interactive Solutions N.V.
Arescasino N.V.
Game Tech Group N.V.
Cerberlot N.V.
Infinity Media Group LTD
OceanBreezeTech (Lithuania)
Prism Marketing
Tall Mountain Limited
Topia Solutions N.V.
Vega World Solutions N.V.
So do your due diligence, Google can be your friend, and best yet – there is the largest gambling community at your fingertips. Join us and ask questions! Do your 2 minute research on checking which casino properties you are joining, and don't get caught in their web.
Historical Tangled Web Awards
I have been awarding casino entities this coveted award since 2009. This became a thing when CAP (Casino Affiliate Programs) tried to pull a fast one on the player community by coming up with some outrageous claims about not being connected to a gambling firm, which they were, and admitted to in an embarrassing episode of "egg on the face". I've been awarding this awesome award off and on since then.
Tangled Web Award 2019 – Stakers.com Shills
Tangled Web Award 2018 – Club World Casino
Tangled Web Award 2017 – 1xslot
Tangled Web Award 2016 – Affpower Casino Group
Tangled Web Award 2015 – Playros Shills
Tangled Web Award 2014 – Tobwin/77Jackpots/1Bet2Bet/
Tangled Web Award 2009 – CasinoAffiliatePrograms (CAP)
Sitting on One's Hands Award 2020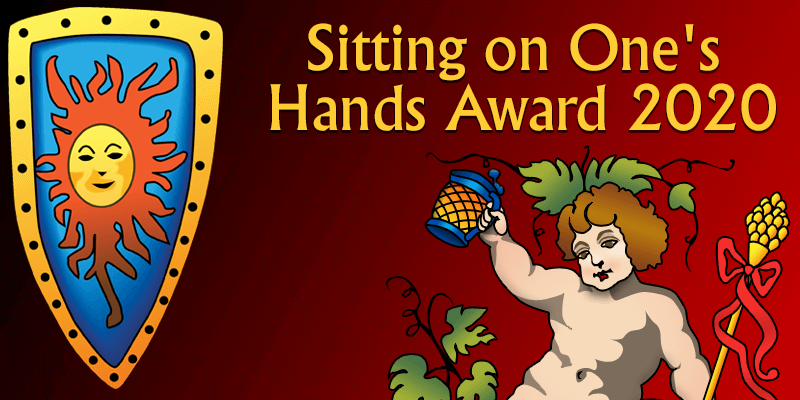 "Dum dee doo – la dee da"
The UKGC has not budged since last year.. It is truly sad, yes indeed, to see a licensing entity that takes pride in protecting its players turn a blind eye towards the largest threat its players are facing: Rogue offshore online casinos
Yes, the UKGC has not addressed the fact that their sometimes draconian and unnecessary restrictions are chasing UK players to play at offshore clip shot joints like Bronze Casino, Cherry Fiesta Casino, Red Lion, ad nauseam. We have evidence of these casinos soliciting bets from players who have admitted to having gambling problems – and this evidence is pretty easy to get. All you have to do is join their chat support and ask them if you are allowed to play there (coming from the UK), and that you have been blocked by all UKGC casinos because you have a gambling problem. See what they say. Each time we did this they offered us welcome bonuses and other sign up offers. So why hasn't the UKGC gotten involved? I really do not know.
The UKGC could simply hire some college interns to pose as problem gamblers, create a database of these ethically challenged casinos, and get a court injunction to delete these casino URLs from Google and block the URLS from UK web-servers. They could also go after the marketing arms of some of these rogues and fine the affiliates who are located in the UK. Or take the easy way out and try to educate UK players with a campaign that informs punters on how to spot these casinos (lack of hyperlinked UKGC logos, etc.).
One of our forum members, danofthewibble, brought this up in our forum here: Rogue Casinos and the UKGC.
What the government COULD do is heavily educate people. Take a pause from tightening the rules for the genuine and licensed sites. Start a nationwide advertising campaign online and on TV, radio and in the newspapers. Explain what to look for when you gamble online. 

"Look for the Gambling Commission logo. Click it. We will tell you if the site is safe and you are protected." 

The problem right now is the rogues are advertising at the most heavy rate I have seen in years; SMS and email spam is through the roof. And the UKGC is powerless to stop that. So they should be using their powers to educate the scammers out of the market.
There are a myriad of ways the UKGC could tackle this. If they truly cared about the welfare and safety of their players as they claim, they could put something in motion now. Hell, it's an arm of the government, right? (please, no snickering) It's time to stop sitting on one's hands – stand up and get busy.
c
The Sitting on One's Hands Award started with Real Time Gaming back in the days of yore when RTG had the habit of ignoring the fact that a load of their casino operators were rogue. They actually started doing something about this and began counseling their operators about marketing ethics and how to treat players properly.
After that, this award was given more times than not to licensing jurisdictions that were acting as rubber stamps – all of these have cleaned up their acts since – except for the infamous ethically challenged Curaçao master license of JAZ 1668, which allows its licensees to run pirated games from Ukrainian servers. Go figure.
Sitting on One's Hands Award 2019 – UKGC
Sitting on One's Hands Award 2018 – Curaçao JAZ 1668
Sitting on One's Hands Award 2017 – USA
Sitting on One's Hands Award 2016 – USA
Sitting on One's Hands Award 2015 – USA
Sitting on One's Hands Award 2014 – Playtech
Sitting on One's Hands Award 2013 – Playtech
Sitting on One's Hands Award 2012 – RTG
Sitting on One's Hands Award 2011 – Malta Lottery and Gaming Authority
Sitting on One's Hands Award 2010 – Malta Lottery and Gaming Authority
Sitting on One's Hands Award 2009 – Malta Lottery and Gaming Authority
Sitting on One's Hands Award 2008 – Malta Lottery and Gaming Authority
Sitting on One's Hands Award 2007 – Kahnawake Gaming Commission – RTG
Sitting on One's Hands Award 2006 – Real Time Gaming
Fourth Point of Contact Award 2020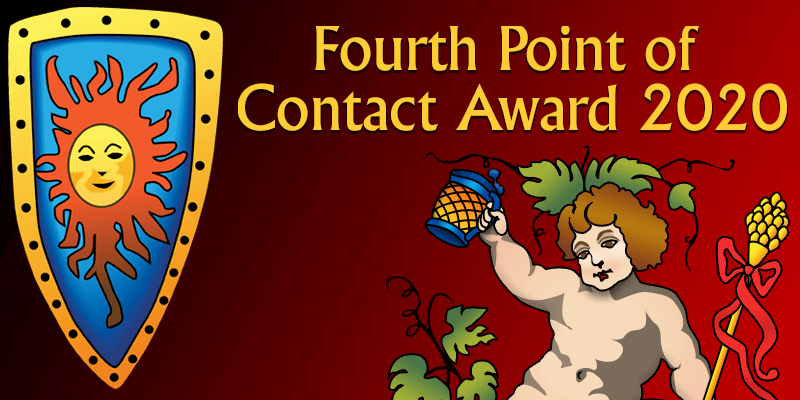 "Head is where the sun don't shine…"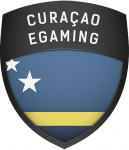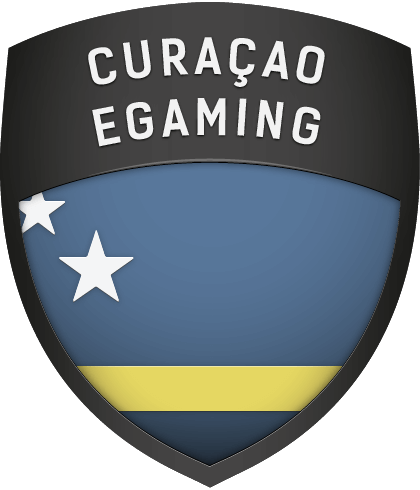 The "fourth point of contact" is US paratrooper lingo for the fourth point of your body as it hits the ground during a parachute landing fall. RE: first point of contact = balls of the feet, second point of contact = calf, third point of contact = thigh, fourth point of contact = buttocks, fifth point of contact = push up muscle. In other words, it's yer ass.
Actually, this is the fourth year in a row that the folks responsible for the Curacao sham master license JAZ 1688 receive this elusive accolade. Yes, for four years – maybe longer – these persons have their heads so far up their asses that you'd have to pry them out with jackhammers. They are in a very dark and silent place – and have been stuck there for years.
The question that begs to be asked is "why?" Why have they chosen this path – or this way of doing business? Why do they allow such crap-hole casinos such as Cherry Fiesta, Napoli Casino, and a full brood of rogue operators that use pirated software and target problem gamblers to associate with their rubber stamp of a license.
And it's only a rubber stamp if you want it to be one. Loads of folks have turned themselves around in this industry. This is why we have the Phoenix Award – that's for companies that rise out of the ashes of failure. I look forward to bestowing that award to JAZ 1688 perhaps next year, maybe the next. It would be easy to do. All you would have to do is to say no to the rogues and make amends to the players who have been playing and losing on the fake games that your "licensed" casinos host. And convince your operators that what they are doing is ethically and morally wrong. Easy peasy, right?
So get your heads out of your fourth point of contact and start doing the right thing.
Fourth Point of Contact Historical Awards
I have been awarding this quirky award for a number of years going back to 2008 when Kentucky State Governor Steve Beshear decided he owned the Internet and seized 141 domain names that were connected to online gambling like microgaming.com. So yeah, his head was up his "fourth point of contact". When I was a paratrooper in the US Army back when Jesus was a private (fun fact: I was a Master Parachutist), we used to say it a lot. We were a barrel of laughs back then.
Fourth Point of Contact Award 2019 – Curaçao Licensing Jurisdiction
Fourth Point of Contact Award 2018 – Curaçao Licensing Jurisdiction
Fourth Point of Contact Award 2017 – Curaçao Licensing Jurisdiction
Fourth Point of Contact Award 2016 – Sheldon Gary Adelson
Fourth Point of Contact Award 2015 – Playtech
Fourth Point of Contact Award 2014 – Sheldon Gary Adelson
Fourth Point of Contact Award 2013 – Playtech
Fourth Point of Contact Award 2012 – Forum Trolls
Fourth Point of Contact Award 2011 – US Department of Justice
Fourth Point of Contact Award 2010 – Hyperactive Affiliates
Fourth Point of Contact Award 2009 – Congressman Spencer Bachus
Fourth Point of Contact Award 2008 – Kentucky State Governor Steve Beshear
Biggest Disappointment 2020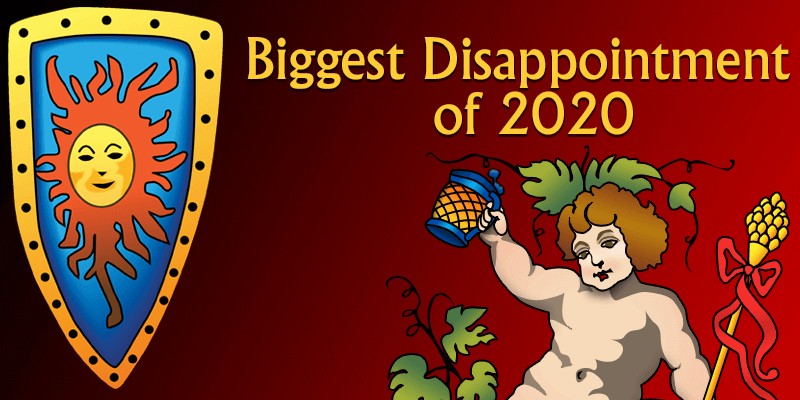 The Biggest Disappointment – Player Apathy
"Tolerance and apathy are the last virtues of a dying society."
― Aristotle
The biggest disappointment for the year 2020 is the fact that loads of players don't give a flying rat's wazoo about who they give their money to – as in patronizing known rogue casinos. And in the long run – loads of these folks tolerate it. It's quite sad really, seeing players posting in our forum saying "I didn't know that __________________ (fill in the blank with your favorite dodgy casino) was a scam." It would take a 30 second Google search to have that Eureka moment. I have never understood why most folks would spend hours if not a few days reading reviews on hotels, ship cruises, restaurants, travel destinations – well just about anything that is reviewed online, but they won't do the same amount of due diligence with an online casino – many of which will ask for ID documents and banking info from their players. Where do you think those documents end up? I will bet money on it that your scanned IDs, Credit Card info, bank statements, and copies of your utility bills end up somewhere east of Minsk. Think about that for a few minutes. Are you still apathetic?
When someone joins the forum complaining about a casino that has ripped them off as a no-pay casino, and that casino is clearly listed in our Rogue Pit – and comes up at the top of the search engine results for a scam/dodgy/rogue/not recommended casino, I take it as a personal affront. It's like the hard work that I and members of my crew is done for naught. Are we wasting our time writing Rogue Casino Reviews, or posting warnings in our forum? Are forum threads engaging in sobering discussions about whatever dodginess is afoot a bunch of blah blah blah? Think hard about that. Believe me, there are loads of snake pits that are doing whatever they can to fleece players and monetizing massive player databases – all with your playing habits, preferred games, and of course – player identification and banking info.
Players can be their own worst enemy at times – and a player that does not care what happens to his/her deposits are acerbating the problem of keeping unethical businesses afloat. What is even more annoying is that perhaps hundreds of thousands of these people just put up with it. You'll see them bitch and moan, and try to stir up a pitchforks and torches crowd, but they will be back months later with the same sort of grievance. I know – I have seen this happening for over two decades, and it is tiresome, aggravating, and downright disappointing.
Biggest Disappointment Historical Awards
I have been dishing out the "Biggest Disappointment Awards" for quite a long time now. Yes, there are loads of things, businesses, and people that I find not only annoying, but clearly disappointing. These awards were created to wake people the heck up and take some sort of action to counter the disappointment, but in most cases apathy wins over proactiveness. It is easier to be lazy and just let things go.
Biggest Disappointment Award of 2019 – The UKGC and draconian regs/Big Time gaming lack of ingenuity
Biggest Disappointment Award of 2018 – The Australian Government
Biggest Disappointment Award of 2017 – The Australian Government
Biggest Disappointment Award of 2016 – Curaçao License – White Label Runners
Biggest Disappointment Award of 2015 – Bad Attitudes and White Labels
Biggest Disappointment of 2014 – US Market
Biggest Disappointment of 2013 – US Corporate Arrogance and Naivety
Biggest Disappointment of 2012 – Betfair/888.com
Biggest Disappointment of 2011 – Betfair/GRA
Biggest Disappointment of 2010 – HR 2267, US Market, Rival Gaming, Top Gaming
Biggest Disappointment of 2009 – Microgaming, CAP Spring Break, Rushmore Group
Biggest Disappointment of 2008 – Malta's LGA, White Label Casino Operators, Microgaming
Biggest Disappointment of 2007 – Watching US players being thrown to the wolves
Biggest Disappointment of 2006 – Unlawful Internet Gambling Enforcement Act
Biggest Disappointment of 2005 – "Abused" Casino Operators (again)
Biggest Disappointment of 2004 – "Abused" Casino Operators
Biggest Disappointment of 2003 – Truegambler's Cheating Software report/Oddson Software
Bag of Dicks 2020

"For the Dickish move of the year…"
This award is given to those who go beyond the call of duty at being dickish, and since we're talking about a group of people, it's a bag of dicks.
This year our Bag of Dicks is once again handed over to the ethically and morally challenged marketing entities – online casino affiliates who knowingly and actively engage in targeting problem gamblers.
In the UK, there is a program that allows players to exclude themselves from gambling – it prohibits them from signing up at UK based casinos – it's called Gamstop. As a player, you can go to the Gamstop website, register, and whammy – you are now blocked from all UKGC casinos for whatever time period you want to choose.
Gamstop is a tool for punters who had identified their own behavior as destructive which could result in financial or physical harm against themselves or their loved ones. This is serious stuff.
So here we have a website casinogap.org with the following text that – if you know anything about the online casino industry – will make you want to vomit:
Are you looking for a list of UK casinos not on GamStop? You're at the right spot! Nobody likes to wait for the end of the GamStop self-exclusion services and we completely understand it. Our team has done in-depth research to find and test online casino sites not blocked by GamStop available in the United Kingdom. It wasn't easy to find the best and safest sites for gambling. 

Reputable non GamStop casinos such as Fortune Clock Casino, Prestige Spin Casino, Very Well Casino are the best online casinos not using GameStop for British customers. These gambling operators are not registered with GamStop exclusion and users to play casino games without this scheme. 

Always remember, companies that found ways around GamStop cannot identify if you're a problem gambler or not. They're operating without the UKGC licence and GamStop database connection so aren't aware of addiction problems. Free to ask customer support to self-exclude yourself.
The sites they list are not "safe" nor are they properly licensed. Many have pirated games from Novomatic and Netent, and are "licensed" by Curaçao eGaming which is complicit with allowing their operators to use this pirated software. How do we know? Because we have been talking about this for literally years.
But with this website, these affiliates are stupid enough to identify themselves as UK residents with their names and photos. Hey UKCG, where ya at?
And it gets worse, there are scores of these websites; many of which are highlighted here in this thread: Affiliates who target problem gamblers They are even using social media like linkedin to promote their scams. How freaking pathetic. What a bag of dicks. I hope the UKGC gets off their butts and send a stern message to these folks – but I wouldn't count on that – see Sitting on their Hands Award for 2020.
Bag of Dicks Historical Awards
I know, I know, it's potty language, but I honestly tried to think of a better term, but the words were fleeting – and this was the best I could come up with. So I apologize for my crass description – but you have to admit – you did think it was sort of funny, right? Unless of course you are one of the dicks that I am describing here. If you fall into that category, sorry – just try not to be such a total dick. Change your ways and make amends and maybe we will have a dick redemption.
Bag of Dicks 2019 – Morally Challenged Marketing Affiliates
Bag of Dicks 2018 – Affiliate Edge shafts an upstanding webmaster
Bag of Dicks 2017 – Affiliate Edge
Fan Mail 2020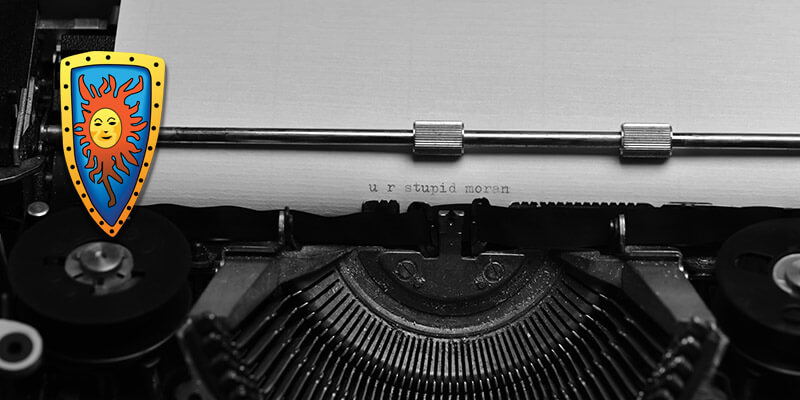 "your just a pussy ass bitch"
You know, I can be a really busy guy. And running this site with all it's colorful characters coming in and out of the forum can be quite a task. Forum moderation is not for everybody – that's for sure.
So fan mail – this year did not disappoint! I had some really awesome comments from my fans – much appreciated – and I hope you are all doing well.
---
This is in response when asking members to help those whose businesses were shutting down because of the Covid-19 restrictions:
Fuck you cause all of you run the casino is conected to gether to scam people doucbag fuck you ypu all gonna die mutherfucker
---
Here is another member's RSVP to our annual Meister Meeting invitation:
Fuck this stupid meeting…who wastes their time at this dumb fucken meeting. 

This stupid idiot casinomeister thinks he is something special but in actual fact he is just a dropout that is a retard.
---
Oh – here is another happy camper who was given a warning in the forum for inappropriate behavior:
Brian fuc you and cm ,when I catch up with you you will know it ,a few jabs to your big head ,see you at ice or next conversation you shit bag ,22 years of scamming ase hole
---
Feeling the love here 🙂 – happy trails to all these folks.
So tell me how you really feel, and maybe next year you'il see your comments included in Fan Mail 2021. I am waiting to hear from you. 🙂
Fan Mail Historical Awards
Fan Mail of 2017 – jemicans
Fan Mail of 2016 – the trolls
Fan Mail of 2015 cretins, morons, and twats
Fan Mail of 2014– frank.j.faber
Fan Mail of 2013– Shamrock7s
Fan Mail of 2012– boby's reply
Meltdown of 2011 – All TopGames Casinos are Down! DDos Attacks!!
Forum Highlights of 2020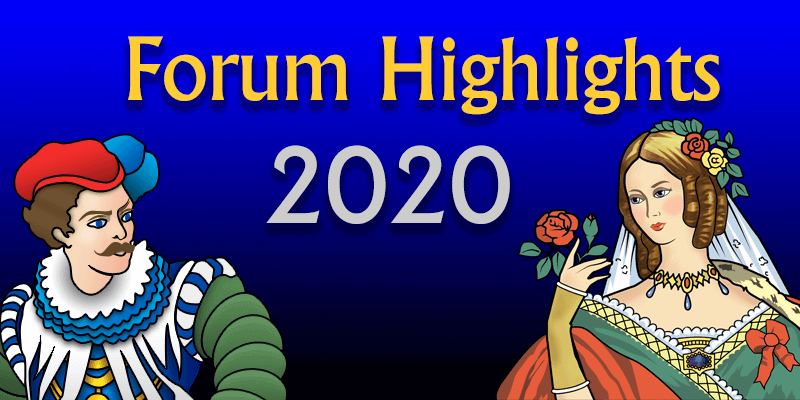 "Still the Best Forum on the Planet"
Well, each year I think about how lucky I am to have such an amazing community here hanging out in our forum. This year especially since I was a ghost for most of the time – for months I was in the California desert with limited or spotty wifi while working on some construction projects which kept me away from my wonderful (well, mostly wonderful) members.
The bottom line is that I missed out a lot. I wasn't here to give some of you the tender loving care that a few folks need, or chime in when you'd expect me to blab away, or put a stop to some of the squabbling we get when emotions might be getting the best of us. And yeah – emotions got the best of us with all the Covid restrictions and stress that comes with it. And then there is the 2020 the political BS that really was nerve wracking. Believe me, I have been affected by these restrictions in a big way, but that is a totally different matter in itself. What matters is you – the forum member – you are the one that keeps this place going, and you are the one who just might have a home-away-from-home here. And I hope that my absence has not hindered this.
So here's a cyber "cheers" to our community. Regular members and the moderators – the beers are on me.
This is a brief smattering of popular threads that appeared this year. There are many more, but these are the ones that stood out for me.
Casinomeister News
Are Slots Streamers a Threat to the UK iGaming Industry? Well are they? This is a thread that discusses the controversy of "casino streamers". These are advertisers of online casinos who video stream themselves playing casino slot games (yawn – snooze – ZZzzzz) and in many cases are making unrealistic bets and wracking up massive wins which can cause players to have unrealistic expectations receiving big jackpot wins like these "affiliates". Will the UKGC take action or create even more draconian regs to counter this? What are the casinos doing about this? Check out this thread and find out.
---
Is the end of Reverse Withdrawal in the UK nigh? Here is an interesting thread that indicates that yeah, people in Covid lockdowns might be gambling more and more tempted to reverse their winnings. This thread discusses this – and yeah it's about time.
---
And of course we have the interviews that Dionysus conducted throughout the year. Gambling Reps and Forum Member Interviews If you haven't read these yet, take time on your lunchbreak (if you are still working) and have a gander. They are quite interesting indeed.
---
Casinomeister Charities
CM's charity drive for Kenyan Single Moms We raised over $5000 for this organization which is assisting young women living in an underprivileged area of Nairobi, and who have been adversely affected by the Covid tragedies. Thanks for your support on this. Those of you who made contributions affected these women's lives in a very positive way.
---
Online Casinos
Affiliates Who Target Problem Gamblers Yowza!! Now this is some nasty stuff, but yes – it is unfortunately true. There are some real pieces of work who actively and knowingly target problem gamblers. What can be done about it? Well check out the thread and find out.
---
Are you spending more or less on gambling during the Covid-19 lockdown? Well, are you? I started this poll in April and it continued up until October with over 400 participants – and the poll results were…no, our members were not spending more but about the same. I wonder how it is now? Perhaps do it again this April when things are really messed up. LOL
---
Slots Announcements and Discussion
Ask Me Anything about Slots (AMA) 2020 with Trancemonkey – if you were going to choose one thread to read in the forum (if you are a player of slots) this would be the thread to be keeping up with. This is chuck full of questions, answers, slot myths touted – and slot myths shot down. Trancemonkey – our regional expert on slot design, mechanics, and behavior is here for your queries.
---
Dead or Alive 2! Yeah sure, this thread started in 2019 – but it's 2021 and 34 pages strong and still going. DOA 2 is by far the most popular slot game this year. Check out this thread if you are into this game – it's pretty amazing.
---
Hi! We are Nolimit City! This thread was started in February 2020 and is still going strong today – the official thread of NoLimit City – a relatively new slot developer. They have some amazing games and this is where you can ask your questions, have a discussion, and get some answers. Some great conversations here.
---
Casino Industry Discussion
Irresponsible streamers & affiliates? Aye yi yi! Another volatile thread! Folks getting spanked and banned in here. But it's all good – singing kumbaya at the end – or maybe not.
---
Casino Complaints – Bonus Issues
Betzest voids 3500 euro balance legit? Well this thread is a nightmare – well at least for the casino in question and for the player. This casino pretty much shows how much they don't know about their own slot games, and they confiscate a player's winnings for that. This episode of casino ineptitude and stubbornness became this year's "Faceplant of the Year" award.
---
nirankali vs King Billy Casino Here we have an entitled nut job who was just so freaking rude and annoying he ended up getting the boot. But his thread deserves a read if you want to understand why being a casino operator can be a living hell.
---
And unfortunately many other complaints, mostly with dodgy crap casinos that should not even be allowed to have a license – but then, some of them don't.
---
Casino Complaints – Non-Bonus Issues
Should I chargeback at Red Lion Casino? Well short answer = yes. Read the thread to find out why.
---
Casumo Source of Wealth issues: 42 pages detailing how Casumo Casino bungled these Source of Wealth document requirements, requests, and management, which pretty much caused their loss of our seal of Accreditation. They just stopped responding to these players complaints and tucked their heads into their tortoise shells. Quite sad really, not many firms are having the issues that they are having with SOW. And you could hear the champagne glasses clinking in Curacao – those operators know that these SOW problems just cause players to venture into the dark side.
---
Screenshots-O-Rama:
Oh, say no more! Say no more! Here we have the largest collection of slots and video poker screenshots (yes, some folks still play video poker) on the planet. Show me the Money Screenshots (Min 1000xBet) going strong for over 10 years, Screen Shots that Suck! going strong for 15 years, Mega Wins – Min 3000x Bet , going strong after five years, 5 Scatter/5 Wilds Screenshots going strong for 14 years, and loads, and loads of others to include the monthly screenshot threads we've been doing since 2004. This is by far one of the most popular destinations in the slot player's realm of online gambling. You can check out the threads here: Screenshots-O-Rama
---
Meister Social Groups
These Social Groups are pretty much controlled by our members – senior members can create them, new members can join them. Many of these are off topic interest groups like Oh, Canada oh, I wonder what that's about? Strictly Movies, The Game Shack nerds!!, Fight Club, and one of the most popular – Social Tournaments by Pragmatic – it is one of the most popular threads drawing in loads of members signing up just to have a chance to win some nice cash prizes.
---
Webmaster's Corner
This year we relaunched the Webmeister Code of Conduct and Signature links which details what we expect from those members who belong to the Webmeister group. We also brought on a service First Look Games – Widget & New Game Releases which allows webmasters to download game information and marketing assets from the most recent (and old) casino game titles offered by a massive range of software partners. really, some good stuff there.
---
The Meister's Attic
Ah yes, of course The Meister's Attic which as a magnet for flame wars, trollish behavior, spankings, and a number of admonishments. All thanks to 2020's lockdowns and political upheavals, we have the Corona virus – Covid 19 discussion which at 547 pages has shown how we have dealt with the restrictions, changes in our lives, rumors, misinformation and conspiracy theories. And then there is Brexit – whats the difference….. 185 pages of people getting riled up, and of course the infamous North Korea and US politics which was locked and then renewed afresh after 605 pages – this was probably the thread that caused more members to get infractions, spankings and suspensions than any other thread in the forum. Yay! (that was a sarcastic yay).
And the Rest
Yes, and the rest…there is no way in hell to be able to give you a full picture of how awesome and massive this forum is with its informative posts, not so informative posts, rants, jovial jocularities, heart aches, heartbreaks, wisdom, and bent postings. It is dynamic, it is strong, and it is the most entertaining and informative place on this planet – if you want it to be. Thanks to our members and volunteers and staff. You guys are the best – couldn't thank you enough.
---
And if you are not a member yet, why not? You are missing out on a lot of interaction with some very cool people – and a few lunatics as well. You can register here.
Forum Highlights Historical Awards
Actually, I only started publishing the forum highlights in the awards in 2008. Our forum dates back to 1998 – you can find these older posts in our archives – if you dare: Ye Olde Casinomeister Archives.
Forum Highlights of 2019
Forum Highlights of 2018
Forum Highlights of 2017
Forum Highlights of 2016
Forum Highlights of 2015 – Both a crazyman's and a gambler's dream part II
Forum Highlights of 2014 – Both a crazyman's and a gambler's dream
Forum Highlights of 2013 – It was a wild year
Forum Highlights of 2012 – A whole bunch of stuff
Forum Highlight of 2011 – De-roguing Grand Privé, Questions on RTP, Casinos and Responsive Gambling
Forum Highlight of 2010 – A Poll that Made a Difference
Forum Highlight of 2009 – Software Provider Intervenes with Rogue Casino
Forum Highlight of 2008 – Cynthial and Swede gettin' hitched
Forum Member Achievement Award 2020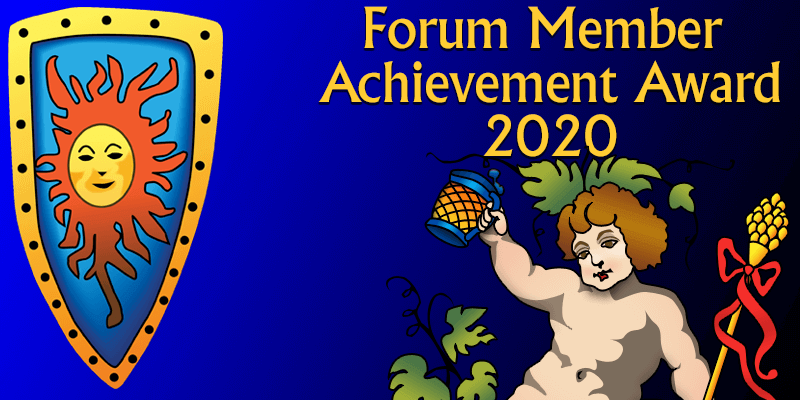 "Dionysus"
Jay, aka Dionysus, earns this award for his enduring dedication and contributions to Casinomeister's forum for the past 11 years. He joined on Apr 27, 2009 – he waited a bit and then began to start posting prolific, entertaining, chatty and helpful posts in 2011. Since then he has racked up nearly 20,000 posts and has received close to 30,000 reaction posts (i.e. thanks, thumbsup, and emoticon reactions to posts.) So if he had a dime every time someone thanked his posts – or thought it was funny or sad, he'd have about $3000. Dionysus is one of the few members who have achieved the level of Paleo-meister (only 20 members to include myself). This is a level acquired by folks who have been members for over a decade and have more than 2000 posts and reaction points. I could probably create an even higher level for Dionysus – he'd qualify.
For over a decade, Dinoysus was been unwavering in his support of Casinomeister's forum and its philosophy. He has worked on and off as a moderator for the promotion sections and assisted the administration on other moderation tasks – which included interviewing loads of our members and igaming representatives. He is here almost daily shining a beam of helpfulness and cheer throughout the site. Personally I find this admirable and it is appreciated not only be me, but by scores of his brethren.
His dedication to making this a home away from home for many has not gone unnoticed. Thank you Jay – you make Casinomeister's forum a delightful and insightful place that people want to join.
Member Achievement Award Historical
I began to give out these awards after running this forum for about eighteen years. It was about time I started recognizing folks for their contributions. It's these folks who are inspirational for others to engage in our amazing community.
Member Achievement 2019 – Jasminebed
Member Achievement 2018 – Trancemonkey
Member Achievement 2017 – Kasino King
Member Achievement 2016 – Jetset
"The Ted Loh Humanitarian Award" 2020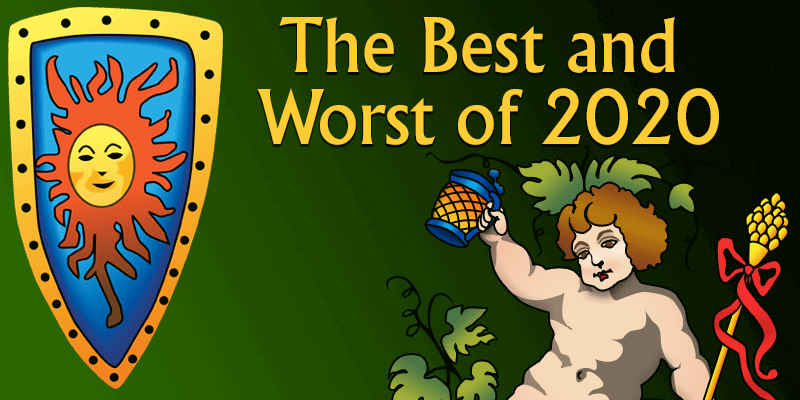 This year's Ted Loh Humanitarian Award goes to a list of online casino companies, and to members of our forum, that donated to a charity drive that was organized by students at Manchester University in the UK. The drive was for Inua Kike Women Rising a non-profit organization that assists low income, adult women who come from underprivileged backgrounds who live in Nairobi – many of whom are young single mothers. We raised $5,278 which exceeded the $5,000 target.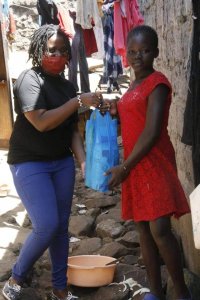 These are the companies that participated:
Bitcasino.io
Fortune Legends
King Billy
Lightening Box
Nolimit City
Novibet
Slotwolf
Trada casinoThese were not only online casinos but software developers that donated as well. Kudos for them. It's good to see folks getting involved with charitable drives like this.
And here is the forum thread: Charity Drive for Kenyan Single mothers
Ted Loh Humanitarian Historical Awards
In 2010, we lost a true friend. Ted Loh was not only my webmaster buddy, he was a pioneer in the online gaming industry. He was also a person who always made himself available to lend a hand – to anyone. If you needed help – just ask Ted.
Ted was instrumental with assisting us to raise $111,000 via Casinomeister for the Casinomeister/Got2Bet 2005 Tsunami relief fund. He lived in Bangkok and was deeply involved assisting those affected – reuniting or identify the bodies of their loved ones via his Thailand themed websites. I think it's only befitting to venerate his memory and efforts by honoring those who are determined to do the same sort of thing.
---
Humanitarian Award 2018 – Christine Marrah
Humanitarian Award 2017 Sue Schneider
Humanitarian Award 2013 – Dave Sawyer
Humanitarian Award 2012 – Chris Taylor
Humanitarian Award 2010 – Calvin Ayre Foundation