Joined

Jan 28, 2016
Location
I know some saw the posts I made in the other thread, but this is to just follow up on that, naming the group involved and to show the evidence.
Back in December I noticed Coral had reduced the RTP on their PlaynGo games. This was shown correctly in the PnG help file, that showed the 94% RTP setting. I posted about the reduction here
At the time I asked live chat what games they had reduced the RTP on, to save me going through each one individually. This was their answer
Me (9:22:19 PM): ok, thank you. Can I get a list of which games (slots) you have recently reduced the RTP on please, or if on all slots by certain providers, which providers. The last agent said every game, but unless you are using pirate NetEnt and Novomatic games to name two, that isn't possible as they don't offer different RTP versions.

Beckey (9:23:02 PM):We have not had any game that have been reduced on the RTP Colin.
(Little edit here to say that was a lie, the RTP was set at 96%, so they had reduced them. If they hadn't as the CS rep says, then they have been showing the wrong RTP since September at least).
and to show the RTP was on the 94% setting, I asked what the RTP was on Book of Dead.
Jordan (9:43:31 PM):The RTP is currently at 94.25% on that game
At that point, all was (almost) fine, as the PlaynGo help files were still being served and showing the correct RTP. Coral (and Gala) also have files known as knowledgebase files that have the game information, along with the RTP, these were incorrect at that point as they were still showing the 96% RTP levels, but as the correct RTP was shown on the PnG help files it wasn't too much of a problem, although should have been corrected. Below is an image of a PlaynGo help file if anyone doesn't know what they are

Fast forward to mid January, Coral migrated over to the GVC platform for their games. At this time, and this is where the problem starts, they decided to remove the PnG help files from within the game and replace them with the knowledgebase files. This would be fine, if they had updated the RTP in those files, but they didn't, so since the platform migration, all PlaynGo games have been showing the incorrect RTP. That is a breach of their technical standards section of their LCCP.
At this point I was sure they were displaying the incorrect RTP, as every other GVC casino I checked (barring Partycasino) was using the 94% versions of the games, and it made no sense that Coral would be the only one using the higher level, but as usual live chat denied this and I had no evidence, so although I made reference to it on here a couple of times, I couldn't accuse them of anything directly.
Last weekend, in the other RTP thread, someone kindly posted how to do the network analysis and what file to look for, to show what RTP version of the game was running. Frustratingly, I had already tried this, but was doing it after the game finished loading, and had missed the files that were pulled from PnG before then. The video below shows the process
View attachment RoD RTP 2020-02-11 10-20-39-040.mp4
Doing this confirmed Coral were and are serving the lower 94% versions, when the information on site clearly states they are running the 96% versions. The evidence is below, taken from a few different games.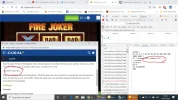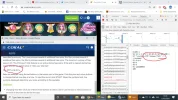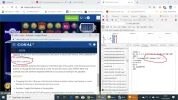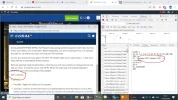 I have tried, on numerous occasions previously, and more so this week, to communicate this to Coral, but met a brick wall each time, via live chat, telephone support, email, the Gala rep on here (
@AdamGala
who hasn't replied from January 20th) and the Twitter team. Live chat have no clue about anything and wouldn't pass me any higher. I asked for a manager at one point during a 3 hour chat session, and got this gem as a reply
Please be advised that high you stake the more chance to win. Also gambling have two side its either you win or lose
So they told me, if I stake higher I have more chances to win. Wtg with their responsible gaming there.
Now, people are probably thinking this is a mistake and they possibly just forgot to update the help files, however, over at Galacasino they added Coywolf Cash by PnG at the end of January. At this point they had been using the 94% RTP versions for around a month. As you can see, the knowledgebase file clearly shows 96.31% RTP, whereas the true RTP is 94%, and was created on the 27th January 2020 (shown below). There is no excuse I can think of for the person writing the text to put it down as 96.31% when, at the time of writing, the correct RTP was the 94% version.
The same applies to Red Tiger games, although the in game help screen shows the correct RTP, the help file is incorrect, so not as bad as the PnG ones, but still incorrect. An example of that is shown below.
The second license breach, which I'm sure no one will care about

, is the fact they have removed the mandatory loss limit settings on some PlaynGo games. That is also a breach of the technical standards part of their LCCP, and knowing the UKGC, more likely to be the part they take more seriously. I mean, never mind customers are getting lied to about game payouts and chances to win, god forbid you can play 100 spins without setting a loss limit! You can see from the video below, the loss limit setting is missing completely.
View attachment autoplay LOD 2020-02-11 13-33-17-160.mp4
TLDR:
Coral and Galacasino deliberately replaced the PnG help files showing the correct RTP on games, with their own, in house written, helpfiles showing a higher RTP than they were actually giving customers.
Coral, despite being informed of this, have done nothing, at time of writing
Coral have removed the mandatory loss limit settings required under their LCCP.
Mistake or not, the PnG help files did not magically replace themselves. This has had to have had manual intervention. Any responsible company would, at that point, double check the information included in those files was correct. That clearly hasn't happened. However, they are adding new games, and knowing the RTP is set at 94%, are still writing the help files to show them running at 96%. At best what they are doing is misleading customers, and it is most certainly a breach of the LCCP.
I have tried to alert Coral and Gala of this numerous times this week as mentioned above, but they really don't care. At time of writing it is well over 72 hours since I sent my first detailed email to them including evidence, and despite the auto response stating 'We aim to respond to all queries within 24 hours and will be in contact with you as soon as possible.' I have had no response at all from them. The Twitter team said it would be within 72 hours after they passed my concerns to compliance, its been well over 72 hours, no response. I have also sent a detailed complaint to the UKGC, but their auto response states 28 days and that they won't tell me the outcome of any investigation, so as a result of the constant stonewalling, decided to post this without waiting any longer, nor the benefit of a response from GVC to put their side, which is unfortunate, but is what it is. Any decent casino would have immediately either corrected the files, put the PlaynGo files back, even if temporarily, or removed the games temporarily until the LCCP breaches were solved. GVC's response has been to completely ignore the situation, and keep misleading customers.
If anyone has played PnG games at any of the two affected properties, I would suggest you complain strongly about this, but expect to get stonewalled by live chat, but after that you could try to email
[email protected]
. Feel free to complain to the UKGC about this too, as GVC should not be allowed to get away with it. Personally I think the games should have been removed immediately, and all customers should be refunded any losses automatically for the time they have played while the RTP displayed was wrong. I have not mentioned losses or asked for a refund, as that is not my intention, and did not want to be seen as a losing customer moaning to get a refund.
I have only really looked at Galacasino and Coral, so cannot comment on other GVC properties, but know as of yesterday, PartyCasino were still using the 96% versions of the games.
Sorry for the extremely long post, but I wanted to be sure to detail everything correctly, so I cannot be accused by anyone (including GVC) of only posting part of the story.
@ChopleyIOM
will be along to post his video regarding this shortly

.
Last edited: