Meister Awards 2012
Best and Worst in Gambling for 2012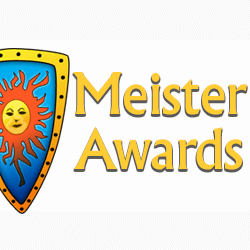 Another year goes by… and it was really no different than any other. We had our share of new games, corporate mergers, whacked out politics, rogue operators, nut jobs in the forum, all sprinkled with the rumor of US online gaming legislation. Some things never change.
But I am never less than astounded by how lively and intriguing this industry can be – but it can seem like a battlefield at times. The Casinomeister Awards are meant to reflect a perspective taken from the trenches; it holds a mirror up to who's been good and who's been bad. There are some really estimable people that work or are associated with this industry, and there are a number of people that would be better off selling kitchen appliances.
So, are you ready for the only "Awards that Matter"? Go grab a beer, don your kevlars, and button your chinstraps. You're about to take a stroll through the compelling jungles of online gaming.
Drum roll please…
For the past twelve years, Casinomeister has presented the "Best Online Casino" award for casinos that are deemed simply the best. The choice is made by observing casinos and their interactions with players, affiliates, and the gaming community in general. Input from the gaming community is also a major contributor to the decision making process. Since the online gaming playing field is still split between non-US facing casinos (Global) and US facing casinos (US friendly), we list both as a "Best Casino".
The Best Casino of 2012 – US Friendly
3Dice is awarded the Best US Friendly Casino for 2012. Their success is attributed to their synergy. They are connected to their players not just by providing unique and gratifying games, but by involving them with the casino by their Zeitgeist: a section of the casino that includes each game's RTP in real time, historical RTP history, current payout times, their most popular games, current winners, and who has joined in the most in their chatroom.
This involvement with their players, and their exclusive well designed slots, is what really separates them from their peers. Their competitors should take a look at what this operation is doing and see if they can rise above 3Dice. So far, this seems to be a challenge. Congrats all around.
The Best Casino of 2012 – Global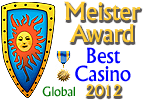 I know, I know, after ten years it seems to be getting redundant, but it's a redundancy that the entire gaming community respects and appreciates. They not only generated the Best Player Experience of the year, but they were the catalyst of a number of others. 32Red is what other casinos should be mirroring:
"As some of you know I won $15,000 from a $50 deposit and some of us would be in head spin about getting this money but I NEVER had any concerns that I was going to get my money from 32RED. I literally had the money in my bank account within 36 hours of pushing the withdrawal button. BY FAR the best overall casino out there and I don't see that changing anytime soon. They are way to ahead of any other outfit.
Having played online for more than 12 Years now, and the luxury to try every platform under the sun – I just cannot find a place that treated me better than 32Red
I have been having major problems getting the new slot games to install at 32red. After sending numerous screen shots of errors etc they just emailed me and said they are going to install the new games on a laptop and send it to me. A free laptop ! Wow totally did not expect that, major props to 32red yet again !
32Red are beyond phenomenal tbh, I have a slight problem atm and just rang them and ended up spending about 20 minutes swapping jokes and learning the origin of sayings like "Cold enough to freeze the balls of a bronze monkey", lol
32 can be summed up in a word. Class. Great marketing, customer loyalty? Who cares? It's class.You can't predict or put your finger on it, but they just surprise you with promotions, bonuses and actions that you just don't get anywhere else.I'm a million miles from a high roller but the incredibly appropriate birthday present received from 32Red one year, unannounced, unexpected and through the post takes pride of place in my office to this day."
This is one of the pleasures of being a webmaster, to vicariously enjoy the experiences of gamers who are treated so well. Great job 32Red!
Worst Casino of 2012
Every year, one of the most puzzling questions is "What is the worst casino?" It's a tough question since the award is highly sought after – scores of casinos beat each other over the head in order to claim this coveted accolade. Deciding who is worthy of this award is one of the toughest decisions to make.
Casino770 takes the honors this year. From Max our PAB manager:
"In spite of their promises to deal with player issues responsibly the casino continues to stall and delay on every issue presented to them. Most casinos respond to PAB issues within days. The Casino 770 rep is perpetually "waiting to hear" from departments within the casino and is unable to respond to even the most basic requests for weeks or even months. "Waiting to hear" from a department within your own casino should be a matter of hours, maybe a day or two at most. The fact that it repeatedly takes a ridiculous length of time to get the simplest response means one thing: there is a serious lack of will to do what is required to deal with player issues.
To make matters worse the confiscations of player winnings for dodgy or unexplained reasons continues as before, no visible change from the casino's previous MO. Even a casual search of our forums reveals that there are serious and ongoing problems with this casino.
If a casino wants to clean up its act then that's great, we all benefit from it doing so. However if it only want to appear as if something is being done when in fact things continue on as bad or even worse than ever then that casino is either functionally crippled from within or is simply being deceptive. Either way players need to be warned off."
Best Casino Group 2012 – Global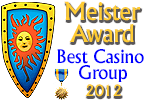 It's high fives for Rank Interactive. Rank Interactive's group of casinos have positioned themselves at the top. As a group, they succeed the competition by the combination of excellent player support, game selection, and gaming platforms. Add a player friendly environment which includes fast payouts, no reverse time, weekend payouts, the combination is nothing short of the best. Blue Square casino alone hosts games from CryptoLogic, Electracade, Evolution Gaming, Greentube, IGT Interactive, Novo, OpenBet, and Playtech. Grosvenor and Mecca Bingo both have land-based counterparts. They are licensed in Alderney, which holds the highest score in Casinomeister's jurisdictions ratings, only solidifies their excellence.
That said, there have not been any official complaints submitted at Casinomeister for any of these casinos in 2012 (PABs). Moreover, in the past twelve years of PAB submissions, we have recorded only one complaint via the PAB system (Grosvenor). With the amount of traffic and the popularity of this site, that's saying a lot. It says that the Blue Square Group knows what it's doing and is by far the best group of 2012.
Best Casino Group 2012 – US Friendly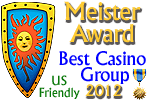 Chalk up another suck-ass year for the US player. But like last year, the Club World Group has pulled through. Even though they are facing a turbulent market, they have placed their players first. If and when problems arise, their players can be assured that the managers will absolutely do the right thing. They can be relied upon.
I have to admit that there have been issues this year in the fora – but the majority of these have revolved around the subject of payments. Payment processing has plagued all US facing operations. For Club World it's been no different.
Their brands:
Aladdin's Gold Casino
All Star Slots Casino
Buzzluck Casino
Club World Casino
Highnoon Casino
Manhattan Slots
Lucky Red Casino
Affiliate Program:
Affiliate Edge
Worst Casino Group 2012
Wow! Talk about a downward spiral into a pit of rogueness, the Rushmore Group of casinos plunged into mucky pit of slime via their own incompetence, aloofness, greed, or all three.
Besides exuding an acute deafness to player complaints (the usual delay tactics, and no-pay situations), they were caught screwing their affiliates by detagging players. This was all reported here – double rogued. And what response did they have? Well they had no comment on the detagging players issues, and they are still unable to acceptably pay their players.
Yet they did have time to open a new account in our forum, call our members obnoxious and rude, and tried to exploit the forum for marketing purposes. The casino rep was banned – you can read about that here.
The sad thing is that several years ago, this was an outstanding casino group. Now it's the worst.
Best New Casino of 2012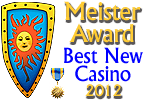 Relatively a late-comer to the site, Redbet Casino already had a proven track record of being a well managed player focused casino. Players have been extremely pleased with the treatment they've received – fast payouts, excellent promotions, and award winning NetEnt games. An all-around outstanding casino – keep up the great work!
Good going Redbet – high fives all around. You can read their review here: Redbet Review
Best Player Experience 2012
Sattty is a valued member of our forum – he's active, contributes a lot of great banter, and a well respected member of our community. Last Spring, his home was broken into and robbed. What made this even worse is that he's a disabled UK vet – times are hard enough for this guy. And then this happens:
Left Speechless by Amazing Act of Kindness from 32red
As some of you are aware, I was burgled last week and lost everything, and with being uninsured it was a devastating blow.
I'm also disabled and stuck at home, so the loss of my possessions is something that will take an age to replace.
This morning there was a knock on the door, and stood there was a delivery man with a new TV. I was rather dumbstruck as it was in my name but I'd certainly not ordered it.
The TV came via Mark & 32red. This is the most amazing act of kindness…and I wish I had the words to explain how touched I am by this.
Words really do fail me at the moment…so many thanks to Mark.
I'm so choked up and touched by it.
These gestures of benevolence touch us all. And it reminds us that there are caring persons at work in the online casino industry. What class; what a nice thing to do. Thanks 32Red for being you.
Worst Player Experience
Losing your faith in the gaming industry has got to be the worst experience, and it's happened for scores if not hundreds of players who watched Purple Lounge abruptly close its doors, and taking players' deposits and winnings with them. This situation shattered our trust and respect for a supposedly regulated industry – it flushed our confidence down the toilet. Purple Lounge was owned by a publicly traded company, Media Corp, which stonewalled all attempts to return players their funds.
But it gets worse – they were licensed by the Maltese LGA. Purple Lounge had not renewed its license – and players were SOL on getting their funds back since the LGA could not assist. The LGA washed its hands of the incident, so did Media Corp.
So here we have a publicly traded company, with answerable leadership, licensed in the EU, that conducted itself as roguish as rogue can be. To say this was despicable would only be complimenting this cheating, corrupt, den of frauds.
The full thread is located here.
Worst Affiliate Experience of 2012
In October, US based affiliates received this email from Score Affiliates, Ladbrokes' affiliate program:
Dear affiliate,
We write with reference to Score, the Ladbrokes and LBapuestas Affiliate Programme in which you are currently participating.
We regret to inform you that Ladbrokes and LBapuestas have taken the business decision to cease commercial partnerships with all of our affiliates based in the USA.
…
It went on to quote their terms and conditions, and how sorry they were to be doing this. US based affiliates were shocked since up to this point, no other affiliate program had closed its doors to them, and they were only given about two weeks to react to this announcement.
At first Ladbrokes was adamant on closing these accounts. Then they went on to say that they would be making some settlements with affected affiliates. There was an outcry in the forum about unfair treatment – Ladbrokes responded with assurances that they would look into any complaints from these people. Most of this can be found here.
This incident underlined the fact that affiliates are vulnerable to companies that they can do whatever they want – when they want to. The only protection affiliates have are good reading skills (when in comes to reading the affiliate program's terms and conditions), being alert to program changes, participating in affiliate communities, and being selective with whom you do business with.
The Ted Loh Humanitarian Award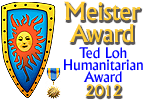 In 2010, we lost a true friend. Ted Loh was not only my webmaster buddy, he was a pioneer in the online gaming industry. He was also a person who always made himself available to lend a hand – to anyone. You needed help? Just ask Ted.
Ted was instrumental with assisting us to raise $111,000 via Casinomeister for the Casinomeister/Got2Bet 2005 Tsunami relief fund. He lived in Bangkok and was deeply involved assisting those affected – reuniting or identify the bodies of their loved ones via his Thailand themed websites. I think it's only befitting to venerate his memory and efforts by honoring those who are determined to do the same sort of thing.
This year's Ted Loh Humanitarian Award goes not to an industry entity, but to an individual. Forum member Chris Taylor raised £18,100.66 for the Great Ormond Street Hospital Children's Charity; his son is being treated there. Chris, along with members of the hospital and others, collected £85,745.97 in donations promising to hike up to the summit of Mount Kilimanjaro. Which they did!
Good going Chris! And what a great effort! You can read more about this here.
Evil Marketing Award of 2012
It was a highly competitive year for casinos conjuring up bad marketing campaigns. But if you can't think of anything ingenious, hell, just steal someone's database. Mona Casino was able to do that – and thus receives this highly aspired award.
Several members of our forum complained about receiving a spam mail that was addressing them directly. It was from a Mr. "Robert Nash" using a gmail account:
Personal Invitation to <Person's Name>
Hi, my name is Robert Nash, I tried reaching you today at <Person's Phone Number> (It seemed disconnected) a while back I was one of your account managers at a MicroGaming software that I used to work on. You used to play mostly Slots, today I am the traffic quality manager here at TopGame and wanted you to check the new club which was made especially for Slots players and targeted on the Canada time zone. My job in one line is to get the best players to play in my clubs.
I trust that this Email is reaching you in good health and happiness. It was important for me to touch base with you and extend the invitation to play with our establishment. As an online player I am well aware of your value, it is for this reason alone I have approached you. I want to effectively ensure that your gaming experience will be absolutely seamless, enjoyable and profitable.
Besides the obvious faked name (Robert Nash? C'mon – it's an Israeli run casino – connected to Rome Casino), this person had appropriated an MGS casino player data base.
A number of our forum members began posting about this:
---
I have just found his email in my spam folder.
This is more serious than I thought, he knows my ACTUAL landline number and there is no way he could have figured this out merely from having my email address from some spammers list. It also rules out the various websites I have signed up to, as they only know my email address and name, not my phone number.
I just got a phone call from these people. I told them I was just reading about them on Casinomeister, he said "Oh what are they saying?" I said, "They're pissed off about their personal information being given out or sold!" And he said, "Oh that must be a different place, we've been around since 2004 with no complaints."
---
Which is BS. According to the Wayback Machine, they've been around since 2011.
The bottom line is that it's a stolen database – and it's not just a database that includes players' names, addresses, and phone numbers, it includes the types of games these players have played. Evil marketing at its worse.
Worst Blundering Screwup 2012
Betfred did a doozie. They uploaded a help file for Reel Deal and HiLo Gambler which stated that the game had a 100% RTP, when in fact it was programmed for 96%. This meant that those who played were expecting an even odds game, but they received the opposite. It was discovered here in this thread which spiraled into a massive debate concerning the fairness of these games.
It was an extremely serious issue that finally had closure after a few months. Affected players were paid, but everyone had egg on their face.
Best Customer Service Award 2012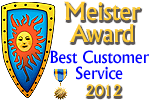 32Red takes it this year. Even though casinos like Jackpot Party, 3Dice, and Redbet are mentioned honorably here, 32Red has really done a bang up job this year. Anecdotal comments are scattered throughout the forum of a casino that sends a player a laptop with pre-installed games (he kept getting download error messages), replaces stolen TVs, has meaningful banter with its customers, and generally creates an atmosphere that is conducive for an outstanding player experience. You really can't get any better than this.
Best Gaming Experience Award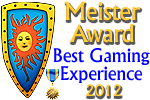 I've combined the Best Software and Best Games award into the Best Gaming Experience Award since this industry has evolved from producing simple casino games to generating a gaming experience that meets the needs of a player community that has high expectations. Quality and assemblage of games, originality, and creativity are all taken into consideration.
This year's award goes to Netent for producing outstanding state-of-the-art games this year. A few years ago, NetEnt was just another software provider that had a good portfolio of mediocre games. But in the last couple of years they have become a real positive force in players' gaming experiences. Our forum gives credence to NetEnt's accomplishments with many gratified players – giving kudos to some phenomenal games such as Elements, Evolution, Lucky Angler, to name a few.
I'm hoping that 2013 will be just as productive as 2012. Congratulations for a job well done.
Phoenix Award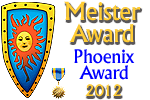 The Phoenix Award is given to those persons or entities that have arisen from the ashes. In other words, something was broke and they fixed it in a big way.
This year the award goes to Casino Affiliate Programs – AKA CAP: the not so proud recipient of the Biggest Disappointment of 2008 II, Tangled Web Award 2009 and Head in the Sand Award 2009. They were pretty much left for dead, and if you read any of the previous awards, you would understand why.
But as time has marched on, they've regrouped, became focused, and piece by piece rebuilt the company to a what it is now: a really good resource for webmasters. In fact, I actually read their weekly newsletter. That's saying a lot. Congrats Warren Jolly and Co. You guys are doing a great job!
Sitting on One's Hands Award 2012
Real Time Gaming is being graciously handed this award this year for watching the world go by – letting its competition leave them in the dust. With the launching of Nuworks (RTG's new and improved version of older games), many players were rather unsatisfied – it did not meet the expectations of being the best thing since sliced bread. Companies like Microgaming, NetEnt, WMS, IGT, and Playtech have made huge strides in improving the player experience via their games. We haven't seen many changes in RTG for years. They seem to be pretty static or just sitting on their hands for the moment. We all hope to see some big changes in the future. If not, RTG may just become a bit of nostalgia if and when the US market opens up.
Fourth Point of Contact Award 2012
The "fourth point of contact" is US paratrooper lingo for the fourth point of your body as it hits the ground during a parachute landing fall. In other words, it's yer ass. This award is given to a person whose head is so far up their "fourth point of contact" that the bulge in his neck is his nose…
This year's award is a group award – and it's well deserved. The recipients are those who hide behind their anonymity to verbally attack and abuse customer service representatives (or anyone else for that matter). It's like dealing with misbehaving children – unbelievably, these are adults.
There have been a number of incidents reported this year by operators of abusive treatment of their employees (see The Most Annoying Forum Member). Castigating anyone with profanity – especially people you don't know – is for bottom feeders. You have no idea if the person on the other end is having a bad day, if they're going through the pain of divorce – a loss in the family, death of a friend, or something else equally depressing. The last thing they need is some douchebag having a meltdown because they didn't get a bonus.
Forum trolls are another social-misfit that should be lumped in here as well. Actually, I feel sorry for most of them since they are suffering from some behavioral or mental disease. They probably need a big hug – they'll get one from me once they cure themselves of cranial rectal inversion.
Head in the Sand Award 2012
Group Award
This year's award goes to all of those affiliates who don't bother to do their research when it comes to promoting online casinos. These people have plunged their heads into darkness – sweet blissful ignorance. There are a slew of casinos still being promoted by these affiliates, and it wouldn't take them more than a five minute Google search to drop these companies like a hot matzah ball.
Every so often, I get emails from ex-employees of these companies. Some are obviously disgruntled – some are not, but regardless of this I know of many a horror story when it comes to casinos ripping off their players – and their affiliates as well. Some things that go on behind the scenes are pretty nasty, believe me.
If you feel you might be falling into this category, ask yourself this: would you feel comfortable sending your best friend or closest relative to the casinos you are promoting? If not, you are part of this problem. Get your head out of the sand and wake up.
Stupidest Named Casino of 2012
It's a tie between Loco Panda and Loco Jungle casinos. Someone was smoking too much loco weed before the board meeting – or perhaps doing bong hits were a significant part of the decision making process.
Try this: inhale deeply…hold it…keep holding it…don't stop….now exhale slowly and say "Loco Panda Casino…" Sounds great? Oh, really? What the hell does a Panda bear have to do with a casino? They're from China where gambling is illegal, right? They eat bamboo shoots and have issues procreating in zoos. You'd have to be totally stoned to make any connections there.
And Loco Jungle? What does a "crazy" jungle have to do with casino games? When I think of a jungle, I think of big-ass bugs, poisonous snakes, mud and rain. It's no place I'd want to visit to gamble – unless I was Loco.
The Best Affiliate Program of 2012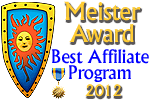 Referback is back. This program touts solid casinos – some of which have been online for as long as Casinomeister, and this has everything to do with a successful administration and keeping their players happy. Seldom are complaints for this casino group.
Referback's management is top of the class. Cobus Ebersohn, senior account manager, is one of the best in the business. Responsive and always helpful, he is in tune what webmasters need. In these days of abstruse payments, Referback is one of a handful of affiliate programs that actually email you when the wire goes out. Most importantly, their backend is conducive to webmastering. No drilling down for links or searching for stats. Everything a webmaster needs is right there. If you are a webmaster, you ought to join. These guys are tops.
Most Annoying Affiliate Program of 2012
Some things never change. There is a marketing mentality that poisons this industry, and it's been going on for years – the Casinomeister awards are a public record of this garbage.
This is another group award for all of the pushy, unprofessional affiliate managers that can't take five minutes to review a site before contacting its owner/operator. Here is an example:
"Hi,
I want to offer you cooperation with our affiliate program EGO (http://www.egamingonline.com/).
We are experts in converting traffic that proves our brand EU Casino (http://www.eucasino.com/) and we are ready to offer you the highest paying CPA for providing you traffic.
Contact me to discuss the terms of our partnership.
Sincerely,
—
Alexey
Affiliate Manager"
Who in their right mind begins a business proposal with "Hi"? You ought to know who you are addressing. If you don't know then find out.
On each and every page at Casinomeister there is a link Advertisers which describes what it takes to get on the site. When I receive an email such as the above, I question myself "Why would I want to do business with a lackadaisical, inattentive spammer?"
I answer this question with my friend – the delete button.
Best Casino Manager of 2012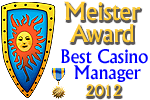 This was a really tough one since there are a number of outstanding managers who are doing a bang-up job dealing with players. This year's award goes to Redbet Andy. Redbet is a new casino on the site, but Redbet Andy's dedication, knowledge, and effectiveness is one of the reasons I brought the casino on. He's been doing a great job, and the members of the forum have been giving him definite kudos for a job well done.
Biggest Disappointment of 2012
Last year, I mentioned that Betfair was a big disappointment – they not only were thrown into the Rogue Pit for the "speak to the hand" attitude concerning their infamous "happy hour promo" – they made a number of blunders since then. One of which was covered in last year's awards.
This year is even more so – disappointing. Betfair approached me in November asking to be removed from the Rogue Pit. I agreed to put them on "probation" if they would resolve all issues that got them thrown into the Rogue Pit to begin with. They agreed, and I thought "Fantastic! We've made some serious progress." I was wrong.
Betfair had no intention on paying the aggrieved players from their promo blunder. It was more or less an ill thought out ruse. The only real reason to be back on the site was for marketing purposes – and that was really disappointing on two levels. One – they weren't listening. Two – they don't care.
Will 2013 be any different? I doubt it.
Biggest Disappointment of 2012 II
At Casinomeister, we deal with hundred of casino operators and representatives every year. One thing that we all value is being able to communicate with operators to either give feedback, or to assist players who are having problems with the casinos' customer support. Most operators are happy to assist and they encourage a dialogue between us. Some are not so accommodating.
From Max Drayman, our "Pitch a Bitch" manager:
"888.com: As regular readers will know we've had a rocky relationship with 888.com and their related 888 Holdings and Cassava Ltd properties. To make a long story short that whole business has come down to head office saying about 8 months ago that they require a signed statement of authorization from the player before they will discuss that player's issue with us. Since then they have not cooperated on a single player issue. A recent PAB against 888 brought this to where we are today, this Warning:
a player filed a PAB against 888 — they had been ejected from the casino for "employing a gaming strategy" — and when asked they submitted the requested signed statement.
through the forum rep — who acts as the go-between to the casinos and/or head office — the casino's reply was "operations have given their answer to him and it won't change".
we said "thank you but we need to see the case details", they ignored those requests.
when asked why they were not honouring their agreement to discuss the player's case after the requested statement had been provided they said "there was no point".
after many attempts to get them to state whether they would discuss the player's case or not they finally replied (again, through the forum rep) "due to the fact that the issue was resolved they are not willing to share any details on this issue".
the player reported that 888 hadn't bothered to contact him, never mind offering a resolution. Presumably the casino people mean that they "resolved" it to their satisfaction. Hardly the same thing.
The bottom line is that this casino group has no intention to discuss player cases. The "permission statement" from the player and all that is just a stalling technique: we run around trying to satisfy their request(s) while they sit on their hands and ignore the player issues at their leisure. When everyone does what they have asked they simply make a unilateral statement that they've made their decision and won't change it, that there is "no point" to discussing the player issue(s).
In truth Cassava and its properties have never properly cooperated with the player complaints process when it comes to the involvement of third parties like us: their operating procedure has always been to decide players fates as they and they alone see fit. If the player or anyone else doesn't like it that's too bad. If the truth gets bent, broken or thrown out the window as they "resolve" these issues what do they care? No one can touch them. It has been this way with these casinos for well over a decade. Occasionally they'll make noises that they're willing to be more cooperative but it always ends up back in the same place: they control player monies and the door to discussing complaints is closed…"
Forum Highlight of the Year
This past year the forum, has been active more than ever. In the first quarter 2012, we averaged 240 new members each month. The last quarter was an average of 380 new registrations per month. It has become the true focal point of the player, with its growth we expanded some of the functionality of Casinomeister – specifically the Accredited Casino section which is now incorporated in the forum to facilitate searching.
Besides improvements on functionability, this past year there were a number of highlights each month – here are merely a handful:
Here's the thread where I asked for suggestions on improving the accredited section. There are a hell of a lot of really informative comments on what players are looking for, and what is expected of an online casino: Revamping the Accredited Section
Here is a related thread that explains the new rating system at Casinomeister: Rating System
As for casino issues, here's a huge one where the entire community of online gamblers – to include guests – watch in dismay as our trust in the industry is squished like a bug: Serious Problems at Purple Lounge
And a relatively current thread (which at press time is on hold) illustrates that trusted casino administrations may not be checking their games properly, or is it the jurisdictions that should be checking them – or third party mathematicians – confused yet? Wait until you read this: Finsoft/Spielo G2 Games Issue
There was also another player issue involving Betfred where a player was accused of fraud after winning a Ferrari: Betfred Casino Issue: player account suspended pending investigation.
But it's not all about casino stuff, we have a large caring community as well. Here is a thread that tried to keep track of members in the path of Hurricane Sandy: Frankenstorm
And a thread that addresses the politics of the USA (it was an election year, remember?): US Election end result And what our members are listening to: What are you listening to?
Special thanks to everyone contributing to one of the best forums on the planet. We wouldn't have a community without you. Thank you.
Most Annoying Forum Member of 2012
Imagine waking up in the morning to read this crap:
"They are scared! They have been found out! Run Vegas, run
My Canadian colleague told me about Casinomeister.com. I am so glad to have found this site A big number of us won't play – ever again . On top of that, I am so happy to see that this thread has 500+ views . A lot more now know just what a conniving outfit they really are.
The truth will set you free!
To re-cap (for everyone's benefit):
I have proven that William Hill Vegas is a broken operation. They essentially steal your money, by means of game crashes at opportune times. They then turn the tables and make it as though it's your fault. They have reps that lie, as so clearly indicated by merely my screenshots
Thank you everyone . Work is over, time to head out for a celebratory drink
I feel good What about you?"
This nut job with smilie-itis was referring to William Hill – specifically their Solitaire game which supposedly was "broken". Lady Soitaire (I'm guessing she had forgot the "l") had been complaining in this thread for about a week on how WH's solitaire game was not functioning properly – it kept crashing.
"I intend to voice my disgust. I am so fed up that I've resorted to annoying them (including profanity, unfortunately). There's nothing better than having a webpage or FB page or Youtube clip go viral, especially as I have some rather interesting material, like screen shots and videos showing the game crashing "
Oh goodie, a video showing a casino game crashing. A must-see event! <yawn>
She went on and on and on about how the game crashed, and how she was owed an apology. And she kept referring to these Facebook pages and YouTube videos going up.
"I don't want to reveal too much information at this stage
Why? Just like how I proved the William Hill rep. here to be a liar, I am challenging William Hill Vegas to come out and prove me wrong. When they come out with their new excuses, I can then prove how they are simply telling more lies. I want to keep other material for much later. More fun that way "
This is the type of player who thinks it's perfectly ok to abuse customer support with aggressively rude emails. She felt that they deserved it.
She finally submitted a complaint via our Pitch a Bitch service. She was demanding an apology. We let the casino rep know what was going on, he replied:
"I did have a look into her complaint and not only is it unfounded but also the manner in which she has chosen to contact our CS teams (following the initial complaint and response) is absolutely disgraceful. She has chosen to bombard our Customer Service team with offensive language continually following their initial response to her and we are now in a position where I have closed her account and we are no longer interacting with her.
An example of her communication, and pretty much the only thing she has sent us is "Hello CHEATERS! STILL NOT SOLVED! GO F*** YOURSELVES!" – this has been sent to us approximately 100 times since the dispute."
What astounds me is these type of people – who have been so horribly wronged (not) – are always the ones demanding apologies. And this sort of verbal abuse is offensive The Internet gives people a sense of empowerment by enabling a veil between them and reality. They can say what they want without consequence. It's a perverted dream for some – like this "lady" (who's probably a guy). No one deserves to deal with witless people like this. They pummel total strangers who are trying to help with offensive diatribes. They haven't a clue whether or not the person they're dealing with is having a bad day, or going through some personal trauma.
Certainly not only annoying, but a total waste of time.
Stupidest Casino Trick of 2012
Back in July, there was a complaint in the forum concerning Crazy Luck Casino. David Miller (c'mon, you can do better than that) signed up in the forum claiming to be the casino affiliate manager and made an effort to assist this player. In fact, he assisted a number of other players, but posting their real names didn't win him any friends.
Some members noticed the similarities between Crazy Luck and Casino Royal Club. He was questioned: "Do you work for Casino Royal Club?" David Miller said no – there was no connection between Crazy Luck and any other Rival casino, (located here). This was total BS because he had opened another account in the forum Raul S who claimed to be the affiliate manager of Winbig21.com – another Rival brand. Even I asked him about this here. He replied in a PM that there was no connection.
Then another account popped up: Sevag who introduced himself here was on the same computer as David Miller. Sevag was the casino manager for the short-lived superbet365.com. His thread received a lot of attention, especially from Bet365.com who had his site shut down.
Finally, another account was opened from the same computer, andrey_europlay who claimed to be the affiliate manager for Europlay. This person posted an introductory post here and was grilled by members who were being spammed by the Revenue Jet casinos and Europlay to the same email address. I asked this person whether or not Europlay was connected to any other casinos here. In fact I asked a few times until the casino rep came back as said he'd get back to me after speaking to a manager. I thought this person was a manager. And it was obvious, if you have to ask another person whether you are connected to another business, then you are.
He finally came back:
"Hi, Its a standalone casino and the company information is already there on the site. I will publish on the forum in case of any new updates."
<Sigh> more obfuscation. I had to rephrase my sentence a couple of times before he said he wasn't working for any other casinos. I then asked him the question if he had any other forum accounts. He said no. That was a lie, and he was busted out here.
This affiliate manager was reminded of our forum policies on misrepresenting one's business and was promptly banned. If you want to screw around with the player community, Casinomeister's forum is not the place to do it. Our members don't need to be bothered by such amateurish deception.
Best Warning Robot of 2012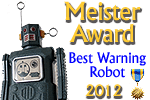 How could this be any easier? Vortran007 is the ONLY warning robot out there in cyberland. This year he has warned players about the Rushmore Group, Casino770.com, Vegas Regal, and much more… Where would we be without Vortran?
He's my buddy; he's my sidekick. He's an integral part of Casinomeister's Webcast – and he's here to stay. Kudos to Vortran – job well done!
Check out Vortran007 on our YouTube presentations!
Best Minions of 2012
I just wanted to take time out and thank Max for his incredible work with the PABs throughout the year. I hope that the readership can show their appreciation as well by visiting his Amazon.co.uk wish list. Buy him a book or something – you don't need to wait until Christmas.
I also want to give kudos to Webzcas for his untiring work as webmaster and the guy who keeps the hamster fed on the tread-wheel. And to Simmo! whose jovial jocularity and sharp-witted observances are always relished. Thanks guys!
Fan Mail of 2012 Award
WARNING: THE FOLLOWING AWARD CONTAINS LANGUAGE THAT MIGHT CAUSE YOUR EYEBROWS TO FALL OUT. YOU'VE BEEN WARNED.
You can skip down to the The Evil Player Award to avoid unpleasantness.
As you might know, the forum registration is moderated. I review each registration in order to keep spammers and spam bot out of the forum. If the registration looks like a spammer or if the person fills in the blanks with BS, they get deleted. Just like the following:
---
User Name: boby
Email Address : florescuboby@yahoo.com
Birthday : July 14, 1987
Referrer: N/A
IP Address: 92.81.190.160
About you : na
Location : Iasi
Sex : Male
How did you find Casinomeister? : google
Interests :
Occupation : na
Best Casino IMHO :
Worst Casino :
Favorite Films :
Favorite Bands :
What's the latest book you have read? : na
Favorite TV shows :
Webmastered websites :
---
When I review accounts and see that there are blanks, symbols or other bogus nonsensical information entered, I delete the account and the person gets an automated email which reads:
---
Dear boby,
Unfortunately your registration at Casinomeister's Online Casino and Poker Forum did not meet our membership requirements. Therefore your registration was deleted.
Sorry,
Casinomeister's Online Casino and Poker Forum
---
Here's boby's reply
---
Date: Wed, 25 Apr 2012 10:32:27 -0700 (PDT)
From:
Reply-To:
Subject: Re: Account removed at Casinomeister's Online Casino and Poker Forum!
To: Casinomeister's Online Casino and Poker Forum
Fuck you piece of shit. Suck my pula(dick) you
Shit box of a men. Lick my ass you fucking piece of cat shit.
Lick my caca you motherfucker.
Your mother is a stupid COW like his son.
Your father is a stupid degenarate looser.
Lick my dick you fuckface.
Why didnt you accept my registration on the your stupid piece of shit forum.
Let me ask a question. Do you want to suck my cat's dick.
You stupid asshole, cow.
Your mother is my bitch.
Bagamias pula in tine de cacat cu pisat, cu ochi.
Sami bag pula in tine.
Fuck you.
You sun of BITCH
Sun of whore
Bastardddddd
Bastard sun of whore.
Lick my ass crack and next time I shit I will mailed to you, so please send me the address, so you can eat my shit. Pleasebe be advised
that I will provide tracking code to track my steaming shit, you shit box of men.
You and your father are JERKoffs loosers that suck dick from horse.
Limp dick you and your stupid fucking cow of sister.
I want to fuck your wife in the mounth and in the ass, and it the pussy. Ass first to mouth second. You fucking limpdick.
Shitbox of looser.
Me and my friends to meet up with your woman and make humiliating sex whit and you watching.
I will come and fuck your father in the ass and in mounth and cum in his mounth and enjoy it and after I will fuck you in the mounth and in the
ass.
You are the bigest garbage you insolent motherfucker. How dare you not accept my aristrocatic registration.
I am the king of my country and you a mere sun of whore.
I am the king of the Earth and you must suck my dick and all of my friends dicks.
And now we must come to fuck your FATHER.
We will put our VERY BIG DICKS in your mouth you stupid peasent.
Redneck
motherfucker
Kind Regards,
Your KING
---
Perhaps I should have asked him to fill in the blanks. 🙂
The Evil Player Award for 2012
Online gaming can be taxing on the nerves. It's not just ethically challenged casinos that are the problem, quite often it's players. This accolade is awarded to players who go beyond the call of normalcy – who try to manipulate facts, cry foul when there is none, lie, cheat, or commit other acts of social degeneracy. These are the Evil Players.
"I am a self professed problem gambler afflicted with the compulsive gambling habit since last several years. I have experienced periodic bouts of gambling at www.intercasino.com several times since the year 2005, each time re-opening earlier accounts or opening new accounts, and every time closing the accounts under self exclusion requesting for a lifetime ban."
That was the beginning of Rrao's complaint – and he was also posting in the forum about his woes here.
He stated that in five years, he felt that Intercasino was dealing a crooked game (yet he kept depositing). He also claimed (as shown above) that they kept allowing him to open accounts and deposit even though he told them he had a gambling problem. We take problem gambling very seriously, and for any casino – especially an Accredited one – to allow a self-professed problem gambler is unacceptable. We asked him to file an official complaint with us. He did.
The casino investigated his account and yes, they discovered that he kept opening new ones whenever they closed his accounts. It was "whack-a-mole" in casinoland.
---
The player?s accounts were closed immediately when he confessed to a gaming related illness.
Following the closure of his accounts, the player on several occasions has manipulated his personal details in order to open new accounts. On discovery of such instances, all accounts were closed immediately.
Should a minimum period of 6 months have passed and a player whose account was previously closed due to a gaming related illness come back, and request said account be reopened, the player is asked initially to confirm in writing (email) that they are no longer affected by a gaming related illness.
On receipt of the email confirmation, the account is subject to a 7 day cooling off period at which point the Customer Services Head will decide whether or not the account should be reopened.
---
The player never showed us any emails where he claimed to have a gambling problem – only emails where he complained of not winning enough. The player was a lying, manipulative, poor loser.
I made the decision to place his account in the "Quit Gambling" user group, this user group limits the use of our forum to the non-gambling sections, and here was his response:
---
Roguish CasinoMeister!
Unfortunate but true. Your beloved big brother – CasinoMeister has turned out to be a biG RoGUE. PAB submitted has been unfairly disposed and an earlier logon account banned from further posts.
-> PBA on Intercasino.com for deliberate manipulations with self-exclusions/ deposit limit/ weekly loss limit measures. Lax responsible gambling measures to exploit problem gamblers, poor gaming statistics identified during period of continuous high amount deposits.
Clear case of fraud and deception is overlooked by Max/ Bryan/ Benjamin & Co at the behest of Intercasino,com
Time to raise my voice to the next level. PBA process is a SHAM!!!
---
I was actually doing him a favor by doing this placing him in the "Quit Gambling" user group. And then the emails such as this:
---
Whatz up with the PBA ??? Honestly, you guys irritate me with your attitude. You bunch of cheats, you are in cahoots with Intercasino.com from Day One. The whole exercise of PBA is a sham and a total eyewash. May you fry in hell for your sins.
Best Regards,
---
Frying in hell? He's the one gambling. Oh well – the thanks we get.
What makes this case stand out is that everyone, myself, Max, the forum members, even the casino management tried to help this guy – but he's blinded by his own selfishness. It's a childish way of dealing with his own demons. People like this need to stop blaming others for their own misbehavior. In other words – they need to grow up.