Meister Awards 2013
Best and Worst in Gambling for 2013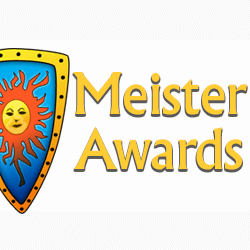 What? It's 2014 already? Where did the year go? This year, just like any other has been full of industry news, big business buyouts, new games, new licensing jurisdictions, and the usual corporate maelstrom that is known as the online casino industry. But what about things that really matter to players? What casinos excel over their brethren? Which casinos are the epitome of crap? What experiences have affected everyone for worse or for better? Read on and you will have a good grasp of what has been going on in 2013.
So, are you prepared for the only "Awards that Matter"? Go grab a beer or hot cup o' java, don your flack-jacket and kevlars, and button your chinstraps. You're about to slosh through the trenches of online gaming.
Drum roll please…
For the past thirteen years, Casinomeister has presented the "Best Online Casino" award for casinos that are deemed simply the best. The choice is made by observing casinos and their interactions with players, affiliates, and the gaming community in general. Input from the gaming community is a major contributor to the decision making process. This year I put this decision more into the players' hands by short-listing the top casinos and putting it up to a vote by Casinomeister's Casino Advisory Group – 30 of our most experienced and prolific forum members. Here are the results:
The Best Casino of 2013 – US Friendly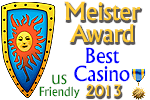 3Dice did it again. They score tops in customer service, casino management, unique games, and innovative website applications like the Zeitgeist.
The Zeitgeist is ingenious. It allows 3Dice to display live payout statistics (to include the percentage of payouts being made in under 30 minutes), live RTP, slot popularity, recent big wins, recent jackpots, and membership stats from their chatroom. These people are obviously clued into what players want: great games, and a fantastic online experience.
Comments from our members:
All I have to say is that 3dice seems to set the standard when it comes to transparency. I was very impressed with the Zeitgeist, but can you believe the new 3Dice Rankings system. Hats off to 3Dice, again.
(From a UK player) I'm a big fan of 3Dice and will shout about how damn good they are from the rooftops, in a way their 'Best US facing casino' award does them a disservice 'cause they're one of the best casinos out there full stop IMO.
3Dice is light years ahead the other casinos out there from the Zeitgeist to group chat followed up with this new ranking system. Very far ahead of the competition in thinking outside the box.
To me 3Dice is the best casino ever, not only for its wonderful games but specially for its reps that always take good care of everybody, and the chat is awesome.
Best Casino 2013- 3DICE, in my opinion, no one serving USA comes even close.
They are the best all year round and especially at Christmas. Decorations, presents, bonuses, etc… I love them. They are the only casino I have been playing at for almost 2 years now. Thank you 3Dice!!!!!
The Best Casino of 2013 – Global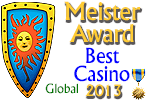 It was extremely close this year. For the first time, 32Red had very strong competition, but they pulled through to win this award for 11th year in a row.
Even though they stopped weekend payout this year, they still hit top marks in the way they treat their players. 100% professional – no doubt about that. 100% transparent – they are a public company that answers to its shareholders. 100% dedicated to a "player first" philosophy that enhances everything in this industry, from player experiences to affiliate marketing. There can be nothing negative said about this company, except they don't have weekend payouts. But quite a few members couldn't give a toss.
Comments from our members:
The combination of V.I.P. rewards, dedicated and accessible management, 24/7 top notch support and awesome promotions throughout the year, are ahead of any other Casino I play at. thanks for a great year 32Red!
I play 32Red the most because of their wonderful bonuses (sister sites included)… I don't give a damn about their no weekend cashouts, they are still second to none in my book.
32Red in my opinion is the best pure MG casino. Easily. They have awesome customer service, fantastic Reps, and hassle free cash-outs. I've also never (and I mean never) received any 32Red spam. When I do receive an email from them it's only about once a month. Nice clean straight forward just advising me of a new game or maybe a new promotion. They look after their customers. There are also no complaints on this forum that have gone unanswered. The Reps here are always lightening fast to resolve any issues. I wouldn't play MG anywhere else other than 32 Red.
The support is great, bonuses are great, games are great, withdrawals are processed within 24hours except weekends which actually helped me twice to win more(Lol!unbelievable) and the best thing whenever u talk to support u feel welcomed so what more could u want from a casino?
I am disabled and in 2012 I was burgled and lost pretty much everything of value I had . I wrote a thread about it here bemoaning the callousness of it . Hell they even pinched one of my wheel chairs . People on here were very supportive towards me with words of encouragement . Some members even offered me financial aid (offers i declined) a few days after the break in there was a knock at my door a delivery man was stood there with a brand new tv. A gift from Mark and the gang at 32Red It was an amazing act of kindness. Something they didn't have to do.
But hey – you can't find a fairer place to play and with or without bonuses tacked on, 32Red looks after players and makes you like family.
Another great year for these guys. And better yet, another great year for players. Thanks 32red! You definitely have made a massive impact of awesomeness on this industry.
Worst Casino of 2013
There were plenty of worthy candidates to choose from this year, I was amazed that so many casinos were scrambling for this award – but hey, only one casino can stand out from its misguided and mismanaged peers. For 2013 it's Planet Kings
Rey8 casino was a relatively unimpressive casino (I'm guessing – I never heard of it before all this), but they apparently had some players – many of whom found themselves befuddled when the casino was either sold or transferred over to Planet Kings. This process involved having the player accounts transferred over to the new site. Unfortunately, player accounts were either "lost in transit" during the switch-over (they simply never appeared in the new Planet King casino) or the players were required to provide endless amounts of documentation, or the casino just simply ignored withdrawal requests.
We made several attempts to raise these issues with Rey8/Planet Kings Casino – all of which were ignored.
Comments from aggrieved members:
Last summer, I think it was May, I joined the playtech casino rey8.com. I won and cashed out ?800 on June 2nd. I played a bit more and won again. I don't recall the figure but the balance was something like another £1500.
Rey8 then began requesting ID all of which I complied with. I sent a notarized ID but they denied receiving it. I was able to trace it to the Philippines but it is difficult to know what happened for sure. So I ended up getting another notarized ID and sent it with a courier, Fedex if I remember. By now the expense of this withdrawal is really mounting up.
Even though Fedex confirmed delivery, the casino denied receiving the second one. It took weeks and weeks and weeks until someone by the name of Giovanni confirmed they had the notarized ID.
Rey8 then told me they would be changing their brand to planetkingscasino and would move the balance over. I cant remember exactly what happened, but suffice to say I received no money and there is no money in my planetkings account. Rey8 has closed. Planetkings are the same people with all the same contact details.
Customer service say they will escalate the issue or pass it on the upper management but nothing ever happened. They NEVER answer emails or phone calls. Any contact I have had is with the chat feature.
e-gaming in Curacao ignore all calls and emails, so no help there.
---
My account was fully verified around a year ago, I gave them a try again playing without a bonus middle october 2012
For over month I am trying to be paid with no success, only promises and excuses to delay payments
I won in Slots and cashout €6400 EUR.
They said they are going to transfer the funds to their new casino Planet King, but they never did so nor pay.
This is the last email from November 20
Dear Player
I hope all is well
In response to your email, we truly don?t want our customers to have to run after money that is rightly owed to them, however as explained weeks back, the situation of casino migration has delayed the money transfer. This is your money, and it will be sent to you. I totally understand that due to the amount of time you?ve been waiting you must be quite frustrated, but I ask you to please bear with us since this won?t be a situation you?ll go through ever again.
Thanks for understanding
Giovanni
VIP Manager
This email came at October 31
Dear Andrey
In response to your inquiry, since Rey8 is no longer operating, games and cashier are suspended therefore we would need to process the payment through the active portal which in this case would be Planet Kings, I truly apologize for any inconvenience this may have caused but the sooner you can create an account at Plantkings.com the faster we can get this money transferred to you.
Thanks for understanding
Giovanni
VIP Manager
---
Monies owed: €10,900
The casino has stopped paying since October.
First, they sent out letters they "upgrade" to a new brand and software. they got a new name "planetkings" and Rival software.
They asked clients to register a new account at the new casino. and they will transfer the funds to the new casino.
There was never any payment since. They did not transfer my funds to the new casino. Nothing.
for two months the Playtech software was still active. Stripped of games, you could login to the cashier and at least see your balance.
Now the playtech casino does not work.
when they moved, the rey8.com website was redirecting to planetkings.
Now it does not redirect (albeit the chat window jumps to plantkings chat).
They used to pay slowly. now they do not pay at all. last payment was on October 8th.
I expect someone to be responsible to this case. If the casino is not in the paying mood, at least
Playtech must bear some responsibility to a mom-and-pop casino they licensed.
---
Well I hope no one is holding their breath on getting paid. Strike this one up for a "lesson learned" in the online casino industry: be careful who you trust – the grass is full of snakes.
Best Casino Group 2013 – Global
32Red Plc – did it again this year. This group – solid as a rock – has generated near zero complaints at Casinomeister and elsewhere. Their history and current affairs are valid proof that their shareholders made an excellent choice by investing in this group. From the upper echelon down to the marketing personnel and customer support, they have only the players' interests in mind. If they had anything else in mind, you really couldn't tell. There is not much else to say but great going 32Red Plc!
Their brands:
32red Casino
Dash Casino
Nedplay
Golden Lounge
Affiliate Program:
32Red Affiliates
Best Casino Group 2013 – US Friendly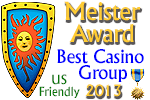 They did it again. The Club World Group has earned this award for their enduring ability to treat their players like family. Their customer support is prompt and coherent, and they can always be trusted to do the right thing. The managers are top notch – totally professional – and can walk and chew gum at the same time. Congrats Club World – another fine year from you guys!
Their brands:
Aladdin's Gold Casino
All Star Slots Casino
Buzzluck Casino
Club World Casino
Highnoon Casino
Manhattan Slots
Lucky Red Casino
Affiliate Program:
Affiliate Edge
Worst Casino Group 2013
Affactive was the awardee of this coveted award in 2010 and in 2011, well they've done it again this year. The forum is chuck full of frustrated players – many of whom complain of being "trickle paid" $500 per week. I guess they should have read the casinos' terms and condition a bit more carefully.
From their terms and conditions:
…All withdrawals are paid in installments of up to $/?3,000. This is determined according to player class.
You see, the "Player class" is their catch-all FU clause. They have the license to slow pay anyone they choose.
Comments from the forum:
I cant believe the money people deposit at this group. I have seen sites where the players list the amount of deposits so they can claim a bonus. It is sick these large amounts, and its not about the amount its that they would deposit at this group. This is the group that string players along with small payments, and like clock work every few months people don't receive their payments for 1-2 months. Whenever the group has payment problems the rep disappears at whatever site allows these type of games.(think same rep that got kicked off here.)
They owe me over $10,000, but are just sending me $500 a week, despite their site saying $3k per week… Going to take nearly 6 months to get all my money.
I have been playing with them for over 2 years. I do not deposit huge amounts, $25-50 normally and do not use any bonuses. I am considered a VIP on the lowest level. On the 9th of September, I had a good streak.(I deposited $25.00 nothing than deposited $50.00 and again did not use a bonus) Long story short ended up winning $26298.16. I sent all the documents in on the 9th – my paperwork was approved. It took awhile because I had to resend certain items, like a copy of a credit card I had not used for a year etc. Anyway last Sunday I requested a withdraw for $3000.00. It still sitting in the withdrawal window. I contacted the support team yesterday and they said that they will send a request to expedite the approval of my withdraw. Not the problem, In the T&C it states that they have 5-10 days to approve a withdrawal. That is fine, what I am concerned about most of the posters have stated that they get $500.00 at a time with a wire transfer, even though the max is $3000.00. My deal is Its going to take me months maybe a year with turn around time of 10 days a $500.00 a time to get the $26298.00.
…It just makes me so sick to the lengths these guys will go to make it hard on the player, as you can't even deposit and play when you have a withdrawal pending with them. I guess they really want you to play it back so they don't have to pay you. I just wish there was someone who could force them to change their rules … Withdrawal time is way too long, in my opinion AND paying a withdrawal in increments of $500 really is not acceptable when they can take any deposit amount in full. It's no wonder they aren't out of business by now, considering that it looks like they pay players based on other players deposits…
Affactive properties:
Begado Casino
Casino Titan
Golden Cherry
Jackpot Grand
Slots of Fortune
Slots Jungle
Winpalace Casino
Best New Casino of 2013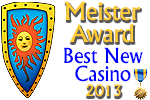 CasinoBen, head of operations, is one of the primary reasons this casino is doing so well. No reverse time, less than two hour payments, and no payout limits, they have a top notch management team that ensures that their player's needs are dealt with swiftly and professionally. Powered by Netent, MGS, Betsoft, IGT, Sheriff Gaming, OMI; the forum is packed with kudos and happy comments from the dedicated players of Guts. Great going Guts! I'm sure we're going to be hearing of more good things in the future!
Best Player Experience 2013
Legalized online gambling in the States. Even though at the moment, it only affects players in three states, this is the beginning of (hopefully) a really good thing. Once regulation begins, other states will fall like dominoes (we predict). Same thing happened with alcohol, the lotteries, land based casinos, and (just starting now) the legalization of pot. It's a typical scenario, if we (the government and big business) can make money off of it, we'll do it. The US is only a decade or so behind the European market, but hey – can't complain too much. The US has never been a traditionally "progressive" culture, and there have always been too many agenda laden politics anyway – so lets just be happy and watch it slowly coalesce.
Worst Player Experience
Imagine being placed on a negative database by a rogue casino, and you can't get your name removed. This happened to one of our members in October 2013. He was getting the runaround by a rogue RTG outfit (Rushmore Casino) – CDS (RTG's player dispute site) ruled in his favor, and he was paid his winnings. But it seems that in spite, the operators of Rushmore Casino put him on a chargeback blacklist. The problem is this – one of these "black lists" (iovation) seems to be a black hole.
According to the player, he made several attempts to contact this company – but they never responded. Meanwhile he was blocked from making any deposits anywhere – except for one dodgy casino, Slots Jungle he was never able to clear his name completely.
I'm a bit surprised that a company that boasts of protecting the casino industry from fraudsters has put up a proverbial stone-wall-speak-to-the-hand to players. Absent from their website is a section where players can submit any rebuttals to their claims. It's quite astonishing really – something so one-sided is allowed to operate like this.
Ironically, iovation's CEO and co-founder is Greg Pierson – one of the individuals named in the Ultimate Bet cheating scandal a few years back. One of the industry's most popular tools to catch fraudsters is being run by…well you can read more about that here.
The full thread is located here
Worst Affiliate Experience of 2013
The worst experience by far was the implementation of terms and conditions that tightened the screws on affiliates – specifically ones that appeared at first to be retroactive. Webzcas started a thread in our Webmeister Forum Terms and Condition Changes – Brightshare (I Sense Something) which was a catalyst of sorts. For one thing, the Brightshare affiliate program appeared to be implementing some predatory terms retroactively – predatory terms force an affiliate to continue to advertise a casino brand since he/she is required to meet a quota in order to get paid. Those terms may suck, but most affiliates agree to these terms when signing up since they normally aren't too concerned with any affiliate agreement.
But to implement these retroactively without consent to current affiliates is unethical.
Roxy Affiliates were named as well. There were a number of webmasters that were alarmed at some closing of dormant affiliate accounts. This went on for a few weeks before most everyone reached an agreement – one of which was that these Bightshare terms were not retroactive. And that Roxy's affiliate manager was not closing accounts willy nilly (she was out of town for a couple of weeks while the thread escalated). A lot of unnecessary negativity was promulgated which really didn't help anyone.
Lesson learned: affiliates need to read the terms that they agree to. And when you agree – you agree. And Affiliate managers need to treat their affiliates like partners. If you want to make changes, discuss this with the ones you do business with. Fair is fair.
The Ted Loh Humanitarian Award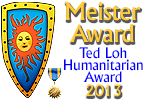 In 2010, we lost a true friend. Ted Loh was not only my webmaster buddy, he was a pioneer in the online gaming industry. He was also a person who always made himself available to lend a hand – to anyone. You needed help? Just ask Ted.
Ted was instrumental with assisting us to raise $111,000 via Casinomeister for the Casinomeister/Got2Bet 2005 Tsunami relief fund. He lived in Bangkok and was deeply involved assisting those affected – reuniting or identify the bodies of their loved ones via his Thailand themed websites. I think it's only befitting to venerate his memory and efforts by honoring those who are determined to do the same sort of thing.
This year's Ted Loh Humanitarian Award goes to Dave Sawyer (Webzcas) who raised £1203.47 for the Dorothy House Hospice Care, a hospice center in Bath, England. He raised these funds by being sponsored to walk on a bed of burning coals. How awesome was that?
Good going Dave! Ted would have been proud! You can read more about this here.
Evil Marketing Award of 2013
This is a sweeping group award to any casino that practices phone spamming their players. Just because a casino collects the phone numbers of its players doesn't give it the right to pass these numbers on to their marketing offices. There were a few complaints in our forum from members complaining about getting theses spam calls at 4am – the clueless spammer didn't understand that there is a time difference between South Africa and Canada.
Forum member ChopleyIOM stated his thoughts so eloquently:
Phone spam is the cardinal sin as far as I'm concerned, any casino that inflicts it on me goes onto my shitlist for life, along with any other casino in the group.
It's just so invasive, so intrusive, that any casino thinks it has the right to impose itself on someone like that boggles my mind.
Even at an 'ideal moment' it'd be an entirely unforgivable imposition, but the scope for it to be at a bad time is just so great. Who the hell wants a casino ringing them up with bonus offers in the middle of a family crisis, or when they're changing the baby's nappy, or eating a meal, or 'enjoying a moment' with their significant other?…
I couldn't have said it better (except I wouldn't have said "nappy"). I've heard the excuses given by affiliate managers concerning calling players with bonus offers – that it is legitimate form of marketing. Sorry, I don't buy it. Calling players at their homes is unacceptable and is a roguish form of marketing – have you ever heard of 32Red, Club World, Redbet, or any reputable casino doing this? Nope, thought not.
Forum thread here: Casino Phone Spam at 3am.
Faceplant of 2013
Could it be that Topgame goes unmentioned here? Nonsense! One the worst blundering screw ups for 2013 was the meltdown between the Rome Casino properties and its software provider – Topgame. What happened? Apparently Topgame claimed that the operators of Rome Casino owed them around $2.5 million in royalty fees; the Rome Casino operators (TVMUK) denied this and claimed it was extortion. Then Topgame shut down TVMUK's casinos, appropriated their database, and launched cloned websites (Romevipcasino.com, Monavipcasino.com, Dicelandvipcasino.com, etc., all identical except for the "vip" in the domain name – freaking ingenious!) Rome's operators countered this with a lawsuit and filed criminal charges against Topgame which they apparently lost. A cyber trainwreck and faceplant all in one shot.
Faceplant Runner Up
What could be worse than launching a casino, and it turns out your software provider hadn't set up the casino's cashier yet? Sound like nightmare? Well it was when Slotter Casino launched in September, (they were our Mystery Casino by the way – ouch!) and it turned out that BetonSoft – their games provider – hadn't set up the cashier. Yikes! Players could download the games, but they couldn't make a deposit.
Imagine going to Target (or for you Brits – Tesco), and you can shop all you want, but there is no check-out stand – and the doors are locked. You'd start breaking things! In this case, you'd probably just want to defenistrate your computer – or the games provider. At least it was only temporary major malfunction. They're fine now.
Best Customer Service Award 2013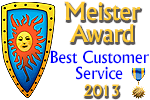 One of the reasons why 32Red is such an excellent casino is its customer service. Always helpful, always professional, always there to assist. The forum is jam-packed full of praise and flattering adulations. Even when they are experiencing evil players (as noted here), they remain cool and professional. Kudos to 32Red.
Worst Customer Service Award 2013
Dendera Casino is the recipient of this award of shame and ineptitude. Read on:
One of our members faced the frustrating situation of trying to make a withdrawal from a casino which was automatically reversed each time she attempted to withdrawal. So she decided to contact their customer service via chat:
Dendera Customer Care: Hello
Player: I have been withdrawing the same withdrawal for a while now. first it was reversed by the casino after 72 hours. then it actually disappeared from reversible withdrawals and then reappeared just now with the last hour in my account again reversed.
Dendera Customer Care: That's correct.
Player: I sent an email after the first reversal requesting that it NOT be reversed again
Dendera Customer Care: Please don't deposit if you have a pending withdrawal
Dendera Customer Care: rather reverse
Player: it was no longer listed
Player: i assumed you were processing it.
Dendera Customer Care: then contact us
Player: OK. I promise not to deposit here for 2 weeks. That ought give you time to complete it
Player: I really dont understand. Can you please speed up the process somehow?
Player: I have been a good customer
Dendera Customer Care: not really
Dendera Customer Care: you are not very polite
Dendera Customer Care: and we asked you before to reverse instead of depositing
Player: I am polite, just upset.
Dendera Customer Care: as the fees for deposits are quite high
Player: it was not listed as reversible
Dendera Customer Care: you could have contacted us
Dendera Customer Care: as you have done now
Player: i didnt realize there was a reason to think that it was still unprocessed
Dendera Customer Care: sigh
Player: as it was no longer listed in my account
Dendera Customer Care: please withdraw a portion of what you wish to withdraw and keep some funds to continue playing
Dendera Customer Care: do multiple withdrawals if you have too
…
Player: i would prefer to leave the withdrawal as is and give you time to process it as there are fees incurred on my end from the wire transfers. And as I am feeling uncomfortable with the process as a whole at the moment and need my faith restored by its completion.
Player: I can wait to play more once it is completed
Dendera Customer Care: Have you been paid previous withdrawals?
Player: yes
Dendera Customer Care: Have we not kept our end of the arrangement?
Dendera Customer Care: If you are not happy or trustworthy, please play somewhere else
Dendera Customer Care: we do not need players like you
Player: this one has been reversed and thus stalled twice by the casino
Player: and that is a tad scary
Dendera Customer Care: is there anything else?
Player: why are you trying to fight with me?
Dendera Customer Care: we run a honest casino
Dendera Customer Care: people like you give the industry a bad name
Player: i have done nothing but play honestly
Player: i am worried about my withdrawal is all. i have not done anything to give anyone a bad name
Dendera Customer Care: and we have done nothing but apply procedures you were made aware of
…
Player: are you refusing to process my withdrawal?
Dendera Customer Care: won't dignify that with a reply
Player: can you please explain where we stand right now?
Dendera Customer Care: there is nothing to explain
Dendera Customer Care: you are untrustworthy
Dendera Customer Care: and we have nothing to prove
Player: how am i untrustworthy?
Dendera Customer Care: lets end it here
Player: are you intending to process the withdrawal?
Dendera Customer Care: good bye
---
The only one giving the industry a bad name is the customer service rep from this allegedly self-proclaimed "casino". What shameless arrogance! If this was an employee of any reputable operation, they would have been fired in a New York minute. This illustrates a serious lack of training on how to deal with frustrated customers. It boggles the mind why casinos like this are still in operation.
Best Gaming Experience Award
Last year, I combined the Best Software and Best Games award into the Best Gaming Experience Award since this industry has evolved from producing simple casino games to generating a gaming experience that meets the needs of a player community that has high expectations. Quality and assemblage of games, originality, and creativity are all taken into consideration.
This year's award goes to Williams Interactive. WMS has some of the most original and innovative slots in the brick and mortars, and they have been successfully launching these onto their online brethren. COLOSSAL REELSTM are just plain amazing – and seeing these slot games employed with the new Kiss and Bruce Lee slots is more than just impressive, it's a fantastic player experience.
Honorable Mention:
I have to admit that NetEnt's Southpark and the Creature from the Black Lagoon are awesome games. I can't get enough of those two. Excellent job!
Sitting on One's Hands Award 2013
Playtech is served this honor for doing abolutely nothing while 40 of their licensees put arbitrary withdrawal limits on their progressive wins. At press time (29 January 2014) Spam-a-lot slots is listed at $2,062,439. If you were to win this progressive jackpot at europacasino.com (or any of the 40 Playtech casinos listed here), it would take 20 years to pay out at $9K a month. What's wrong with that? It's not europacasino.com's money, it's a progressive jackpot that includes pooled funds from all participating Playtech casinos. It's predatory because the funds are placed back into the player's account where he or she will probably play a lot of it back into the casino.
Playtech has been aware of this for years, but for whatever reason, they choose to "sit on their hands" and do nothing.
Fourth Point of Contact Award 2013
The "fourth point of contact" is US paratrooper lingo for the fourth point of your body as it hits the ground during a parachute landing fall. In other words, it's yer ass. This award is given to a person whose head is so far up their "fourth point of contact" that the bulge in his neck is his nose…
This year's award goes to Playtech for ignoring the fact that many of their casinos list predatory progressive jackpot terms that many of their casinos still have. Last June I was revisiting one of the black marks on the online casino industry – the case of Sylvia P. and her stolen progressive win of $4.1 million USD by Joyland Casino. For those who may have forgotten, this was a Canadian French woman who won a progressive at this casino, and the casino had the audacity to offer her $9k per month. The reason for this was that their self imposed withdrawal limits were $9k per month, to include progressive winnings.
This would have taken 39 years to pay out. So the casino made a deal with her using hotmail email addresses (thus erasing any evidence of dodginess), and she received about half of her winnings without having to wait. The other half went…well, it left only one conclusion in everyone's mind – that the owner or administration of the casino pocketed the other half of the jackpot win, because it certainly was not placed back into the Playtech progressive pool. If I were a Playtech operator back then, I would have been livid. The full thread that goes into detail on this is here.
The bottom line is that she should have been paid out in one lump sum (or close to that as possible – $4.1 million is a lot of money) without stipulations being conjured up by the casino. Progressive jackpots do not belong to the casino that produces the win; these are pooled funds from all participating casinos. What is alarming is that there are no less than 40 Playtech casinos that still have this predatory term in their terms and conditions. All of these casinos are disqualified from our accredited casino list, and have been placed in the Not Recommended section of the rogue pit. You can read the full listing here.
Icing on the cake of joy: Joyland Casino still has this term in their withdrawal limits even though I was told by their COO in 2010 that it would be removed. So much for veracity.
So Playtech is the recipient of "Fourth Point of Contact" award. It's shameful that a large publicly traded company allows their operators to get away with this predatory behavior and pretends it doesn't bother anybody.
Head in the Sand Award 2013
Group Award
This year's award goes to all of those affiliates who promote those casinos listed in our Rogue Section (like the above mentioned Playtech casinos for example). If a casino is willing to rip off their players, what do you think they'll do to affiliate webmasters? If a casino is using pirated software, or making claims of being licensed when they aren't, what makes you so sure that they will treat their affiliate webmasters fairly? Business ethics should be on the mind of every affiliate. Do your homework and don't be so naive.
Stupidest Named Casino of 2013
This year was fruitful in stupid names. Some of which are probably the stupidest I've ever heard – so several awardees have lined up to receive this prestigious award:
WinTrillionsCasino.com: Win Trillions? Oh, really? (facepalm!) Does anyone at this casino know how much a trillion really is? Probably not. Up until December, they had a term within their terms and conditions that limited their payouts at $10,000 a month. If someone had indeed won a "trillion", it would have taken the casino 8.3 million years to pay out. Someone is not using trillions of their brain cells.
TrendCasino.com: Trend – as in what? A fashion? A style? A taste in music? Shoes? Can casino names get more moronic? Yes they can!
LuckyPantsBingo.com was launched in January 2013 with the rumor that its sister casino, "Happy Knickers", was on the way.
The Best Affiliate Program of 2013
Affiliate Republik may be new, but they absolutely know what they are doing. Headed by Alex, Charles, Adnan, and Märit (who has recently moved on), they are some of the most clued up individuals in the industry when it comes to knowing what affiliates want. Why? Because they have first hand experience as affiliates, SEO specialists, marketing and software development. So they know players' needs and expectations, and they know what is on affiliates' minds and what they expect as well: fairness, transparency, and professionalism.
Besides their stupendousness, their backend for affiliates is easy to navigate and is intuitive (a personal "thank you"). It shows that a lot of thought has been placed into presenting affiliates the information they need – promptly. It's a step above the norm. Kudos all around; keep up the great work.
Most Annoying Affiliate Program of 2013
Europartners takes this honor for 2013 for being pushy and aggressive marketers that can't be bothered to do five minutes of research before reaching out (spamming) a potential business partner.
Subject: Europartners
Hi,
My name is Emanuel Benderman and I work at Europartners.com.
I'd like to contact you to talk about the possibility to do business together.
I've an idea that I'd like to share with you.
Please contact me by Email or by Skype: euro_manu.
Best Regards.
Who in their right mind begins a business proposal with "Hi"? You ought to know who you are addressing. If you don't know then find out.
Subject: Re: Business offer – please read me
I am truly hoping you will answer me some day 😀
I work for EuropaCasino, TitanCasino and CasinoTropez. Can we please discuss a deal?
Best regards,
Sivan J Israel
Affiliate Manager
—
Sivan Israel
Affiliate Manager
Tel. +972-3-755-3300 ext. 2265
Skype: sivanep
Email:sivanis@europartners.com
Linked to every page at Casinomeister is the following: Becoming Accredited which describes what it takes to get on the site. And which conferences I'll be attending (where one can possibly meet up). Casinomeister also hosts the infamous Rogue Pit – and if these guys had spent two minutes perusing the rogue section, they would have realized that their properties are listed as a rogue casino.
I'm a big fan of irony – aren't you?
Best Casino Manager of 2013
The Best Casino Manager is always a tough decision since there are quite a number of totally motivated and dedicated casino managers. Ben Clems of Best Manager of 2012 – Redbet Andy – RedBet
Worst Casino Manager of 2013
Actually, this is more or less a group award. While going through last year's archives, I realized that we had over 20 official warnings posted in the Casinomeister Warnings. Nearly each and every one of these warnings stemmed from piss poor management, inept customer service, or failure to properly communicate. Serious problems stemming from easily fixable situations. On one hand we have some outstanding casino managers – many of whom are members of our forum and actively engage our membership. On the other hand we have poorly trained individuals who are screwing things up not only for the players, but for themselves as well.
So if the shoe fits wear it. And if those shoes suck, and you're a shitty manager – admit it and reach out and contact either me or a member of our Casinomeister Advisory Group and ask how one can improve one's game – if you know what I mean.
Biggest Disappointment of 2013
One of the biggest disappointments this year was a personal one for me. I was in San Francisco attending the GiGSE and observed how so many company reps from US based organizations were clearly stupendously ignorant of the online casino industry. This I believe stems from a US centric vision – that the only online world is a US one. Many of us have experienced this before – that the US comes across as "owning" the Internet. It's true – most Americans are oblivious to what's going on in Europe or Asia, and they are pretty apathetic about it as well.
And what was doubly disappointing was the corporate-talk going on – without a crumb of concern about "what do players want?" Nothing – nada. The US corporations assume they know what the US players want, (it's all about social gaming). The nail that was hammered into the lid of my "honest truth" box was a statement made by a panelist during one of the last group discussions – up on stage he said "We're here to make a lot of money – and that is what people should be focused on." And most of the people there – about two hundred or so nodded their heads in agreement – some clapped.
And ain't it so true. That's what we are looking at. I just hope there is plenty of room for the smaller operator when the US goes full bloom. It's the small operators who tend to know what the players really want. Hell, look at the awards for example. It's the small companies that have the Best Customer Service, Best Casino Manager, Best Casino. Not the behemoth mega-massive we're-great-because-we're-big casinos. Even though the next few years will prove to be interesting, I'm still disappointed.
Forum Highlights of 2013
In Casinomeister's 15 year history, 2013 proved to be the most active. 3890 new members signed up and the traffic has been overall increasing – and the topics ever more intriguing (or brutal) depending on your position in life.
Here are just a smattering of some of 2013's highlights:
The C2O – this is a brilliant plugin that Simmo! developed for our forum members (Full Member and above) that let's you know what a casino's status is when visiting any online casino. Is it Accredited? Rogue? in the Reservation? This is an extremely useful tool that provides our members with information that is crucial to their expectations and enjoyment of the online casino arena.
Online Casinos discussions:
Simmo! inquired whether or not players use bonuses. Suprisingly nearly 20% of our members do not use bonuses whatsoever – something that operators and affiliate managers should take into consideration. Here we are in 2014 and the signup bonus is the primary tactic of online casino marketing. Looks like the marketing arm of this industry is ignoring 20% of its potential players. There is a lot of great information here: Do you play with sign-up bonuses?
Announcement from the GRA concerning Hilo and ReelDeal games was not only informative but excruciating as well. Here we had Gibraltar's Gaming Commissioner getting beat up in the forum, and it only seemed to get worse with every statement that he made. What was unfortunate is that he appeared to be out of his comfort zone when a number of seasoned members pointed out errors in his statements – only to be countered by him pointing out the errors in theirs. All of us were expecting a bit more from Gibraltar – and we were let down. The bottom line is that even though it became an unproductive "to and fro", there was a lot of valuable information garnered. It definitely deserves a thorough read.
Oh no! Say it ain't so! Sheriff Gaming Offices Raided – Assets Seized!
Interested in opening an online casino. Advice needed. And a lot of good advice indeed!
And we all love a good controversy, don't we? Virtual Casino and Ace Revenue on Probation.
Plenty of problems in the forum:
Let's Help stop the spam together – like this: come on affy managers, get with the program!
Watch Out Players. Questions about Dark Knight Rises – disappointing chapter in MGS powered games. Boo Microgaming!
IATLD Site Hacked to promote casinos Scumbag spammy hacker affiliates. No excuse for letting these guys get away with this. Affy managers – get with the program!
Possible bad (or inept) casino practice here: Beware: Predatory deceitful bonus at netbet.com. Some casinos haven't learned that players don't like to be dicked around.
And then we have the fraudsters getting busted, and trolls who come to their rescue like here joe90joe vs platinum play, or tarabas3 vs lucky nugget, or nigel207 vs lucky247 or Casino Reward Group, be aware of certain terms and conditions (fraudster).
And then there are the promotions gone wrong: Major Tom won't honor promotion or giving flawed Roulette tips to players.
The Attic:
This one is important: How do you stop Hangovers?
Or for those traveling: What are your Thoughts on Tipping?
Your top grammatical hates.
New and old members: Why your user name?
What are things that you would never do now, that you did when you were younger?
If you are not a member, why not? You are missing out on a lot of interaction with some very cool people – and a few lunatics as well. I am grateful for such a fantastic community. Thank you everyone.
Casino Representative of the Year 2013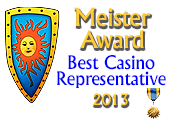 This is a new catagory that awards those representatives that go above the normal call of duty – those reps that not only assist players in need, but those who engage with the membership – sharing life experiences, explaining casino operations, discussing games and casino math (yikes!). in essence, these are the guys and gals that really make our forum a true community of players, affiliates, casino reps, and the curiously engaged.
Kudos to Igor82 Betat Casino's CEO. He has been a member for only a little over a year and a half, and so far he has 606 posts, has been thanked 750 times by our members, and has an impressive 3,965 reputation points (at press time) – far above his peers. He not only has been instrumental in solving player issues, he has shared his casino knowledge a number of times which demystifies the mechanics of the online casino industry to all – including myself. What an awesome job you are doing! Keep up the great work!
Fan Mail of 2013 Award
Occasionally, some members forget their sense of decorum and become difficult to manage in the forum. Worst case scenario: they lose it and become verbally abusive thus get the boot. When this happens, some take the time out to send me their precious thoughts – or "fan mail". Shamrock7s was acting like a jerk, and was given a 30 day suspension for calling someone an asshole. Here is his response:
Hello shamrock7s here, I just joined several other forums to share my story. I also can't wait to share with everyone what a joke your forum is. I mean it's actually quite comical it's you the german joke "casinomeister", igor the european asshole, and cleveland the crack head nigger. It's actually the most non informative useless forum i've been to. I mean it's just you three butt buddies tag teaming each other all day. I should have known when I found out I was trying to communicate with a illiterate german bastard. Lol, what a waste of one's time. I hope all of you get scammed and lose everything.
"a illiterate german bastard"? It's always amusing reading garbage from someone accusing another of being ignorant, yet they can't construct a proper sentence in their own native language. Banned for life for being a racist bigot.
Most Annoying Forum Member of 2013
This year we had our fair share of shameless stupidity and annoyance in our forum – and then we had WWW420XE who introduced himself with the following:
"32red.com Dishonest casino! They cheat players! They do not play in the casino!
They are monitoring the casino successful players. and they interfere with the course of the game underestimating statistics in games."
Oh my!
And it went on for a few more pages to include this gem:
"…I just wanted to prove that they are not fair game. I submitted to them for more than $ 500 a month and found out that they are cheating players. in a fair casino I always win…"
If a player thinks that a casino has cheating software, why do they keep depositing and complaining? Surely beats me.
Anyway, this guy goes on and on – he even posted this chat session he had with one of 32Red's customer service reps:
Phil: Hi, Welcome to the casino, how can I help?
Me: why your fagot shut down?
Phil: I beg your pardon?
Me: your stupid support off chat.
Phil: Please don't be rude, is there anything I can assist you with?
Me: I ask you to come to the forum Brian talk in your casino.
Phil: I don't understand i'm afraid.
Me: I have a casino to lose. and you even can not afford a bonus. that in relation to the players?
Phil: There are bonuses available today. 100% match on your first deposit up to $25.00
Me: I'm not talking about that Bon. And as a bonus for the losses in your casino. cashback
Phil: ah sorry. There is nothing I can add for free i'm afraid. sorry to disappoint.
Me: Well stupid bastards!
Phil: Goodbye.
Even though English was his second language, he was fluent enough to come across as an annoying nincompoop. His account was upgraded to "banned" for being a pain in the ass (yes, we have rules covering being a PITA). Kudos by the way to the 32Red support guy who had to put up with this nutjob. He kept his cool.
Annoying honorable mentions:
GOGC – for being a twit that tried to suck up to the Casinomeister staff while posting malicious attacks directed at Casinomeister elsewhere. It was also discover that he was the fraudster Haviton. Loser.
Firehawk – low life dweeb hiding behind a mask of anonymity to bully and act like an a-hole. He had several older accounts that were banned for flaming or disrespecting the community. But he thought he could BS his way back into our hearts, and ended up posting a bigoted comment that earned him another permanent vacation.
shamrock7s racist bastard (see Fan Mail of 2013)
bsilva028: guy complains of getting crappy service from a casino, and it turns out he had over 40 accounts set up there. C'mon – get real. Read about it here.
Stupidest Casino Trick of 2013
Casino770 dropped a hint several times during the year that they were relaunching the casino as a new brand – and I anticipated this new site since this casino has been in and out of the Rogue Pit for several years – mainly for incompetent management or too many player complaints.
So they day was finally here – the relaunch, and here came the new and improved casino NetBet which had a name and logo that was pretty much the same as iNetBet's logo – same color scheme, and nearly the same name. Since iNetBet has been around for about 15 years, and is one of the more popular casinos on Casinomeister, it was blatantly obvious that either a) Casino770's ownership hadn't a clue on what they doing since these two brands would certainly be confused – or b) they new what they were doing and were attempting to have their brand confused with iNetBet.
The members were not amused and made their comments here. The casino fired the proverbial bullet into their own foot. There were plenty of better names to use – not one that can be easily confused with a well established casino.
Best Warning Robot of 2013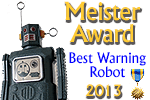 How could this be any easier? Vortran007 is the ONLY warning robot out there in cyberland. This year he has warned players about Bet Port, E-casino365, Planet Kings, BetMotion, and many others. Where would we be without Vortran?
He's my buddy; he's my sidekick. He's an integral part of Casinomeister's Webcast – and he's here to stay. Kudos to Vortran – job well done!
Best Minions of 2013
I just wanted to take time out and thank Maxd for his outstanding work on the PABs. He's been doing a bang-up job. I hope that the readership can show their appreciation as well by visiting his Amazon.co.uk wish list. Buy him a book or something – you don't need to wait until Christmas.
I also want to give kudos to Webzcas for his untiring work as webmaster and overseer of the Casinomeister domain. And to Simmo! whose keen eye for potential spammers, and his dedication to entertain us with witty commentaries are well noted. Thanks guys!
The Evil Player Award for 2013
When people think of the evils of online gambling, the knee-jerk reaction is to envision ethically challenged crooks ripping off players. But that is only one layer of evil in this world. Lest we forget the cheats, the charlatans, the scammers, the fraudsters, liars, and mendacious crooks. There are probably more of them than Rogue Casinos.
This accolade is awarded to players who go beyond the call of dickishness – these are the Evil Players.
Casinomeister is known not only for its player community, but for its problem solving capabilities – specifically the Pitch a Bitch, a place where one can submit a formal complaint, and from there we try to do whatever we can to fix what may be broken.
Unfortunately, there are those players who are the problem – it's not the casino. From PAB manager Maxd, his summary of the Evil Player for 2013:
The first group of people, not necessarily connected, were running a self-exclusion scam towards the end of the year. The idea is that they'd exclude themselves at a casino then slip back in a short while later and play. If they lost they'd holler for compensation. Or, they'd exclude at one casino in a group and if they could sign up at another casino in the same group they'd repeat the play/complain scam. We had a half-dozen or more of these come through in the September/October timeframe.
Around mid-year we had several very suspiciously similar cases where players were having "banking problems" and wanted the casinos to wire them their money to a friend or deposit to some otherwise irregular payment method. The deal here is that the player would deliberately make payment difficult for the casino — tricks included opening and closing bank accounts, asking the bank to restrict certain transactions, etc — so that the casino's normal payment channels fail. Banking on the casino's good will to pay the scammer starts asking for irregular payment methods or outright exceptions to the casino's payment policies. In most cases it seemed that these culprits were long-time scammers who'd blown their own identity and were trying to use bought or faked player accounts in order to continue accessing casino bonuses. These guys were almost always US-based.
Finally another group — admittedly a delicate subject — are the faux "cancer victim" scammers. Their complaint, usually pretty feeble on it's own, is accompanied with an "I've got cancer, need this money to pay for treatment/care for my survivors" plea. If you don't immediately jump on-side they start hammering you with horror stories of their illness, even sending graphic medical pictures to shock you into submission. Again a rash of these came through later in the year. Despicable.
So there you have it – the grubby underside of the "rock". Hopefully our PAB service will be pivotal in eliminating these wormy situations. We always give the player the benefit of the doubt, but you can see that the player community is not always a bed of roses.
The Evil Player award this year wouldn't be complete without the honorable mention of Steffigraff77 (seriously, why would a man use a hot German female tennis player's name?), and Kodi. It's all explained here. Bring a lunch.
In Memoriam
Our forum is a lively one, and there are many folk who have made it their home away from home, and also into our lives. Some of us become friends – and for others, we become like an extended family. And with every community, we not only gain new members – at times we lose them. This is just a sad fact – this year we lost two very active members who were not only prolific, they were admired by many. Their absence has left a hole in our community that will probably never be mended.
Lisa Duddy aka Pinababy69 was one of the most respected and beloved members of our community. She was passionate about how players were to be treated, and she was a voice of reason when the goings got tough. She had something to say about most everything; from the standard casino fare to "loose vs. lose". She was fiery and at the same time quite lovable. She was a member for nearly a decade. Her absence is noticed by all those who looked forward to her insightful commentaries, frank observations, warm banter, and her interaction that embraced us all. Here you can scroll through her latest posts – you'll see what a special woman she was. Remembrance thread here.
Roy Houghton aka Seventh777 was one of the most entertaining members ever. He always had me laughing with his puns, his self-effacing humor, his dedication to partying, his sex innuendos – jokes, and of course – his unrelenting conspiracy theories. I always looked forward to what he had to say. He was one hell of a guy, and his forum presence will never be replaced, ever. Here you can scrollthrough his latest posts – and you'll come to realize why we miss him so much. Remembrance thread here.