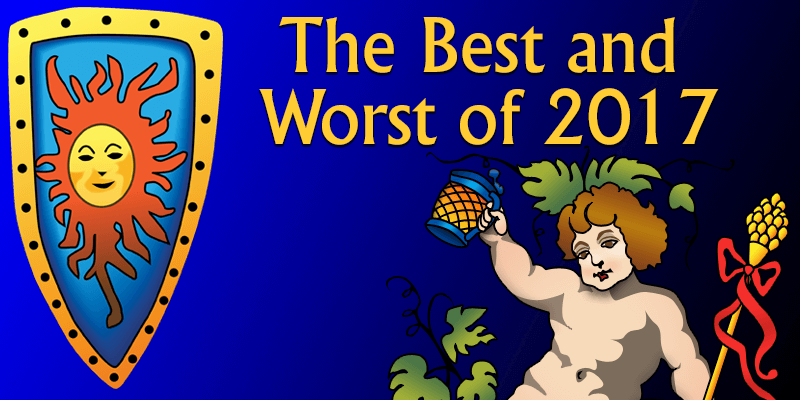 Best and Worst in Online Gambling for 2017
And as we enter 2018 – it's time to reflect on the past…
So it's time – another round of the Meister Awards – since 2001 we have been divvying them up amongst the worthy, and the worthless. Like over the past few years, some casinos are getting incredibly better – thanks to the desire of their staff to create a safe environment for players. It's heartening to know that there are loads of people who care about the player experience and want their players to get the best treatment imaginable. And of course, there are those who are there to bleed the players dry – treating like sheep – treating them like suckers. And as long as jurisdictions continue to force prohibitions, players will find themselves in dire straits – without common consumer protections. They will have to fend for themselves, or become empowered with knowledge from here and other awesome sites like Casinomeister.
Like 2016, 2017 proved to be chuck full of rogue activity. There were scandals, cheating software, and a myriad of crap being slung at the punter, and at the affiliate webmasters.
So – prepare yourself for the "only iGaming awards that matter"(like the band, get it?). Grab a beer, a hot cup o' java, or some sippin' whiskey – don your flack-vests and Kevlars (don't forget to secure those chinstraps). You're about to jump into the trenches of online gambling. Hoo-wah!
Drum roll please…
And the winners are…
The Best
Best Casino of 2017
Best Casino Group of 2017
Best New Casino of 2017
Best Customer Service Award 2017
Best Casino Manager of 2017
Best Player Experience Award 2017
Best Gaming Experience Award 2017
Best Casino Software Experience Award 2017
Most Awesome Screenshot of 2017
Best Affiliate Program of 2017
Ted Loh Humanitarian Award
Phoenix Award 2017
The Worst
Worst Casino of 2017
Worst Casino Group of 2017
Worst Customer Service Award of 2017
Worst Casino Manager of 2017
Worst Player Experience of 2017
Worst Affiliate Experience of 2017
Most Annoying Affiliate Program of 2017
Faceplant of the Year 2017
Head in the Sand Award 2017
Fall from Grace Award 2017
Stupidest Named Casino Award of 2017
Tangled Web Award 2017
Sitting on One's Hands Award 2017
Fourth Point of Contact Award 2017
Biggest Disappointment Award of 2017
Evil Player Award of 2017
Bag of Hammers Award 2017
Bag of Dicks Award 2017
Our Forum
Forum Highlights of 2017
Casino Representative of the Year 2017
Forum Member Achievement Award of the Year 2017
Most Annoying Forum Member of 2017
Fan Mail of 2017
In Memoriam 2017