Liar liar – yer screenshot's on fire
From 2003
Opportunists don't bother me too much; people who take advantage of a situation to further their own cause. But this situation merits condemnation of the most serious kind. This player took advantage of the death of my friend and player advocate Julie Sidwell to reopen a case of player fraud – his fraud.
Situation: 26 February 2003, this player – we'll call him stefan78 (his handle at Casinomeister's forum) claimed he had been dealt a Royal Flush in Caribbean Stud Poker at the RTG powered Palace of Chance Casino. He was apparently dealt this Royal Flush, but for some reason his hand was "folded". By the way, this was for a progressive win of $45,229 – pretty impressive! He made a screenshot of this "win" and contacted the casino. The casino responded that there was no record of the win – that according to their records it never happened.
Well, the player contacted Julie Sidwell at Gambling Grumbles and she investigated this case. She told stefan78 that the casino was looking into his allegations, that he had won the progressive, that he had a screen shot as proof. Evidently the case was dropped…but stefan was never told why.
Julie Sidwell passed away the week before Christmas 2003, and it was only a week after her death that I received this email:
Well at Februar 26th i had a royal flush with carribean stud poker at palace of chance, i played the progressive coin. What happened next not much the game told me i folded but i did not do that Next i contacted the casino and asked what happened.. well after about 20 emails they told me they could not find it in their record and that they did not believe it happened. Well after first talking to Sara and then Robert Weiss we agreed that Julie Sidwell would investigate further. She was very kind and made me feel not alone in this situation. The last email i received from her was that it would not take any longer, she did not want to report anything untill the investigation was ended which i fully understood. Well i heard nothing for a long time and i got worried and emailed her again, unfortuantely she never responded to me again. Well this week i learnt the sad news that she has passed away. I contacted sara at sara@palaceofchance.com she told me after 5 emails that Julie dropped the case because Quote: The general feeling is that you do not deserve the money, as the meter that you claimed to have won, was never as high as the picture that yousent into us.

Well unfortunately i found a newsletter of februar 27th a day after my royal flush. In that newsletter the jackpot meter was showed and this was higher then the amount i claimed. So i proofed that they were wrong. I asked who told Julie Sidwell this lie. Since i gave them this proof 2 days ago the intensive emailing stopped. I also contacted RTG but they never responded as well. Well i am waiting for almost a year now to get paid for the progressive of 45229,94 . I have all emails send and received in record.I hope you can get in contact with RTG or Palace of chance, If you need further information i would be glad to help you. I do not believe that Julie Sidwell dropped the case without asking or telling me. I think its just another lie to get rid of me.

Thanks you

I want to get paid
He also sent me his screenshot: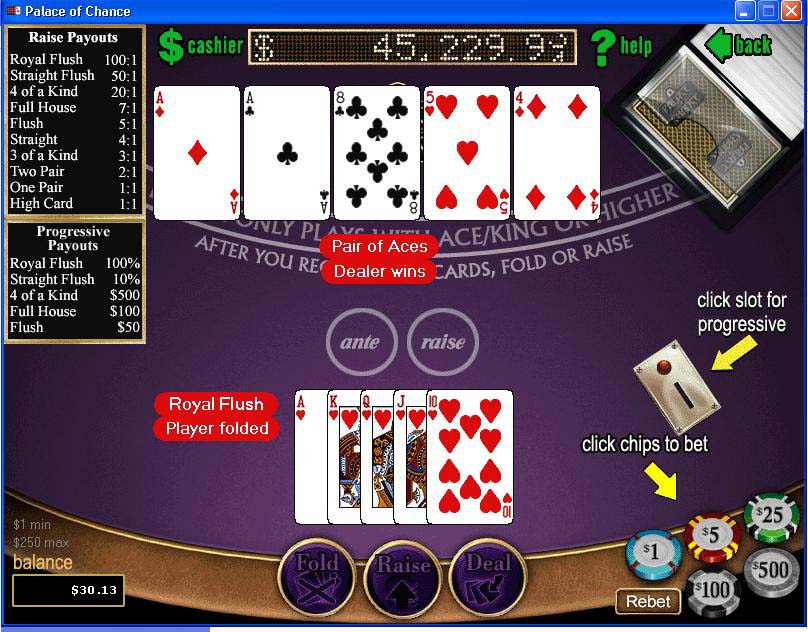 I took a good look at this, and I couldn't spot any real indication of doctoring. I forwarded it to RTG and gave them a call. They were familiar with the case and agreed to relook at the entire situation.
At first we went over the player logs from the 25th, 26th, and 27th of February. There was no indication of any hand such as this. The player logs can show each card dealt to the dealer and player. There was no RF win. What was odd, is that the software is set up that disallows folding if and when a Royal Flush is dealt. It just can't happen.
A few other things to consider:
There is no incentive for a casino NOT to pay a progressive win. Reasons:
1. The funds to pay the progressives are pooled from all casinos who participate in this game.
2. Progressive wins are highly promoted by the casino – it's good business.
3. Progressive winners play a good portion of their winnings back into the casino – thus the casino actually makes money off of these wins.
In a nutshell, there was no reason in the world for this casino NOT to pay stefan78 if this was a legitimate win. I wrote the guy:
From: Bryan Bailey
To: Stefan78
Sent: Tuesday, February 10, 2004 11:21 AM
Subject: Re: Fw: Pitch a Bitch (Palace of Chance)

Hi Stefan,

This is the scoop. I had RTG go over your game play for the period you specified and there wasn't any wins such as this; there wasn't anything close. Please bear in mind that RTG casinos have no problem in paying out progressive wins since it does not affect their profit margin, in fact they prefer to pay out progressives since these players will usually play back some of their winnings. In short, the casino has no incentive or motivation to not pay you.

Now, as for your screen shot. Either this was doctored and created by you, or it reflects a malfunction in the software. They are having their graphic artists and programers take a closer look at the screen shot you sent. So that's where we are on this.

Sincerely,

Bryan
He wrote back:
Hi Bryan

I understand they have no incentive motivation not to pay me if the progressive would have been in my casino account. But thats was not the case, therefore this what i believe is a malfunction will affect their profit margin because they will have to pay it from other funds. Thats why they make up excuses and telling lies and thats why i am waiting for it for over a year now. Thats the only way i can figure out why this is taking so long. But i can be wrong… Anyway thanks for helping me!

Best regards
Stefan
I had asked RTG to recreate a screenshot with the same win. If there was anything the player had to recreate was the cards, and the words "Royal Flush".
They did this…and busted. The player obviously forged the screen shot. You can compare an actual Royal Flush with the player's alleged win: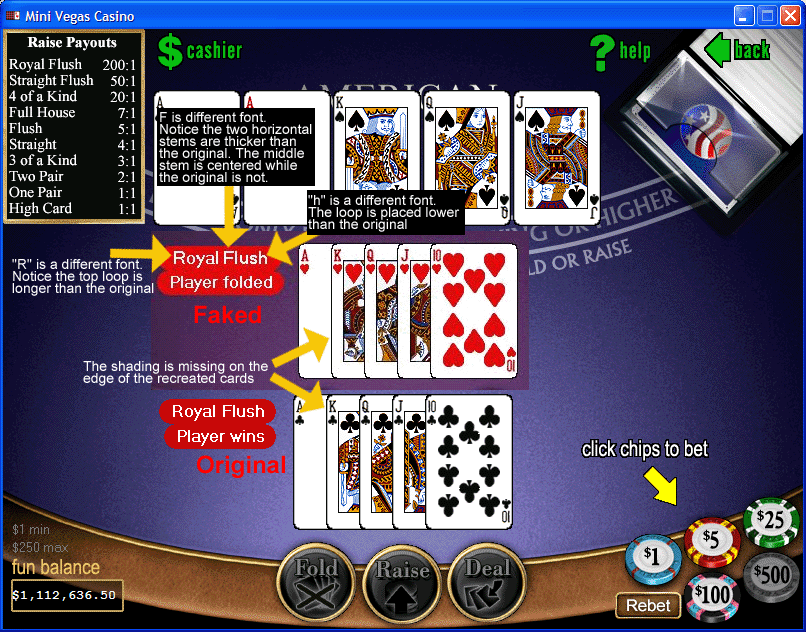 So, in a nutshell – this is a player with no scruples. He tries to rip off a casino with lies and a forged document, and it initially fails. When he realizes that the person who was arbitrating his case had died, he jumps right up to do it again! What scum — what a lowlife. How can people like this sleep at night or look themselves in the mirror every morning? I don't know. And for what? Because of greed.
Hang your head in shame, stefan78 – you are evil.