Affpower Affiliate program and Casinos
"Fake NetEnt Games - Ethically challenged"
The Awesome Transcript
Today, I'm just going to cut to the chase and get to the nitty gritty. I have been running Casinomeister for nearly eighteen years – eighteen years next month. Believe me when I say I've seen it all – because I have seen it all concerning this industry . But honestly, I thought that the era of clip shot joints running out of a cowboy town jurisdiction died out years ago.
Well guess what – there are a crap load of casinos still out there– running cheating pirated software and screwing players – AND – get this – hold what could be considered valid gaming licenses.
Yes folks, you can sign up with one of these "licensed" casinos, and play games that are cheating you – and there is nothing you can do about it. Absolutely nothing.
And who gives a flying rats ass? Just about no one. No one cares that you put trust into what seems to be a legitimate enterprise and get fucked. It's like a perfect storm of sorts. The player: screwed. Has no one to turn to. The operator has made a profit from cheating the player, and the licensing jurisdiction won't answer to the problem.
The system is broken folks – and situations like this give the anti-online casino entities plenty of fuel to burn their fires.
Here is what happened. It was brought to our attention by a number of players to include the portal latestcasinobonuses that Euromoon casino had fake NetEnt games. Netentertainment run their games off of their server casinomodule.com. That is it. There aren't any other servers that they use.
Well Euromoon – and its related sister casinos – were running their NetEnt games off of a number of servers – none of them had anything to do with Netent. Who knows how long they were doing this. Cut to the chase, these are pirated games, run off of a server which was probably controlled by these thieving casino operators.
This in essence means that they control the game play – with stolen games. Which means that players were being defrauded.
So, who is regulating this? What licensing jurisdiction is in control of compliance and ensuring that the games are fair. Well it's in Curacao.
Let me explain how this works. Curacao has four master licensees issued by the government. These four licensees are allowed to sublicense their license. As long as the sub-licensee meets some sort of standards – or payment plan – they are licensed by the master licensee.
Think of it this way, for instance – you as an adult have a drivers license in the States. Your teenage daughter has a learners permit and she is allowed to drive just as long as you are in the passenger seat making sure she isn't hitting things or running people over. That's a fair analogy.
Well, what has happened here is either the parent is asleep – or doing massive bong hits – or has totally bailed. It's a teenager running amok – running over little old ladies – kids on bikes, and puppies!
We have a situation that is out of control. A casino that is able to run amok – steal software, rip of players and get away with it is deplorable.
So what can be done? Probably nothing. We can all talk about it – but so far it's just a bunch of folks like me bitching and moaning about it. Oh, and then there are the players. We have a number at Casinomeister members who claim to have been ripped off by these casinos. What is their recourse?
My recommendation would be to file a lawsuit against those who enabled this activity. Those who failed in their duty of "compliance" should be ordered to toe the line and reimburse the players with complete refunds of all of their deposits. If they played one of the cheating games – they should be reimbursed fully and without prejudice.
Curacao-egaming.com (AKA Cyberluck) is the master license holder. They should be held accountable to the players' liability. They pledge on their website – "To supervise and ensure the integrity and conduct of Curaçao eGaming's authorized IP operators and providers of services." Whatever that's supposed to mean. I won't bore you with the rest.
One last note, Affpower is the affiliate program. For all of you affiliates that have been promoting these rogue casinos, guess what, you are also being defrauded. If an affiliate program is bold enough to promote casinos with cheating software, what do you think they are doing to your affiliate account? So you are being raped just like the player. Also, if you are promoting these brands knowing that they have cheating software, you are aiding and abetting. You should be talking to a lawyer about this.
Anyway, enough for that. I'll end by saying, all of this is so unnecessary. Properly functioning software that is audited and compliant with European or US law will have the house edge built in. You don't need to cheat players in order to make a profit. If you treat players fairly – with respect, and focus on the entertainment aspect of this industry – you'll do well. There are many fantastic casino operators out there who have been damaged by this episode of unethical behavior. If I were one of them, I would be livid.
Meister Awards
Overview
First Impression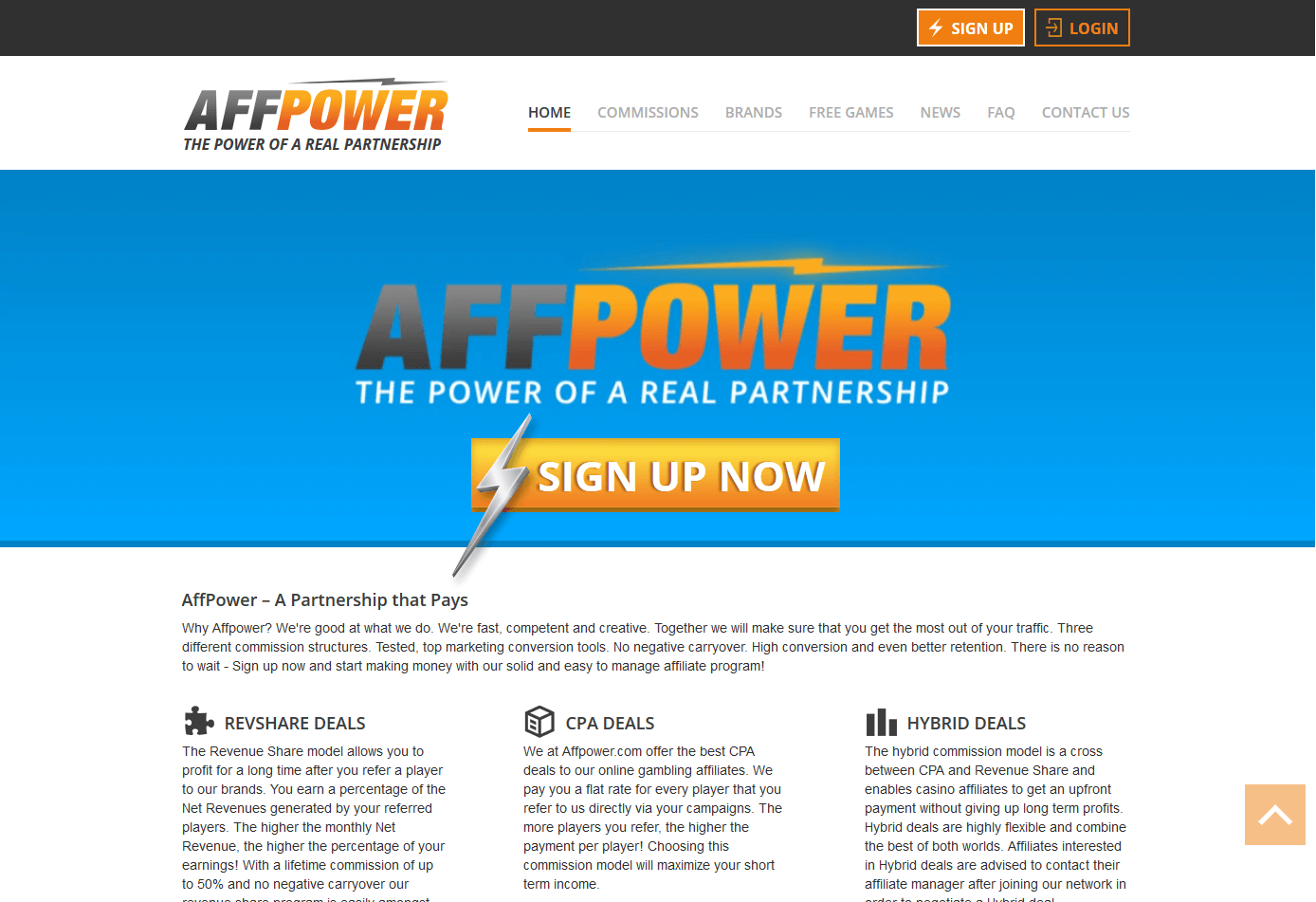 It was brought to our attention that LatestCasinoBonuses.com had caught out a notorious group of casinos for pirating well known NetEnt games. We did our own sleuthing and came to the same conclusion: Affpower casinos are using pirated NetEnt games.
Why is this a dangerous situation for players? If you are playing pirated games, you are being ripped off. No one is overwatching the casino. You might as well open your wallet and let these thieves take what they want.
Why is this a dangerous situation for affiliates? If this casino has the audacity to rip off their players, what do you think they will do to you? Plus, if this is truly an illegal operation then you are aiding and abetting the crime.
The evidence for fake games:
All Netent games are served by their server gamesmodule.com. You can check this by right clicking the flash game and check out the settings – here is an example of the Scarface game via a Casinomeister Accredited Casino VeraJohn. This is legit and how it should be displayed: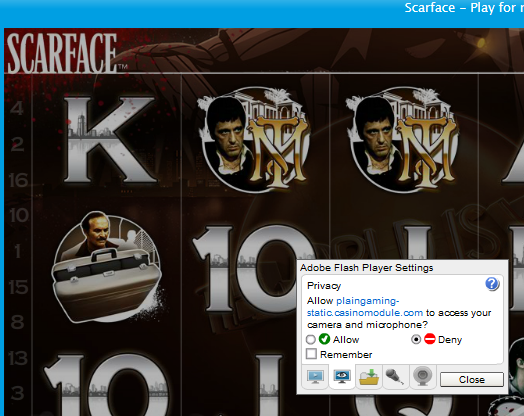 Note Casinomodule.com – this is the actual NetEnt casino server.
Euromoon is using something a bit different. Here is a screenshot of their Scarface game: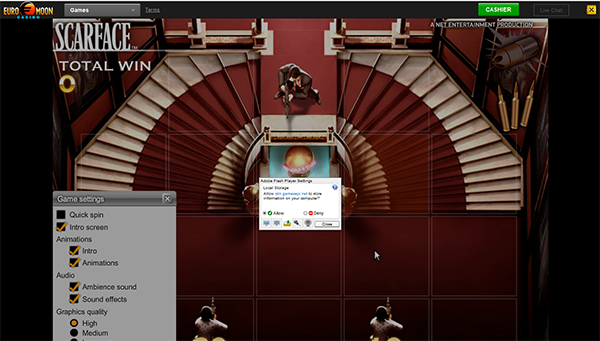 And here is the detail of the game server: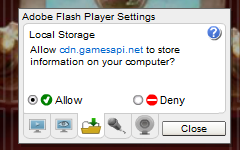 Please note that this game is hosted by http://gamesapi.net/ which is not an official NetEnt game server.
More bullshit: Gonzo's Quest.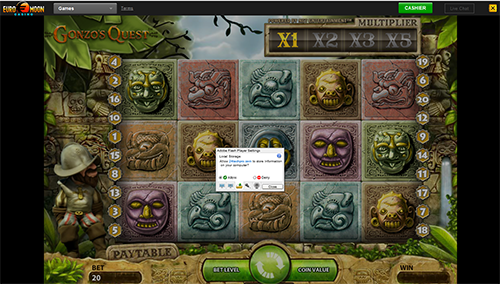 This is being served by 24techpro.com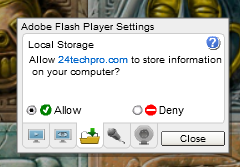 24techpro.com is wide open. You can peruse their files here: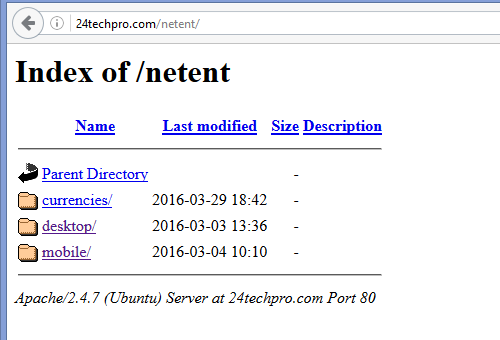 There are more here: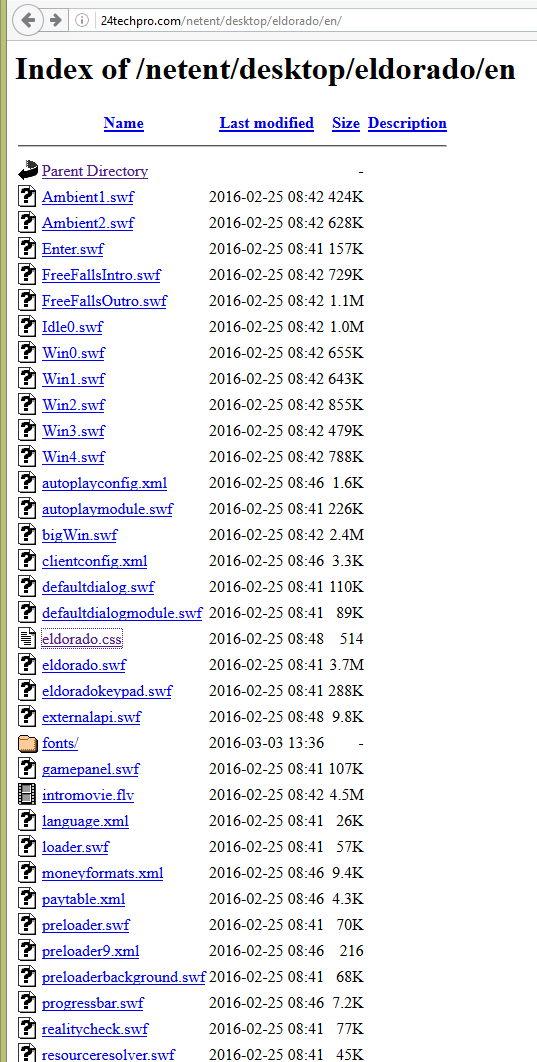 Who is behind the domain 24techpro.com? Well it certainly is not Netent – it's some Greek guy.
Domain name: 24techpro.com
Domain idn name: 24techpro.com
Status: clientTransferProhibited http://www.icann.org/epp#clientTransferProhibited
Registry Domain ID:
Registrar WHOIS Server: whois.reg.com
Registrar URL: https://www.reg.com/
Registrar URL: https://www.reg.ru/
Registrar URL: https://www.reg.ua/
Updated Date: 2016-04-07
Creation Date: 2016-04-07T19:55:19Z
Registrar Registration Expiration Date: 2017-04-07
Registrar: Registrar of domain names REG.RU LLC
Registrar IANA ID: 1606
Registrar Abuse Contact Email: Email Masking Image@reg.ru
Registrar Abuse Contact Phone: +7.4955801111
Registry Registrant ID:
Registrant Name: gerou ioannis
Registrant Organization: It Support
Registrant Street: eleutheriou 15 flat 016
Registrant City: Paphos
Registrant State/Province: Paphos
Registrant Postal Code: 8630
Registrant Country: GR
Registrant Phone: +35796159753
Registrant Phone Ext:
Registrant Fax:
Registrant Fax Ext:
Registrant Email: igerougerou@gmail.com
Registry Admin ID:
Admin Name: gerou ioannis
Admin Organization: It Support
Admin Street: eleutheriou 15 flat 016
Admin City: Paphos
Admin State/Province: Paphos
Admin Postal Code: 8630
Admin Country: GR
Admin Phone: +35796159753
Admin Phone Ext:
Admin Fax:
Admin Fax Ext:
Admin Email: igerougerou@gmail.com
Registry Tech ID:
Tech Name: gerou ioannis
Tech Organization: It Support
Tech Street: eleutheriou 15 flat 016
Tech City: Paphos
Tech State/Province: Paphos
Tech Postal Code: 8630
Tech Country: GR
Tech Phone: +35796159753
Tech Phone Ext:
Tech Fax:
Tech Fax Ext:
Tech Email: igerougerou@gmail.com
Name Server: ns1.reg.ru
Name Server: ns2.reg.ru
AFFPOWER – Rogue Affiliate Program
This is where is gets dodgier. Affpower is a relatively high profile affiliate program. They have a presence at the main affiliate conferences like London Affiliate Conference, Berlin Affiliate Conference – and it will be interesting enough if they show their faces at the upcoming Amsterdam show.
Affpower's casino are licensed in Malta (Euromoon is not); Osiris Casino is:
Osiris casino is a member of the Conan Gaming Limited C-50471, licensed in Malta and situated at 527 St. Paul\'s Street St. Paul\'s Bay SPB3418 Malta.'Osiris casino' is an online gambling site licensed and regulated by the Lotteries and Gaming Authority of Malta. LGA License LGA/CL1/683/2010 granted on June 2011.
MGA link
.
At press time, we couldn't locate any NetEnt games on their website. But they are directly connected to Euromoon.
Euromooncasino is licensed by Curacao-egaming.com – which is also known as Cyberluck (Master License 1668/JAZ). The licensing jurisdiction refused to offer a statement concerning this situation: why it was possible for their licensees to use pirated software, and if players who played these games would be able to have their deposits refunded.
What is also unfortunate is that the affiliates who are promoting these brands are probably being ripped off as well. If an operator has the audacity to rip off a well known brand of software, what do you think they are doing to the affiliate stats? In other words, you'd have to have rocks in your head to promote Affpower. Further, if you are an affiliate who is promoting these brands and knows that they have fraudulent software – you are aiding and abetting the crime. You could possibly be held liable in either a civil or criminal court.
Way to go Affpower!
Software provider: Fake
Licensing Jurisdiction: Curacao and Malta
Parent Companies: Conan Gaming Limited/Game Tech Group N.V
Associated Casinos:
atlanticcasinoclub.com
cashpotcasino.com
Casino1Club.com
casinoblu.com
casinobordeaux.com
CompanyCasino.com
cosmikcasino.com
crazycasinoclub.com
deuceclub.com
oceanbets.com
Osiriscasino.com
parklaneecasino.com
magikcasino.com
slots500.com
ramsesgold.comAffPower.com – affiliate program
Other Related Casinos and Affiliate Programs:
Wolfaffiliates.com – affiliate program
casinopartners365.com
 4 July 2016:
We were contacted by NetEntertainment who again confirmed that the games that were being run on these casino sites were in fact forged copies. But after NetEnt's insistence to cease and desist, the casinos decided to adhere to the request and host legitimate games.
They are not off the hook.
This drives home the fact that these casinos, either knowingly or negligently, were defrauding players with bogus games. These casinos should be held liable for all bets made by players who mistook these games for the bona fide thing, and these bets should be refunded. Anything less would be outright fraud.
And any gaming jurisdiction worth its salt would insist on this. They would have initiated an audit and forced these casinos to abide by normal ethical standards. They have not made any public announcement, nor has this "licensing" agency contacted players informing them of this violation of proper operating standards.
Anyone playing at these casinos knowing of the above facts, either has a hole in his or her head, or is just a naïve fool. If these casinos stoop to this level of nefarious conduct, what more do they have up their sleeves?
Anyone promoting these casinos is an idiot – plain and simple. They have been ripping off players – how do you think they will be treating their advertisers?
Avoid these casinos at all costs.
Edited to add: In May 2017, it was reported that Affpower was targeting webmasters who were reporting on their shenanigans with negative SEO.
Further information at this website: AffPower: the Power of Real Shafting
General Information
Website
Affpower
Casino Reps
Live Games
No
Loyalty program
No
Founded
Licensing Jurisdiction
Curaçao and Malta
Certified
No
Jackpots
Accredited
Are you kidding?
Publicly traded
No
Affiliate program
No
Mobile
No
Review Published
Jan 2, 2017
Other products
Supported languages:
Pros
There is nothing positive working with dodgy people
Cons
Associated with take over of Affiliate Edge
Verdict
Casinomeister Rating
Casinomeister's Verdict
This is a worst case scenario. Crap casinos being run out of a banana republic that doesn't do squat when they casino is caught red handed. The casino representatives never produced a statement, nor did the licensing jurisdiction (Curacao) on why this was allowed to happen, and what was the result for players who had played the affected games.
Affpower, run out of Israeli offices, is the epitome of what is wrong with the online gaming industry. They are free to do whatever they please and no one gives a flying rat's ass.
Forum threads
Replies: 4
Views: 3804