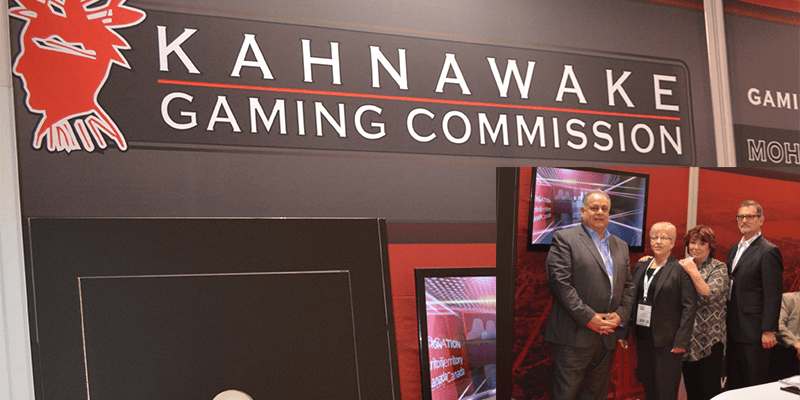 Kahnawake Gaming Commision Review
Casinomeister's Verdict
The KGC is one of the oldest and most experienced regulator in the online gaming industry. They were there in the early days of online gaming licensing mostly your standard Microgaming casino, some Playtech, and a number of poker rooms. This was in the early 2000s, and during this period they were a shambles.
They were non-communicative and were pretty much a black hole when it came to player complaints. For their aloofness, they were awarded Casinomeister's "Sitting on one's hands" award for 2007. It was like they were on autopilot. And then came the UltimateBet and Absolute Poker scandal. This was a serious wake up call, and from this point out they restructured themselves and started completely fresh.
So fresh in fact that within four years time they received the first Casinomeister Phoenix award – rising from the ashes – where I stated: "This year the Kahnawake Gaming Commission can truly be proud of how the KGC – once a mediocre ineffectual licensing jurisdiction – has become a true standard bearer of what a licensing jurisdiction should be: approachable, responsive and effective. A lot of hard grueling work has been put into turning the KGC around. The commission has a high profile at industry events, and they are now publishing their yearly dispute resolution results."
And that's it in a nut shell. They hired on one of the most experienced persons in the business to handle complaints (the ex-operator of the King Neptune's casino). Micki is absolutely amazing and knows how to deal with both players and operators. They also have a panel of folks who are not only proactively dealing with player self-exclusion policies, but ensuring that their licensees are trained up on how to deal with any player complaint scenario.
The KGC is the only licensing jurisdiction that publishes annual reports on their player complaints. No other jurisdiction does this. Additionally, max and I meet up with their administration each year to discuss player issues and the industry as a whole. They have some excellent people working there and are by far the best licensing jurisdiction in operation.

By far the most qualified, experienced, player focused, and transparent.
Kahnawake Gaming Commision
1996
P.O. Box 1799, Route 138, Kahnawake Mohawk Territory, Quebec, J0L 1B0, Canada
Highest
Pros
Hands-on regulator who are unafraid to take action against licensees found to be breaching the terms of their license

Have been known to investigate individual player complaints

Hand out fines to companies found to be breaching their license conditions, increasing player-trust and ensuring operators are held accountable

One of the most qualified and experienced ADR in the business
Cons
Can take a while to investigate operators

The self-regulated nature means there's little recourse if the commission find against you

Can be slow to respond to individual player complaints
Truly one of the best licensing jurisdictions
The Kahnawake Gaming Commission was first-founded back in 1996, and it was formed as a result of the Canadian territory passing the 'Kahnawake Gaming Law'. The commission's power actually came into place in 1999 – and while the commission has had a few ups and downs since it's formation, they are generally regarded as one of the world's most trustworthy gambling regulators.
About The Kahnawake Gaming Commission
The Kahnawake Gaming Commission is one of the more-interesting gambling regulators, due to the fact that the commission is actually self-formed; this is a result of the territory of Kahnawake's protection by what are known as "Aboriginal Rights".
Despite this self-regulation, the commission is known to side with players on a number of issues – and while the commission came under criticism for the way it handled the Ultimate Bet scandal (where the poker site's management team were found to be using a 'super computer', which allowed them to see what cards other poker players held), the commission did take charge eventually, fining Ultimate Bet $1,500,000, and ordering the return of over $22,000,000 to players affected by the scandal.
Today, the Kahnawake Gaming Commission oversee a large number of licensees, and while the fees are quite high ($25,000 for an initial license application, along with a monthly fee, and a $5,000 cost per person added to a license), operators are keen to acquire a license from the commission, due to the prestige-like nature of a license.
Provisions Of a License
The Kahnawake Gaming Commission enforce strict terms on licenses issued – and while they may not be quite as stringent as, say, those imposed by the UK's Gambling Commission – the Kahnawake Commission are keen to uphold responsible gambling, anti money-laundering conditions, and more, ensuring that players and operators can enjoy a fraud-free, and safe gambling experience at all times.
Licensees must also display the details of their license on the bottom of their site, and when you see the license logo, you'll find yourself able to click it, thus giving you the ability to check its validity.
Disputes and Complaints
Kahnawake's Gaming Commission acts in much the same was as most other gambling regulators, in that – in the first instance – they don't tend to deal with player complaints…
And if you find yourself having problems or issues with one of the casinos licensed by the commission, you are initially advised to go through the casino's internal complaints department first.
If you find yourself unable to get anywhere going through the casino itself, you can submit a complaint to the commission – but take note; they will only investigate cases where it's clear that you've already tried to resolve the problem through the casino, first.
It's also worth pointing out that the time-frames it can take the commission to investigate can be quite lengthy, so don't expect a quick reply – it can take anywhere from a few weeks, to a few months for them to investigate, dependant on the nature of your complaint, and the responsiveness of the casino involved.
Kahnawake Licensed Casinos