Blackjack Ballroom Review
Downloadable Microgaming Casino
By Casinomeister, Last updated Jul 24, 2023
Casinomeister's Verdict
Blackjack Ballroom has been around for donkey years and has a good reputation at Casinomeister. Unfortunately, they were removed for pushing a promotion against our standards. Most players won't have issues. Don't play your winnings back.
The UK Gambling Commission licenses Blackjack Ballroom, the Kahnawake Gaming Commission, and the Malta Gaming Authority. Players have a pretty good chance of having their voices heard. Unlike the UKGC, which refers players to other third parties for complaints, these licensing entities offer player support.
Besides that, Blackjack Ballroom has a fantastic casino rep who visits our forum daily – and she has been working for the Casino Rewards group since the early days of online gaming. Online casino businesses that can keep the same employees for over a decade are rare, so they are doing something right.
Unfortunately, the marketing division of this Blackjack Ballroom decided to run a misguided and predatory promotion offering a 25% bonus to reverse your winnings. This violates our standards for Accredited Casinos:
"Will not aggressively entice players to reverse cash withdrawals with bonuses or other incentives."
So, they were removed from the Accredited Section and placed into the Grey Zone. Other than that, they are a pretty good operation. Sad to see them in the GZ. Players should be aware that there's a weekly cashout limit of €/$4,000, applicable to players who win a sum five times or more significant than their total purchases. The monthly withdrawal limit is set at $16,000​.
To kick off this Blackjack Ballroom Casino review, we'll give you our first impression of the site, followed by the bonuses and promotions.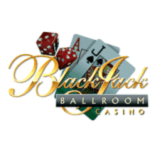 Solid Casino Rewards Casino
blackjackballroom.eu
2000
Microgaming...
First Impression
Blackjack Ballroom is a Microgaming Viper-powered casino – you can either download their software or play in your browser. Us, we're old-timers and prefer the download version. Why? Because their Microgaming games are pretty spectacular, and if you are a Video Poker fan, Microgaming VP is the best you will find online. It rivals what you can find in your typical land-based casino. They boast up to 54 video poker games.
Blackjack Ballroom Casino opened its virtual doors in 2000, and they're part of the Casino Rewards Group. As we were happy to find while writing this Blackjack Ballroom Casino review, you can take advantage of the Casino Rewards VIP program – more information on that later on.
The platform offers many payment methods, including eWallets, credit cards, prepaid cards, online banking, and cryptocurrencies​. However, players should be aware of certain withdrawal conditions, particularly for Bitcoin users who are subject to a ten times requirement​.
Blackjack Ballroom Casino provides many games, including slots, blackjack, roulette, baccarat, video poker, and more. Some popular slot machines include Mega Moolah, Thunderstruck, and Avalon​​. Players have a weekly withdrawal limit of $4,000 and a monthly limit of $16,000​. However, things get slightly confusing, as UK players are subject to different limits. Throughout this Blackjack Ballroom Casino review, we will do our best to show you the UK and international side of things.
Pros
One of the few downloadable casinos left

Tons of Microgaming games

Old slots that are hard to find elsewhere

PayPal accepted

Licensed by the Kahnawake Gaming Commission, UKGC, and MGA 
Cons
Payouts are pretty slow

Insane wagering requirements of 200X the bonus amount

Casino games aren't available on mobile devices

Weekly withdrawal limits of $4000
Top 5 casinos
Bonuses and Promotions
Bonuses play a significant role in attracting and retaining players and can significantly enhance the overall gaming experience. In this section of our Blackjack Ballroom Casino review, we'll look at the casino rewards you can claim. This will include a look at the main welcome bonus, whether any no-deposit free spins are available, and, of course, a look at the Casino Rewards Group VIP program.
VIP and Loyalty Programs
Blackjack Ballroom Casino offers a premium VIP Program as part of its commitment to reward loyal players. This program is integrated with the Casino Rewards VIP system, which means progress is shared among all participating casinos, presenting a unique advantage to members.
The VIP program is designed to cater to veteran and new high-roller players, delivering an unparalleled gaming experience. As a VIP member, you enjoy various exclusive benefits, emphasising that being a VIP at Casino Rewards is worth the sign-up.
Key features of the VIP program include a dedicated VIP Team available around the clock, ensuring you can get help and support 24 hours a day, seven days a week. Additionally, VIP members are assigned personal hosts who can provide exclusive bonuses and promotions. VIPs also gain early access to new games before other players, which, while not really useful, is an extraordinary claim to fame.
One of the most significant benefits of the Casino Rewards Group VIP scheme at Blackjack Ballroom Casino is that VIPs enjoy increased betting limits. This allows you to place higher bets – applicable if you want to play at higher stakes.
However, we should point out that granting any bonuses and promotions we've just mentioned is at the sole discretion of the Blackjack Ballroom Casino team and will depend on your Casino Rewards loyalty history.
Irregular Gameplay Rules at Blackjack Ballroom Casino
Blackjack Ballroom Casino implements a set of rules addressing "Irregular Gameplay" to ensure fair play across its platform. However, these rules have drawn attention due to their potentially predatory nature, as they may pose pitfalls for unsuspecting players.
"Irregular play" at Blackjack Ballroom Casino can include a range of actions. For instance, using the double-up feature to increase bet values or placing even money bets on games like Sic Bo, Craps, and Roulette falls under this category. The former approach is viewed as exploiting a game feature to artificially inflate potential wins, while the latter is seen as a low-risk betting strategy.
Starting a game's feature after the bonus balance used to build up the credits towards the feature has reached 0 is also considered irregular. This rule prevents players from using a bonus balance to trigger a bonus feature and using cash funds to complete the feature after the bonus balance has been spent.
A particularly shady rule, in our opinion, is that you cannot withdraw your funds, either in whole or in part, before you've cleared any associated bonus funds. Players may view this rule as restrictive, limiting control over their deposits. Thankfully, UK players don't need to worry about this, as UKGC regulations prevent bonus funds from being tied in with accurate money balances.
Astonginsgly, using the autoplay feature to play casino games while you have active bonus funds is mentioned on the online casino's terms and conditions page as being against the rules – and this is wild to us. Similarly, engaging in calculated minimum risk, equal, zero margins or hedge betting bets to meet bonus wagering requirements are deemed irregular. These tactics are seen as bypassing the casino games' calculated risk and reward dynamics.
These irregular gameplay rules can potentially affect any player's gaming experience. They may lead to confiscating winnings or withholding withdrawals, significantly disrupting the player's interaction with the casino.
They're some of the most arbitrary and unfair terms and conditions we've ever seen – and while this Casino Rewards Group property is generally acceptable to play at, we'd strongly caution you if you're considering claiming one of the welcome bonuses
BANKING AND PAYMENT METHODS
Blackjack Ballroom Casino offers players many deposit methods designed to cater to different user preferences and needs. The minimum deposit amount for all methods is a very reasonable £10, thereby making the online casino accessible to a wide range of players.
Firstly, VISA debit cards are accepted at Blackjack Ballroom Casino. This is a well-recognized and widely used payment method, and VISA transactions are processed instantly, allowing you to begin your gaming experience immediately.
PayPal, the world's most popular EWallet, is another deposit method supported at the casino. PayPal offers a user-friendly interface, quick processing times, and high-security standards, making it an excellent choice for online transactions. Unfortunately, Paypal isn't available to players in all countries; it looks like only the UK-licensed version of Blackjack Ballroom Casino is currently accepting PayPal.
Thankfully, there are other EWallets available, including Neteller and Skrill. These EWallets are known for their compatibility with the online gambling industry. They're accepted at virtually every online casino in the world – including all Casino Rewards Group properties – and allow for instant (almost) fee-free transactions and high security and privacy.
For those who prefer prepaid cards, Blackjack Ballroom Casino also accepts Paysafecard. However, it should be noted that Paysafecard can't be used for withdrawals at the casino. The final EWallet available is AstroPay – although limits look to be much smaller with this EWallet than the others.
Currency Options, Fees, and Fund Protection
Blackjack Ballroom accepts a variety of currencies, including GBP, EUR, USD, and CAD. Players can choose their preferred currency when creating their accounts. However, please note that once your online casino is open and you've selected a currency, you cannot change it later.
When you deposit money at Blackjack Ballroom Casino, you won't need to pay any processing fees; these are all covered on the casino's side. Security also looks pretty good, as all transactions are safeguarded by a 128-bit SSL encryption, which secures your personal and financial data from potential fraudulent activities.
The casino holds customer funds in a separate account, distinct from the company's daily operations. However, you should be aware that these funds fall under their seizable assets if the online casino goes bust – which, surprisingly, does meet the UK's Gambling Commission's requirements.
For UK players, the following fund protection term applies:
"We hold customer funds in a separate account, which remain distinct from the company's daily operations but still form part of the designated assets in the event of insolvency. This meets the Gambling Commission's requirements for segregating customer funds at the level: not protected segregation. More information regarding the levels of segregation can be found on the UKGC's website."
Withdrawal Speed
Blackjack Ballroom Casino makes the withdrawal process as straightforward as possible. The available withdrawal methods include Credit Card, Debit Card, Neteller, PayPal, Skrill, ClickandBuy, InstaDebit, and Direct Bank Transfer. The minimum withdrawal limit across all methods is $50. For players in the UK, the minimum withdrawal varies but is typically around £20.
Credit and Debit Card withdrawals are processed within three business days, and the online casino does not charge any fees for withdrawals made via debit cards or credit cards. If you use an EWallet like Netent, Skrill, or PayPal, you can sometimes enjoy same-day processing – although from what we can see, this appears to be more of a casino marketing tactic than reality.
Those withdrawing large sums of money – or those who deposit with a payment method that can't be used for a withdrawal – can withdraw using a direct bank transfer. However, bank transfers are subject to a $50 fee for withdrawals less than $3000 and a $100 fee for withdrawals over $3000. What's more, the processing time for Direct Bank Transfers is a staggering 6-10 working days, which, in our opinion, shows just how out of touch Blackjack Ballroom Casino is when it comes to payouts.
InstaDebit is another withdrawal option, with 1-2 working days processing time. Like all non-bank transfer withdrawal methods, Blackjack Ballroom Casino doesn't charge a fee for InstaDebit withdrawals.
It's important to note that all withdrawal requests at Blackjack Ballroom Casino are subject to a 48-hour pending period before being processed. This timeframe applies regardless of the payment method you're using (unless you're in the UK and use an EWallet) – and there's no manual flushing available for non-UK players.
Limits
Regarding limits, the following applies $/$4000 a week if a player wins a sum five times or more significant than their total purchases across all Casino Rewards partner casinos. For UK players, the following terms apply:
"Payments to bank accounts, cards and e-wallets are subject to daily limits, including those imposed upon us directly and indirectly by regulators, card schemes, banks, payment processors and financial institutions. Depending on your withdrawal method, you may be restricted to receiving a portion of your winnings paid daily over consecutive weekdays until the balance is fully paid. The following withdrawal limits may apply:
MasterCard Payment Transaction – 40,000.00 EUR per day
Visa Original Credit Transaction (OCT) – Visa requires acquirers to limit OCTs by count and amount. These are the maximum number or dollar amounts of OCTs that a single recipient or cardholder can receive in any one, seven or 30-day period. The limits may apply as follows (count/amount):
One-Day: 30/50,000.00 USD
Seven-Day: 50/85,000.00 USD
Thirty-Day: 150/170,000.00 USD
EWallets (PayPal, Skrill, Neteller) – the withdrawal limit may be in place due to the outstanding ID verification imposed by the eWallet provider on your eWallet account. Please check your status of the ID verification on your eWallet account directly with the provider to avoid any payment delays from the casino account into your eWallet account."
It can get confusing, as UK players have their own limits. As a result, if you're playing under the Malta Gaming Authority license, you will be subject to the $4,000/week limit we discussed earlier if you win more than five times your deposit. Remember, this is tracked across all Casino Rewards Group online casinos.
Responsible gaming
Blackjack Ballroom Casino appears to take responsible gambling seriously, and they have a dedicated help page set up. This can be accessed by scrolling down to the bottom of the online casino and clicking on the "responsible gambling" link. Like any decent online casino, Blackjack Ballroom provides a helpful quiz you can take, designed to indicate whether you may be showing signs of a gambling problem.
Like all Casino Reward Group brands, Blackjack Ballroom offers several responsible gambling tools. Firstly, you can set up a deposit limit on your account, which applies daily, weekly, or monthly. A deposit limit is an excellent way of ensuring you don't accidentally spend more than you can afford. It allows you to limit the amount of money you can deposit into your account.
Once you reach this limit, you cannot make any more deposits until the pre-set period has passed. You can do so immediately if you want to lower your deposit limit. However, increases are subject to a 24-hour cooling-off period. UK players can self-manage all responsible gambling tools; players outside the UK may need to contact the customer support team to set their limits.
When writing this Blackjack Ballroom review, we were happy to see time-out and self-exclusion functions. If you want to take a short break from playing casino games, you can choose to enter into a time-out agreement. This is also known as a cooling-off period. This allows you to shut down your account for 24 hours and six weeks. During this time, you cannot log in, play with bonus money, or access your Blackjack Ballroom Casino funds.
If you feel that your gambling is spiralling out of control, Blackjack Ballroom also offers self-exclusion. This closes your account for at least six months and can be implemented permanently. However, enter into a self-exclusion agreement at Blackjack Ballroom. You should know that any other online casino accounts you hold at Casino Rewards-powered sites will also be affected.
Customer support
Blackjack Ballroom Casino isn't perhaps renowned for offering excellent customer service. Still, they've made significant improvements in recent years, and today's Blackjack Ballroom Casino is far from what we saw when they were placed into the "rogue" section here at Casinomeister.
Today, the casino has a customer support team working 24 hours a day, seven days a week – something we're happy to see, as it means Blackjack Ballroom is finally entering the 21st century! Having a customer support team available 24 hours a day, seven days a week, is critical as you never know when you may run into problems.
The customer support team at Blackjack Ballroom can be contacted in a couple of ways. The first contact method available to use at Blackjack Ballroom is the live chat facility. Live chat technology allows you to connect in real-time with a customer support team member, who'll stay with you until your problem or query is resolved.
Whether you have questions about bonus money, how to withdraw from Blackjack Ballroom Casino, want to know the minimum deposit for specific payment methods, or want to check their UK Gambling Commission license, the live chat team will gladly help. The casino software generally works well with the live chat system, though it could be better.
If you prefer not to use live chat or, for whatever reason, can't, the casino also offers customer support via email. Their customer support email address is support@crhelpdesk.com.
We recommend using this email address if you are lodging a formal complaint so that you have a paper trail of your conversations with the casino. However, please be aware that email response times can take up to 72 hours. For this reason, we would advise against using email for any urgent inquiries.
KYC
As a UK-licensed online casino, Blackjack Ballroom is held to pretty high standards regarding account verification measures. Before UK players could even create an account and play their favourite Blackjack games or progressive jackpots. This is a UKGC requirement, and it's out of the casino's hands. The casino states:
"For Anti Money Laundering and source of funds purposes, Blackjack Ballroom reserves the right to ask for clear copies of the following documents:
Images of the front and back of debit cards used to deposit and withdraw from the casino
Un-redacted debit card, Ewallet and bank account statements
Proof of regular income such as payslips, dividend statements, pension statements, tax returns
Proof of savings origins, such as inheritance or property sales documents, gambling winnings evidence or other windfalls as appropriate."
It's a pain – we understand – but all brands in the Casino Reward Group are in the same boat, and if you're a UK player, no legitimate, licensed online casino will be able to take bets from you without first verifying your ID. Once you submit your ID documents, the Blackjack Ballroom Casino team aims to process them within 24 hours.
If they cannot verify your age, name, or address, your account may be closed and suspended, and they will ask you for additional information. If you don't live in the UK, whether you need to complete a KYC check or not depends on several factors.
However, as a general rule of thumb, if you withdraw – especially after claiming the welcome bonus and completing the welcome bonus money turnover requirements – you must verify your identity before your winnings are paid.
This is why we recommend players in every country verify their online casino accounts as soon as they join. This prevents delays later down the line and ensures you can get your withdrawals as quickly as possible.
Website Experience and Features
Desktop and Mobile Gaming
In our opinion, the hallmarks of a good casino go way beyond fast withdrawals and generous bonuses and promotions; we like to see a well-designed website that's easy to use, navigate, and user-friendly. Unfortunately, as with all Casino Rewards Group sites, Blackjack Ballroom Casino comes way short of meeting the visual standards we like to see.
While we appreciate that the casino is powered by vintage Microgaming tech, it looks incredibly outdated and has pretty poor functionality, we feel. Load up the casino yourself, and you will see what we mean – it's like something from the early 2000s!
We really dislike that you can't view any deposit methods before creating an account – except for a few that display on a carousel in the bottom left-hand corner of the screen. Even this promo banner on the homepage only shows the main welcome bonus – nothing about additional promotions or the VIP club.
It's fair to say that we wouldn't recommend Blackjack Ballroom Casino to those used to slick, modern, state-of-the-art online casinos. However, the casino does have one trick up its sleeve – and that's the download version of their casino.
Few online casinos still need to provide a downloadable software client, one of Blackjack Ballroom Casino's main appeals. It runs on Microgaming's Viper client, an iconic industry leader in the early days of iGaming.
Naturally, like the main casino website, the downloadable software client needs to be updated, but it serves its purpose. The Blackjack Ballroom Casino team understands their audience, and for those seeking a Microgaming casino with downloadable software, Blackjack Ballroom Casino isn't a bad shout.
Unfortunately, the instant-play interface is slow and awkward, so unless you're looking specifically for a download-based client, you might find Blackjack Ballroom Casino a little dated for your liking.
Moreover, Blackjack Ballroom Casino does not offer a mobile-optimised version of its site. While some players may be able to load the instant play lobby on specific mobile devices, generally, it's clunky and prone to glitches, so we would not classify Blackjack Ballroom Casino as mobile-friendly.
Brand games
Providers
Blackjack Ballroom is a Microgaming-powered online casino, meaning that all of its games are from Microgaming. However, today, you'll also be able to enjoy casino games from Microgaming's subsidiary companies, so expect to see video slots and casino table games from names like JFTW. Below, we'll look at some games the online casino offers.
Slots
Video slots are, by far, the most popular offering at most online casinos, and Blackjack Ballroom offers Microgaming's full video slot range. Below, we'll look at a few of Microgaming's most popular video slots. Many of the slots on the casino website are hard to find at other online casinos today – one of the main selling points of Blackjack Ballroom Casino and other Casino Reward Group properties.
Thunderstruck II
Thunderstruck II is a sequel to the original Thunderstruck, and it's one of Microgaming's most successful video slots released to date. When we wrote this review, we found it right on the main casino page – the homepage, if you like. Thunderstruck II utilises a 243-ways-to-win system rather than a set payline system, improving the winning potential and eliminating the need to worry over symbols landing in specific positions.
There are five different bonuses and features in the game, so there's plenty to keep an eye out for. In our opinion, the random base game feature is the most exciting, as up to five reels can transform into fully wild reels!
Immortal Romance
Another classic, Immortal Romance, is a vampire-themed online slot that is, we feel, based pretty heavily around Twilight. First released in 2011, Immortal Romance remains one of the best-performing Microgaming slots ever created. The game's appeal lies in its storytelling, characters, and layered bonus rounds that allow you to select your path – but there's also significant win potential in the base game and the main free spins bonus round.
There are four free spin features—one for each supernatural character—and the game uses a 243-ways-to-win mechanic, so you don't need to land wins on a payline. It also boasts a very decent RTP of 96.86%, which is high, especially in 2023.
Links of Ra
Developed by Slingshot Studios for Microgaming, this Egyptian-themed slot game features a 5×4 structure with 40 paylines. The game is known for its Power Stacks feature that brings super-stacked symbols to all reels. It offers four jackpots, with a maximum payout worth 5,000X your stake​.
Like many other online casinos, Links of Ra can't usually be played with bonus funds or free chip bonuses – although it's unclear why.
Lara Croft Temples and Tombs
The third Microgaming instalment in the Lara Croft series, Temples and Tombs, is built around a 5-reel, 3-row format. There are no paylines, as the game uses a 243-ways-to-win mechanic.
The game's key features include a free spins bonus – which, when triggered, can award you up to 32 free spins – along with a multiplier that can reach as high as 15X. There's also a non-progressive jackpot, consisting of three jackpots: Minor, Major, and Grand, with a maximum payout worth 5,000X!
Book of Oz
This slot, inspired by the famous movie "The Wizard of Oz", allows players to enter Oz's enchanting world and play with the iconic characters. Built around a classic 5-reel, 3-row format, there are ten adjustable paylines – and it's a very volatile game, so be prepared!
There are a ton of bonuses and promotions to look forward to, including free spins, expanding symbols – and the unique paid re-spin feature where you can pay to re-spin any reel you like in the base game.
Football Star
This slot is a successful attempt by Microgaming to bring soccer into the online gambling world – and while it's a pretty old video slot (it was first released in 2014), it's still pretty popular among players, especially during significant soccer events like the FIFA World Cup.
Football Star is built around a 5-reel, 3-row format, and there are a ton of bonuses, including the striking wild feature, rolling reels, and a free spin bonus round. The latter is triggered by revealing 3, 4, or 5 scatter symbols anywhere in view, awarding you between 15 and 25 free spins. The Multiplier Trail during the bonus round gives ever-increasing multipliers going 2X all the way up to 10X when consecutive wins land. This medium volatility game has an RTP of 96.29%, which is pretty decent in today's online gambling world.
9 Masks of Fire
Developed for Microgaming by the Gamesburger studio, this 5-reel slot uses an African tribal theme – and pulls it off well. The tribal masks are the main attraction here, and when these appear on the reels, they automatically produce wins of between one and 2,000 times your stake.
The tribal shield is the scatter symbol, and three unlock the bonus round. Once unlocked, the bonus round begins with a spinning wheel of fortune that reveals the number of free spins and multipliers you will receive. The maximum on offer is 30 spins with a 3X multiplier, where most of the game's win potential is found!
That's just a small selection of the Microgaming games we found when writing this Blackjack Ballroom review. Other notable video slots we saw include Break Da Bank, Break Da Bank Again, Avalon II, Dragonz, Break Da Bank Again Premium, and Game of Thrones 243-ways-to-win.
Live Dealer Games
Unlike many other online casinos – well, pretty much all sites – the Blackjack Ballroom online casino software doesn't feature any live dealer games at the time of writing. We find this very strange; live casino games are more popular than ever, and many players will join a casino simply because they offer live dealer games. We'd like to see this change in the future; live casino software is easy to implement these days, so Blackjack Ballroom Casino has no excuse.
Table Games and Video Poker
When it comes to table games and video poker, Microgaming has a great selection to choose from, and pretty much all of these casino table games are available at Blackjack Ballroom Casino. There are many classic casino table games, including European Blackjack, Atlantic City Blackjack, Single Deck Blackjack, American Roulette, European Roulette – and everything in between.
Unlike many other Microgaming casinos, in particular, Blackjack Ballroom offers significant casino bet limits designed to suit players on all budgets. For example, on Roulette and Blackjack, you can bet between $1 and $200 per spin – with VIP players enjoying even higher limits.
The video poker offering is excellent, too, with more than 54 games. Blackjack Ballroom Casino offers almost every poker variation, including Deuces Wild, Aces and Faces, Jacks or Better, and Double Bonus Poker. Like many Microgaming casinos, some special video poker machines like Tens or Better Power Poker and Bonus Deuces Wild Power Poker exist.
On specific video poker machines, you can also enjoy multi-hand varieties, with the Power Poker feature allowing you to play up to 100 hands per game at a time! Microgaming's video poker games are in-demand thanks to their high payouts. For example, All Aces Poker, one of Microgaming's most popular video poker releases, has a house advantage of just about 0.08%, translating to a massive payout percentage of 99.92%​. Another game, Deuces Wild, has an equally impressive payout percentage of 99.37%​.
Unfortunately, while there are plenty of slot machine options, video poker machines and casino table games, we could not find any instant win or scratchcard games, except for one variation of Keno.
Progressive jackpots
Microgaming's progressive jackpot games are a big hit at this online casino. You'll be able to play titles like Mega Moolah, the video slot which holds the current world record for the biggest jackpot wins in history! Microgaming has a rich portfolio of progressive jackpot slots. However, that goes way beyond Mega Moolah, and we will look at some of their best progressive jackpot games below.
Book of Atem WowPot Slot
Inspired by the success of the Mega Moolah series of progressive jackpot slot games, Microgaming launched the WowPot jackpot mechanic back in 2020. The Book of Atem slot – developed in conjunction with All41 Studios – proved to be one of the most popular in this series.
While some players may see it as another "Book of" slot, there's some excellent casino gameplay on offer – and it's very volatile, so there's tons of win potential packed inside. The book symbol is wild and a scatter, and three symbols on the reels award ten free spins. Like most Book slot machine features, this free spins round is played with expanding symbols.
However, Book of Atem WowPot goes further than most book slot machine games, as there's also a progressive jackpot! The jackpot can be triggered when a book symbol lands on the reels.
Mega Moolah
OK, so we know we just said there are many other progressive jackpot games besides Mega Moolah – but you can't deny it's one of the most popular slot machines in the world. Mega Moolah is one of Microgaming's oldest games, too – first released almost 20 years ago!
Despite its simple safari theme that might look a bit dated, the game's mega jackpot keeps players coming back – and if you're wondering why, it's likely because Mega Moolah holds the Guinness World Record for the highest online slot jackpot payout in history. In Euros (the currency it was won in), the record win was worth a staggering €19,430,723.60!
Elephant King
Elephant King is a progressive jackpot video slot from Microgaming – and it's an excellent casino game if you're looking for a jackpot slot with slightly lower volatility than the two we've just covered.
Elephant King is set in the plains of the Serengeti. The game's star, the elephant, is responsible both for triggering the base game feature and the key to winning MegaJackpot progressive jackpot. Landing the disc elephant symbol on any reel activates the MegaJackpot, and if it's your lucky day, you could walk away with all the money – sometimes, hundreds of thousands of dollars!
About the Team and History
Blackjack Ballroom Casino is a pretty well-known name in the online gambling industry. It's also one of the longest-running casinos, opening its virtual doors in 2000. The casino is operated by Apollo Entertainment Limited, which runs over 20 other online casinos, including Quatro Casino, Captain Cooks, and Luxury Casino. As noted earlier, it's also part of the Casino Rewards Group. Offering a wide variety of video poker games, progressive jackpots, casino table games and slots, there's a decent selection of games, although, as mentioned earlier, they only have Microgaming games.
Blackjack Ballroom has three online gambling licenses. These come from the UK's Gambling Commission, the Kahnawake Gaming Commission, and the MGA. With three online gambling licenses – all from pretty strict regulators – you can be confident you're in relatively safe hands while playing. If you're in Europe, you'll play under the MGA license unless you're in the UK. They don't appear to use their Kahnawake Gaming Commission license too much.
As mentioned, Blackjack Ballroom Casino is powered by Microgaming, one of the pioneers in the iGaming industry, known for its high-quality games with unique animation and appealing features. The casino offers over 550 games, including various slots, jackpots, video poker, and casino table games.
Blackjack Ballroom doesn't list any restricted countries on its terms and conditions page. However, we're pretty confident this is simply an oversight on their part, as there are several restricted countries (Iran, North Korea, and China, for example.)
Complaints and Track Record
Here at Casinomeister, Blackjack Ballroom has had its share of player complaints but has resolved most of them satisfactorily. It has also been blacklisted once, but this has not influenced its current rating, as the issue was related to the casino's previous owner. Now that it's under new ownership, things appear to have improved. However, in recent years, very few forum posts have appeared about the casino – so we'll have to go back a bit to see what players say!
In this thread, for example, AussieOnline asks: "Just wondering if this casino is safe, or if anyone has played there, I keep getting offers in my email for this casino, but it looks a bit dodgy to me. Thanks."
Several Casinomeister members, including CakeKing, replied: "They're a part of the Casino Rewards group, which is pretty trustworthy. They are not the fastest withdrawals, but you'll get them eventually. As Mark said, you might as well stick to Accredited casinos."
And here's a great reply from KasinoKing, who noted: "his casino is OK – but there are far better (accredited) MG casinos to choose from. The biggest danger with Casino Rewards Group is they have "absorbed" all the previously failing MG operations, and they currently run THIRTY-TWO casinos!
So if players are unaware of this, they can inadvertently sign up for more than one casino in their group. If they are not very careful, they can fall foul of their Group Bonus Policy and risk getting their winnings confiscated."
Not everyone is so positive, however. For example, here's Mattsgame's take on the site: "For me personally, I would stay clear of any Casino Rewards casino.
They are heavy spammers. Is this where the emails are coming from?). Do you have an account at any other CR casinos that Kasino King has listed? If so, the email offer is a waste of time as you can only claim a (welcome & subsequent) bonus at one of the casinos in the entire group, so please avoid falling into that trap. There are much better casinos to play at IMPO with faster cash outs, no spam, no bonus traps, and since you are a fellow Aussie, you have quite a few options."
Casinomeister members have mixed feelings about not just Blackjack Ballroom but the Casino Rewards Group, and it's not hard to see why. While they used to offer a decent Microgaming product, it's pretty redundant today – and there are simply so many better options to choose from without the crazily-high wagering requirements and limited game selection.
Casino Facts
| | |
| --- | --- |
| Founded | 2000 |
| Accredited at Casinomeister | Nope - removed |
| Jurisdictions | Danish Gambling Authority, Kahnawake, Malta Gaming Authority, UKGC |
| Casino representative | Affiliate Program Manager and CM Player Complaint Rep |
| Affiliate program | Rewards Affiliates |
| Is this casino certified at Casinomeister | No |
| Payout time | 48 hrs |
| Reverse time | 48 hrs |
| Payout limits | $/£/$4000 a week if a player wins a sum that is 5 times or more greater than their total purchases across all Casino Rewards partner casinos |
| Weekend payouts | No |
| Locks withdrawals | No |
Brazilian Portuguese, Chinese Simplified, Chinese Traditional, Croatian, Czech, Danish, Dutch, English, European Portuguese, Finnish, French, German, Greek, Hungarian, Italian, Japanese, Korean, Norwegian, Polish, Russian, Slovenian, Spanish, Swedish, Turkish
Abaqoos, CLICK2PAY, Direct Bank Transfer, echeck, eKonto, Entropay, Envoy Euteller, Envoy iDEAL, Envoy Sofort, EPS, Euteller, ewire, EZIPay, GiroPay, iDEAL, instaDebit, Instant Banking, Kalibra, Maestro, MasterCard, Moneta.au, Multibanco, Neosurf, Neteller, Nordea, Paypal, paysafecard, POLi, Postepay, Przelewy24, QIWI, Skrill, Skrill 1-Tap, Sofort , Swedbank, Ticket Premium, Ukash, uNet, UseMyFunds, Visa, Visa Electron
click2pay, Direct Bank Transfer, echeck, Entropay, EZIPay, Kalibra, Maestro, MasterCard, Neteller, Paypal, Postepay, Skrill, Visa, Visa Electron
This casino is unavailable to you. Please see other options