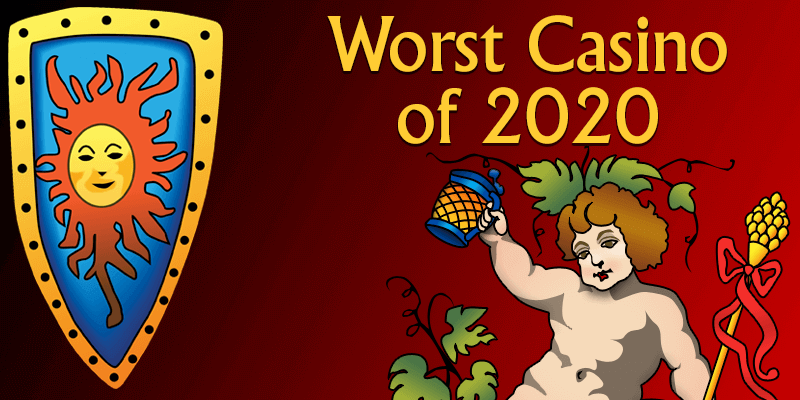 We regret – it's 22bet
Besides having one of the stupidest names ever conjured up in a opium smoke filled den of casino operators, it is the craphole of the year 2020.
In the past 12 months we have tossed loads of complaints into our "black hole" of no-can-do category of player arbitration. These guys are a sure thing – speak to the hand each and every time. But it's not just the non-communication that is befitting for this coveted award, it is the player experience that justifies it.
How do we loathe thee, 22Bet? Let us count the ways.
22 Reasons not to Play at 22bet
They have a very stupid name.
They won't answer player complaints – and they won't answer our emails either.
They are notorious for NOT paying winnings owed.
They operate without any supervision or oversight.
They are a scam.
You need to send in ID documents in order for them to close your account.
They implement delay tactics for withdrawals.
They are con artists.
They have a flaccid gaming license (Curaçao Master License 8048/JAZ)
They take bets from the UK without a valid UKGC license
They will not discuss player issues with properly certified alternative dispute resolution agencies like ourselves.
They have a crappy functioning website.
Their responsible gambling obligations are all smoke and mirrors
They are a "no pay – speak to the hand" online casino.
They were featured in Casinomeister's Three Tales of Online Casino Terror.
They are crap.
They denied winnings of £21,137 for no legitimate reason.
They can do whatever they want with your casino account, and there is not a damn thing you can do about it. So no soup for you.
They have no intention on establing a relationship with any reputable entity like ourselves.
They have a flippant attitude towards the player community.
They are run by rogues.
They are the worst online casino of the year 2020
So there ya have it – the worst online casino of 2020. High fives all around for these ethically challenged 22ers. What a load of garbage.
Historical Worst Casino Awards
I have been divvying out these "worst of" awards starting in 2003 after realizing that crappy behavior should be rewarded with a crappy award. Lo and behold, some casinos were actually chuffed to get it – there is no such thing as bad publicity. In fact, the first recipient of this award, Black Widow Casino, wanted to pay me $5,000 a week to keep him in the Rogue pit – he was getting loads of traffic because of it. LOL – we kept him there but changed his link to MenWhoLookLikeKennyRogers.com – which was a real site back then, and which had eventually blocked our traffic. LOL – man, I really miss the old days.
Worst Casino 2019 – BonanzaGame
Worst Casino 2018 – Osiris Casino
Worst Casino 2017 – Burnbet/Winner.com
Worst Casino 2016 – Euromoon/Pamper Casino
Worst Casino 2015 – Casino4live
Worst Casino 2014 – SlotoBank
Worst Casino 2013 – rey8.com/Planet Kings
Worst Casino 2012 – Casino770
Worst Casino 2011 – Grand Duke Casino/Class1Casino
Worst Casino 2010 – BeTheDealer
Worst Casino 2009 – Golden Lounge (pre-32Red)/Strykke Casino
Worst Casino 2008 – Gold Betting/Golden Casino
Worst Casino 2007 – Cirrus Casino
Worst Casino 2006 – African Palace/Indio Casino
Worst Casino 2005 – Joyland Casino
Worst Casino 2004 – 1x2casino
Worst Casino 2003 – Black Widow