"Spiraling downward from the graces of Casinomeister's Accredited Casinos"
Fall from Grace Awards. These awards are bestowed unto casinos that were once an integral part of Casinomeister, but for one reason or another fell from grace and lost their accredited status.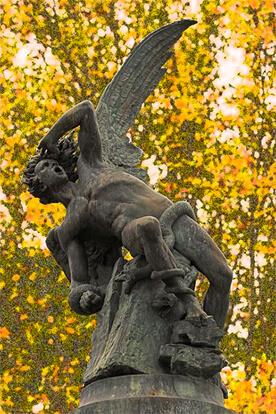 We have a few "fall from grace" awards to hand out this year – all for differing reasons.
This was the mother of all Fall From Graces: Club World Casino group. Prior to November 2016, this casino group was on top of their game. They had an outstanding management team and affiliate program – both of which had received many CM awards to include Best Casino Awards (for numerous years), Best Affiliate Program (Affiliate Edge – for numerous years) and Best Casino Manager (Karolina – numerous years).
All was good and well until there was a shift in ownership and everything went to hell in a hand basket.
The company brought in the dodgiest people involved in the online casino business, and began nefarious activities (see Bag of Dicks award).
This resulted in the people responsible for the greatness of the company to jump ship. This was understandable since people are protective of their reputation in this industry. Well, at least they ought to be. We know damn well that the folks at Club World could not care less. They are in the rogue pit – falling from the graces of years in the Accredited Casino section. "Bag of Dicks" explains even more.
---
Vegas Partner Lounge – was another long time member of the Accredited section going back to 2001 when we had Crazy Vegas as one of the first "Mystery Casinos" for our Mystery Casino contest.
During this past year's relaunch of Casinomeister, I redid a number of our reviews which included moments of a "secret shopper". Unfortunately, a couple of the Vegas Partner Group casinos (Maple and Crazy Vegas) failed miserably. Terms and conditions were not properly linked anywhere. Bonuses were automatically placed in one's account – and the casino support was abysmal. No one would answer my emails – no one was available in chat. And I started receiving phone calls from South Africa on my mobile (which I have to pay for by the way) during breakfast.
I immediately contacted the casino rep outlining what was wrong, telling him I was obligated to remove the properties unless this was rectified, and he came back and told me they would fix it right away.
I gave him the benefit of the doubt – and waited…and waited…and that was enough. They just could not seem to get it together, and were removed from the Accredited section and place into the Grey Zone.
---
City Views/Bellerock/Buffalo Partners
One of the ultimate shames of being in business for so long is that when we started up, many of our agreements with casinos were made directly face to face either with their owners or top administrators – most of the time with an agreement and a handshake.
The Bellerock or City Views – or whatever they call themselves now – were one of the first casinos listed on Casinomeister back in 1999. It was a crying shame that nearly twenty years later they could not give a flying rat's ass what their status is. Too many new managers and convoluted business maneuvers turned this casino group into something entirely different than what it was 19 years ago. The casino managers were no longer willing to deal with any of the casino complaints coming through us. Nor were they willing to even converse on our forum about their casino operations.
It's frustrating what short memories some people have. The number of times I put my reputation on the line for companies like Bellerock or City Views – because back in the day, they were determined to be number one.
Now it's just a pathetic money making marketing scheme.
---
Coral Casino
This is another example of a casino that not could not care less about our player community. Too big for its britches. If it had a head, it wouldn't or couldn't get through a normal sized doorway.
In May 2017, the casino rep was asleep at the wheel when some player issues popped up. And yeah, they didn't give a hoot about any accredited standards at Casinomeister – hell, it's Coral casino! They have a big name! They are on every corner street and back alley in the UK. Yeah, who needs to keep watch over the largest player community online? It surely isn't Coral casino – adios amigos, and don't let the door hit you on the ass on the way out.
Fall From Grace Historical Awards
Fall From Grace Award 2016 – Bet365/Betway/Betting Partners
Fall From Grace Award 2015 – kybet and AffiliateHub – quitters
Fall From Grace Award 2014 – Wagershare casinos/Ladbrokes
Fall From Grace Award 2011 – GoWild Casino (reinstated)
Fall From Grace Award 2010 – Rushmore, Bwin, Betfair
Fall From Grace Award 2006 – Minivegas, Mansion, City Club Casino
Fall From Grace Award 2005 – Fortune Lounge (reinstated)
Fall From Grace Award 2005 Runner Up – Captain Cooks Casino