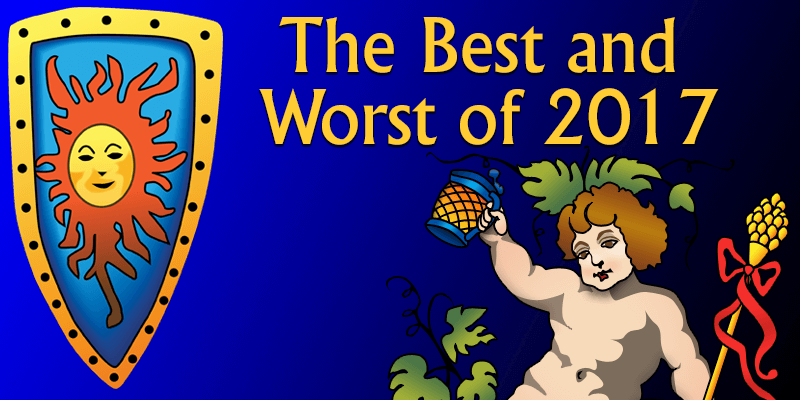 "This year's review of the best games."
Best and worst Software releases of 2017
The forum members are the ones who tasked to decide on the best games of 2017, some of our members have been actively playing casino games online for over a decade – hell some for nearly two (feeling old over here).
From Dunover – Slotmeister:
The Year 2017 In Slots
2017 proved to be a revolutionary year in the new slots arena, not in the sense that the quantity of releases was noticeably different to other years, but that amongst the chaff there were a few new slots that were clearly going to be classics for years to come, always indicative of a year to remember!
Before we view the good, the bad and the downright ugly of 2017's new games you may recall that in 2016 Play'n Go took the Casinomeister Members' award for the best new game amid some controversy as their winning Book Of Dead game was ahem! a 'tribute' to Novomatic's Book Of Ra Deluxe. It did though have a clever twist: the RTP was slightly higher as unlike the Novo version the chosen scatter symbol in the free spins paid its own lines before the expanding pays. Play 'n Go had another good year with their cascading slots such as Moon Princess and Viking Runecraft supplementing their standard format slots like the popular Matsuri.
The major developers were pretty anonymous unfortunately, churning out numerous games generally considered mediocre at best. Their formula seems to be taking a couple of existing games and hashing the features together to form a hybrid, a classic example being Netent's dreadful Twin Spin 'Deluxe' which simply had a bigger grid, lower pays and blended that with the 'block pays' from The Legend Of Shangri-La. Oh dear. They did somewhat redeem themselves with the licensed Planet Of The Apes whereby they imaginatively used both the movies they had rights for by making two separate slots in one and those having different features!
Microgaming and IGT were totally anonymous with, to be frank, production-line dross and many 'clones' and this was reflected in their lack of votes by the members here with the only exception being The Phantom Of The Opera, a trademarked game. Playtech are a jolly good developer and have produced numerous anonymous Chinese-themed slots this year but are usually recognized for their usage of film themes and did a pretty decent job with The Matrix (The Matrix 2 is being released as we speak and could well figure in the 2018 poll).
The UKGC has made an effort in 2017 to clamp down on gambling which uses juvenile or cartoon subject matter and quite rightly too as some developers, especially those based in Sweden, have made quite heavy use of what I term 'Early Learning Centre Graphics'. Unfortunately some minor developers elsewhere in Europe which you probably won't see in your chosen casino have focussed on the other end of the spectrum and it's quite possible that your jaw would have dropped when viewing the 'Diktators' game earlier (scroll down for this one) in the year which features glowing examples of humanity such as Stalin and Hitler, or Spade Gaming's 'First Love' in which the Japanese schoolteacher appears to have arranged special extra-curricular activities for some of his female students! (scroll down for this one too).
Notwithstanding the madness above, we were introduced to Big Time Gaming's insanely volatile Bonanza slot earlier in the year. Never has a 'New Slot Announcement' thread turned into such a monster, or a new game caused such a furore. Bonanza has six random reel rows each spin which can be from 324 ways to a colossal 117,649 ways and cascades after winning symbols have been removed each spin. Not only does the base game have big potential returns but the fact no two spins will be the same in a session is actually superseded by the bonus round mechanic – the player gets 12 free games with the multiplier increasing once for every win or subsequent winning cascade. Given that the best 6-of-a-kind win is 50x stake and the mutliplier can exceed 30x or you can achieve say 162 ways of a symbol in one spin, there are some truly titanic pays possible. The base game is quite generous and will usually let you turn over a balance many times. There is a price to pay though! Those four scatters G-O-L-D required for the bonus appear on average about each 450 spins. With the game's variance this can mean it's usual to exceed 1000 spins for a feature, so much so that the hunt for the missing 'D' has become a standing joke amongst aficionados of the slot!
So there you have it – there was always going to be only one winner of Best New Slot 2017. They did release too a Wonderland-based game 'White Rabbit' with expanding reels in free games and usually this would have been a classic on its own, but the runner up was Danger! High Voltage in which we visit the Taco Bar for 4096-ways of mayhem with up to three 6x multiplying expanding wilds possible in the base game and Electric Six's track of the same name to accompany any scatter activity or free games. The player chooses from two free spins games with huge potential, one with sticky wilds on the centre four reels and the other with a stacked wild 'ladder' which will multiply any winning ways from 11 to 66x when landing! Unsurprisingly, this slot was the 2017 runner-up.
Big Time Gaming released only three slots, a paltry amount compared to the big major developers and absolutely cleaned up the votes – in fact they were so dominant it was nearly a whitewash for the rest. It's a damning indictment of the big names churning out quantity over quality, lazy cobbling together of existing game mechanics and tired old features. Love 'em or hate 'em, the BTG slots proved to be masterpieces of imagination, thinking outside of the box and complex math models. The graphics are polished and eye-catching, so much so that they felt they could get away with such a dreadful and hysterical banjo player in the background soundtrack of Bonanza!
I would be pleasantly shocked if the forthcoming year produces just ONE slot as notable as the two BTG games above, but be aware BTG are working on a new release so we may yet be surprised – who knows? These slots may just have given the bigger developers a big shake to wake them from their slumber: I would certainly hope so in order to inspire a great slotting 2018 for all of us!
So the voting began here: Best New Slot of 2017 Your Votes! and ended here: Your Slot of 2017!! Results
Winner: BONANZA (Big Time Gaming)
Runner-up: Danger High Voltage (Big Time Gaming)
Third Place: Moon Princess (Play'n Go,) [Editor's note: FFS!]
Fourth: = Viking Runecraft (Play'n Go) 531512234 ** 26
Fourth: = Reactoonz (Play'n Go) 3521555 **** 26
Sixth: Jungle Spirit (Netent) 251432134 * 25
Seventh: White Rabbit (Big Time Gaming) 311221511111 * 20
Eight: Pink Elephants (Thunderkick) PINK ELEPHANTS 251521 ** 16
Ninth: Flame Busters (Thunderkick) 344 11
Tenth: = Buffalo Blitz (Playtech) 35 * 8
Tenth: = Codex (Leander) 44 8
With the "Tossers" award – the three worst games:
Emoji Planet (Netent) [Editor's note: agreed]
Pink Elephants (Thunderkick)
Twin Spin Deluxe (Netent)
Some interesting facts!
*Bonanza won not only on most points, but also most first choices and most overall choices in members' top 5.
*BTG had the runner-up too and overall had 176 points for just 3 slots in the poll, nearly 59 points per slot which is almost double the points of the third-placed slot Moon Princess at 31.
*After BTG, Play'n Go had the most votes of any developer.
*pro-rata to games released, Microgaming had the worst average score per slot at just over 1 for each of their games released – 58 LESS per game than BTG!
*Microgaming had an incredible 7 entries in the TOSSER list of 21 games, an execrable 1/3 of voters picked a MG slot as their worst of the year. This developer has lost its way, big time!
*Netent had 5 TOSSERS and like the above proves that quantity of releases is no substitute for quality.
*Playtech had just 2 mentions despite numerous slots being released. Perhaps if they weren't associated with so many rogue casinos, they'd have more product awareness amongst players.
*Nextgen released many slots and never had a TOSSER or a choice from anybody – very anonymous!
This poll merely cements my opinion that the 'big' developers like Netent, MG, IGT and Playtech have become fat, bloated and lazy, just lounging about emitting the odd fart here and there.
---
Thank you Dunover!
And for me – I've chosen a couple of slots for "I can't believe it's live" slot categories: First Love – really, this is strictly for pervs. Warning +18.
Full conversation here
And Betsense which has some of the most bizarre slots out there to include Dictator! I wonder if this is available in Germany. Sheesh!
Full thread is here: More shocking and Bizarre Slots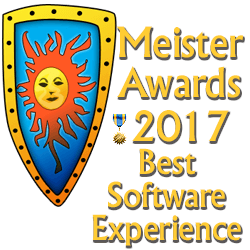 Best Gaming Experience Historical Awards
Best iGaming Software Experience 2016 -Play N Go
Best iGaming Experience 2015 – NetEnt
Best Gaming Experience 2014 – WMS
Best Gaming Experience 2013 – WMS
Best Gaming Experience 2012 – NetEnt
Best Games Award 2011 – Leander Games
Best Software Supplier Award 2011 – NetEnt
Best Games Award 2010 – 3Dice
Best Software Award 2010 – Microgaming
Best Software Award 2009 – Wagerworks
Best Software Award 2008 – Cryptologic
Best Software Award 2007 – Wagerworks
Best Software Award 2006 – Microgaming
Best Software Award 2005 – Microgaming