"Head is where the sun don't shine…"

The "fourth point of contact" is US paratrooper lingo for the fourth point of your body as it hits the ground during a parachute landing fall. RE: Balls of the feet, calf, thigh, buttocks, push up muscle. In other words, it's yer ass.
So, who had their head up their ass this year? Well Sheldon Adelson received this award in 2014 – and he gets it again for 2016. This guy truly has his head up his ass.
If you had $25 million to give away, what would you do with it? Start a college fund for deserving kids living in squalor? Donate it to St. Jude's Children's Hospital? Save the whales, timber wolves, or mountain gorillas? My head just spins thinking of how many ways one could better so many lives in truly awesome ways.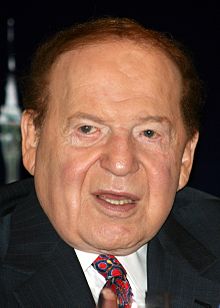 Well, what did Sheldon Adelson do with a spare $25 million he found stashed in his pocket? He gave it to a pro-Trump super PAC: Future45. How astonishing – and disappointing. Trump was bragging on how he was financing his own campaign – he didn't need Adelson to buy a bunch of anti-Hillary TV ads. What a jerk off – just think about how many mouths that could have fed, or how many kids could have been sent to collage with that, or what that could have done with trying to discover why cancer develops in children. $25 million really? For TV ads? I just can't get my head around this. What a self serving prick.
Mr. Adleson, you are contemptible – you set a horrible example of what money does to people. I hope I never, ever become like you.
Fourth Point of Contact Historical Awards
Fourth Point of Contact Award 2015 – Playtech
Fourth Point of Contact Award 2014 – Sheldon Gary Adelson
Fourth Point of Contact Award 2013 – Playtech
Fourth Point of Contact Award 2012 – Forum Trolls
Fourth Point of Contact Award 2011 – US Department of Justice
Fourth Point of Contact Award 2010 – Hyperactive Affiliates
Fourth Point of Contact Award 2009 – Congressman Spencer Bachus
Fourth Point of Contact Award 2008 – Kentucky State Governor Steve Beshear