Meister London Report 2018: ICE – LAC and the Obligatory Pubs
By Casinomeister Feb 20, 2018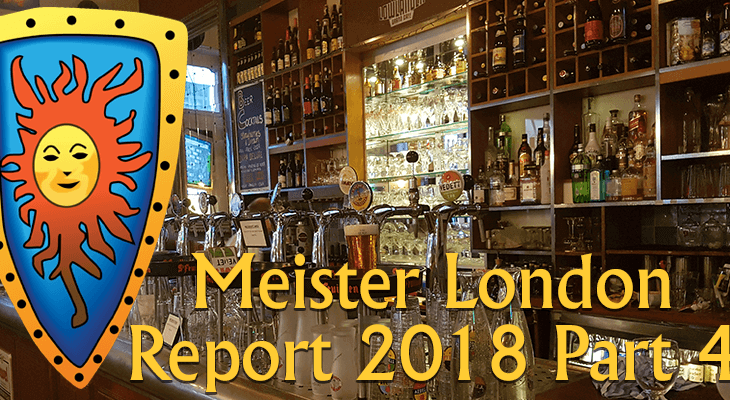 London Meister Report 2018: ICE, LAC, and Shitholecasinos.com
Last day of ICE/first day of LAC
Our first stop was by the Kahnawake Gaming Commission stand where they give us their annual debriefing of how their year went RE complaints and other issues that they dealt with over the past year. The KGC is, in my opinion, the top licensing jurisdiction when it comes to player protection and transparency. Each year, they publish their complaint summaries which can be found here: KGC Dispute Summary for 2017, and here 2017 Dispute Statistics for KGC. No one else does this.
And something else that the KGC does that puts them above other regulators: they host training sessions for their operators i.e. managing players properly and avoiding situations that can escalate into complaints. No other jurisdiction does this. The UKGC treats its licensees as if they were the enemy. No other licensing agencies try to ensure that their license holders are doing the right thing.
This begs the question – why aren't more regulators taking more interest in their licensees and their customers?
Answer: politics and disinterest.
So onward to another bout of Fish n' Chips at the Fox Bar, and we were on our way to the LAC. One topic of interest – the Guardian had reported that at the ICE there were pole dancers and loads of half naked women running about. The Guardian quoted Sara Harrison from the UKGC as saying "This is an industry where we have a number of talented, powerful and successful women…yet from walking around the exhibition you wouldn't know this. Instead you saw men representing their companies wearing expensive tailored suits whilst their female colleagues were expected to wear nothing more than swimsuits. I say bring this to an end now." (full article here).
She must have been at a different conference than me and Max, because we sure didn't see any affiliate managers or sales reps wearing bikinis. We would have definitely noticed this.
Sure, there were some women dealing cards at some of the land-based table game distributors who show cleavage (like on any casino floor) – and a few girls wearing Dirndls handing out Mozart Chocolate (more cleavage). So what? It mimics casino software which is for adults – at least the last time I checked casinos, casino games and software is for adults.
Go to the Hippodrome in London, and you'll get basically the same visual treatment. The Hippodrome touts shows with scantly clad or near topless women. The hypocrisy does not escape me.
Finally at the LAC. The London Affiliate Conference is really the happenin' place. The happenin' place used to be the ICE and we would just skip most of the LAC, but the industry is changing – as always. The ICE is like a black hole – the "mine's bigger" challenge. It used to be a promised place to gather information from each software provider, make points of contact so we can resolve any issues that players may have with their operators. Players ought to attend the show to see where their money goes.
Anyway – the LAC. And I was going incognito with my newly launched website on my badge, "Shithole Casinos".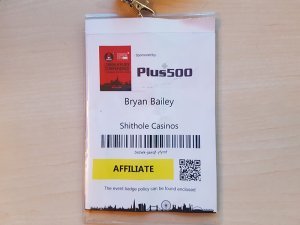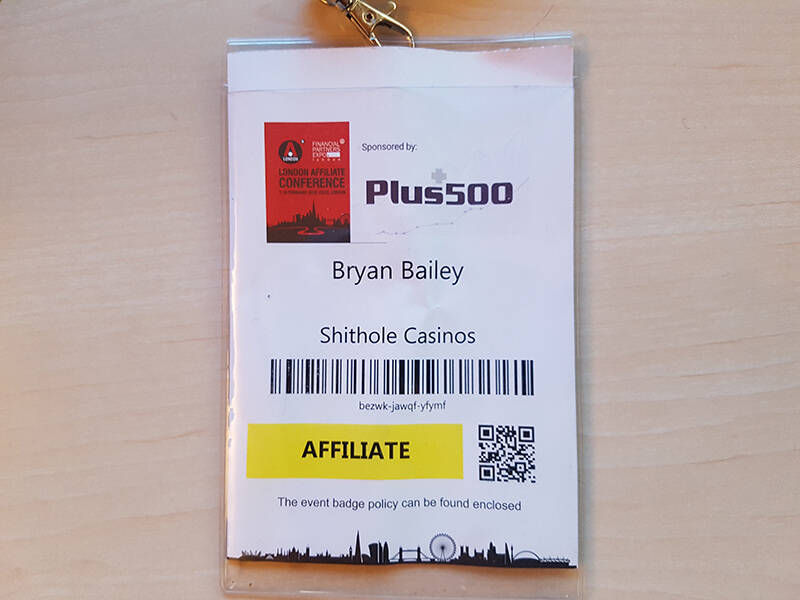 Would you believe that I was approached by a number of affiliate managers roaming the floor wanting traffic? The conversation went generally like this:
Affy Manager: Are you an affiliate?
Me: Yes!
Looking at badge…
Affy Manager: Shitholecasinos.com – what kind of site is this?
Me: I have the shittiest casinos – ever. The shittier the better!
Affy Manager: Do you have traffic?
Me: Yes – lots – from all over – everywhere!
At this point he (or she) would scan my badge, thank me and move on.
What I do for shits and giggles, eh?
Max and I made our rounds, and it was a pretty good turnout – good show. We ran into Duncan from thePogg, and the main topic we discussed was the Bag of Dicks – Affiliate Edge, and how they screwed over Webzcas with a bullshit showdown in a small claims court where instead of paying Dave what they owed him (about £5k), these guys spent around £25k in order not to pay 5k. They pulled an arbitration clause out of their bag of dicks – and the judge agreed that the case should go to arbitration – forcing Dave to pay about half of their lawyer bill. This was just days before Christmas.
Affiliate Edge has completely forgotten that the only reason their company exists is because of dedicated webmasters like Dave. This is how they screw their "partners" – and this is how they will screw you if you have a care to be treated with fairness. We have proof that they detag players from affiliate accounts, and will not pay folks what they are owed. If you are still promoting any of their properties, you are daft.
So far, we have collected enough to cover half – there is about £5.9K left to pay, so this is what we're going to do: for those who donate £500 or more to this fund will get a "followed" link on the three sites, thePogg, onlinecasinoreviewer.com and Casinomeister.com. As soon as we receive the amount to cover it, then we shut off the donations.
Dave is one of the good guys, he has contributed loads to the affiliate community, and he went to bat for everything that is good and decent in this industry. You can find detailed information about this here: Affiliate Edge Retroactive Changes and an Appeal.
If you would like to make a donation, please let me know.
[metaslider id=26117]
Max and I made our rounds, and so did Jelena our accounts manager – there are a few new casinos planning for a Baptism By Fire:
Fun Casino part of the L&L Group.
Twin Casino
Lady Lucks Casino – sister casino of Slotsmillion
Breakout Casino
Bet365 is coming back on board as an Accredited Casino. And there are a number of new and exclusive promotions coming up – check out our Special promotions section. If you see something you like, thank Jelena for squaring those away.
I also met with one of the operators for BetWay and the old Palace Group (Wagershare). Some of you may remember back in 2013 where I had an issue about the unauthorized use of my trademark by some douchebag affiliate – and how I was not given the support I thought I would have gotten by Wagershare to have this affiliate shut down. It's all detailed here: Palace Group Removed from Casinomeister.
Anyway, we had coffee and the reason why he wanted to meet with me and talk was to apologize. It was a humbling experience – not many people can look you in the eye and give an apology stating what they did was not the right thing to do. Apology accepted. Thank you.
From there, we strolled around the exhibition hall – much different feel than the ICE – more personable. Sure, there were many familiar faces – tons of new ones. And it was a juvenile joyous venture to continually troll newbie affiliate managers with my badge. Silly me.
That day segued into the evening with a massive dinner hosted by Intertops and Legend Affiliates. There were 80 persons at this dinner at the Shoreditch House – a private club in East London. They have a "no photos" policy since there are a number of celebrities who are members, or who may be lurking about as guests. The staff doesn't want them to be exploited on social media. But seriously, I don't mind being photographed as long as I'm not chewing a mouth full of food.
Friday was more of the same at the LAC – and Max and I wondered why was it necessary to hold this at the Excel. There is such a disconnect between the ICE and LAC that it would make more sense to move it back to the Olympia where they had it two years ago. It is more central – way easier to get to, and there are a number of decent pubs in the neighborhood. Getting to and from the Excel is a time suck and is ignoring what the delegates want – no one wants to head out to the Excel. I don't think I spoke to a single person who enjoyed heading out there.
Why should the delegates care that affiliate programs want big expansive booths? It's BS – I was impressed that this year there were many of modest size. And I am sure these sponsors did just fine. The 2012 LAC at Old Billings Gate wasn't bad either.
And then it was Saturday – a mellow day with me wandering around town learning the ins-and-outs of a new camera – and our obligatory last chance pub crawl. It began at the Lowlander Café – a pubish place with a massive menu of Belgian beers, and a load of other beers from around Europe. We met for lunch with the Sports Interaction guys – Canadian only casino – been accredited for sometime now.
[metaslider id=26072]
The Lowlander was really quite impressive. And what was impressive was how crowded it was at noon, and how quickly it was cleared out by a lovely young woman losing her cookies by the bar. Too many Belgian beers before lunch is not a great way to start one's day. Anyway, the place was back to normal within a half hour or so. From there it was the Chandos and then our home away from home, the The Ship & Shovell.
And here I am again – in my real home – reflecting on an amazing week of this industry and its London connections – for the eighteenth year in a row. I'm already looking forward to next year.
Related Articles: