Slot Streamers: Who Are They?
By Alex Smith Mar 2, 2022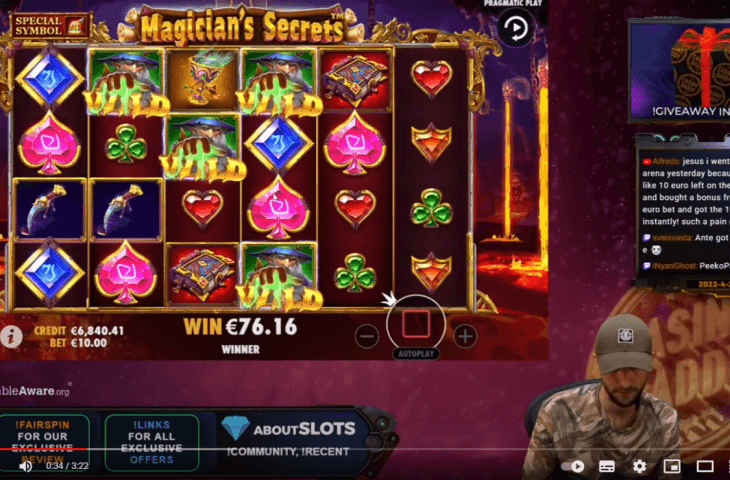 A few years ago, a new trend started to appear online; videos of people playing video slots and casino table games started to appear on YouTube and Twitch, and before long, there were streamers who streamed themselves playing these games full-time!
The trend was quick to catch on, and today, you can find a whole host of streamers online. They're found in all parts of the world, and they all have their own distinct features and qualities – but who are the biggest? And how do these streamers manage to afford to continue depositing (and playing) vast sums of money?
Well, we're going to aim to answer some of the biggest questions surrounding online slots streamers right here on this page. We'll begin with a look at some of the biggest slots streamers, and we'll then look at how they manage to make money. Finally, we'll cover one of the more worrying sides of the industry; fake streamers – and how to spot them.
Popular Slot Streamers
Today, you'll find hundreds of different streamers online – but as with all things in life, some are bigger (and better) than others – and below, we look at some of the top slots.
The Bandit: The Bandit is one of the world's biggest slots streamers, and while he doesn't stream slots live (instead, pre-recording his sessions and then uploading them to YouTube), he's become somewhat of a superstar in the online gambling world. His friendly, happy-go-lucky style has built him a loyal fanbase, and his videos are known for their high-stakes.
As his popularity increased, so did his stakes – and his signature game, Reel King, proved to be an insanely successful slot for him. Using the gamble ladder (a 50/50 gamble feature that allows you to gamble any wins), the Bandit managed to win more than £600,000 from the game – and it's fair to say he's cemented himself a legacy as one of the biggest and best slots streamers on the planet.
LetsGiveItASpin: LetsGiveItASpin is another hugely popular slots streamer who also like to play casino table games. Kim – an ex professional poker player – was also one of the founders of Casino Grounds, and his friendly, informative streams have captured the attention of thousands of viewers from around the world.
Casinodaddy: Casinodaddy is group of streamers, some of which who are brothers – and this Scandinavian group have a very loyal following, with live streams running every day of the week. While, in the past, Casinodaddy have been accused of using 'fake money', they now regularly show deposit/withdrawal history, and are regarded as a trustworthy name within the online gambling streaming community.
JimboCasino: JimboCasino is one of the most popular slots channels on YouTube – and it's run by a Brummie, called James! Like The Bandit, JimboCasino typically pre-records sessions before uploading them to YouTube, although he does occasionally stream live from Twitch too. JimboCasino is particularly well-known for his famed Dead or Alive win, where he won more than £40,000 from a whopping £7.20 bet!
Craig Slots: Craig Slots is another Youtube streamer who's built a loyal following thanks to his vibrant, no holds barred approach to streaming. He has no qualms about speaking his mind, and is a humorous, entertaining and friendly streamer. One of Craig's most popular moments was when he 'mis-clicked' on Pink Elephants and hit a monster win!
Rocknrolla: Rocknrolla is one of the biggest streamers on the planet, and his live streams regularly attract thousands upon thousands of viewers. He's known for his nosebleed stakes, and is regularly found to be doing thousand-pound spins on the Roulette table.
He's also one of the most likeable streamers, and he spends a considerable amount of time (and money) doing charity work. For example, he occasionally runs charity streams, where all profits from the stream are donated to a worthy cause.
Nick Slots: Nick Slots is another key figure in the Casino Grounds community, and he's also a regular streamer, streaming on most weekdays. He's known for playing the slots at stakes viewers can relate with, and his friendly (although outspoken) manner has made him one of the most popular slots channels around.
Truth be told, that's just a small selection of the slots streamers currently out there. Some of the other names you may recognise include Shirox1980, David Labowsky, Slotspinner, Stop and Step, Chipmunkz Slots and Fruity Slots.
How Streamers Earn Money?
There's always been some degree of confusion surrounding the methods that streamers use to actually make money – and it's a fair question. After all, if you look at some of the big name streamers like The Bandit, you'll see them depositing – sometimes – tens of thousands of pounds every session… and this can lead viewers to think they're either playing with 'fake money', or that they're just incredibly rich.
The reality is, however, that many of the world's biggest streamers (especially reputable names like The Bandit), earn a significant amount of money from their affiliate sign-ups that they really can afford to deposit these sums of money.
Here's how it works: a slot streamer may recommend a casino to their viewers. If a viewer then goes and signs up to that casino (using a special link that the streamer provides), then the streamer will receive a 'kick-back' from the casino. For example, some streamers will receive a fixed fee for every person they get to sign up at a casino, while others will receive a percentage of player losses. It all depends on the type of affiliate deal that the streamer sets up with the casinos in question.
Fake Streamers?
Thankfully, the vast majority of casino and slot streamers today are legit – and they play using their own money. However, there are, unfortunately a few 'bad eggs' – and players have a significant issue with streamers who pretend to be using their own hard-earned cash, while, instead, using casino funds instead.
For example, one of the main ways in which 'fake' streamers operate, is to play with demo funds from the casino. What this means, is that the casino will setup a special type of account, where it looks like the streamer is using real money. However, when it comes to actually paying out the streamer, this won't be possible – and they're simply playing with fake funds in an attempt to convince viewers into signing up.
This is not only incredibly unethical, but it's also borderline illegal too, in many jurisdictions. You may have noticed a popular thread over the in forums recently. It accused a large streamer who goes by the name of Roshtein of using fake money.
According to reports, during a live stream, Roshtein showed that he was playing a game in 'demo' mode, as opposed to the real-money mode. Viewers were quick to point this out, and since, an ongoing debate has taken place as to whether he was playing with fake money or not.
While it's unlikely there will ever be definitive proof either way, it doesn't look good for the streamer. For example, a website that posted supposed 'proof' of him using fake money had to be taken down after its owners (and immediate family members) started to receive threats of physical harm and violence.
If you watch casino and slot streamers and aren't sure if they're using fake money or not, one of the best ways of finding out is to simply ask the uploader for proof of deposits. This is something that virtually all reputable streamers are happy to comply with, and they should be able to quickly show proof on their bank/EWallet statement of the deposits and withdrawals they've made.
Unfortunately, it's unlikely that we'll ever see fake streamers eradicated completely – but by talking, and making conversation, you can get a good idea of who is and isn't using fake money.
Related Articles