Top 10 Alternative "Megaways" Slots
By Alex Smith Apr 6, 2022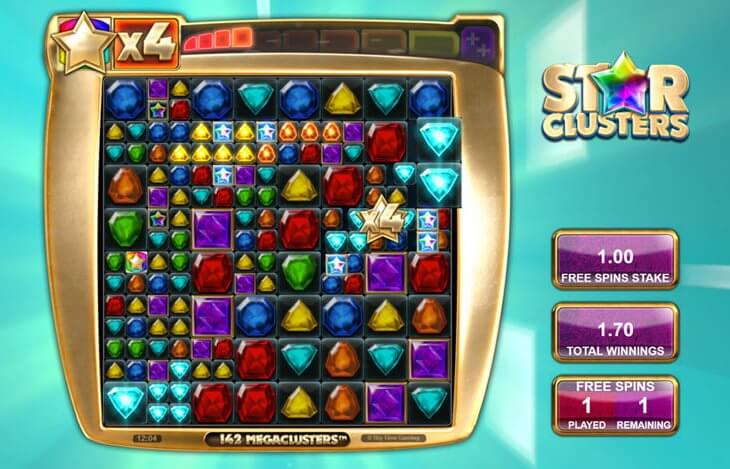 Megaways slots have completely dominated the online gambling industry for the past few years. Whether it's old-school classics like Big Time Gaming's Bonanza or Danger High Voltage or some of the more modern games from other software providers like Aztec Gold Megaways (iSoftBet) and Genie Jackpots Megaways (Blueprint Gaming) it's clear players are – generally – looking for the ultimate high variance slot…
And, until now, Megaways seems to have been the perfect way to fill that void. However, other game developers are starting to cotton on to Megaways' popularity – and while some have chosen to pay Big Time Gaming for a license to use the Megaways mechanic themselves, others have tried to get creative, coming up with their own alternatives.
In this post, we're going to be taking a look at 10 of the best "Non-Megaways-Megaways" slots. Some of these are very similar to Megaways games, others not so much; one thing they all do have in common is that the developers behind the games are trying out new concepts – although whether any will catch on like BTG's Megaways mechanic remains to be seen! Let's kick things off with a look at a game from one of the biggest names in the industry.

Are you new to the world of slot machines? Take a look our RTP and Slots, a guideline for dummies
Monopoly Heights
Monopoly Heights is a video slot from Bally/SG Digital, and while it doesn't bear quite as much resemblance to a Megaways slot as some of the other games in this post it's clear the software provider behind it took at least some inspiration from Big Time Gaming. As the name suggests, the game is themed around Monopoly, and it's a licensed game, meaning Hasbro (the creators and owners of the Monopoly trademarks) gave permission for Bally to use the theme in the slot.
When you first load up Monopoly Heights you'll notice that the reels are formed around a 1024-ways-to-win format. Things start to get interesting when you trigger the Expanding Reels feature; this is done by landing Mr Monopoly himself on the reels as part of a winning combo. When he does, he performs an animation with his cane, before adding another row; the winning symbols then lock in place, and a re-spin is awarded. If, on this re-spin, another Mr Monopoly symbol lands in view he opened up yet another level – and this can continue until there's a total of 32,768-ways-to-win. The game also boasts a Wild Dice feature, and there's also four fixed jackpots worth 10X, 25X, 125X and 2,500X your stake.
Perfect Gems
We haven't seen much from Play'n Go when it comes to giving Megaways slots a run for their money – and their hugely popular "cluster", grid-like games (think Reactoonz, Wild Frames, Viking Runecraft, Moon Princess and Twisted Sister) seem to have done the company exceptionally well. However, they did come out with one Megaways-like slot, and it's called Perfect Gems.
Perfect Gems is built around a 6-reel format, and there are – initially – three rows on reels 1 and 6, and 4 on reels 2, 3, 4 and 5. (This means the game looks very similar to titles like Bonanza.) However, if a symbol on the top-row matches any of the symbols below it, those symbols will "split" – this means that, fully expanded, there's a maximum of 21,609-ways-to-win.
There's also a free-spins feature which is triggered by landing 3, 4, 5 or 6 of the scatter symbols anywhere in view. Doing so will award you with 9, 15, 21 or 27 free-spins respectively. During the bonus there's an increasing multiplier, and for each additional scatter symbol that lands you'll be awarded two additional free-spins.
Voodoo Gold
Voodoo Gold is a video slot from Elk Studios, and it's actually the third slot in their "Gold" series; its predecessors include Tahiti Gold and Ecuador Gold. However, it's Voodoo Gold that seems to be the most popular with players, and it offers a very unique game mechanic that – while very different to Megaways – does give Big Time Gaming a bit of a run for their money.
The game uses what we call an "Avalanche Feature" on every winning spin. This means that, when you form a win, the symbols involved with the win disappear, and new ones drop down to take their place; think Gonzo's Quest. Now, when you first play Voodoo Gold there are 6 reels (in fact, the number of reels never changes.) Initially, there are 1024-ways-to-win. Now, if you form a win, an additional row will be added, bringing the total number of "win ways" to 15,625.
Another win adds yet another row, meaning there are now 117,649-ways-to-win, and if you make another win, the 8th and final row will be added with a total of 262,144-ways-to-win then active. It's a really novel concept to be honest, and there's plenty of other action too, including giant symbols (that can drop down wild symbols), a "bomb" feature, which removes non-winning symbols and a pretty decent free-spins bonus.
El Dorado Infinity Reels
El Dorado Infinity Reels is a video slot from ReelPlay (formally known as Chance Interactive), and when the game was first released, there was a fair amount of "hype" in the Casinomeister forum. Indeed, many players thought ReelPlay had actually come up with a really great concept – and it feels like a solid alternative to a Megaways slot without actually being a Megaways slot.
Set in the jungles of Central America, El Dorado Infinity Reels utilises a very unique game mechanic. Each time you begin a spin, the reels are set on a 3-reel, 4-row format. If you manage to form a win, then a whole new reel of symbols is added to the right-hand-side of the screen; if, on this new reel, any new winning symbols land, another new reel is added, and this continues for as long as you keep on forming wins. If you manage to make 12 wins in a row (thus essentially fully-expanding the reels) you'll hit the "jackpot" and your win will be multiplied by 888X!
There's also a very interesting free-spins bonus; there are four levels, and you can enter it by saving up your features or gambling for it. On level one, each time a new reel is added the unlimited multiplier increases by 1X. On level four, each time a new reel is added the multiplier increases by 4X – so, if you trigger the level 4 bonus and get a few wins in a row, the multiplier can end up growing pretty quickly! It's a great concept, and it's perfectly capable of dishing out some monster-sized wins, too!
Gods of Gold: Infinity Reels
Back in the day, NetEnt were a clear market leader in the online gambling world. Some of their games – The Wish Master, Jack and the Beanstalk, Gonzo's Quest, Piggy Riches, Twin Spin and Evolution – captured the attention of millions of players, and they were – and still are, to be fair – the go-to software provider for many players. Unfortunately, the general consensus is that NetEnt has been struggling for the past couple of years. There was some hope with the release of Dead or Alive 2 (a game which, in fairness, proved to be immensely successful) but other than that they're often known for their "egg timer" like variance.
In an attempt to give Big Time Gaming's Megaways mechanic a run for its money, NetEnt developed a brand-new, never before seen game mechanic called InfiniReels. Erm… yes… the same Infinireels that we just looked at in ReelPlay's El Dorado slot. It's unclear quite how NetEnt got away with such a blatant rip off, but the games are essentially identical in terms of their mechanics. The biggest difference (besides the fact that NetEnt's Gods of Gold: InfiniReels sucks) is in the bonus round; NetEnt's version guarantees a win on every spin, although they can be incredibly low, as little as 0.10X your stake. An unimpressive effort from NetEnt, and yet further proof they're losing their foothold in the online gambling market they once held so strongly.
Boom Pirates
Boom Pirates, we feel, is one of the more creative Megaways alternatives we've come across and the game comes from a small studio called Foxium. However, it's distributed through Microgaming's Quickfire platform so you'll often find it listed under Microgaming at online casinos. The game uses a relatively unique mechanic called Wonderways; when you first load up the game you'll see that the reels start off with a default setup of 5-reels and 4-rows. This means there are a total of 1024-ways-to-win.
Now, in order to "unlock" more wins you either need the random in-game feature to trigger, or you need to enter the free-spins bonus. When this happens, a number of additional reels or rows to the right-hand-side or the top or bottom of the reels are "bombed", and this increases the number of Wonderways. If you're lucky enough to unlock the full board (and be prepared; it's not an easy feat!) you'll enjoy a whopping 10,077,696-ways-to-win – so there's some clear win-potential, especially during the bonus round. Non-UK players can also purchase direct entry to the bonus thanks to the feature buy function.
Star Clusters Megaclusters
We'll be honest, we didn't anticipate Big Time Gaming being a contender for trying to outdo their own Megaways mechanic – but that looks to be exactly what they're trying to do with their brand new game mechanic called Megaclusters. The first game to use this mechanic will be Star Clusters, and it's yet another innovative approach from the Australian software provider many of us have grown to love (or hate.)
When you first load up the game you'll see the reels are set on a 4X4 grid. When you spin and one of the Gold Wilds forms part of a win (wins are formed by making clusters), a multiplier value increases by 1X – and every symbol then splits into four. This continues for as long as wins are formed – and, as you can imagine, the majority of the game's win-potential is found within the free-spins bonus. It's pretty hard to explain, but Casinomesiter's Dazza G has done a great explainer video which you can watch here.
Tiger and Dragon
Red Rake Gaming are one of the smaller game studios – and they're yet to make an appearance on the mainstream scene, although they're slowly penetrating new markets and capturing the attention of new players. Tiger and Dragon is one of the software provider's first slots to gain real momentum – and we think it's fair to say it's their approach to BTG's Megaways mechanic.
The game is built around a 6-reel, 10-row format – although not all symbol positions are filled with symbols. You need to form wins to unlock more parts of the board, and if you're lucky enough to unlock the entire board there's a total of 1,000,000-ways-to-win; yes, that's right. One MILLION ways to win. An exciting free-spins bonus offers significant win-potential, and the game's graphics and audio is great, taking you on a relaxing journey through parts of Ancient China.
Tiki Tumble
Tiki Tumble is a video slot from Push Gaming, and it's one of their best-known slots. While it's not a Megaways-like game, as such, it did receive quite a lot of attention a few years ago when it first came out thanks to the unlimited free-spins bonus and the unlimited win multiplier. In fact, many players were turning to Tiki Tumble over games like Bonanza, as it's easier to bonus, seems to churn out 100X+ wins more frequently – and has been seen to pay wins into the thousands of times stake. It's worth checking out if you haven't already, but don't expect to see expanding reels or rows; it's purey mentioned here due to the bonus round mechanic.
IO
Another slot from Elk Studios to make our "Top 10" list, IO is a highly unique game, and it's the second of the software provider's titles to take advantage of their "Gravity" mechanic. The game's packed with features including avalanches, free spins (known as free drops) and modifiers – and like many of the games showcased here, forming winning combos leads to the height of the reels increasing, with more symbols added and more potential to form big wins.
Initially, the game uses a 6-reel, 4-row format and there are a total of 4096-ways-to-win. If you manage to unlock the full set of rows you'll be playing with 8 rows in total, and there will be a whopping 262,144-ways-to-win active! The big money is found in the bonus round where you'll find special wilds and multipliers – and it's yet another innovative title from the popular Swedish developer. We expect to see a lot more of their "Gravity" mechanic in the future.
Conclusion
What are your thoughts on the games listed above? Have you tried any of them yourself? Love them – hate them? Think there are better Megaways-like slots out there today? Feel free to let us know in the comments – and let us know what YOU think the "next big thing" will be in the online gambling world. It's clear Megaways is still as popular than ever, but something new's gotta come along soon… right?
Interesting Slot Related Articles