Top 5 Autumn-Themed Slots To Try
By Alex Smith Oct 7, 2021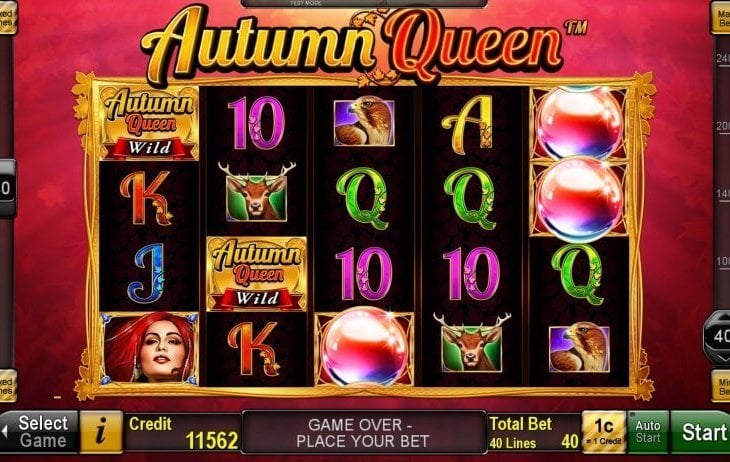 With the end of summer on its way and those cooler, shorter days beckoning ever closer, there's few things better than chilling out at home, a nice warm mug of hot chocolate on the go and your feet up on the sofa playing your favourite video slots and casino table games.
However, if you want to capture the Autumnal feeling the right way, then it's important you think about playing the most suitable video slots – and that's why, in this post, we're going to be taking a look at five of the best Autumn-themed video slots to try out.
Seasons – Yggdrasil
Yggdrasil are known for creating games that feature high-quality, enticing and impressive graphics – and Seasons is no exception. This Autumn-themed slot features stunning artwork, and there's also a beautiful soundtrack accompanying each spin too.
The game is built around a classic 5-reel, 3-row format, and 20 fixed paylines are in-play at all times. Where things get really interesting, however, is when you consider the different modes of gameplay. When you play, one of the four seasons will be randomly selected, and each has its own unique feature.
During the winter season, the Hare Wild duplicates across the reels, and it will automatically move to the best-possible winning position. This makes it easier to hit big wins and ensures the wilds always go to the right place! During spring, landing one of the Owl wilds will trigger a re-spin feature. On the re-spin, the owl will move one position, either vertically, horizontally or diagonally. As long as you keep landing owls, the re-spins continue!
During the summer season, the deer wild will expand to make a cross pattern, and wherever it lands, a new trio of wild symbols will be added to the reels. Finally, it's Autumn and during this reason, the Fox wild will multiply wins by the size of the wild square. It's possible to get multipliers of up to 10X here, and it shouldn't come as any surprise to learn there's some insane win-potential to be found!
Now, Seasons also contains a pretty decent free-spins bonus, and this is triggered by landing 3, 4, or 5 of the scatter symbols anywhere in view. Once triggered, you'll get a bonus that's played out in the same season you're currently in.
4 Seasons – Betsoft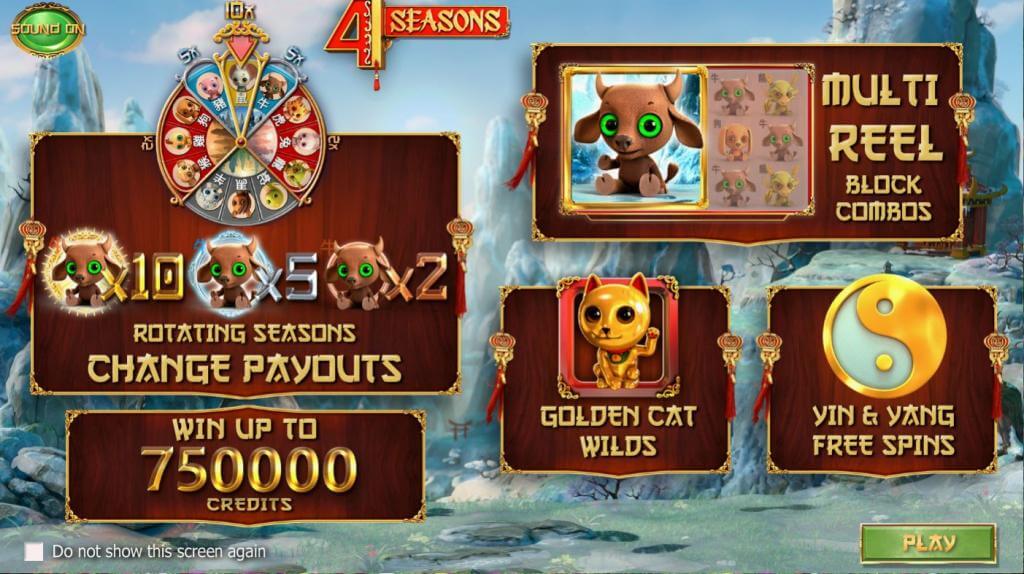 Betsoft are a game developer who aren't particularly well-known for their graphics – but it's clear they can produce high-quality, exciting video slots – and 4 Seasons is a great example of a game that is well-worth playing. Like Yggdrasil's slot we just looked at, 4 Seasons isn't exclusively designed around Autumn, but it does have some fantastic Autumnal themes in it – and the game is built around a 3-row, 5-reel format with a total of 30 fixed paylines.
Interestingly, 4 Seasons takes on an Oriental theme, and you'll see the reels are set on a mountainous view of the Chinese countryside. As the seasons change, so do the graphics. For example, during the winter, snow is seen to line the mountains.
There's a ton of exciting bonus features in 4 Seasons, and the first is known as the Seasonal Wheel. This changes as your gameplay progresses, and every 30 spins, the wheel rotates anticlockwise to display a different animal. Basically, if you manage to land a winning combination with that animal on the reels, it will be multiplied by 10X. Each 90 spins on the game changes the wheel completely – adding new animals, and changing the season in which the game is set.
You've then got the Yin & Yang Free Spins bonus, and this is triggered by landing 3, 4, or 5 of the scatter symbols anywhere in view. If you land three of the scatter symbols you'll be awarded with 8 free-spins, while landing four or five scatter symbols awards 12 and 20 free-spins respectively. During the spins, there aren't any special enhancements, but it is possible to win more free-spins by landing more of the scatter symbols anywhere in view.
Autumn Queen – Novomatic
Novomatic are known for their old-school games, many of which are super volatile and can pay well into the 1,000's of times stake. Autumn Queen is a good example of a game that's somewhere in the 'mid-volatility' range, but it can still produce some impressive wins – and it's also a lot of fun to play.
The game is built around a 5-reel, 4-row format, and there's a total of 40 fixed paylines in play. Players can spin the reels from as little as 40p and as much as £60 per spin. As soon as you load up the game, you'll notice the strong Autumnal theme, and while the graphics aren't on the same level as Yggdrasil's, for example, it's not a bad looking slot by any means.
It's fair to say the main attraction of playing Autumn Queen is the bonus round – and this is activated by landing five or more of the special leaf scatter symbols on an active payline. You will then be awarded five free-spins, and during the bonus, the leaf symbols transform into mystery symbols. This means, that whenever one of them lands in view, all of the leaves on screen will transform to reveal identical symbols. (They can also reveal the scatter symbols once more, to award an unlimited number of re-triggers.)
All symbols during the bonus are also stacked – and this means it's technically possible to land full screens of all symbols.
Autumn Gold – Eyecon
Eyecon are a game developer who split opinions. Some players love their simple, easy-to-use and easy-to-play games, while others accuse them of being bland, boring and generic. Whatever your thoughts about Eyecon, something that you can't deny, is that the developer has done well – and their games are offered at a large number of online casinos around the world. (We're also seeing many online bingo sites offering their games too.)
Autumn Gold is Eyecon's attempt at creating an Autumn-themed video slot – and while it won't be up every player's street – it can be a lot of fun. Like many of the developer's slots, Autumn Gold is built around a 3-row, 3-reel format, and there's just nine paylines – all of which are adjustable. The backdrop of the game features a simple but easy on the eyes landscape, and you'll see rich golds and yellows – perfectly fitting the Autumn theme.
There's a couple of bonus rounds to be aware of, and the first is the Free Spins feature. This is triggered by landing three of the Maple Leaf scatter symbols anywhere in view. Once you do so, you'll be awarded with 8 free-spins, and during the bonus, all wins are subject to a 3X multiplier. Like we've seen in most of Eyecon's video slots, you can also re-trigger the free-spins – and it's possible to do this a maximum of 15 times, which means there's a whopping 150 spins up for grabs here.
Sweet Harvest – Microgaming
Something that almost all players wish for, is a return of the old-school Microgaming slots. You know… the ones before the developer started using all these in-house game studios who, frankly, seem incapable of producing the entertaining and exciting games that once used to come from Microgaming's studios.
Think back to happier times and you may remember Sweet Harvest – a slot that features a strong autumnal theme. Sweet Harvest is a 5-reel, 3-row video slot from Microgaming and there's a total of 20 paylines. Look at the background, and you'll notice an array of autumnal images, including rolling hills covered in leaves, and a selection of fruits!
There's a couple of bonuses to be found in Sweet Harvest, and the first is the simple Harvest Bonus. This is triggered by landing the Harvest Bonus scatter symbols on reels 2 and 4, and doing so awards you a cash prize.
The main bonus round is the Free Spins feature, and this is triggered by landing 3, 4, or 5 of the scatter symbols anywhere in view. You will then begin the free-spins bonus right away, and during the bonus, two young characters transform into wilds and appear on all reels. If you manage to make a win using both of these wilds, the win will be multiplied by 2X.
Slot Related Articles
If you're looking to play online casino games, there's a strong chance you will have heard of Microgaming before. They're one of the biggest names in the online gambling world, and Microgaming slots are some of the most popular.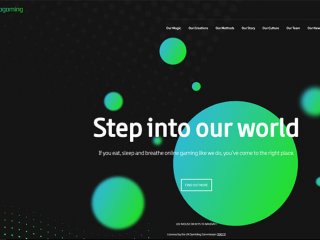 In today's fast-paced slotting world it's not uncommon to see software providers boasting of how much their games can pay – and it's becoming far more common to see "win over 50,000X your stake" plastered across many game splash screens.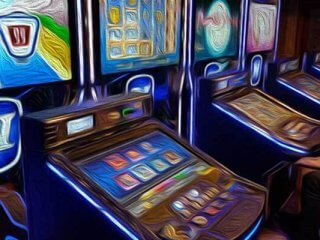 There's been a lot of discussion in the forum recently around RTPs – specifically, that certain online casinos are choosing to offer lower RTPs than others.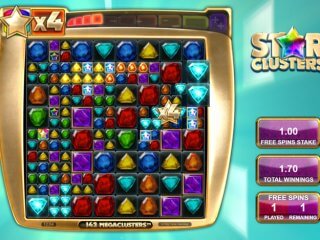 There's a ton of Halloween-inspired slot games for you to choose from. Truth be told, most game developers have at least one Halloween-themed slot in their portfolio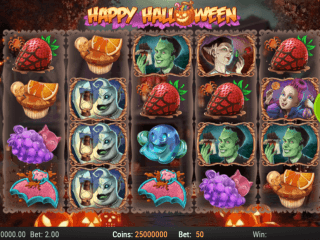 While players from Canada don't have quite as many game options as Europeans, it's clear that some major game developers do work within the country