Party Casino Sister Sites 
By Alex Smith Jul 21, 2022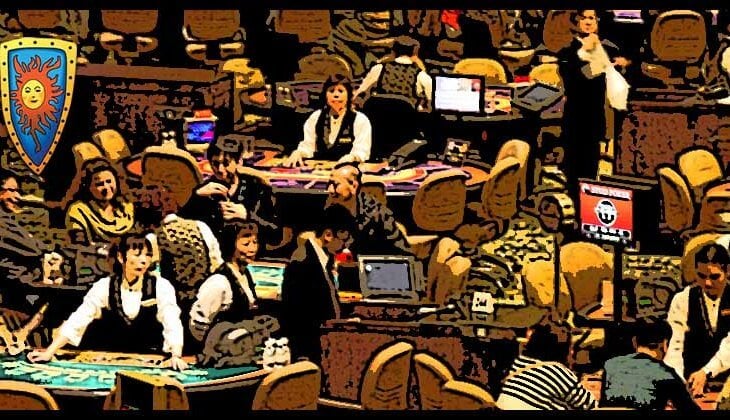 Party Casino sister sites are common. Some of the biggest names in the online gambling world share the same online gambling license. Examples of Party Casino sister sites include Foxy Bingo, Party Poker, Bwin, and Coral Casino.
We will be looking at some of the most popular Party Casino sister sites on this page. We will also cover some common questions players have about the topic.
Why Choose a Party Casino Sister Site?
If you start to get bored with an online casino or have a rough run of luck, you may want to try a different online casino. However, not all players want to go and play with a new casino group. It takes time to build trust and rapport with a brand. When it comes to online gambling, it's important to only play at online casinos you trust.
That's one of the main reasons many players choose to gamble at one of the Party Casino sister sites.
Are Party Casino Sister Sites Licensed by the UK Gambling Commission?
Yes. According to the UK Gambling Commission register, 16 brands operate on the same license as Party Casino. Please note: you will be blocked from playing all brands on the same license if you enter into a self-exclusion agreement at any of these sites.
Party Casino Sister Sites
If you are looking for Party Casino sister sites, keep reading. Below, we will be looking at some of the top Party Casino sister sites.
Bwin
Bwin is one of the most recognizable names in the online gambling world. This online casino and sportsbook are very well-known in the UK. They also operate in several other markets around the world. Bwin has always focused its attention on sports betting; they have been heavily promoted in the UK and have even secured sponsorship agreements with some of the biggest football clubs in the Premier League.
One of the main advantages of betting at Bwin is that they offer an extensive selection of live, in-play betting. This is something most sportsbooks offer. However, few can offer the selection and quality odds-wise as Bwin.
Bwin also offers players a free downloadable mobile casino app, available to all iOS and Android users. Their online casino and sportsbook are available through the downloadable mobile casino app. If you prefer not to download an app, Bwin also has a browser-based mobile casino.
If you head into the Bwin casino, you will find many casino games to play. These include everything from progressive jackpot games to live casino games. There are even some bingo games to choose from.
Bwin is probably the best-known Party Casino sister site, and it's a solid online gambling website. Bwin is also well-licensed and regulated. You shouldn't run into any problems playing at Bwin.
Cheeky Bingo
Cheeky Bingo isn't the most popular Party Casino sister site. However, unlike Bwin, Cheeky Bingo looks pretty similar to Party Casino. They also offer a wide variety of bingo games, which is something you won't find if you play at Bwin. You will find a wide variety of different bingo games at Cheeky Bingo, including many variations of 75-ball and 90-ball games. There are also some progressive jackpot games.
Cheeky Bingo also boasts an impressive selection of casino games. They are one of the online casinos to offer Slingo's games. These casino games are designed for recreational players. They don't offer much win potential, but they are laid-back, fun, and exciting.
When you first access Cheeky Bingo, you will notice how laid-back the website is. Like many Party Casino sister sites, the online casino is bright, vibrant, and well made. The colour scheme can be intense, but it looks good. The atmosphere is fun and frolic. It's clear that the primary goal of Cheeky Bingo is to help players enjoy themselves. It's a social site, and players can talk to each other while playing games and in the lobby.
Foxy Bingo
Foxy Bingo is one of the biggest online bingo sites in the world. They target the UK market and have a robust advertising presence. It is common to see adverts for Foxy Bingo on television, and they also run extensive ad campaigns on the radio. Foxy Bingo is one of the better-known Party Casino sister sites.
Foxy Bingo has also been around for an incredibly long period. They have been the UK's number one online bingo website for more than a decade. At one point, they even sponsored one of the country's most popular television shows. To complement their marketing strategies, Foxy Bingo even partnered up with a famous Hollywood celebrity — Heather Graham — who became the face of Foxy Bingo.
However, as you can probably imagine, a stand-alone bingo website will struggle to keep up with the competition. Because of this, Foxy Bingo, a few years ago, started to branch out into other areas of online gambling. Before long, Foxy Bingo opened its online casino. Today, you will find yourself able to play various casino games, including live casino games, progressive jackpot slots, instant win games, and video poker.
Like many other Party Casino sister websites, Foxy Bingo offers Slingo games. While the casino is arguably aimed at recreational players, they maintain a steady foothold in the UK's online gambling scene.
Foxy Games
Foxy Games is a sister site to Party Casino. However, it is also the bigger sibling of Foxy Bingo. It is one of the biggest online casinos in the UK, and, like Foxy Bingo, it runs robust and targeted advertising campaigns on British television and radio. Foxy Games has proven to be so successful that it even prompted the closure of the once-dominating Foxy Casino.
At one point, there were three different brands in the Foxy family; Foxy Bingo, Foxy Games, and Foxy Casino. Today, just Foxy Games and Foxy Bingo remain. When Foxy Casino shut its doors, Foxy Games got an extensive makeover. This updated casino added hundreds of new games — and software providers — to its game library and increased its mobile gaming facilities and customer support systems.
The main difference between Foxy Bingo and Foxy Games is the live casino games selection. While both sites offer live casino games, only Foxy Games offers televised game show gaming.
Foxy Games is also known for offering a more generous variety of bonuses and promotions. For example, the new-player welcome bonus offer is considered by many to be more generous than the one offered at Foxy bingo.
Creating an account at Foxy Games is straightforward. While it is a sister site to Foxy Bingo, you need to create a new account if you are already a Foxy Bingo member. Doing so takes just a couple of minutes, and one of the major perks of doing so is that you can claim a welcome bonus even if you have already claimed it at Foxy Bingo.
Gala Casino
Gala Casino is one of the biggest online casinos in the world and a sister site to Party Casino, owned and operated by LC International. It is also very closely connected to Gala spins and Gala bingo. Both are other big-name brands in the UK, although Gala Casino is now the more prominent figurehead in the industry.
Unlike Party Casino, Gala Casino is designed to target serious players. A far more substantial game library is available, bonuses and promotions tend to be more generous, and the site primarily focuses on casino games. While you will find yourself able to play poker and bingo, it is the casino games that most emphasis is placed on.
One of the benefits of playing at Gala Casino is the fast cashouts. Once a player makes a withdrawal request, it is usually processed on the same day, within just a few hours. This means that you can receive your winnings on the same day you withdraw them, which is something that not every casino can offer right now.
Gala Casino also has a dedicated mobile casino app. This is free of charge to download on all iOS and Android devices. The mobile app offers a streamlined gaming experience and saves your login information, which makes starting your gambling session a lot smoother.
Coral Casino
Coral Casino is one of the biggest names in the online gambling industry. This UK-based company is known for its bookmakers and online casinos throughout the UK. Many years ago, there was a time when it was not possible to place sports bets over the Internet. However, Coral Casino was one of the early pioneers, and their telephone betting and, later on, online betting systems pioneered the online sports betting industry.
Coral Casino allows players to enjoy a wide variety of casino games and have a fully-functional sportsbook. One of the unique things about Coral Casino is that they have developed a loyalty program that ties in with gameplay in their shops. You can earn points for playing on fixed-odds betting terminals in their shops and online at their casino.
Another unique thing that Coral Casino has done is its cash-out system. When you make a withdrawal from the online casino, you can head into a local coral branch and pick up your cash. This means you can get your winnings in just a few minutes if you live near Coral. We have since seen several other British bookmakers doing the same, including William Hill and Paddy Power.
Coral is an important name in the British horseracing industry. It also has significant influence in the greyhound racing industry, sponsoring some of the country's biggest tracks. While Coral used to be primarily focused on sports betting, today, they have branched out, and its online casino is more popular than ever.
In addition to the online casino games, Coral offers a wide variety of bingo, poker, and live casino games. You only need one account to access all the different products Coral offers, so you do not have to worry about creating multiple logins and remembering your details.
Ladbrokes Casino
Another prominent figurehead in the UK gambling industry is Ladbrokes Casino. Ladbrokes Casino has been around for so long that its first shop opened more than 100 years ago in the United Kingdom. The company is steeped in history, and, like Coral, they are prominent figureheads in the horseracing industry within the United Kingdom.
Ladbrokes also started by operating several high street bookmakers. However, with the rise of online gambling, the company soon turned its attention to the online betting world. Almost two decades ago, Ladbrokes launched its online sportsbook. This proved to be an incredible success, and soon after, they opened their online casino.
Not many people realize that Ladbrokes Casino is a sister site to Party Casino. The casino has a reasonably good reputation, and as a publicly-traded company, you are unlikely to run into any problems getting paid.
Ladbrokes Casino also offers other online gambling products, including poker, bingo, and live casino games. Signing up for a Ladbrokes Casino account takes just a couple of minutes. If you are in the UK, you will need to verify your identity before you can deposit any money. Thankfully, Ladbrokes Casino has partnered up with a state-of-the-art verification company, so this process is completed instantly. It takes just a few minutes.
Ladbrokes Casino has also developed a free mobile app. This app is available to all android and iOS users. The mobile app's main benefit is that it securely stores your payment information. This means you do not have to manually punch in your debit card number when you wish to make a deposit.
If you live near a Ladbrokes shop, you can also head into this shop to collect any withdrawals you make. This means you can get your hands on your winnings in just a few minutes. This system is similar to what we have seen from other bookmakers in the UK, like Coral and William Hill.
Gamebookers.com
Gamebookers.com is a relatively new online casino and sportsbook. It is one of the more unknown sister sites to Party Casino. As the name suggests, Gamebookers.com is an online bookmaker that has launched a fully-functional online casino.
When a new sportsbook launches, it has to decide its place in the online betting industry. With more sportsbooks available than ever before, it is unlikely to succeed if a company does not have a unique selling point.
Gamebookers.com decided to enter the industry, emphasizing better odds and in-play betting. As a result, you will find some of the most generous odds currently available at gamebookers.com. They also offer an extensive selection of in-play betting options, covering most of the major events worldwide.
Gamebookers.com has an impressive selection of games in terms of its online casino; you will find titles from all the world's foremost game developers, including NetEnt, Microgaming, Quickspin, and Playtech. They have a fully-functional live dealer casino powered by Evolution Gaming (the industry's market leader). They also offer video poker, casino table games, and instant win titles.
Signing up for an account at gamebookers.com is very easy, and it takes just a couple of minutes. Please note that if you are located in the UK, you will need to verify your identity before you can play. This takes just a couple of minutes, thanks to the state-of-the-art technology used, which is able to verify identities on the spot.
Related Articles