Due to the nature of gambling and the Internet, there is a certain element that is ready to take your money. What is astonishing, is that players are often surprised when they are ripped off by online casinos that are nasty looking or have qualities that are questionable. This section will give you something to work with in order for you to spot this cagey "element".
Some players are careless where they play, and deposit their cash at any online casino that makes offers that are too good to be true. Other players are a bit more frugal, and will spend the time to scrutinize a casino before jumping in. Like a peaceful lake in the countryside, you never know what lurks at the bottom; pretty dainty little mermaids or Jason from Friday the 13th.
I hope you are the latter of the players, the player who is frugal and careful. A fool and his money are soon parted; you gotta be a fool if you don't check out the casino's website first. So please take the time to do a little investigative work. It will pay off in the end, and besides–it's kind of fun!
So let's take a look behind the curtain…sometimes the man behind the curtain is not the great Oz.
Step #1: Google the Casino Name
One thing you need to clearly understand – Google is our friend when it comes to doing any research on the Internet, especially pertaining to the online casino element. The mind boggles at what you can find; Google can really save your ass – but it also can be misleading. The source of this deception is via bad or lazy affiliates; people or companies that will advertise any casino no matter what.
There are more bad affiliate websites than good. For every rogue casino – there are scores of unscrupulous and corrupt websites that will promote these dodgy sites. This is where making Google searches can be treacherous.
How NOT to search: Do not simply search for the casino name. For example, if you search for "Pamper Casino" your results will be merely a list of websites that promote this crap casino.
This is a pitfall. What a savvy player will do (yes, that should be you my friend) is conduct a more refined search – like "pamper casino review" – which will hopefully give you some unbiased reviews. Or better yet, "pamper casino casinomeister". If players have had something to say about this casino, it probably has been said at Casinomeister.
And you will also be privy to any listing that casino has on the site.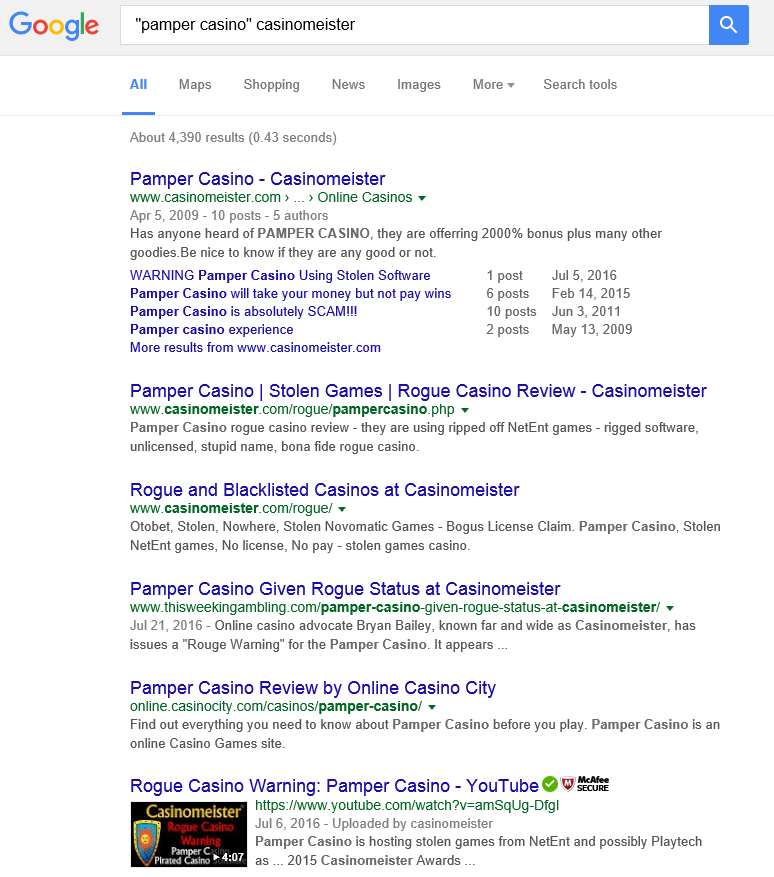 It doesn't take more than 30 seconds to do a proper Google search. This is not rocket science; this is common sense.
Step #2: Take a good hard look at the casino's website.
Think of the casino website as a handshake between you and the casino operator. During this "handshake", do you have a warm fussy feeling, or do you feel like running to the closest hot steamy shower?
What is the name of the casino?
Is it something generic, or does it have meaning or is memorable? Naming things is a crucial part of setting up a business and it may reflect directly on how many resources an operator has invested in this business. If they aren't implementing a fair amount of ingenuity, this may be a direct reflection on their approach to the gaming community – specifically YOU the player.
Case study: 32Red vs 32Vegas There is a specific reason why 32Red is named 32red. Back in 2003, their CEO Ed Ware told me that it has to do with roulette = roulette is the most famous/synonymous game associated with casinos. 32Red is one of the most popular numbers in a brick and mortar casino (if 32Red has come up several times during the evening, the manager knows they will have less money to count than usual!). It's short and memorable. The characters are all extremely close to each other on the keyboard of your PC. So here we have a really cool name that has meaning and purpose.

32Red had been in the business for a number of years, and its reputation at that time (still is in many respects) was "second to none". So what was the reasoning behind the naming of 32Vegas? Well at that time, I logged onto 32Vegas' chat support to ask them what the meaning of 32Vegas was supposed to convey. She told me it was just a cool name. What a stupid response! It was clearly a name devised to ride the coattails of an extremely successful group. It confused the players, and the fora was full of players who felt they were duped into playing at a casino they thought was 32Red. And guess what, 32Red sued 32Vegas' operators (William Hill and it's marketing arm CPays (now renamed as Affiliates United [affutd.com]), and won the lawsuit.

William Hill changed the name of 32Vegas to 10Nova (still a stupid name), and they are still listed in our Rogue Pit. This episode offers "you the player" a peek into the mind set of this casino. If these ethically challenged folks are willing to rip off a company like 32Red Plc, how do you think they are going to treat their players. Can you go, "Baaaahhh."?
Knowledge is power
Their website should be able to answer the following questions:
Who are their software providers?
Where are they licensed?
What company is behind this operation?
Many casinos are proud of their software since there are some very good providers – Microgaming, NetEnt, Playtech, NextGen, Leander Games, etc. If a casino is not divulgingwho their software provider is – hmm – red flag. Perhaps they're hiding something.
Where are they licensed?
If they claim to be licensed in Costa Rica or any other place in Central America, you can be sure that they are unlicensed – in other words, they do not have a gaming license but only a business license.
All license holders are required to have a live hyperlinked logo that is linked to the jurisdiction's licensing page that details the company information of that license holder. This goes for Malta, the UKGC, Alderney, Kahnawake, or any solid licensing agency. If the casino displays a logo that has a dead link…caveat emptor, it's probably a scam.
If they are located east of the former Iron Curtain (you young'ns break open a history book) – avoid it.
If it's a Curacao license that is 1668/JAZ – avoid like the plague – these casinos are known to have cheating software.
Beware of an overindulgence in awards – especially awards that are not hyperlinked. They could easily be faked. Google the name of the award to be sure that there is a third party that issues these without being paid to do so.
Step #3: Look at the website's content
Remember, Google is our friend. Copy a small amount of unique text and Google it.
Here is an example of how I did this with Ministering Angel Casino:
Oldtimers would have known that Bellrock was a Microgaming group – they had nothing to do with this casino that was pirating software.
In fact, this had all of the classic elements of a rogue casino: stuoid name, crappy looking website, hosted in the Russian Federation, and dodgy looking software.
Step #4: Make sure their terms and conditions are crystal clear
Rogue casinos will either try to outsmart the bonus player, or make hidden stipulations. Do not be suckered in by deals "too good to be true." You know the deal about that – I shouldn't have to say it. Most reputable casinos have very modest bonus offerings – and they are crystal clear on what they expect from you as a player. Do not, under any circumstances:
Do not open more than one player account at a casino. If the casino is part of a larger group, contact their customer support and get it in writing that you can have a casino account at each casino in their group. Ensure you understand all bonus terms.
Do not gamble if you reside in a jurisdiction that prohibits online gambling. Check to make sure the casino will honor your winnings – get this is writing.
Understand their payout procedures. Some roguish casinos will pay out winnings via monthly payments, and decrease these payments if you don't play a certain amount of this back. Make sure you know how much they will be paying you.
Do not make deals over the telephone. Get everything in writing.
Rogue operations will use the above mentioned to void winnings. It happens all the time. Please note: accepting bonuses is not obligatory, and a majority of player issues stem from bonus problems.
Step #5: Customer support
If they boast of having "live chat", give it a whirl and ask them a few basic questions – even if you know the answers:
Who is/are their software provider(s)?
Where are they licensed?
Do they have a third party auditing their software?
You'll be surprised how many "live chat" people don't have a clue what's going on with their casino. Many of these people are just there to give you bonus offers and fleece the unwary. Side note: sometimes it's fun to jive with these people.
The same goes for email support. It should be quick – and coherent. If they are struggling with the English language, or the native language of their website – move on. Many player problems stem from poorly written or misunderstood Terms and Conditions.
Lastly: money and a fool are soon parted – it couldn't be truer with online gambling. Like I said earlier, it's not rocket science – it doesn't take much to figure out who is on the take, and who is legit in this industry. "Stay alert – stay alive" as we used to say in the paratroopers. It's still the wild wild west out there.
Finally – a solution
If you trust us (which I honestly hope you do), there is a free tool at your disposal that will identify any casino in our data base, whether it be rogue, accredited, in the Baptism by Fire, in the reservation, etc. This is the C2O or Casinomeister's 2nd Opinion. It's simple to use, and it's free.