Vulkan24 Club Review
Possibly rigged software
By Casinomeister, Last updated Feb 8, 2023
Casinomeister's Verdict
A Russian language clip shot joint that you should avoid at all costs. They have stolen games from Greentube/Novomatic (confirmed) and are a bane to the industry. You will not get any fair play here.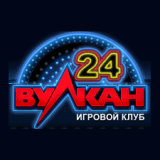 A rogue casino that offers pirated games 
https://vulkan24.club/
Who cares?
Fake Novomatic Games...
First Impression
Vulkan24 Club seems to be the flagship casino of a slew of Russian facing casinos that are using fake Novomatic games. Novomatic is a leading provider of gaming software which is licensed to properly licensed and regulated casinos. The Novomatic games that are hosted at Vulkan24 Club are not hosted by authorized Novomatic servers.
Here is an example of one of their pirated games. Right clicking shows the server: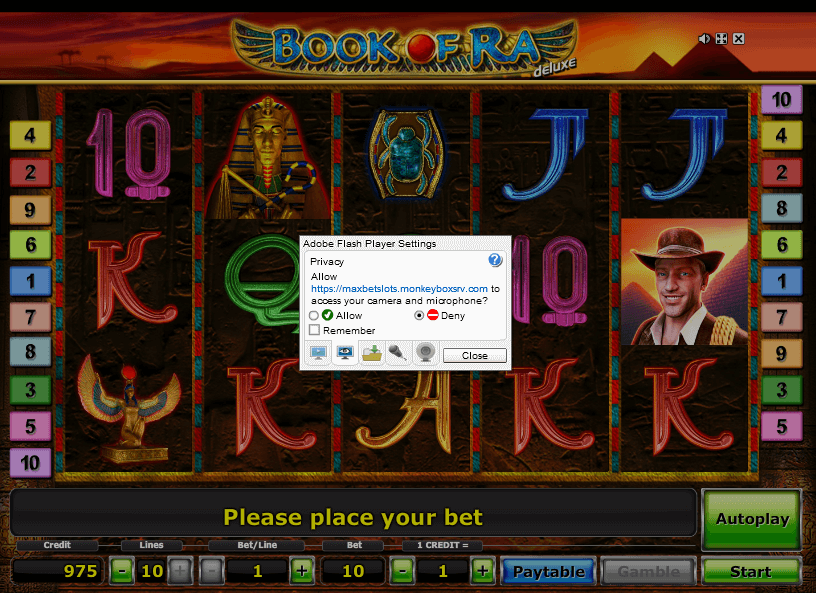 Note the server name: https://maxbetslots.monkeyboxsrv.com/ This is not a authorized server for Greentube or Novomatic. This has been confirmed by Greentube.
Do a search on this domain at threatcrowd.org, and you'll be treated to all of its nasty brood of rogue servers:
Here you can connect them to their rogue brethren. The following list is not exhaustive:
Club-Vulkan
Admiral 777
Pharaon Bet
Sloto Zal
MaxBet Slots
Eldorado24
Vulkan24 Club
Vulkan Stars
Vulkan Royal
Vulkan Deluxe
GMSDeluxe
VulkanStavka
They have several varieties of these domains – "O, what a tangled web we weave when first we practise to deceive!"
This can truly be applied to here.
List of connected domain names: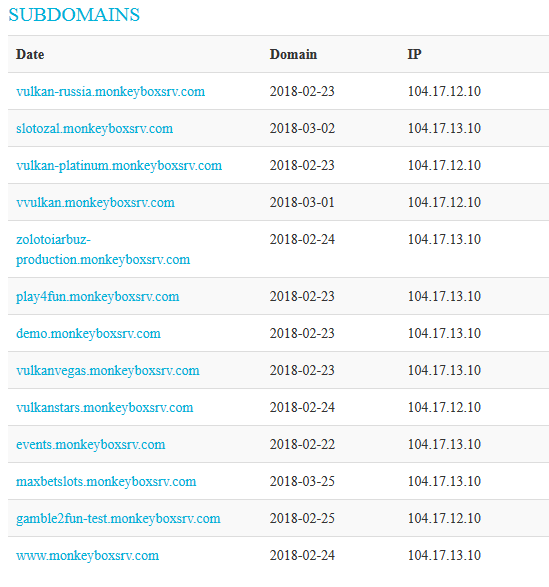 vulkan-russia.monkeyboxsrv.com
slotozal.monkeyboxsrv.com
vulkan-platinum.monkeyboxsrv.com
vvulkan.monkeyboxsrv.com
zolotoiarbuz-production.monkeyboxsrv.com
play4fun.monkeyboxsrv.com
demo.monkeyboxsrv.com
vulkanvegas.monkeyboxsrv.com
vulkanstars.monkeyboxsrv.com
events.monkeyboxsrv.com
maxbetslots.monkeyboxsrv.com
gamble2fun-test.monkeyboxsrv.com
www.monkeyboxsrv.com
Pros
Cons
Possible rigged software

Pirated casino games

Stolen Intellectual Property (IP)

No visible gambling license
Top 5 casinos
BONUSES AND PROMOTIONS
Vulkan 24 Club Casino, like any rogue website, offered attractive bonuses and promotions. They try to make their bonuses and promotions look irresistible to players.
Since Vulkan 24 Club Casino is hosting pirated/fake games, we won't be going into details about their specific bonuses and promotions here. If you're considering joining the casino, please note that you are unlikely to win.
Even if you do win, you will not be paid. Their deposit bonuses may look generous, and you might even be tempted to claim their welcome deposit bonus. However, if you win from the welcome bonus, you won't get your money. You are unlikely to be able to reclaim your deposits back from your bank, either.
BANKING AND PAYMENT METHODS
Vulkan 24 Club Casino doesn't offer much information about banking and payment methods. For example, they do not state the minimum deposit or withdrawal amount. However, while writing this casino review, we came across some of the different deposit and withdrawal methods.
Vulkan 24 Club Casino accepts all major credit and debit cards. This means you can use most Visa, MasterCard, and Maestro credit and debit cards. We did not find Skrill available as a payment method. However, Vulkan 24 Club Casino does accept Neteller.
In addition, we also found that Vulkan 24 Club Casino now accepts Bitcoin. This is something we are beginning to see much more frequently at Curaçao-licensed casinos. Cryptocurrencies allow for a high degree of anonymity, and this is something many players want. It is also beneficial to Curaçao casinos – especially rogue ones like this – as it allows them to potentially avoid paying as much tax.
Deposits are said to be credited to your online casino account immediately. However, as with any rogue online casino, we thoroughly advise against playing here. No one knows what kind of security systems the casino has in place. When it comes to sensitive financial information – like your credit or debit card details – we don't know what they might do with that information.
Withdrawal Speed
Vulkan 24 Club Casino states that withdrawals take around 24 hours to process. During this time, players can reverse their withdrawal. Unfortunately, one of the biggest concerns we hear from players at rogue casinos like this is that their withdrawal requests are denied.
Rogue casinos are happy for you to sign up and deposit as much money as you want. However, when it comes to cashing out, many players will find they are met with silence.
This is another reason we strongly recommend against playing at Vulkan 24 Club Casino. Even if you manage to hit a nice win – which is unlikely given that the casino appears to be using rigged software – you are unlikely to be paid your winnings.
Responsible gaming
While Vulkan 24 Club Casino has a responsible gambling page, it is clear they don't care about this. We believe the only reason they even have a responsible gambling page is that the developers likely cloned an existing casino's website – and that casino did have a responsible gambling page.
Because we did not choose to create an account at Vulkan 24 Club Casino, we cannot say with certainty if they offer players any responsible gambling tools. However, even if you request to be self-excluded from playing at the casino, the casino would likely ignore your request.
Even if you did self-exclude, we are sure they would allow you to open up a new account. There is practically zero accountability regarding responsible gambling with these rogue online gambling operators. Many of them outright prey upon problem gamblers, and this is something we hope Curaçao will tighten up soon.
Customer support
Vulkan 24 Club Casino appears to be down at the time of writing. Please don't get it confused with Vulkan Vegas Casino. Vulkan Vegas Casino is a separate entity. However, from what we can gather from players, Vulkan 24 Club Casino didn't offer a reliable customer support portal.
They claimed to have a live chat customer support team working 24 hours a day, seven days a week. In reality, this customer support team was only interested in hearing from you if they felt they could persuade you into depositing money.
If you had any problems with the casino or wanted to know where your winnings were, they'd disconnect you. Vulkan 24 Club Casino also claimed to offer customer support via email. However, players are unlikely to receive a response unless Vulkan 24 Club Casino feels they can extort players somehow. Also worth noting is that the only supported languages at Vulkan 24 Club Casino were Ukrainian and Russian.
KYC
We could not find any information about Vulkan 24 Club Casino's identification verification process. However, one of the things we have noticed at many rogue online casinos is that they take advantage of player identification checks to stall withdrawals.
For example, rogue online casinos like Vulkan 24 Club Casino will happily allow players to deposit as much money as possible. They will never ask a player to verify their identity while depositing. However, when it comes to making a withdrawal request – well, that is when you are likely to be asked to complete a verification check.
There are a couple of problems with this. First of all, Vulkan 24 Club Casino is not asking you to verify your identity because they care. It is simply a way for them to avoid processing your withdrawal. They will continue to use stalling techniques hoping that you eventually give up many months later.
However, you should be aware of a second, more sinister thing regarding verification checks at rogue online casinos like this. Some sites are involved with identification theft. When you submit your verification documents, you will have to send over things like a copy of your passport and a bank statement.
Some rogue online casinos may choose to sell this information – or even use it themselves – to open credit cards in your name. We have no evidence that Vulkan 24 Club Casino participates in such practices, but it is something to be aware of.
This is another good reason why staying away from casinos like this is so important. You have no idea what they are doing with your personal information.
Website Experience and Features
Vulkan 24 Club Casino utilizes quite a modern-looking website. This is something we regularly see from rogue, Curaçao-licensed casinos. They want to look as professional and legitimate as possible. One way they achieve this is by cloning a reputable website design.
While we have no evidence that this is what Vulkan 24 Club Casino has done, it certainly would not surprise us. As a result, unsuspecting players may assume that the casino is fully-legitimate. In fairness, the website doesn't look unprofessional. Loading speeds are kept to a bare minimum, it is easy to navigate the website, and accessing the various game areas is relatively straightforward.
However, if you know what to look for, it soon becomes clear that Vulkan 24 Club Casino is, indeed, a rogue online gambling operator. For example, if you look at the footer section of their website, they do not display any information about their online gambling license. All the worst casinos in the world are typically licensed in Curaçao. One of the requirements of these online gambling licenses is that operators must display information about the license in the footer section of their website.
Vulkan 24 Club Casino is also mobile-optimized. This means they can accept unsuspecting players on their mobile platform. Thankfully, there is no dedicated mobile casino app available. Even if they were to develop such an app, it would be virtually impossible to get it approved in the world's major app stores.
Brand games
Providers
On its face, Vulkan 24 Club Casino looks to offer a fantastic selection of casino games. Many players will also be pleased to see that they offer games from Novomatic. However, if you read the beginning of this casino review, you will know that many of the games offered at the casino are not genuine.
For example, in addition to their fake Novomatic games, Vulkan 24 Club Casino also offers casino games from NetEnt. However, NetEnt has confirmed that the games available at the casino are not genuine. This means that Vulkan 24 Club Casino is breaking the law, but it also means that players may well be playing a lower RTP version of games.
Because the games are not genuine, nobody knows what the casino has done behind the scenes. This should be more than enough information to prevent you from signing up at this rogue casino.
In the interest of transparency, we will look at some of the different game categories Vulkan 24 Club Casino offers. However, please do not take this as a recommendation to play at this rogue casino. Many – if not all – of the games are fake, designed to steal money from players.
Slots
One of the ways Vulkan 24 Club Casino attracts new players is by offering a vast selection of online slots. For example, when you first load up the casino, you will see some of the world's most popular video slots from NetEnt and Microgaming. This includes titles like Immortal Romance, Jack and the Beanstalk, and starburst.
To an unsuspecting player, this would look legitimate. However, as we have just seen, NetEnt has confirmed the games offered at Vulkan 24 Club Casino are not genuine. This means all of the video slots have likely been tampered with. There is no telling what the casino has done to these games, although you can almost certainly assume it will negatively affect players.
Live Dealer Games
Vulkan 24 Club Casino does not offer any live casino games. While it is relatively easy to pirate virtual casino games like video slots, live dealer games are a completely different breed. Industry pioneers like Evolution Gaming and Pragmatic Play use state-of-the-art streaming software. This means that rogue online casino operators like Vulkan 24 Club Casino cannot simply pirate the games – thankfully.
The fact that no live dealer games are available is a positive in our eyes. This means fewer players are likely to join the casino. However, we would not be surprised if the casino partnered up with one of the shadier live gaming providers in the future. If this happens, we will update this section of the review accordingly to reflect these changes.
Table Games
Bizarrely, Vulkan 24 Club Casino offers just two table games. This is very strange, and rogue casinos like this usually offer as many games as possible. This is how they try to temp-in new players and make their website look legitimate.
We are not sure why they do not offer more casino table games, but again, this is only a positive, as it will hopefully prevent some unsuspecting players from signing up. We should also point out that there is no video poker available.
Progressive jackpots
Vulkan 24 Club Casino does appear to offer progressive jackpot games. However, these are not real, genuine progressive jackpots. They are likely doing what they do with other online games and rip them off and host them themselves. This means that you have virtually no chance of winning one of the jackpots. Even if you hit one of the progressives, you would not be paid the jackpot.
This is because the version of the game you are playing is different from the real, genuine copy. It is all quite technologically complicated, but it boils down to this; Vulkan 24 Club Casino is using fake, pirated games, and any jackpot games they offer are not linked up to the real progressive jackpots.
One of the things we are surprised by is that the game developers and software providers haven't taken action against the casino. It was so clear they were offering pirated games. The only plausible explanation is that the online casino is deep within Russian territory. This makes it almost impossible for game developers like NetEnt or Microgaming to take legal action. Their best cause of action would be to target the casino's hosting or domain directly.
If that fails, then targeting the payment methods could also work. However, as you can probably tell, shutting down these operations is more complicated than it looks. Unfortunately, sites like Vulkan 24 Casino will continue to operate. That's why we feel so strongly about warning players.
About the Team and History
Vulkan 24 Club Casino appears to target Ukrainian and Russian players mainly. The website is only available in these languages. While writing this Vulkan Vegas Casino review, we discovered that the online casino is part of the Welcome Partners Group. This is the same group linked to other rogue online casino sites like Crystal Casino and Neoplay Casino.
Vulkan Vegas Casino's prominent owners are known as Brivio Limited. Many online casinos that are part of the same online group also use fake/pirated software. Unlike the best online casinos, Vulkan 24 Club Casino doesn't display any information about an online gambling license. This likely means they're not licensed.
So, not only is Vulkan 24 Club Casino using fake/pirated games; they also don't hold a valid online gambling license. This means all the game providers, classic slots, and other casino games they offer are hosted illegally.
Please note that this casino is separate from Vulkan Vegas Casino. Some players mistakenly thought this was a Vulkan Vegas Casino review. It's not, and we are ONLY talking about Vulkan 24 Club Casino. They are also known as Vulkan24 Casino or Vulkan24.
Complaints and Track Record
Thankfully, Vulkan 24 Club Casino doesn't have much of a presence in our forums. It looks like most players are savvy enough not to join. However, there is one interesting thread that you can find here.
In this thread, ThePogg notes the following:
"I've contacted NetEnt – casino-ramses.com is a fake. They're liaising with various Cyber Crime agencies to investigate these ongoing issues.

I'm going to guess – given the ownership of Vulcan Partners Limited and the very similar game selection – that Casino-Ramses is connected to the same group running WelcomePartners.com (lots of casinos there using some version of the name 'Vulcan'). Many of the casinos in this group appear to be running fake games.

Some interesting connections, though – Welcome Partners also advertise 3 Playtech casinos, Ice, Green, and Max. If you look up their owners (Invicta Networks N.V.), you'll also find NeoPlay casino. NeoPlay is an interesting one – their site is a 100% clone of Winner casino. They previously listed their ownership as "Brivio Limited," while Winner listed it as "Brivio ZIRCONIUM GAMING LIMITED." I think it's far from unfair to assume that NeoPlay is owned by the same group that operates Winner. NeoPlay also shares ownership with three other Playtech casinos advertised by Welcome Partners, who are working with many casinos that are highly likely engaged in the deployment of stolen games."
If it wasn't already clear, Vulkan 24 Club Casino is as rogue as possible. This shady online gaming website operates illegally and should be avoided.
Casino Facts
| | |
| --- | --- |
| Founded | Who cares? |
| Accredited at Casinomeister | Hell no |
| Is this casino certified at Casinomeister | No |
| Payout time | 48 hrs |
| Reverse time | 48 hrs |
| Payout limits | N/A |
| Weekend payouts | No |
| Locks withdrawals | No |
This casino is unavailable to you. Please see other options