Walk of Shame from Nolimit City
By Simon Wright Jan 17, 2023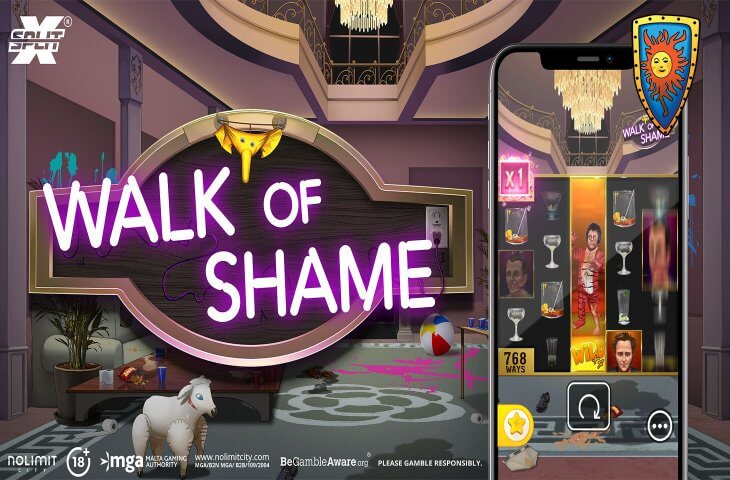 Casino game studio Nolimit City have today announced the release of their latest game titled Walk of Shame which takes place during the ultimate house party!
Nolimit boldly sets the scene; "You wake up. It's 1 pm. Throat's on fire. 8 missed calls from your boss. Glass shards in your hair and your ride's trashed… What the hell happened?"
The game's wacky theme is complemented by its funky soundtrack – full of bass lines that are guaranteed to get heads bouncing. The slot also has plenty of Nolimit City-related easter eggs, giving a sense of irony and hinting at the true meaning of the game – if there is one!
The slot's colourful and whimsical base game plays on a 3-4-4-4-4 layout and features the well-known xSplit® mechanic throughout. Landing invitation scatters gets you a one-way ticket to the wildest party known to the world of slots – a party where nothing is off limits and will likely lead to the inevitable walk of shame.
The bonus rounds "One More!!!" and "All Nighter" revolve around landing Loaded Wilds, with each one increasing the sticky multiplier for the duration of the round. The latter has the chance to trigger the Walk of Shame feature every single spin, where loaded wilds will walk across the reels towards the lucrative Mr.E – giving extra spins and the chance for some jaw-dropping wins!
With a crazy theme and comparatively straightforward mechanics, Nolimit have this time created a simpler yet unique experience that has all the elements to become yet another fan favourite!
Walk of Shame's volatility is rated as 'medium' – a shakeup from Nolimit's usual 'extremely' and 'insanely' volatile slots. Most would describe a literal 'Walk of Shame' as a low moment, but the folks over at Nolimit City think that it was totally worth it, and may just lead to a "Happily ever After" kind of ending, which would bag lucky players a maximum simulated payout of 9,822 times the base bet!
Per Lindheimer, Head of Product at Nolimit City said: "We're kicking off the year with the ultimate celebration of all things NLC – fittingly taking place alongside the grooviest tunes and a trashed mansion. After all is said and done, will it be the Walk of Shame or Happily Ever After!?"
Walk of Shame will be available to all Nolimit City partners including the Casinomeister accredited Hello Casino from January 17th, 2023