Novibet Exits the UK
By Simon Wright Feb 22, 2022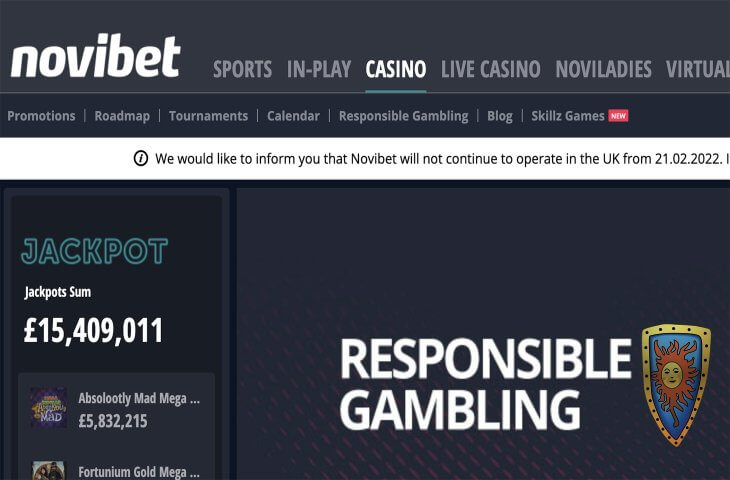 The iGaming Operator Novibet who offer a host of online gambling products to include sports betting, live casino, poker room and online casino have unceremoniously left the regulated UK marketplace.
This news came to light thanks to Casinomeister forum member 'danofthewibble', who informed the community in this thread yesterday morning, that Novibet had closed their doors to UK players.
Novibet who were established in 2010 and operate out of the island of Malta where they also hold a licence from the MGA, have been an accredited online casino operation here on Casinomeister since 2018, thanks in a large part to their no nonsense fast processing of withdrawals.
Upon visiting their site visitors from the UK are now met with a text box running across the top of the page stating: "We would like to inform you that Novibet will not to continue to operate in the UK from 21.02.2022"
It is somewhat of a surprise move on Novibet's part, with so it would seem no communication at the time, via the medium of email to their existing UK player base, nor has there been any input from their rep on the forum.
However, forum member and moderator 'Dunover' commenting on the forum thread concerning Novibet's departure from the UK, stated that affiliates working with Novibet were informed 3 – 4 weeks ago of their decision.
Indeed Dunover expands on his post by copying the email which he received from Novibet's affiliate department, which reads: "Novibet announces the reassessment of its growth targets, placing greater focus οn the brand's expansion into the North and Central American regulated markets, in the upcoming period."
"As a result, Novibet has decided to surrender its Gambling Commission of Great Britain licence with immediate effect, on February 21st, marking the conclusion of eight years proudly serving more than 368,000 GB customers."
"Novibet is solvent, customer funds are safe, and the cessation of GB business will be undertaken in an orderly fashion. All departments at Novibet are prepared for the smooth withdrawal from the GB market, and Novibet invites its members to withdraw any funds in their customer accounts."
"Novibet has long focused on developing its own proprietary tech assets, in its two tech hubs in Europe and will continue to do so, with dedication in offering innovative products."
"Holding licenses in four regulated markets – Greece, Malta, Italy, and Ireland – Novibet remains committed to delivering the best sports betting and gaming experience to its growing customer base."
"The brand is reallocating both new and existing resources to strengthening its presence in existing active markets, while at the same time pursuing growth opportunities in new ones."
As has been opined here on the Casinomeister News pages over the past 18 months, more and more operators will continue to give up their 'coveted' UK licenses issued by the UKGC, due in part to the increasing number of penalty packages and regulatory action being taken against an ever growing number of licensees.
Of course this is notwithstanding the further rules and regulations continually being introduced, including the removal of the autoplay facility from online slot games. As far back as November 2019 we reported on the prospect of a £2 maximum bet limit being introduced to all online slot machine games, for all players who reside in the UK.
With the Gambling Related Harm All Parliamentary Group recommending such a measure being put in place. The threat of such a move has not gone away and in March of last year a YouGov survey carried out on behalf of the trade body the Betting and Gaming Council, found there was an opposition to such a bet size limit put in place.
The question that now remains is, are Novibet going to be one of the last UKGC licensees to voluntarily hand their licence back and in doing so turn their back on their UK customers? Sadly, I don't think so!