Ministering Angel Review
Strange software, stupid name, casino rep calls forum member idiot, questionable business practices
By Casinomeister, Last updated Jun 15, 2023
Casinomeister's Verdict
Avoid this casino at all costs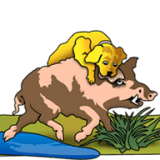 First Impression
URL: www.ministeringangel.com
Software provider: Proprietary Software
Licensing Jurisdiction: Panama
Added 20 July 2008
A query appeared in our forum inquiring about this strange looking casino. Besides having one of the stupidest names imaginable, its software and casino lobby was just plain scary looking. A few members tried out the casino software – including myself – and can attest that it looked and played like crap.
But that's strictly a subjective reading of the casino – what is not subjective are a few facts:
Fact #1: they had lifted the terms and conditions from one of the Bellerock casinos. Here is a screen shot of their terms and conditions before they "realized" they had made a mistake and corrected it:
Fact #2: They used stolen credit cards to "pay" for their logos. From The Logo Factory:
A few months ago, we received a request for a casino logo. A neat little project for which we developed a nifty little angel character, using our typical illustrative logo style. Then the 'client' submitted a second project for a more conventional casino mark. Couple of playing cards, some text. Nothing to raise alarms just yet – casino website owners tend to develop multiple portals, all featuring the same gambling software, in order to maximize their internet profile. Multiple, and simultaneous casino logo projects are not that uncommon. From my experience in designing logos for casinos, folks that run them, despite a sketchy rap, are pretty well like any other client. No reason to be suspicious – just another day at the shop.
Alas, unbenownst to us, this 'client' was actually from Serbia – filling out project briefs for the projects via a proxy in Columbus, Ohio – and then submitting retainer payments using stolen credit cards. By the time our credit card company had caught up with the fraud, we had completed one of the projects and sent the complete source files on their way. Another, the angel motif – partially revealed here – was halted just before we sent the ever-so-valuable Adobe Illustrator files.
Fact #3:
One of their "associates" signed up in our forum and attempted to feed our members lip service when it came to pertinent specific questions, and was caught out by being a host to a Serbian website that condones and supports "hacking". Further, there is a
possible Trojan
downloaded with the casino software, the website was designed by a
twenty-year-old
, they have no proof of a
TST Certificate
, even though they claim to have one. The casino rep called one of our Meister Members an "idiot". And one player tried out the software, won $30, and has no way to cash out.
Please read the entire thread
here
.
Top 5 casinos
BANKING AND PAYMENT METHODS
Withdrawal Speed
Casino Facts
| | |
| --- | --- |
| Is this casino certified at Casinomeister | No |
| Payout time | 48 hrs |
| Reverse time | 48 hrs |
| Weekend payouts | No |
| Locks withdrawals | No |
This casino is unavailable to you. Please see other options