C-Planet Affiliates Rogue: Detagging players
By Casinomeister, Last updated Jun 30, 2023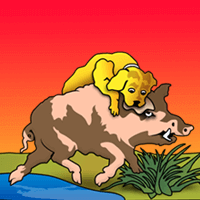 Affiliate Warning: C-Planet Detagging players
During the period of April 2008 to June 2010, over 1000 players deposited at the Rushmore casino group via Casinomeister links. By March 2011, the stats at C-Planet had flatlined with no activity whatsoever. I thought this a little odd since there would be some activity under normal circumstances, but since the Rushmore Casino group was dissatisfying so many players, I figured people had quit playing there. I was totally wrong.
In April 2012, a casino representative signed up in the forum and began this thread: Rushmore Affiliate, totally ignoring the fact that at one time, they had been heavily promoted at Casinomeister. It turned out that a number of forum members still had active accounts at Rushmore.
I queried the forum members in June 2012 asking whether or not they had opened an account via Casinomeister, and if they still had active accounts. Most said no, but a good handful said that they did – they knew that they had signed up via our links and were still depositing, or had done so since March 2011. Here are a few examples:
I did (deposited) because at the time they were accredited.
Deposits:
07/27/09 Cherry Red
08/13/09 Cherry Red
12/25/09 Rushmore
01/02/10 Rushmore
04/05/11 Slots Oasis
04/15/11 Slots Oasis
I stopped playing at the 3 casinos when you made them not recommended I think. My accounts should still be opened because I still get their invites for bonuses…I just finished playing for about 20 minutes at Rushmore straight up no bonus.
I believe I signed up via your link for rushmore and slotsoasis…I still have active accounts, however I have not deposited at any of these casinos for approximately 1 year because of the problems.
I have an account in slots oasis through casino meister, last deposit there was july/2011 withdraw last was 2010, I received successfully in 2 days…
And these were only from forum members. Members of the newsletter were never queried, neither were the faceless visitors who visit Casinomeister on a regular basis. Whatever the case may be, the player stats have been tampered with.
I made several polite inquiries directly to the owner – copying on the management and C-Planet staff – no response. Not even a bounced email. Their behaviour is not only disrespectful and unprofessional, it's obnoxious.
The operator had the ball in his court – he could have come back to me stating he would look into this, or better yet – another promise that he was getting his act together. He could have at least denied it, but this was not the case. It was "speak to the hand – f.u. – we can do whatever we want".
Why am I not surprised?
---
WARNING TO AFFILIATES: Not only are your players being fleeced, but so are you. C-Planet runs their own independent affiliate program and can detag your players at the whim of the owner, or possibly its employee(s).
Affiliated Casinos
Rushmore Casino
Slot Oasis
Cherry Red
Slotsville
Pure Vegas
Euro City
Licensing Jurisdiction: Cowboy-town