Bitter remoaner insufferable woketard 3Dice shill
webby

Joined

Mar 25, 2012
Location
Well I'm surprised that somebody who often harps on about RTP is happy at

videoslots

.

If you want to tar all support with the same brush and cba even trying then that's up to you.

No idea why anybody would rather play lower RTP slots that are available elsewhere at top RTP. Even if there are other reasons that you've highlighted.

It's top RTP or nothing for me. Even if I had a favourite game there is absolutely no way I'm attacking it at 92%

Each to their own of course. I'm just surprised that somebody like urself who has highlighted how important it is, has given in.
It's easy enough to avoid the games with the nerfed RTPs though, I haven't played any PnGs or Prags at VS since they got hit with the nerf bat, but as per my previous post it's easy enough to find games with solid RTPs. I also get offered games that don't seem to be available to UK players at VS, such as Taxi Movida which has an RTP of 98.27%.
Worms Reloaded has only ever existed in a single maths model, with basegame RTP of 92.66% and then the Jackpot King contributions taking it to a reasonable 95.66%, so I'm not playing a gimped version of it, it's the only version there's ever been.
It's an incredibly low volatility game, hitting over 100x on it is something of a rarity, so it can get away with rather poor RTP. It's also packed with features, it's unusual for the autoplayer to get through 100 spins without some sort of feature being triggered.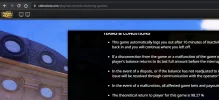 Last edited: