Goldbetting Review
Crap software - crap casino...
By Casinomeister, Last updated Dec 1, 2023
Casinomeister's Verdict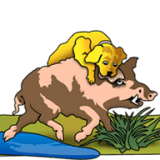 First Impression
Originally Rogued 1 July 2003
Placed on probation 29 September 2005
Placed in Cautions 12 February 2007
Re-rogued November 2008
Software provider: Wager21
Sister Casinos:
Bet-Search.com
CasinoLuckyDog.com
DiamondGal.com
EazyPay.com
GrandCasino.com
LadyDream.com
Largocasino.com
Luckydogsports
PlayersVegas.com
There are a multitude of problems with this casino, Goldbetting, and its brethren. For one thing, it is the poster child of "Rogue". Its "play mode" is set to provide bigger payout than in "real – play for money" mode. Even though this is stated in their "help' files, it's deceptive and unnecessary. How many unsuspecting players were aware of this when they signed up? Probably very few. And they wonder why they are losing more often. Unless the casino mandates that players need to check a box when signing up informing them of this nuance, players need to be warned of this.
From its sister site Lady Dream Casino: Lady Dream Casino Help Section. Do the Free games payout the same as real games? Our Free Games are programmed for FUN and give higher payouts.
Screenshot from 12 February 2007 here.
Besides this, they have had about 50 complaints either posted in our forum or submitted as a PAB. Most of these have concerned either no-pay or slow pay. Their support staff is nearly non-resistant, and our PAB section no longer accepts complaints about this casino since it is pretty much a waste of time.
This casino has had more than its share of stuff-ups, and I have dealt with them in the past trying to resolve a number of issues – most with success.
But they have slinked away back into the rogue pit – the spots on this leopard really haven't changed.
Past Issues
Since October of 2002, I began to receive a number of complaints concerning these casinos with only a sporadic response from the manager of each. Fed up and frustrated with this BS, I placed them in the rogue section in July of this year. Amazingly enough, soon after this rogueness was bestowed upon them, their manager contacted me wondering "why".
I explained why there was a problem, that there were a number of players who were owed $$ and Goldbetting, Ladydream, and Lucky Dog Sports were ignoring everyone's emails. He denied that mine were being ignored and suggested that the emails sent to me were getting lost somewhere on my computer. Yeah, right.
Anyway, I forwarded him the collection of complaints that I had, and guess what…he began paying these players. Some of whom had been owed four figure sums. I gave him credit for appeasing the players, but I wasn't quite satisfied.
I didn't like the fact that his software provider (Wager21) was using images and game names from International Game Technology (IGT.com). I questioned him about this and he stated that there was some agreement (he was unsure exactly what this was) between IGT and Wager21. Yeah, right part II.
But besides this, I was concerned that there was something devious about this whole scenario. The email IP addresses that were used by two different managers, the cashier, and Wager21, were traced back to the same IP address, the same computer. Also at times the email IP address was traced to his/their ecash provider Directnetpay.com. It seems that at times, emails to these entities could be traced to a laptop in Florida. WTF?
Some people have the life, don't they? Chillin' out on some warm Florida beach, sipping tropical drinks (with the bamboo umbrellas in them) and smirking away as fingers tap tap tap at the delete button, erasing evidence of customer complaints.
Smirk or no smirk, there are problems ahead for these (or this) guy(s). While attending the recent G2E in Las Vegas, I spoke with one of the Vice Presidents of IGT who mentioned that there were legal actions being drawn up on Wager21. So if I were a player at one of these casinos, I would seriously reconsider what the hell I was doing making deposits there. Affiliates be warned as well.
Update 24 October 2003
Since my contacting IGT in September 2003, this casino group has become either silent or hostile when it comes to player complaints. They are still being patronized by unwary players who have the misfortune of winning a large sum and attempting to cash out. Here is the latest:
Goldbetting owes me $19,178 dollars. They locked my account in April and have not answered any emails whatsover. Directnetpay has told me that it has no affiliation with Goldbetting. I know this is a lie. I have documentation to prove they owe me a very large sum of money. I went on a huge winning streak in a matter of two months during the end of the basketball season. At the very end they sent $5,000 to DNP and than they made up all kinds of excuses before they stopped emailing me. I have tons of emails of what they did to me…I am still suffering from the extreme loss.
Should he expect anything from this casino group? I would guess not. The behaviour of this casino group feeds the reasons for politicians in the US to ban online gambling for their citizens. If ever a law is passed in the states to prohibit online casinos, you can thank the folks behind Goldbetting for making this possible.
Top 5 casinos
BANKING AND PAYMENT METHODS
Withdrawal Speed
Casino Facts
| | |
| --- | --- |
| Is this casino certified at Casinomeister | No |
| Payout time | 48 hrs |
| Reverse time | 48 hrs |
| Weekend payouts | No |
| Locks withdrawals | No |