How to play online Blackjack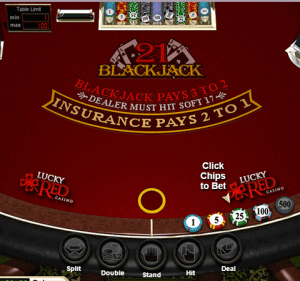 For new Blackjack players, it's recommended to start with online blackjack. The online casino software is a good guide and practice for players who are unsure of the complexities of playing the game. Online Blackjack games start by choosing the amount that you want to bet with on a hand. 
The available betting ranges all depend on the online casino that you're playing at, but usually, you can pick amounts of €1, €5, €25, and €100. After you finish betting, simply click the 'deal' button to receive your card
What Is Blackjack?
Blackjack, also known as Black Jack and Vingt-Un, is probably the most popular card game in casinos, and if you're looking at how to play blackjack, you're in the right place. We'll start to touch on the game's rules in just a moment but first, let's look at the game.
It's a card game between you and the dealer; while other players may sit at the table and play alongside you, they're not playing against you; they are also playing against the dealer. Most Blackjack games are played with eight decks of cards; all shuffled together.
Many Blackjack tables allow you to wager as little as $1 per hand, and if you're a high-roller, you can now find casinos letting you place bets worth upwards of $10,000! Of course, the minimum and maximum bets vary depending on where you play, but the goal is always the same; beat the dealer!
Blackjack Game Rules & How To Play
Essential to mention is that blackjack rules may vary from one online casino to the other, and this could complicate learning how to play blackjack properly. The player should check for variations before playing, but these are the basic blackjack rules.
Thankfully, blackjack is incredibly easy-to-play. You don't need to worry about knowing any maths, as the dealer (or, when playing online, the computer) handles everything for you. Simply open up whichever Blackjack game you'd like to play and select your bet size.
(The variation of blackjack you're playing can change how the game's played. Below, we will be talking about standard European Blackjack rules.)
Once the game begins, you will be dealt two cards. The aim of the game is to make a hand as close to 21 as possible without going over 21. If you're dealt an ace and a picture card or a 10, you have what's known as "blackjack." This pays out immediately and returns a 3/2 profit.
Assuming you don't have blackjack, you now have a couple of options. You can choose to make a card, known as "hitting." You can hit as many times as you like, provided your hand total doesn't exceed 21. If you feel you have a strong hand, you can also opt to "stand." This means you don't want to take any more cards.
Once you've made all your actions, the dealer will then draw their cards. Once this is complete, the winner is decided, and any winnings are paid out accordingly.
Splitting and Doubling:
You are also allowed to split your two cards if you think it will give you a better chance of winning. If you split a pair of aces, for example, and then draw a 10-valued card on one of the aces, this is not a blackjack but rather a total of 21. The dealer will hit until their cards' total value is 17 or higher. 
You simply match your initial stake and "split" these cards; you would then be playing two hands, and each split gives you an additional card, so it's essentially a way to play two cards from one.
If you hold a 9, 10 or 11, you can also choose to "double down." This is when you double the size of your stake in return for another card. It's particularly useful when the dealer has a weak holding (like a 4, 5 or 6), and you fancy the chance of increasing your winnings a bit.
However, doubling means you will only get one more card, AND the bet will be doubled. 
A double or split is only allowed on the first move or the first move of a hand created by a split. However, you cannot play on two aces after they are split (!). Your bet will be tripled or quadrupled by doubling on a hand resulting from a split.
The Surrender Option: A Money-Saver or a Casino's Best Friend?
Before we start talking about the surrender option in blackjack, it's worth pointing out that it's not available in all blackjack variations you'll find online. It's even less common at land-based casinos, and while many online variations of the game offer it, it's not always the case.
Essentially, the surrender option allows you to get half of your original bet back if you don't want to play your hand. Once your two cards have been dealt, and the dealer's hand shows one card, you have a decision to make — split, double, stand, hit — or, where the game allows, surrender.
If you choose to surrender, half of your original bet is returned to you, and the round immediately ends; you will forfeit the other half of your original bet, so there's no option to beat the dealer.
Generally speaking, the surrender option is only used when you have a very poor hand and the dealer's hand looks good. For example, if you have a 10 and a 6, totalling 16, and the dealer shows an ace or a ten-value card, there's very little chance that your initial bet will be a winner.
In this case, you may choose to surrender in an attempt to get some of your original bet back. However, in the long run, as with all bets the same, the surrender option only serves to benefit the casino. As you can only see their face-down card when you choose whether to surrender and sacrifice half of your original bet, you're taking a risk; you may have ended up winning the hand, for example.
Thankfully, some useful charts online show you when it's advisable to surrender, although there are only a few situations where it's advised.
Blackjack Insurance
Once you've been dealt your blackjack hand, you may also be offered the chance to take insurance bets. Insurance bets are used when the dealer deals themselves an ace, and you don't hold blackjack. It's a side bet that you can place after your first two cards have been dealt, and it's a way of 'insuring' your hand against the chance of the dealer pulling a blackjack.
For example, if your first two cards dealt are good — say you have 20 — but the dealer's face-up card is an ace. There's a roughly 50/50 chance they will hit blackjack, and you'll lose. Before they turn their other card up, you can choose to place an insurance bet.
This costs you 50% of your original bet, and if the dealer then does get blackjack, you get paid out at 2/1, so you get all of your money back. If the dealer doesn't have blackjack, you lose the insurance side bet, and the hand continues to be plated as usual.
Today, most casinos offer insurance. The only exception is when you're playing unusual variations of the game. However, the most popular casino games in the blackjack section typically offer this side bet, and, when used correctly, it can actually be a winning blackjack strategy.
Blackjack Table Versions
You'll notice that blackjack is available in several different formats and variations. Game developers like to offer something new to players; they realize new concepts and often develop creative, never-before-seen mechanisms. Below, we will run you through some of the most common variations of blackjack you'll probably come across online.
European Blackjack
European Blackjack is very similar to Classic Blackjack, played with between 1 and 8 decks. Once the game begins, the player is dealt two cards face up; the dealer is dealt one card face up and one card face down. You are then faced with making your decisions while his card is still face down. Once you've chosen to stick with your hand and have doubled (or busted out), the dealer will reveal their face-down card.
Classic Blackjack
Classic Blackjack is one of the most commonly-found blackjack variations played at land-based casinos worldwide. (However, it's not usually found in European casinos; see European Blackjack later in this section.) The game can be played with between 1 to 8 decks. Once the betting round has commenced, the player and dealer are both dealt two cards each. Classic Blackjack plays out in a near-identical manner to all other blackjack variations; however, whether the dealer hits a soft 17 depends on the game rules being played.
Atlantic City Blackjack
You'll find Atlantic City Blackjack played at quite a few non-Vegas land-based casinos throughout the United States. It's played with a fixed eight decks, and both the player and dealer are dealt two cards initially. The dealer will then "peek" at their card to check for blackjack. The dealer also hits on soft 17s. Players can re-split their hands up to 3 times, and surrender and insurance options are also available.
Blackjack Switch
Blackjack Switch is a popular variation of the game, and it became quite successful ten years ago. You're allowed to switch between two pairs of cards. To play, you put up a bet for two different hands. You are then allowed to change the cards between hands to increase your chances of winning and securing a win.
To compensate for this, getting blackjack pays even money (1/1) instead of the usual 3/2. The dealer also wins if they have blackjack; you don't "tie" the hand even if you also do.
Vegas Strip Blackjack
Vegas Strip Blackjack is one of the most popular online game variations you'll come across. It follows a reasonably standardized American Blackjack structure, and the dealer peeks at their hole card. The dealer stands on all soft 17s, and you can re-split your hand up to a maximum of 4 times.
Pontoon
Pontoon is one of the older variations of the game, and it was traditionally played for fun, not for real money. Instead of "hitting" and "standing," you "twist" or "stick'. The aim is still to make a hand as close to 21 as possible, but if you manage to draw five or more cards without going bust, you'll make a "5-card trick," which will result in an instant win, regardless of the hand the dealer holds.
Super Fun 21
Super Fun 21 Blackjack is quite unusual, and we didn't manage to find it at many online casinos. However, it's good fun, and it's played with a single deck of cards. The game usually follows traditional Blackjack rules, but the payout structure differs. For example, a player's blackjack will always beat the dealer's blackjack, meaning there are no ties. You also receive payouts for matching up particular card suits.
Blackjack Side Bets
If you have ever played blackjack online before, there's a good chance you'll have seen things called "side bets" offered. Below, we will run through three of the most common side bets you'll be able to play online.
Insurance: While insurance isn't a side bet per-se, it is an additional bet you can place. Insurance is offered when the dealer's face-up card shows as an ace. If you want, you can stake half your total bet, and if the dealer does go on to have blackjack, this insurance bet is paid out at 2/1, essentially covering the cost of your main stake.
Perfect Pairs: Perfect Pairs is probably the most popular side bet at the blackjack table. This bet uses your cards only. If your first two cards are a mixed colour, a coloured pair or a perfect pair (i.e. two identical cards), you'll win a payout of up to 30/1.
21+3: 21+3 is a poker-inspired side bet that uses your first two cards and the dealer's first card. If you make a 3-card poker hand using these three cards, you'll win a payout — up to 100/1 at some tables!
Blackjack's House Edge Explained
Like any casino game, blackjack has what's known as a "house edge." This is a long-term way for the casino to determine how much money they can expect a particular game to make them.
We should point out that the house edge isn't too relevant in the short-term, especially with a game like blackjack, where it's so little already.
Most Blackjack games have a fixed house edge of around 0.5%. This is incredibly low. It means that (on average) for every $100 you wager, you can expect to lose around 50 cents. Of course, you'll fare much better in some sessions and walk away as a winner, while others will cause you to lose a lot. It's all down to luck.
Live Dealer Blackjack
One of the types of blackjack we haven't covered yet is live blackjack. This is now one of the most commonly played variations of the game around, and we think it's fair to say that it's also one of the most exciting. If you're not familiar with live dealer games, check them out. They let you play your favourite casino table games from the comfort of your home while benefiting from the presence of a live dealer!
We're so fond of live blackjack because it's totally different from roulette; it's more of a community game. As your choices in the game can affect other players, it's also a pretty good laugh, perfect for a Friday or Saturday night after a few beers.
Getting started with live blackjack really couldn't be easier. All you need to do is load the game up, as you would with any online casino game. You'll then get to select how much you want to bet each time, and instead of watching a computerized graphic, you'll see a real dealer (shown using a live video link) playing out the hand and adhering to whatever in-game options you choose.
Live Dealer Blackjack Games
Earlier in this post, we talked about some of the most common types of Blackjack variations. You'll be pleased to know that virtually all of these game variations can be found in live dealer casinos, too. Some game developers have even taken things one step further and developed their own types of games. For example, "Free Bet Blackjack" is one of the most popular ones, and this allows you to double down and split — for free.
Live Dealer Blackjack On Mobile
We just spoke to you about playing Blackjack games from your mobile devices. You'll also be pleased to learn that you can also play live dealer blackjack games from your mobile. The only thing we'd say to be aware of is that you will definitely want to tilt your device into landscape mode if you're playing live blackjack. This will ensure you don't "misclick" any buttons that could prove disastrous in a specific scenario.
Mobile Blackjack
With more of us now gambling from our mobile devices than our desktop computers or laptops, it should be no surprise to learn that game developers are building mobile-specific games. This is a hugely popular niche right now, and there are many Blackjack mobile games available to you should you want to play them. 
In the next section of this post, we will show you some of the main advantages of playing mobile blackjack. We'll also give you a quick "how to play" introduction.
The biggest advantage of playing blackjack on your mobile devices is that you can play from anywhere you want; no longer do you need to worry about lugging yourself up to your computer. Just whip out your phone or tablet, load up the game, and you're all set!
Personally, we prefer playing mobile blackjack, too. It's much more interactive, as you can actually "press" the actions you want to take, and it's a fantastic way of getting a bit closer to the game, in our opinion.
How To Play Mobile Blackjack
It couldn't be easier to play mobile blackjack, in all honesty. Once you've loaded up the game, you want to play, place your bet and press the "deal" button. You'll then be prompted to make your decisions. Of course, any winnings are automatically credited to your account too.
Note: You may want to tilt your device into landscape mode. This will enable the game to run to its full graphical capabilities and make everything seem a bit less "crammed."
Blackjack Tournaments
Blackjack tournaments have been available for several years, and they can be found at both land-based casinos and online casinos. Many of our team have played quite a few of them at my local land-based casino, and many report that they're quite a bit of fun!
A blackjack tournament is a game played with several different players. As a general rule of thumb, most blackjack tournaments run for either 2 or 3 days, although it's not uncommon to see one-day tournaments offered. When you join one of these tournaments, you'll need to pay the "buy-in" fee; this is much like joining a poker tournament. (We should also point out that it's possible to come across free Blackjack tournaments online. These usually don't have as attractive prize pools, however.)
When the tournament begins, all players begin with the same number of chips. These are free-to-play chips, meaning that besides your buy-in, you won't be risking any of your own cash. You then simply play blackjack, and at the end, the player who has the largest number of chips is crowned the winner. Some casinos will allow you to play a set number of hands; others will allow you to play an unlimited number, provided it's within a certain time frame.
History of Blackjack
Blackjack is one of the oldest casino games in existence, and it's believed to have first originated back in the 1700s. Researchers believe it was first seen in French casinos, although the game was played in a slightly different format. Back then, it was known as Vingt-et-un, which translates to "21". Other gambling card games (including Chemin de Fer and French Ferme) are also believed to have helped contribute to the modern-day version of blackjack as we know it.
Historians have also managed to trace the game directly to the French Royal Court, which was established under the reign of King Louis XV. However, it's worth pointing out that the game is actually believed to date as far back as Roman times. Experts believe the Romans played a similar version of blackjack using wooden blocks containing different numbers.
During the 1800s, many games were played holding similarities to blackjack, including Spanish Trente-Un, Italian Sette e Mezzo, and French Quinze. While these games do hold similarities, they are fundamentally different. It's worth bearing this in mind.
It was really during the 19th century that blackjack as we know it today started to sweep the world. The game soon became popular in the United States. In 1820, when New Orleans started to legalize state-sponsored gambling halls, everyone could enjoy blackjack. In the next century, it started to find its way to online casinos. Many of the big-name casinos in Nevada started offering the game (then known as 21), and it didn't take long to reach other nations and continents.
Today, blackjack is one of the most frequently played casino table games on the planet. It's available in several different variations. Not only is it fun to play and exciting, but it also has a really low house edge when played correctly, so it's definitely worth trying out online!
Blackjack is one of the most popular card games globally, and this odds and mathematics-based game is played at most casinos on the planet. One of the great things about blackjack is that the house edge can be lowered to as little as 0.5% by using the right strategy.
However, knowing the best way to play blackjack isn't as straightforward as you may think, and that's why, in this article, we're going to be looking at the best blackjack strategies.
Blackjack Basic Strategy
In blackjack, the 'Basic Strategy' is a mathematical chart that dictates what you should do in certain situations. It tells you when you should hit, stand, split, double, and surrender, and by following this chart, you can lower the game's house edge to just 0.5%.
This chart shows you every possible hand combination and lets you easily and quickly come to the right decision about what action to take.
What Is Basic Strategy?
Basic strategy was discovered by teaching a computer how to play blackjack. Over the course of billions of game simulations, mathematicians figured out the most optimal way of playing the game, maximizing wins, and reducing losses.
Basic strategy is meant to work as 'the best decision for players, in the long-run, as opposed to short-term decisions, so while it won't allow you to win all the time, it can and will help you minimize the house edge over a period of time.
Basic Strategy: The Order of Operations
As a general rule of thumb, when playing blackjack using a basic strategy chart, you should try to follow the below order of operations:
Can I/Should I Surrender? Some Blackjack games allow you to surrender after being dealt your first two cards. This means the hand will end there and then, and you will receive 50% of your stake back. Your first decision is to establish whether you should surrender your hand or not. If you shouldn't, or if you can't, then the next option to consider is…
Can I/Should I Split? If your first two cards dealt are a pair (i.e. two Kings), you will usually have the ability to split them. This turns each card into a new hand and requires you to match the original stake. Using the basic strategy chart, you can easily determine whether you should split or not. If you shouldn't, or if you can't, then you should then consider…
Can I/Should I Double? Doubling is used when you have a 9, 10, or 11, and by matching your original stake, you're dealt one additional card. Again, using the basic strategy chart, you can determine whether you should double your hand or not. If you shouldn't, or if you can't, then you should consider…
Should I Hit or Stand? Once you've been through all of the above options, it's then time to decide whether to hit or stand. Again, you can use the Blackjack basic strategy chart to work this out.
While these won't always help you to beat the dealer or the dealer's hand, following basic strategy does give you a better advantage. It allows you to lower the house edge as much as possible.
Blackjack Tips & Tricks
There are a few things you need to remember when playing blackjack, and before you start to play, make sure to bear the following in mind:
Game Variations DO Matter: not all Blackjack tables have the same rules. For example, some allow you to re-split aces — others don't. Some allow you to surrender — others don't. To ensure you can play the game with the lowest house edge, always try to find a Blackjack table that allows doubling, re-splitting, and surrendering. It can take a little searching to find the right game, but it is well worth doing.
Stay Away From Side Bets: it can be tempting to have a punt on one of the side bet options at a blackjack table but know that doing so will make you far more likely to lose. All side bets are weighted heavily in favour of the casino, and while it can be fun to play one now and again, in general, you should stay away from them.
Use Basic Strategy: it's incredibly common for players to familiarize themselves with the basic strategy chart, only to ignore it while playing. For example, if you're playing a hand and have 16 against the dealer's ace, it can be tempting not to hit due to the fear of going bust. However, this play will NOT be beneficial to you in the long run. So while it's not always easy, you should try to follow the basic strategy chart at all times.
FAQs
Why is blackjack so popular?
Blackjack is popular for a number of reasons; first of all, it's fun. It's an exciting, fast-paced game, and there's nothing better than being on a winning run at a land-based casino with a bunch of other winners at the table. Secondly, when you play the game according to the so-called best strategy, it's possible to beat blackjack in some cases, especially if you're a card counter. Thirdly, blackjack is easy to play; while there is a very small skill element to the game, it ultimately all comes down to luck. It's well-suited to new players and those unfamiliar with casino games.
What's the house edge in blackjack?
The house edge depends on which of the Blackjack variants you choose to play and whether you do things correctly, like splitting aces and not splitting ten-value cards. But when played according to the best strategy, it's possible to reduce the house edge to as little as 1%!
What is free bet Blackjack?
Free Bet Blackjack is a unique type of the game found at casinos. Not all casinos offer it, and it's usually found in land-based casinos. It's unique; if you are dealt a hand that you can split or double, the casino will place the additional wager required for you. However, to make up for this, the hand is declared a tie (a push) if the dealer's hand equals 22.
Is it against the law to count cards?
No, it's not illegal to be a card counter (in most jurisdictions, anyway.) However, if you're a card counter and the casino believes you are counting cards, you can expect to be kicked out pronto. However, you should be paid your winnings before this happens, as it's not against the law. You will also likely find yourself banned from the casino, and most others in neighbouring areas, as, when done correctly, it's possible to win money fairly easily.
Where can I find the best casinos offering online blackjack?
If you'd like to try blackjack for yourself but don't know where to find reputable casinos — one that you can be sure will pay you out your winnings should you hit a nice win — then it's vital you play at a trustworthy site. Here at Casinomeister, you'll find a wide variety of casinos, all reviewed and hand-picked by our team of online gambling experts, and they're all proven themselves to be safe and player-friendly.
---
How To Main Index: