Livespins welcomes Booming Games to its platform
By Simon Wright May 30, 2022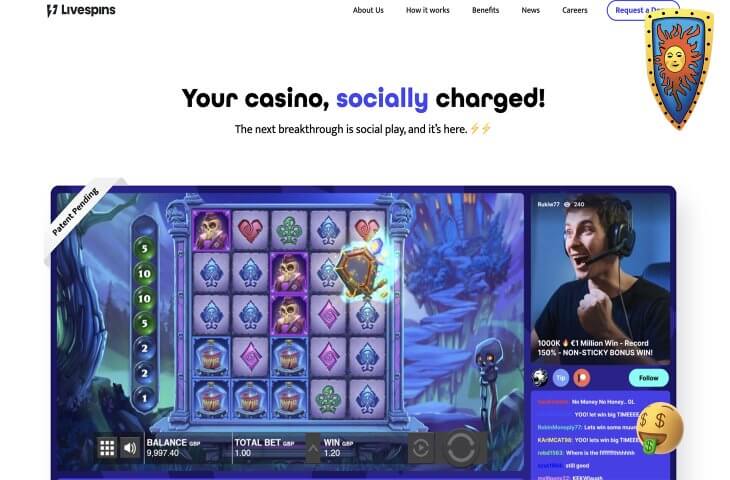 With a defined mission to socially charge the iGaming space through shared experiences whilst creating a new category of play, the casino games studio Livespins are continuing with its mission to deliver new player experiences by adding yet another popular slot developer, Booming Games, to its highly innovative streaming platform.
Livespins is already live on casinofriday.com and have proved to be a big hit with players seeking engaging and exciting ways to enjoy online casino.
The partnership will see Booming Games integrate its entire slot portfolio into the Livespins platform so that the provider's growing lineup of super-star streamers can use the developer's content in their broadcasts to players. This includes chart-toppers such as Cash Pig, Buffalo Hold and Win and Mighty Gorilla.
Livespins has taken the online casino market by storm with players not only able to watch thrilling slots streams, but also get directly involved by betting behind the action in real-time. This creates a group bet and a shared experience but with each player choosing their bet value and number of spins.
Social interaction is also a key part of the Livespins experience, and this is provided by players being able to communicate with the streamer and each other throughout. Players can also add reactions to the explosive action taking place during each broadcast.
While the streamer plays a vital role in the success of the stream, so too does that content and that is why Livespins is partnering with studios whose games are popular with players.
Michael Pedersen, CCO at Livespins, said: "Booming Games is renowned for developing slots that pack a punch and they will undoubtedly prove to be a big hit with our streamers and of course the players they broadcast to."
"To deliver the action and excitement that players are seeking it is important for our streamers to be able to access slots that offer high levels of anticipation and entertainment with each spin, and Booming Games' suite of titles do just that."
"This is yet another great studio partnership for us and we look forward to working with Booming Games and helping them fully leverage the power of live streaming."
Frederik Niehusen, CCO at Booming Games, added: "Livespins really is changing the way players experience online casino and we absolutely wanted to be a part of its revolution. We can't wait to see the first of its streamers broadcast our games to players and for us to reach a wider audience than ever before."