Could it be you? EuroMillions Jackpot of £186m up for grabs
By Simon Wright Jul 5, 2022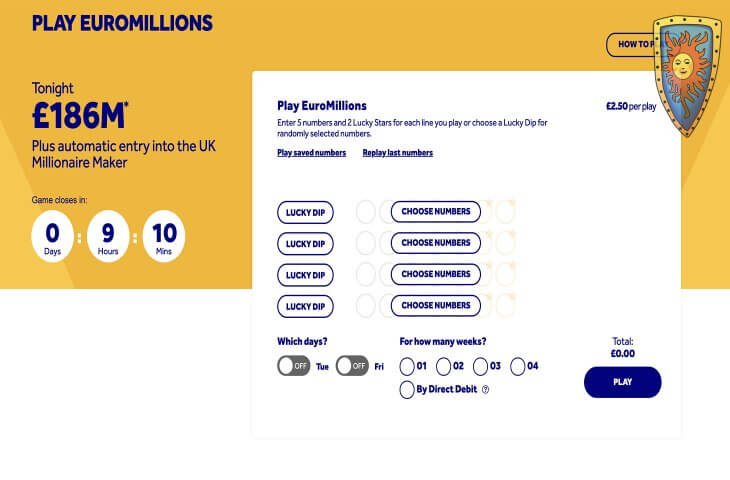 Tonight's bi-weekly EuroMillions Lottery draw takes place whereby there is an eye watering £186m up for grabs, should a lucky ticket holder realise all his or hers numbers get drawn.
Not one for partaking in the Lottery myself, whether National or European, the chance however small of winning a truly life changing sum of money, has even tempted me to part with £3, in purchasing a ticket for tonight's draw. I guess the phrase "You've Gotta be in it to win it!" rings true!
Back in May a record £184m jackpot prize was won by a couple hailing from Gloucestershire in England, thanks to their lucky dip ticket on the Tuesday 10th May draw coming good.
Yet tonight's jackpot having risen to £186m is set to break the record set by the Thwaite's, should a ticket holder strike lucky.
With last Saturday's draw literally drawing a blank when no one scooped the £170m big prize on offer, the rollover of the jackpot tonight adds a cool £16m to the total single possible win on offer.
Speaking about a new potential multi millionaire being made this evening, Andy Carter a Senior Winners Adviser who works for Camelot who operate the National Lottery in the UK, said: "Tuesday will be huge, with a stunning estimated EuroMillions jackpot of £186m up for grabs."
"One lucky winner could help a lot of causes close to their heart."
So could it be one of our lucky Casinomeister forum members that strikes gold tonight? Or are the odds of one in 139,838,160 to hit the jackpot too much to stop you even dreaming of hitting such a big win?