How to Play Pai Gow Poker
By Alex Smith Jul 21, 2022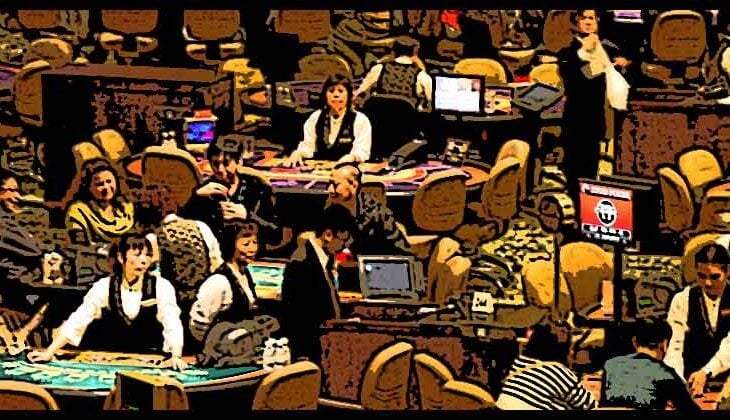 Pai Gow Poker – not to be confused with Pai Gow – is a popular casino table game found at most land-based and online casinos. We will show you exactly how to play the game on this page. We will look at the game's rules, some of the different side bets you can place, and more! First, let's look at the game's basic rules.
How to Play Pai Gow Poker
Pai Gow Poker is a pretty simple game to understand. Unlike traditional poker games, you compete against the dealer instead of other players. Thankfully, it's straightforward to play – and you first need to find a variation of the game you like.
Today, there are many different Pai Gow Poker games at online and land-based casinos. Find one that you like the look of, and buy in to the table with your chips.
Below, we will look at the rules of the game.
Rules of Pai Gow Poker
One of the great things about playing Pai Gow Poker is that the rules are straightforward to get the hang of. All Pai Gow Poker games are played with a standard 52-card deck. However, one joker card is present in all versions of the game. If you are playing Pai Gow Poker in a live environment, up to six players can play simultaneously. However, if there are seven players, one of the players will need to act as the dealer/banker.
Once all of the players at the table have placed their bets, the game will begin. All players who want to play must put a chip down on the main ante bet. Some Pai Gow Poker variations offer side bets, but these are not mandatory for players.
The players compete directly against the dealer in most Pai Gow Poker variations. However, if you'd like to play against other players, this option does exist; the co-bank or bank options allow this. Each player at the table is dealt seven cards. The dealer also receives seven cards. This means there are just four cards left in the deck, providing seven players. These four cards can be used as tie-breakers where necessary.
The main goal of Pai Gow Poker is to create two different poker hands that can beat the dealer's hand. One of these hands will contain just two cards; the other will contain five. This process is known as setting the hands.
This is where the skill side of things comes into play. You will be tasked with deciding which cards you want to include in each hand. (When playing at online casinos, this is automated for you, if you want.) Once you have made your decisions, the two-card hand will go on top or in front of your hand. Your five-card hand MUST be better than the two-card hand.
Jokers act as semi-wild or a bug card. Usually, most variations of Pai Gow Poker classify the joker as an ace. However, it can also be used to create a straight flush, flush, straight, or royal flush. Once all players at the table have set their hands, the dealer will reveal their cards. Your hand will then be compared to the dealer's, and winning hands are paid out.
Payouts
The payouts in Pai Gow Poker are pretty simple to understand. If both hands are better than the dealers, you will receive your bet back, PLUS even money. However, most land-based and online casinos charge a small 5% fee on winning bets at the Pai Gow Poker table.
When one of your hands beats the dealer, but the other loses, the round is considered a push. You will get to keep your initial wager with no commissions or penalties.
You will lose your stake if both hands are the same or worse than the dealers. If you tie with the dealer in Pai Gow Poker, it does NOT classify as a push like you'd see in many casino games.
Pai Gow Poker Variants
Pai Gow Poker, like most casino table games, has several variations. These are all pretty similar to the original game, but all with their unique differences and twists.
Below, we will look at some of the most common variations of Pai Gow Poker you will find online today.
Commission-Free Pai Gow Poker
Commission-Free Pai Gow Poker is the most popular variant of the game. However, this variation can vary greatly, depending on where you play. For example, some online casinos will choose to offer this variant but change the rules to compensate for the loss of house edge.
The house edge of Commission-Free Pai Gow Poker is just 1.30%. This makes it one of the best casino games you can play at online casinos. Unsurprisingly, the variant simply means that no commission is charged when the dealer wins – the banker. This means the casino's house edge decreases dramatically.
EZ Pai Gow Poker
EZ Pai Gow Poker is similar to the Commission-Free variation we just looked at. However, in an attempt to make up for the loss in commission, online casinos were clever and created some additional new hands that resulted in a push rather than a win. We have seen this before, in blackjack.
For example, if you are playing EZ Pai Gow and the dealer has a queen-high as their five-card hand, the round automatically pushes. It doesn't matter whether you have a three-of-a-kind or a straight flush; if the dealer has queen-high, the round is a push. There are a few different hands that the dealer can push with. Always read the game's rules to see exactly what they are.
No-Push Pai Gow Poker
No-Push Pai Gow Poker is pretty uncommon. Generally speaking, you will only find them offered in Las Vegas, usually in the Station Casinos. No-Push Pai Gow Poker doesn't offer to the bank, and no commission is charged on hands. It should also be noted that push hands are also not allowed. If the dealer manages to tie with any of the player's hands, the dealer will take two of the four left-over cards to decide the winner.
When this happens, the dealer and the player are faced with one additional card. The dealer wins if the dealer's card is equal in value – or higher than the player's card. That's all there is to it. The Pai Gow hand is calculated at the end and compared to the dealers.
Pai Gow Poker Side Bets
Now that we've covered some available variants, it's time to look.
Fortune Pai Gow Bonus Wager
The Fortune Pai Gow Bonus Wager is one of the most common side bets offered at Pai Gow Poker tables. However, you should be wary of playing it; the house edge is very high, around 7.77%! It works like this: a player who places a Fortune Pai Gow Bonus Wager side bet is betting that they will create a qualifying five-card poker hand from their seven cards.
However, the player must hold a straight or higher hand to win the bet. For example, a straight flush would win, while a three-of-a-kind hand would be a loss.
Envy Bonus
The Envy Bonus side bet is a separate wager attached to the Fortune Pai Gow side bet. You will automatically qualify for this bet if you place a wager of $5 or more. This side bet pays out when any other player at the table wins the bonus wager. Surprisingly, the house edge of this bet can reach as high as 8.00%. This is relatively high, mainly because it's pretty common to win. Most tables offer the Envy Bonus side bet cap, the maximum payout per player, per hand, at $3,000.
Emperor's Challenge
The Emperor's Challenge side bet is a separate bet that players must wager. This side bet is betting on the fact that players will have a seven-card Pai Gow. This means they cannot create any pairs or better poker hands. So, from the seven cards, the player needs not to form a pair or better; high card hands are OK. The Emperor's Challenge side bet pays out at 3:1, and the house edge is, usually, 7.35%.
Pai Gow Progressive Jackpot
Pai Gow Progressive Jackpot is one of the most popular side bets that you will find offered at Pai Gow Poker tables. The reason? Instead of fixed payouts, players have the chance to win entire progressive jackpots! These can, at the right land-based casinos and online casinos, be worth millions of dollars!
Usually, the minimum bet for the Pai Gow Progressive Jackpot side bet is $5. This is relatively high, especially if you're not planning on wagering much on the main hand itself. The progressive jackpot pays out if your seven cards manage to form a straight flush. That's a tough Pai Gow hand to form – but it is possible.
Queen's Dragon
Queen's Dragon is a simple side bet with just one payout – 50/1. The house edge of the side bet is 18.84%, and it pays out if the dealer or banker has a queen-high Pai Gow hand. In other words, this side bet will pay out if the dealer does not have a ranking hand.
Jokolor
The Jokolor side bet pays up to 30/1 and has a low house edge of just 3.90%. For this reason alone, it's one of the better side bets you can place while playing Pai Gow Poker. The Jokolor side bet pays out if the player has a joker, AND all of their cards are the same color.
Pai Gow Poker Strategies
If you'd like to play Pai Gow, you may be wondering about the different strategies. Usually, playing the house way is the best strategy for increasing your edge in Pai Gow. However, with the house having a lot of rules to follow, this can be easier said than done. It's also hard because the house way can vary depending on the online or land-based casino. Because of this, we're not going to discuss specifics here. However, you can do a few things on all game variations.
Firstly, use a Pai Gow poker strategy calculator. These are easy to find online – a quick Google search will bring up tons of results. Once you have input your cards, the calculator will recommend the best move for you to take. Make sure you choose a calculator aligned with the variation of the game you will be playing!
Secondly, you can also check out the casino game for free before you begin playing for real money. This is a valuable way of getting to grips with the casino game before committing any of your own money to play. An excellent game is called Double Hand Poker; this is very similar and more widely available than the conventional version of Pai Gow Poker.
If you utilize both strategies above, you can ensure that you're doing everything correctly when playing. However, as mentioned earlier, we strongly recommend that you study the house rules and try to apply them to your game where possible. The house way is almost always the most profitable way of playing. If you manage to memorize it, you can gain a significant edge over other players!
History of Pai Gow Poker
Pai Gow Poker may well take its name from the ancient Chinese domino game of the same name. The reality is that Pai Gow Poker is one of the more modern casino games you'll find. Interestingly, the creation of Pai Gow Poker was done to modernize the classic Chinese domino game – and many have tried to modernize it. However, it was only recently that this was done successfully. Today, you can find Pai Gow Poker at all online casinos and many land-based casinos.
The story begins back in 960 AD. The original Pai Gow was a game played with up to eight players. Each player selected four dominoes from a face-down pile of tiles. The players were then tasked with sorting their tiles into two hands; each hand needed to contain two dominoes. The weaker of the two hands was called the front hand, while the stronger one was known as the rear hand.
The front and rear hands were then compared with the dealer's corresponding hands. If the player managed to beat both of the dealer's hands, they would be paid out at even money. So, for example, a $10 bet would have returned $10. As you can see, so far, the original game of Pai Gow was quite simple.
However, there was a big problem with the original Pai Gow; it was very hard for players to memorize the rules. It was common for the game's rules to vary a lot, depending on where it was played and who the dealer was. The original Pai Gow is still played in parts of the world, but it never became overly popular.
In the 1980s, a casino owner called Sam Torosian was looking at ways to attract new Asian players to his casino. His land-based casino was called the Bell Card Club. After being introduced to a Filipino game called Puy Soy, Torosian thought he had hit the lottery. He'd found a game that was universally recognized, easy to play, and fun. However, despite his high hopes, the game never really took off. Why?
Firstly, players needed to have 13 cards dealt each; this meant that only three players plus the dealer could play at any one time. What's more, the gameplay was slow – bad for players and bad for business. In the years that followed, he rented some floor space to Pai Gow Poker's true inventor, Fred Wolf. Together, they simplified the game and refined it for use in land-based casinos worldwide.
However, they made a crucial mistake; they didn't patent their game! This meant land-based and online casinos worldwide could offer Pai Gow Poker without paying any royalties! Conservative estimates suggest this may have cost them over $100 million!
FAQs
Can I try Pai Gow Poker for free?
If you want to play free Pai Gow Poker, you will be pleased to learn that almost all online casinos let you try the game for free! Pai Gow Poker demo play games can be found at most online gambling websites, so you can try out the Pai Gow tables and other poker games without risking any of your own money!
However, if you are located in the UK, you will need to verify your account before you can play free games. This is due to new regulations brought in by the UK's Gambling Commission. Thankfully, most Know Your Customer (KYC) checks are completed pretty quickly.
How old do I need to be to play Pai Gow poker?
Every country has slightly different rules regarding the minimum age to gamble. However, the absolute minimum gambling age is 18. This is usually the minimum gambling age in Europe. In North America, however, the minimum age is usually 21. This ancient Chinese game cannot be played if you're not at least 18.
Which online casinos should I play Pai Gow at?
If you're looking to find a live Pai Gow Poker table or want to find the best online casinos to play Pai Gow Poker, you have come to the right place. Here at Casinomeister, we have a LOT of experience reviewing various online casinos. Our online gambling team has decades of experience, so we can recommend the best online casinos to play at.
If you would like to play at a Pai Gow table online, make sure to check out one of the online casinos recommended here on this page or in the sidebar. All of these casinos have been hand-picked by our team of online gambling experts. They are all safe, and we have direct access to the owners/managers. In the unlikely case of anything going wrong, you're not left in the dark.
What's a low hand?
A low hand is a type of Pai Gow Poker hand. This specific Pai Gow Poker hand refers to one of the two different hands you will be dealt during the game. Pai Gow Poker states that the low hand is the one that is the weakest of the two hands you are dealt.
What's a front hand?
A front hand refers to the five-card hand that's the strongest of the two you're dealt. If you hold a straight flush, a three-of-a-kind, or Royal Flush, it will almost always be your front hand.
When was Pai Gow first played?
Pai Gow Poker is loosely based on an ancient Chinese game. This game was originally played using 32 dominoes – or tiles as they were known back then. It also serves as the foundation for baccarat. However, baccarat and Pai Gow Poker are very different games today. If you'd like to learn more about Pai Gow Poker and how it became one of the world's most popular online gambling games, you should check out our history section earlier in this guide.
Is Pai Gow easy to play?
Pai Gow Poker is very easy to play. One of the main benefits of playing Pai Gow Poker over other poker games is that you don't need to understand poker – or how to bluff – to begin playing. However, there are a few skills you'll want to have. Firstly, it helps to understand the poker rankings. For example, you should know what a straight flush, three-of-a-kind, and royal flush are.
A good, sharp memory is another beneficial factor when you're playing Pai Gow Poker. If you're looking for how to play Pai Gow Poker, you may also want to spend some time reading up on the game's rules and strategies. This will ensure that you can understand what's going on.
Are Pai Gow games safe?
Yes! If you are interested in how to play Pai Gow Poker, then you may also be curious about the game's safety mechanics. Thankfully, in today's online gambling world, any time you play a casino game online – whether it's a bonus wager, a non-bonus wager, or regular cash bet – you'll be playing on a game that's been well-tested and vetted.
Before an online casino can even consider offering a casino game to its players, the game must undergo a significant array of tests. These are all designed to ensure that the game is fair and uses a true random number generator. A game must receive certification before being offered at an online casino.
Can I use my welcome bonus on Pai Gow?
This depends on the casino you play at. Some online casinos do not allow welcome bonuses to be used on casino table games. This means you won't be able to place a bonus wager. However, this isn't the case for all online casinos. Some allow you to play Pai Gow Poker using bonus funds; however, if you can play Pai Gow Poker using a bonus wager, the contribution to the wagering requirements will almost certainly decrease. This is to ensure the casino isn't just giving away free money.
Are Joker cards wild?
If you're interested in how to play Pai Gow Poker, you may be wondering about the role of the Joker card. In Pai Gow Poker, the joker serves as a partial wild AND a full wild. It can be confusing, and this is one of the reasons why we recommend you become familiar with the game's rules. For example, a Joker can't always be used to form a straight flush or a three-of-a-kind – so just be aware of this.
Is Pai Gow profitable?
Pai Gow Poker is a casino game; this means that in the long run, the land-based casinos and online casinos will also expect to make a profit from offering the game. However, in the short term, nothing is stopping you from having a winning session – and winning good amounts of cash. However, you need to practice good bankroll management and know what bets you should avoid. This will ensure you're not needlessly helping the land-based and online casinos increase their house edge!
Interesting Articles you should Read