How to play online Bingo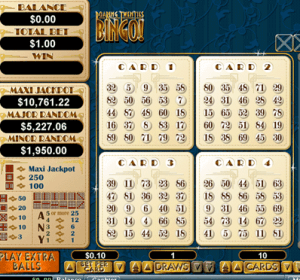 Many people assume that bingo is a new game; while it's undoubtedly true that online bingo is a new game, bingo has been around for hundreds of years! The first recorded bingo game dates back to the 1500s! In the past, players played a game called Beano. During Beano, they were tasked with marking numbers off their cards. Numbers were pulled out of a sack, and this is where modern-day bingo is believed to have come from!
Thankfully, technology has evolved a LOT since then. Today, you don't have to scratch a dirty bingo card manually! Instead, you can play online, precisely what we will look at on this page.
How to Play Bingo Games Online: A Quick Introduction
Playing bingo online is very similar to the bingo games you would find in a land-based bingo hall. Like the land-based version of the game, you will be tasked with crossing off numbers on your traditional bingo cards once they are drawn. However, there are some differences when playing online.
For example, most bingo providers give you the option to "auto dab." This means you do not need to look out for your numbers manually. Instead, the software will handle it automatically for you.
To begin playing bingo online, you first need to choose which variation of bingo you would like to play. Online, you will be faced with a LOT of different options. You can play 75-ball bingo, 80-ball bingo, 90-ball bingo, and everything in between!
Once you have chosen the next bingo game you'd like to play, it's time to buy a bingo card! You can buy just one card, or, as most players do, you can buy multiple cards. Once you have purchased your tickets, it's time to wait until the next game starts. In the meantime, feel free to play one of the mini-games available!
Once the game begins, you must watch the screen as the bingo calls are made! Any winnings you get are automatically credited to your online casino account – it's that simple!
Online Bingo Game Rules
Thankfully, the rules of bingo are straightforward to understand. Whether playing in a land-based bingo club or an online bingo website, it's straightforward to get to grips with. Once you have purchased your bingo tickets, it's time to enter the game. The bingo game will begin as soon as the first number has been announced. If this number is on your ticket, cross it off. Or, if you prefer, activate the "auto dab" feature so that you can honestly sit back and relax.
The bingo caller will continue to call numbers until a player has managed to form a winning pattern. There are three different prizes involved in bingo. Firstly, there's a one-line. If any more prizes are to be won, another prize will be awarded when a player hits two lines. Finally, there is a full house; this is paid when a player can match ALL the numbers on their ticket to the numbers called.
When you play online bingo, there are three main tools to be aware of. We will take a look at these tools below:
Autoplay: Almost all bingo sites offer what is known as an autoplay function. This feature automatically marks the numbers on your card once they are called. The key benefit of using autoplay is that you do not have to mark your numbers as they are called manually. You also don't need to search for your numbers as the software handles everything automatically!
Best Card Sorting: The best card sorting feature is another unique feature that is only available when you play bingo games online. This feature is where the software will automatically sort your cards into a particular order. The cards with the highest chance of winning will be placed in the most visible part of the screen. This lets you quickly see which cards you need to keep an eye on.
Best Card Highlighting: Best card highlighting is offered at most online casinos and bingo websites. When activated, the system will alert you when one of your bingo cards is close to winning. Each game developer and bingo site does this differently, but most tend to highlight the edges of the card. You will then be able to view which number you need before that card (or cards) are declared winners.
Different Types of Bingo
Today, there are more variations of bingo than ever before. While most bingo games share some common traits, there are unique differences depending on the type of game you choose. Below, we will look at a few of the most common variations of bingo and look at what makes them unique from one another!
90-Ball Bingo
90-ball bingo is the most popular bingo game in the world. It's offered at every land-based poker hall and online bingo website. There are a total of 15 numbers of each 90-ball bingo ticket. These numbers are elegantly arranged in a 9X3 grid format. Numbers one to nine are found on the first column, 10 to 19 are found on the second column, and so on. There are three opportunities to win while playing 90-ball bingo; a one-line win, a two-line win, and a full house.
75-Ball Bingo
75-Ball Bingo isn't quite as popular as 90-ball bingo, but it is still a popular variation of the game. When you play bingo online, you will probably be given the choice of playing either 90-ball bingo or 75-ball bingo.
75-ball bingo is quite similar to 90-ball bingo. Your job is to cross off numbers on the tickets you buy as the bingo caller calls them. Every 75-ball bingo ticket has five horizontal lines and five columns. Every column is headed by the word "BINGO'.
Under the "B," there are 15 numbers, and under the "I" column, there are another 15 numbers. This continues for the length of the card, making up a total of 75 numbers. However, we should point out that the middle-most spot is blank. This contains no number, and it's counted as already being called.
One of the things that you often find in 75-ball bingo but not other variations of the game is pattern bingo. For example, some bingo websites randomly choose a pattern before the game round begins. The players will then be attempting to cover this pattern with their numbers. If they manage to form this pattern, they will win an extra special prize. It's a nifty little feature that adds more excitement to the game!
80-Ball Bingo
80-ball bingo is one of the newest additions to the online bingo scene. It's rarely offered at land-based bingo halls. 80-ball bingo games are played with a ticket that has 16 numbers on it. These numbers are arranged into a 4X4 grid. Each column has its unique color, and there are two ways to win.
Firstly, you can form line wins. These are formed by clearing your numbers on a horizontal, vertical, or diagonal line. Secondly, you can also form pattern wins. This is what we just looked at in the 75-ball bingo section.
Slingo
Slingo is a unique type of bingo game. It's available both as paid bingo and free bingo. When you play bingo online, you will often see Slingo bingo offered. However, you won't find it offered at any land-based poker halls.
Slingo is from a game developer called Slingo, which aims to incorporate bingo games with slot machines. Slingo is based around a 5X5 grid format, and at the bottom of the screen, you will notice a small slot machine. The reels of this slot machine then spin and award special prizes. It can sound confusing, but it's quite easy to get the hang of.
Why Online Bingo is So Popular
If you're looking to play bingo, you may be wondering why it's so popular online. The main advantage is that you don't need to head somewhere and buy big stacks of tickets physically. You also do not need to dab all of your numbers. Naturally, you can also choose to play in your home – wearing your pajamas if you like!
An online bingo card also tends to offer larger prizes than you would find in a land-based bingo hall. This is because online casinos and bingo websites have fewer overheads and can offer large prize pools and in-game jackpots!
---
How To Main Index: