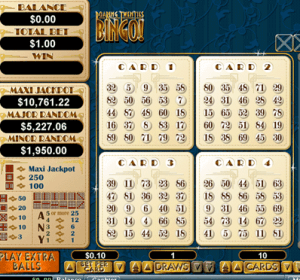 The basic principle of online Bingo is very similar to the land-based Bingo games. Except of course that a computer calls the numbers, instead of a real person. The other main difference is that you don't need to mark off your Bingo cards yourself (although some online casino websites will let you if you want to) and the system will 'auto mark' your tickets and claim any possible wins.
To play online Bingo you will first need to pick an online Bingo website, register and then make a real money deposit (or practice first with a no-deposit Bonus).
Next, it's time to pick your Bingo game or "room". Game choices include:
90 Ball Bingo – 15 numbers over 3 rows (5 per row). Prizes for 1 line, 2 lines and a full house.
80 Ball Bingo – 16 numbers arranged in a square. There are various prize formats played in 80 ball Bingo, usually based on lines.
75 Ball Bingo – 24 numbers laid out in a square with a star in the middle (free square). Prizes are awarded for completing lines or making set patterns on your ticket, depending on the game.
Once you've selected a room, you need to buy tickets. How many is up to you, you can buy as many or as little as you like, as long as it's within the limits of that room. Most rooms have a minimum of just 1 ticket although the maximum varies depending on the game (between 12 and 48 usually). Once the game has started, the Bingo balls will be selected a random number generator (RNG). If your Bingo ticket contains that number, it will automatically be marked off for you and the Bingo software will tell you how many numbers you have left before you win a prize. The Bingo software will continue to generate numbers until one of the players wins the current prize. After announcing that first winner, more numbers will be drawn until the next prize is won, and so on until the main prize is won. If two or more Bingo players win a prize at the same time then the prize is shared between the players.
Some games also have special Jackpots that pay out if you manage to complete your Bingo card under a certain number of balls.
---
How To Main Index: