SGG Media launches Live Drive
By Dave Sawyer, Last updated Oct 10, 2023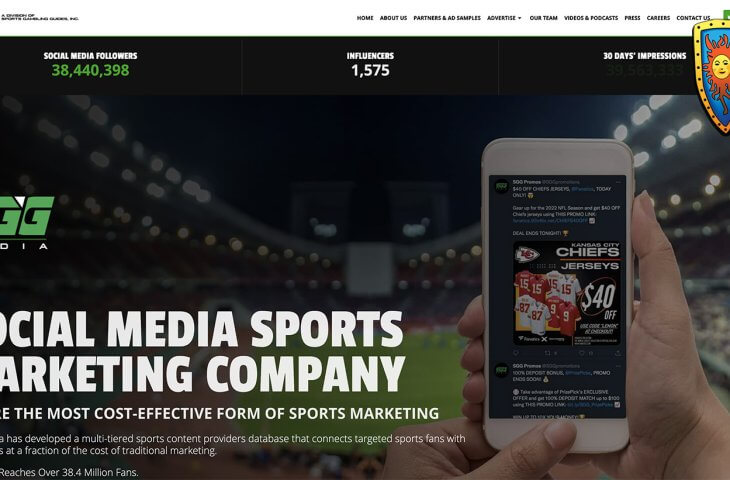 Pioneering sports marketing agency SGG Media is set to change the way we consume sports with the launch of Live Drive, a live-streaming football show that places viewers right in the middle of the action.
Live Drive launched Sunday October 1, 2023 to an audience of nearly 25,000 sports fan viewers, and can be viewed live on Twitch , YouTube and other streaming platforms. The show is one of the US's first fully legal and licensed live sports betting streaming programs. It combines live sports, streaming, in-game and prop bets, micro-betting, and social media to provide a unique match-day experience for the modern sports fan.
Live Drive will be hosted by leading social media personality Gavin McHugh. Gavin has a mammoth social media following, with over 400,000 followers across multiple platforms. McHugh is one of over 1,600 content creators who work with SGG Media, providing a total of over 43 million followers. He is known for his infectious energy and highly entertaining insights on US Sports.
Viewers can enjoy McHugh's knowledgeable takes on sports and gambling in real time by tuning into Live Drive. During the show, football fans can communicate with McHugh and one another in real-time thanks to the live 'Game-Chats' feature.
Modern sports watching is a multi-screen experience, and Live Drive taps into this. Viewers are encouraged to tune into NFL's Red Zone service while simultaneously watching Live Drive on their desktop or mobile devices in order to create an immersive and engaging sports-watching experience. Throughout the show, McHugh will interact with viewers while placing a series of micro-bets and offering ongoing analysis on all of the day's sporting action.
Troy Paul, CEO at SGG Media, said: "Live Drive is an exciting new step in the world of live sports streaming. We want to provide the new generation of sports fans with a show that captures how they engage with sports."
"It brings together sports, streaming, and betting in a way that has not been done before, providing a new platform and way of engaging with sports. This is not your dad's sporting show; it's a show for modern sports fans, by modern sports fans."
"Gavin McHugh is one of the most entertaining social media stars we work with at SGG. He is a rising star that is set to become an even bigger name in the coming months. His infectious personality and insightful views on sports make him the perfect host for Live Drive."