Kangaroo King from Stakelogic
By Dave Sawyer, Last updated Sep 17, 2023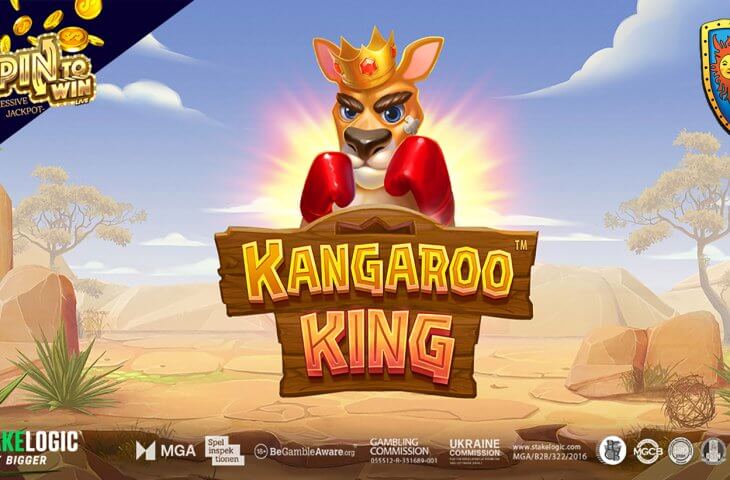 Step into the ring with the Kangaroo King slot from Stakelogic. An exciting new online slot that takes players deep into the heart of the animal kingdom and challenges them to pit their fighting skills against the legendary Kangaroo King, the undisputed boxing champion of the land.
The Kangaroo King isa nimble and adaptable combatant who showcases remarkable prowess when gracing the spinning reels as a Wild symbol. His multifaceted abilities extend beyond mere substitutions, as he possesses the unique capability to leap onto an adjacent reel, leaving a fresh Wild symbol in his wake.
Players must also maintain vigilant watchfulness for the elusive Bonus symbols. When three of these icons land, a thrilling and eagerly awaited Free Spins bonus round ensues. The magic truly unfolds when players achieve the remarkable feat of landing 3, 4, or 5 Bonus symbols, granting them a bounteous 10, 12, or 15 Free Spins, respectively.
At the inception of this bonus round, a Kangaroo Wild materialises at the heart of the grid. With each spin, this agile Wild gracefully traverses the grid, seeking opportunities to fortify winning combinations. Every time a Wild contributes to a successful combo, the Free Spins trail ascends to the next level.
As the game ascends through the levels, a coterie of lower-paying symbols is systematically purged from the grid. A progress meter located on the right-hand side of the reels keeps players informed of their advancement. Moreover, Free Spins continue to be doled out with each successful progression, ensuring that the Free Spins bonanza persists.
Upon conquering each segment of the journey, the Kangaroo Wild undergoes a remarkable transformation, expanding in size. All accumulated symbols vanish from the reels, granting the Kangaroo Wild the potential to attain an impressive 5×5 size, provided players can surmount the entire trail.
Vanquishing the Kangaroo King presents a formidable challenge, as attested by the array of valiant contenders gracing the reels. A substantial prize pool awaits the fortunate soul who can halt this agile ruler, with the game offering a maximum payout of up to a staggering 5,888.40 times the player's initial wager.
For those in select locations, the option to secure entry into the bonus spins rounds through purchase is available. Various choices beckon, allowing players to acquire 10, 12, or 15 spins for a mere 100x, 200x, and 480x their original bet, respectively. An intriguing random option also stands at 220x the player's stake, adding an element of chance to the gaming experience.
Jose Simon Kadala, Head Account Manager at Stakelogic commenting on the release of Kangaroo King, said: "Taking on the Kangaroo King is no easy task, but we think with all of the exciting bonus features we have provided our players, they have got a bit more than a puncher's chance to beat him."
"Kangaroo King is a fantastic addition to our growing slot portfolio and the theme has given our team the chance to really express their creativity and have some fun in the Australian outback."