Interview with 4thePlayer.com Commercial & Marketing Director Henry McLean
By Alex Smith Nov 18, 2019
Casinomeister: It's a pleasure to talk with you, Henry. Can you tell us a bit about 4ThePlayer.com, and how it all began?
Henry:
It's great to talk to you too! 4ThePlayer.com started just over a year ago – it was the brainchild of Andrew Porter. He wanted to create a studio that represented what he felt was missing in the current market, a studio that was 'for the player'. One that players could trust and know was good value as well as entertaining, with great graphics, exciting maths and lots of innovation.
He approached Chris Ash, after working for him at Ash Gaming as Head of Product/Managing Director and the rest is history. Later they then approached me and asked me if I would also join the start-up and I could not resist having recently left Playtech, it was a great opportunity.
Having all worked together and having a combined experience of over 50 years in gaming, we have hit the ground running and are just about to release 3 games!
Casinomeister: Today, there are more game developers producing games than ever before. What do you think makes 4ThePlayer.com unique – and how do you plan on penetrating a market that's not just more competitive than ever before, but also more creative?
Henry:
Yes, it is a very crowded market however we believe we have something truly different.
The combination of our experience, both as a provider but also as players is one part but also our proposition. No one else is approaching it quite like we do – thinking first about the player. Also not being afraid to truly innovate and communicate with players, like we are with you on Casinomeister.
Casinomeister: I see you currently have three slots lined up for release. Would you like to tell us a bit about these games?
Henry:
Our first slot 9k Yeti is being released on the 14th November. It's a volatile adventure with big win potential as the max win is over 9,000 x bet!
It also has a generous RTP of 97% – significantly higher than most slots offer.
The bonus round is free spins, but with a twist – a Snowstorm feature. This feature can turn any losing spin into a guaranteed win. It's also packed with retriggers and you can end up with 880 free spins!
It also features our innovation – BIG REEL Portrait Mode™ – allowing the player to play in mobile portrait-like never before. Normally portrait play is squashed into the screen with the reels taking up about 20%, this is not a good experience or use of space.
In BIG REEL Portrait Mode™ we use up to 70% of the screen by simply stacking the reels and spinning them right to left. Creating a much better experience for the portrait player. We also offer classic play if the player is a traditionalist.
The second game, live now, is 100 Bit Dice, this game is totally different – it is based on the incredibly successful Crypto gambling game Santoshi dice. The games are madly popular in the Crypto space with over 25 Million Euros a week going through them, yet no one has made a real-money RNG version. We decided to change that, and 100 Bit Dice was born.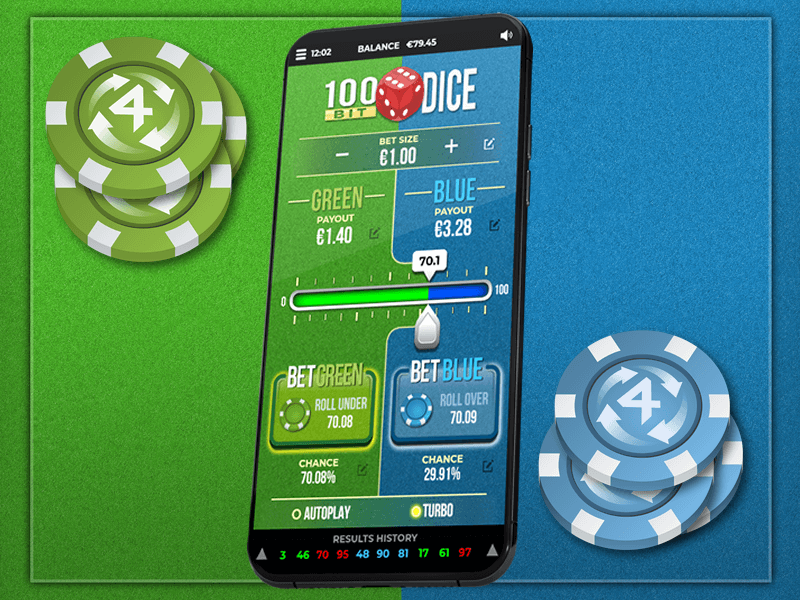 The game is compellingly simple, you use the slider to set your chances and payouts, then choose under or over – green or blue, a bit like placing bets on Roulette to set your chances and payouts. You then roll the Bit Dice and watch to see what happens.
We also built some interesting autoplay and stats into this game to allow the player to set up betting strategies and really dive into the data if they want too.
The last game coming this year is 1 Left Alive, this also has a 97% RTP and is a slightly less volatile game when compared to 9k Yeti.
The theme from this one came about when researching trends and popularity, in the next few years there are 19 blockbuster Zombies films being released so I thought it was a great opportunity for a Zombie Slot. Also, who doesn't like Zombies?!
This game features a totally new ways mechanic we have created called PLUS+ WAYS™. This allows us to put more action into the game with lots of WILDS and stacked WILDS which is just not really possible with Ways games.
Just like standard Ways a win is formed from consecutive symbols regardless of height. In PLUS+ WAYS™. the first instance of a symbol on each reel creates a single win, each additional instance of the symbol found within the win awards an additional payout of the same amount. This creates 1,024 Single Ways and 32,768 PLUS+ WAYS™ additional pay combinations, making it a real action-packed zombie apocalypse.
This game also has BIG REEL Portrait Mode™, which we aim to put in all our slots.
Casinomeister: Many players often wonder what the creative process is, behind developing games. How do you actually take a game from initial concept to finished release? What steps are involved?
Henry:
Great question!
We always start with the math and a prototype – to play with the idea, once we have decided we like it we start to think about themes. When looking at themes we research trends and popularity as well as what fits with the mechanic. Then we choose a name and work on the final balance. Once we have all these parts, we then use our tools to create a balance demo that allows us to really feel the slot and experience it before we create it. Andrew is a real stickler for the math to make it just right for the player.
Finally, is the testing and certification, as we release in many regulated markets – this can be quite a complex process.
Casinomeister: Could you tell us a bit about how your games actually go about getting certified? 
Henry:
It all depends on which market as each market has different regulation required for certification.
We start the process when we make the game and are thinking about the game features. We try to make sure our features are permitted in most regulation from conception. This then means we don't have to modify the game for each territory and allows more players to enjoy it.
Once the game is completed and tested, we then go about certification for each market, ideally where possible releasing all at the same time. This is always done by independent 3rd parties.
Casinomeister: Responsible Gambling is a 'hot topic' in the online gambling world right now. How are your games going to address this? 
Henry:
We are big advocates of responsible gaming, being players ourselves we want our games to be about entertainment, fun and big win potential. Always looking at game mechanics and design to ensure it is responsible and the right thing to do.
A great example is our approach to game themes and design. We have made the decision from day one that we will never do childish game themes or design – no fairy tales or children stories. As we just feel it's the right thing to do!
Each of our games is different with different volatility, feature frequency and balance. One thing we are looking at doing is clearly signposting to the player what the type of game it is to help them find the right game for them.
To start with we have provided a lot more information than most in our help files to allow players to easily find things like average spins – if they want too.
Casinomeister: How do you feel about the UKGC's recent pushes towards responsible gambling? For example, their ban on so-called "feature buys"?
Henry:
Regulation is important, and we welcome anything that protects the player. Recently the UKGC spoke about their desire for a 'game design code' we reached out to them to be involved as we want to help sculpt the future.
With regards to Feature Buys it is a tricky one we think the ban was correct as a player may not realize that playing the slot normally and buying a feature at the same stake level lead to very different bankroll implications. We strongly believe in messaging that educates players so that what they see is what they get.
To follow on from that; do you think feature buys and the "super high variance" slots we've seen released over the past few years have hampered in the industry at all? What do you feel are the biggest mistakes made by game developers right now?
Henry:
It's hard to say what the biggest mistake it but a common mistake is taking the player for granted. Reskinning an older title and calling it a 'new game' and thinking the player will not realize or releasing the same feature but with a different theme and calling it innovation.
Casinomeister: Where do you see the future of iGaming? Does 4theplayer have any exciting new technologies/concepts lined up?
Henry:
I think innovation is the future – less reskins and more innovative game mechanics that improve the player's experience.  For a tech industry gaming is quite slow to evolve, take for example mobile portrait play. Mobile gaming has been around for years, yet some providers still do not support it, those that do offer a substandard solution with less than 20% of the screen being used. We wanted the player to have the best possible experience on landscape, portrait and desktop without compromises like square reels – so we invented BIG REEL Portrait Mode™.
That is what we are all about, creating better experiences for the player and that's what we look at when we look at innovation. Not just features that already exist wrapped up as new and exciting.
We have lots of concepts in the lab now that do exactly that, ranging from changing cascading games to prevent player frustration at not hitting a bonus round during a longer session. As well as quick and fun concepts that play with the spin button – that one is my personal favorite.
We're seeing some major developers (Microgaming) really struggle to successfully port their games over to HTML/mobile. Do you feel any of these major industry players are at serious risk? You'd think with such a foothold in the market, they'd realize mobile gaming is the future – but they just don't seem to be taking it seriously. The same with IGT. Any ideas why?
A Mobile really cannot be ignored, we believe in creating the best possible experience for players wherever and however they decide to play our games.
I'm sure all major players do take it seriously, but they probably have a lot of tech challenges in getting the game to mobile. We are fortunate that we can set mobile as a priority from day one, some of the major players must go back years.
Casinomeister: In your opinion, what are the top three slots ever created and why?
Henry:
That is a tricky question, as an avid slot player there are so many to choose from but will give it my best shot:
Red Tiger Must Drop Jackpots – ok not a slot but a range of slots. I am a big fan because it's a simple, innovative idea executed very well and before anyone else.
IGT Siberian Storm – Anyone that knows me knows I love this game. It's less volatile than I normally like but it's a 'reel' classic that and I have had some big wins on it quite a few times.
I asked Andrew to choose one as well as know he would have a great answer…
"For me its Buffalo Blitz – the best of the original ways games, the payouts scale beautifully in this game so that even if you are having a rough session you know that a bonus or even a reels win can turn it all around for you."
Casinomeister: Interesting answers; those aren't typically games you'd see players talking about in the Casinomeister forum. We're the largest online gambling community in the world – but even then, we likely make up a fraction of the overall player-base for online video slots. We see many players in the forum talking about what they want from slots – but what do you think the CASUAL, potential new to online slots player wants to see? 
To continue on this – it's clear that NetEnt's Starburst is among the most successful slots ever released – yet most players in the forum despise it. Do you feel novice players want something completely different from 'experienced', more in-the-know players?
Henry:
Every player wants something different