CalvinAyre.com Given Overhaul to Mark 10 Years Online
By Simon Wright May 21, 2020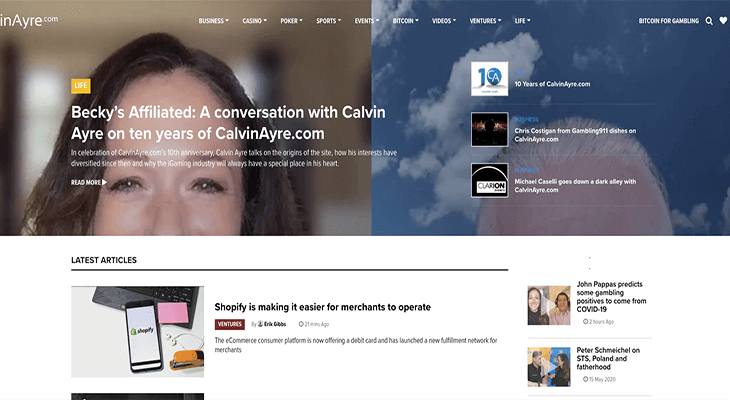 The iGaming site CalvinAyre.com synonymous with the Bodog founder and iGaming self made billionaire Calvin Ayre, is celebrating its 10th birthday today, with the site getting a complete overhaul and makeover to mark the event.
Now boasting new features and a more 'grown up' style, CalvinAyre.com is looking forward to the next ten years online. Setup by Ayre to report on the iGaming industry and also to promote the work of his Calvin Ayre Foundation, CalvinAyre.com covers all the main industry events held throughout the year.
The site also promises to bring more business content to its visitors as well as a return to featuring lifestyle content, specifically concentrating on newer interests: health and fitness as well as cool tech – what's going on at the cutting edge of technology.
In addition CalvinAyre.com will be striving to feature many more "Guest op-eds" allowing folk who have been laser-focused on the industry for years to give their own views on the past, present and future.
Ayre himself speaking about the 10 years of CalvinAyre.com and its future commented: "For many years we struggled to get this wonderful industry the business respect it deserved but because of the industry's hard work and constant innovation I feel we've got there now."
"So what's next? Evolution doesn't stop and nor does innovation but its time to prove the industry is more responsible without losing its sense of fun, that's a hard balance to achieve. As we are more of a mainstream business, areas like payment solutions, social responsibility, health and wellbeing come into focus which bizarrely mirrors my personal focus now anyway, so this feels the right time to make some changes."