Good(w)ill Ambassador
CAG
MM



Joined

Apr 27, 2009
Location
Pragmatic Play

and Casinomeister
bring you the
Gems Bonanza X Multiplier Tourney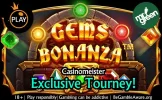 Highest X Multiplier Hunting
Eligible Screenshots: 10X and Above
Prizes:
1st:300€
2nd:150€
3rd:100€
4th-5th:50€
6-10:20€
11-20:10€
Total Prize Pool
800€
Extra:
"Unlucky" Hunting
Post as many winning screenshots under 1X as you can (up to 5 per member/day).
Each screenshot will be assigned a ticket number toward the EXTRA draw
Final Draw Winner:
200€


NOTE:
players using the bonus buy feature the final result will be divided by 100 from their X total. Please announce if you have used the buy-in feature. All screenshots subject to verification
please be sure to include your mutliplier with your screenshots

Terms and Conditions
Contest open to any member in good standing with a MrGreen acct.
Don't have an acct - click here >
Mr Green Casino Review, trusted & updated info - Casinomeister
Prizes will be awarded to your MrGreen acct with a 0X WR
Do not chase reps or casino live chat. Direct any Qs here.
Winners will be asked to PM their acct details at contest's end to the MrGreen rep
max 1 win/member not including extra draw
A day ends at 1159 PM EST
In case of a tie, the player who posted first will receive the higher ranking
Posts must be from during the qualifying contest period, from the slot the Gems Bonanza and from MrGreen casino
real funds only
Prizes allocated to members with a full member status first. Any remaining prizes may then be distributed to 'newbie' members based on their highest X.
Newbies and Full-members and above are fully eligible for the Final Draw
Should any prize member be from Sweden, their prize will be donated to barncancerfonden.se ( The Swedish Childhood Cancer Fund).
Please allow 24-72 hrs for crediting after contest's end
Any person attempting to exploit this or any competition runs the risk of being barred from any and all future competitions
Play fair and have fun. Good luck!
Contest run date:
30th October - 8th November​
Last edited by a moderator: