Good(w)ill Ambassador
CAG
MM



Joined

Apr 27, 2009
Location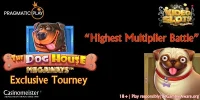 Pragmatic Play and CM
have brought you another exclusive contest
the
Highest Multiplier Battle

Here's How it Works
Simply post your best multiplier wins here from the game
the Dog House Megaways™
for your chance at a
$1500
Prize Pool
1st 500
2nd 250
3rd 125
4th 75
5th 50
6th-25th 25
note: please type your X-win with any submission
Good luck!
Ts and Cs
Contest open to any member in good standing with a Videolsots acct.
Don't have an acct - click here >
Videoslots Casino Review : Best Casino Of the Decade - Casinomeister
Prizes will be awarded to your VS acct with a 0X WR
Do not chase reps or casino live chat. Direct any Qs here.
Winners will be asked to PM their acct details at contest's end to the Videoslots rep
max 1 win/member
A day ends at 1159 PM EST
In case of a tie, the player who posted first will receive the higher ranking
Posts must be from during the qualifying contest period, from the slot the Doghouse Megaways™ and from Videoslots casino
real funds only


15/09/2020 Update:




Full -members and above will be the 1st eligible members for the Prizes, if not all the prizes are covered by full-members -> Newbies will be eligible.
Contest run date:
26th August - 26th September
​
Last edited by a moderator: