BingoMania currently has the following promotion displayed on their site: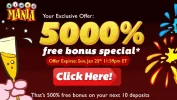 I contacted support asking them for their promised 5000% bonus.. ie, if I deposited $40.00, I would expect a bonus of $2,000.00. When this was denied, I opened up the following support ticket and was given a rather rude response: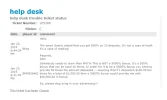 So we are clear about the math:
If you make 10 deposits of $40.00 and each deposit is given a 500% bonus of $200.00, then you've made a total of $400.00 in deposits with a total bonus of $2000.00. That bonus is still only 500% of the $400.00 deposited. You cannot multiply a percentage bonus by multiple deposits and call it a larger percentage.
Because they refused my request of giving me an actual 5000% bonus, it is important they don't mislead others and should immediately take down the misleading advertising. Also, their terms and conditions page says this "If you are dissatisfied with the outcome of your support ticket, you may draft a help ticket explaining your grievance and address it to Management."
Therefore I created this support ticket:
I did exactly as they asked, but was still refused. Sending an email doesn't guarantee a response and doesn't create an audit-trail like a support ticket. So I am sure my email request would just go unanswered and the problem would stay unresolved.
Many online casinos will make large bonus offers by multiplying the total dollars you can receive by the amount of times you can use the promotion. For instance, if they offer a 100% bonus of up to $1000.00 that can be used ten times, then they advertise a $10,000.00 bonus. Even though this should be advertised as a bonus OF UP TO $10,000.00 at least the math is correct and they are willing to provide the amount stated in the advertisement. What BingoMania is doing is not the same. There is no possible way of getting a 5000% bonus from them. So they need to immediately stop making this claim and they should never make it again.
Please let me know your thoughts.
Thank you!
Jeff